Jesse Hampton, Matt Nass, (19) Jacob Wilson vs. Pat Cox, Orrin Beasley, David Sharfman
As Jesse Hampton, Matt Nass, and No. 19 Jacob Wilson built their draft decks, they tried to assess what was going on. "One of them has to be Temur, right?" Hampton said, but he was glad that Nass at least could've taken the second-to-past-pick Temur Charm, so they couldn't have it. But Nass had not taken it, and the opponents had gotten a very powerful last pick. Temur cards were very strong, and very late, if anyone had switched colors some people might be in trouble.
"Are they all in Temur?!" Hampton asked half-jokingly. Luckily, no one was on Temur.
"Well, we're not Temur, but at least we know they're not Temur," Pat Cox told me, when I sat down at their table. I asked him, and his teammates Orrin Beasley, and David Sharfman why.
"Because I got a last-pick Temur Charm," Beasley flashed. However, at least three drafters were Mardu.
"This draft was really weird," Sharfman said. Everyone seemed to agree. They weren't too happy with their chances.
"Well, it was a good run," Cox said, well before the round actually started.
But with honor, the men lined up, like Napoleonic wars, and readied for battle. And just like Napoleonic wars, some of their weaponry was suspect. But it could still people dead—and gruesomely too.
First, Pat Cox v. Jesse Hampton, Game 1
Jesse Hampton, the man who started driving here in a snowstorm from Charlotte at 3 am Saturday morning, was on Mardu; so was Pat Cox. Cox had hits like Ankle Shanker and Mardu Charm, but had to skew high for two Rite of the Serpent for more removal. This was because Hampton had taken up anything he could. He had a Crackling Doom, Arc Lightning and three Arrow Storm.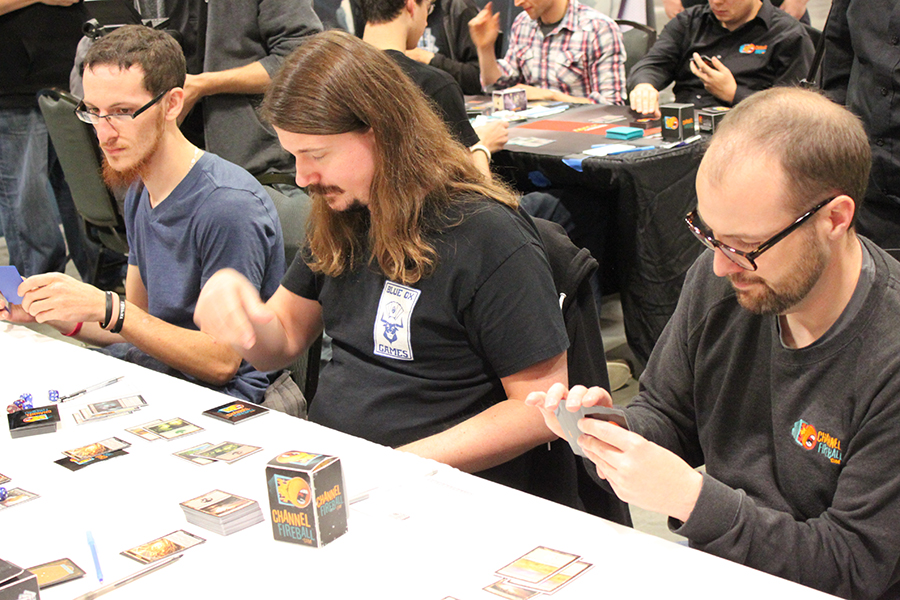 Pat Cox started as the aggressor, and it looked like things were well. He had a Mardu Warshrieker, Ainok Bond-kin, and eventually an Ankle Shanker. But some scant removal from Hampton kept him out of lethal range, and he had a Mardu dude of his own: Zurgo, Helmsmasher.
Zurgo threw Cox around the room, and he was bloodied, but still fighting. Sadly, all it took was an Arrow Storm to remove a final blocker to end the first game.
* Interlude #1 - Orrin Beasley vs. (19) Jacob Wilson, Game 1*
Both Orrin Beasley and No. 19 Jacob Wilson were on the Abzan Midrange plan. There were deviations for sure, but both had Longshot Squads and Armament Corps; both had green pump spells and some guys to delay the game, helping get them to the big green fat. Beasley did, however, have a Duneblast. That was surely a deviation. If he could pull that off, he could turn any board stall in his favor.
The first game started, and almost immediately the battlefield was cluttered with morphs.
– Back to Pat Cox vs. Jesse Hampton, Game 2
The next game, it was Hampton who was the aggressor. Valley Dasher got in for the more-than-expected Valley Dasher damage, and a Leaping Master and a morph joined him.
Hampton was putting enough pressure on Cox that he had to block with his Ankle Shanker. That is never a good sign. To add a debilitating insult to the injury, after a Bitter Revelation, Hampton's hand was Arrow Storm, Debilitating Injury, Burn Away, and Zurgo, Helmsmasher.
When asked how he was fairing, Hampton said, "If he has Cruel Ultimatum, maybe it will do it." Cox did not have Cruel Ultimatum, and he did not do it.
Jess Hampton finished very quickly and earned a point for his team, defeating Pat Cox.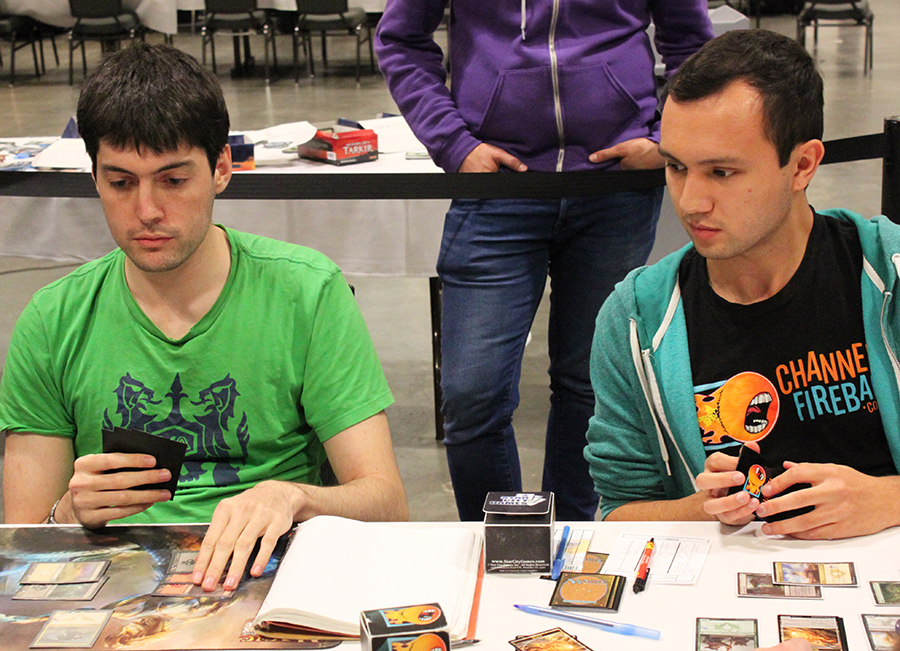 * Interlude #2 - Orrin Beasley vs. (19) Jacob Wilson, still Game 1*
Around this time in the match, after morphs and some light removal had stopped anyone from attacking ever, both players had an Armament Corps; then both players had an Abzan Guide. Not wanting to lose any of the big creatures, they considered attacks very cautiously—and for the most part, didn't. The board tugged lightly back and forth.
Here, Longshot Squads were key. Both players began using the Outlast ability. Even if they weren't going to attack, they could keep growing their creatures until they could.
Wilson got an errant hit in when he Savage Punched a Woolly Loxodon. This was the type of game that was going on—you could Savage Punch a Woolly Loxodon out of existence, and the ground would fill back up momentarily.
This first game was in for the long haul.
And now, David Sharfman vs. Matt Nass, Game 1
Matt Nass had been on the same plan every game this weekend. He played Jeskai with a Flying Crane Technique (as he called them, the Flying Crane Kick, which would likely hurt a great deal)—he planned to kick everyone the face. This draft was no different. He was on a base White-Blue deck that had some big Jeskai splashing, including the six-mana jump-in-the-air-and-wreck-everything card.
Though Pro Tour Nagoya champion David Sharfman referred to his deck as "unplayable" it had some play in the early first game against Nass. Chief of the Edge, Throttle, Feat of Resistance, and Mardu Heart-Piercer gave Sharfman the early advantage.
He was still holding a Ride Down, and eventually pulled the trigger on a Monastery Flock. Whether or not this was the right play, it appeared to be the turning point in the game. Nass effortlessly replaced it with another 0/5 blocker, then loaded himself up with plinkers of his own: Jeskai Student, Jeskai Windscout, and Jeskai Elder. The board looked worse for Sharfman.
But Sharfman was still ahead on life, and at a healthy total. However, on the next attack step, the Flying Crane Technique wrecked havoc with the prowess trio on the board, and hit for 16 damage. This was more than enough to sweep Game 1 into Nass's pile.
* Interlude #3 - Orrin Beasley vs. (19) Jacob Wilson, Game 1 still going*
The game had been leaning in Beasley favor. He was able to pressure just a bit more, and keep his life total up, while still getting in there. The last-card-in Tusked Colossodon was holding down the fort very well.
Until a fateful attack step arrived. Beasley made a move and used two combat tricks, a Murderous Cut and a Dragonscale Boon, to bump up his creature and really get Wilson on the back foot. However, the last card in Wilson's hand, with the exact right mana up, was Kill Shot. After a long time, Wilson had turned the tables.
He had an 8/8 Longshot Squad, and it was threatening to do real damage. But Beasley was pulling for the Duneblast. He had crafted everything to be perfect when the sweeper finally came he would get there. But he was well through half his deck, and it was nowhere to be found.
– Back to, David Sharfman vs. Matt Nass, Game 2
Much to Sharfman's dismay, though the second game took Nass much longer, the result was about the same. Sharfman had more resilience with Bitter Revelation and Raiders' Spoils to get card advantage (and to punch through damage), but Nass held up well.
Casting Warden of the Eye, and using the lifelink mode of Jeskai Charm kept him out of harm's way. He went from well behind in the game to 8-17 in his favor after that one.
Sharfman loaded up on as many blockers has he could, to try and eke things back, but, like clockwork this whole weekend—Matt Nass cast a Flying Crane Technique and won the game. I wonder if he can get that card again in the finals
Matt Nass earned the second point for his team, by defeating David Sharfman.
*Postlude – Orrin Beasley vs. (19) Jacob Wilson, Game 1 concludes*
Though the match had concluded, because of the other games, apparently Wilson and Beasley did not get enough Magic yet (do we ever?), and finished the game honorably.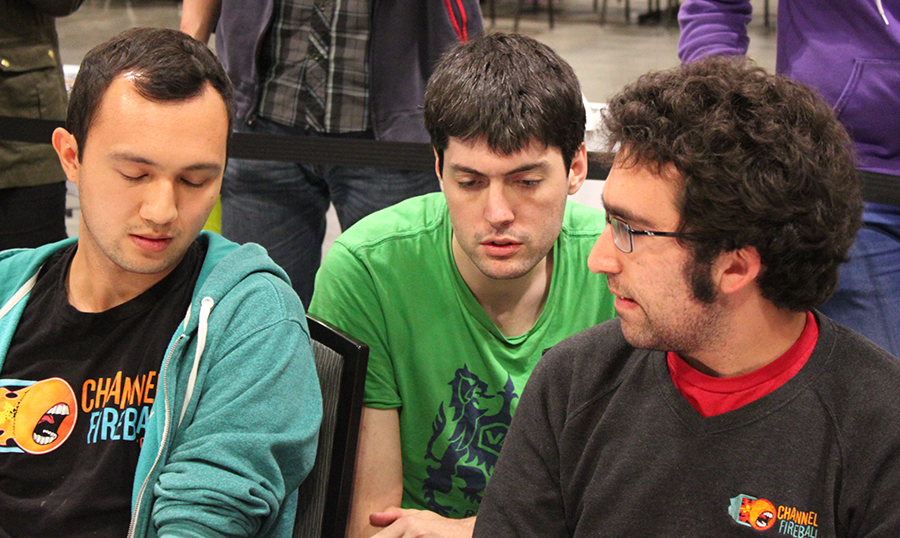 When we last left them, Beasley had lost the upperhand on the board, and was waiting for the Duneblast.
As Beasley's grip on the board got smaller and smaller, and Wilson's lead was growing and growing. Could Beasley find the Duneblast?
No, he couldn't. Wilson finished off his mirror opponent, and took the honor match 1-0.
After the game, Beasley looked through his library, and the big game-ending Duneblast was three cards from the bottom.
Jesse Hampton, Matt Nass, and Jacob Wilson advance to the Finals!