Finding teammates isn't always easy, even for some of the game's greats. Skill, location, history, and camaraderie all count when you're looking to team up to play. Here's how a few of the biggest names ended up working together.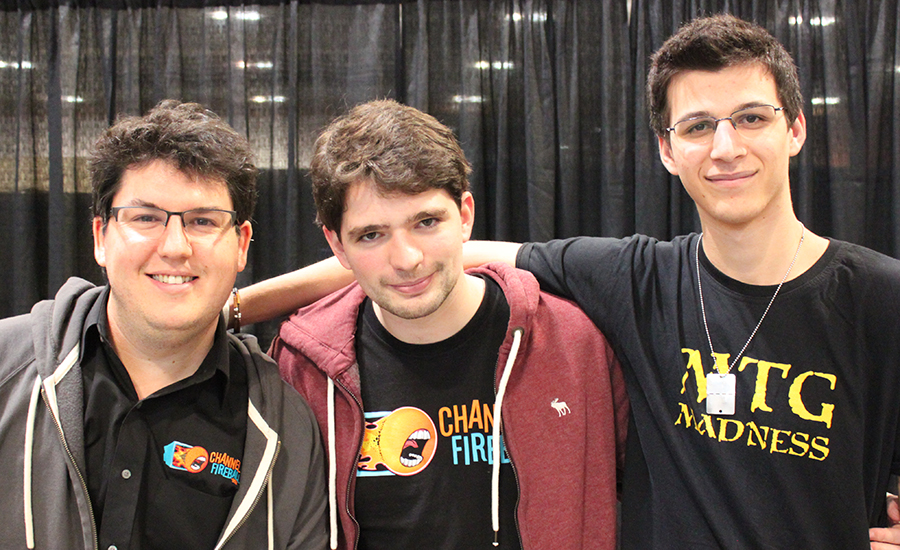 Tom Martell – Paulo Vitor Damo da Rosa – Shahar Shenhar
How do some of the best players in the world end up together when their teams are so big? It's often a matter of convenience. "Well, I was originally testing with Jacob Wilson and Matt Nass and that didn't work out," 20th-ranked and 2013 World Champion Shahar Shenhar explained, "so I decided to switch. I found Paulo and needed a third. We found out Tom was available so we asked."
"I wasn't going to go," 18th-ranked Tom Martell said. "I was on the fence about going, and Josh Utter-Leyton asked Gerry Thompson and Josh Cho. So my old team broke up." Martell waved at Vitor Damo da Rosa and Shenhar. "They asked me at the Pro Tour."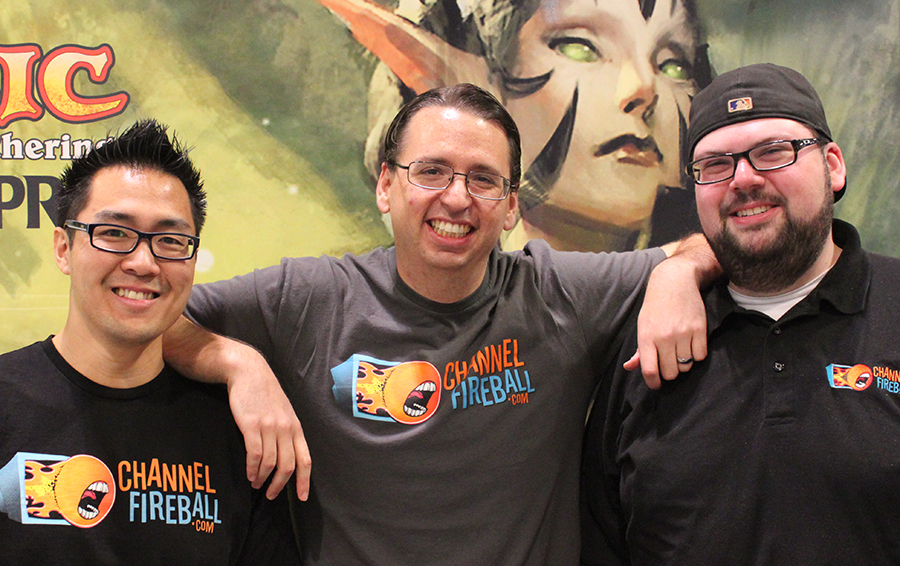 Paul Cheon – Luis Scott-Vargas – Eric Froehlich
"Long story, or short story?" 11th-ranked Eric Froehlich quipped as they began. The three are players with years of history between them.
"Cheon and I used to live and play together before he retired for five years," Hall of Fame member Luis Scott-Vargas explained. "Froehlich and I have been on the same testing team since 2010."
"There was the team Grand Prix in San Jose and we were really excited," Paul Cheon added. "I played with Luis and Paulo then."
"Before Grand Prix Providence Paulo couldn't go so we picked up Froehlich," Scott-Vargas continued. "We got seventh. We ran it back at Portland and made Top 4."
"It felt like we had good chemistry. It was fun," Froehlich beamed.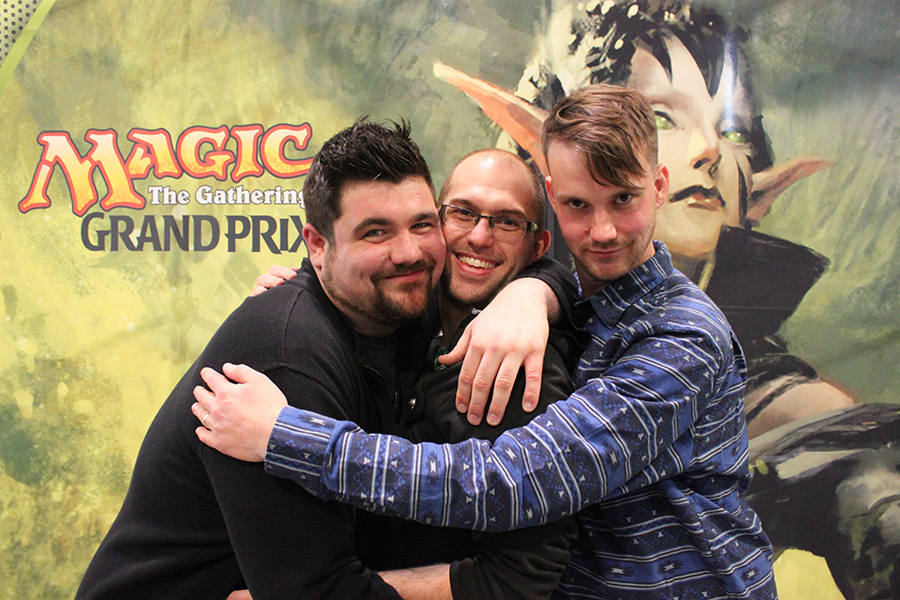 Brand Nelson – Zac Hill – Jacob Van Lunen
Not all teams are built on close quarters and testing familiarity. Some are just for the sheer fun of it. "You can go back like six months and verify this," 23rd-ranked Brad Nelson said to start their story. "I posted one of those pictures on Facebook that's like 'If you like me hit 1, if you want to date me hit heart' on Jake's wall and I'm like 'One time, please, just hit heart.' Jake and Zac chime in and it's like 4 in the morning and Zac's like 'We should team up!' we all just got together."
Jacob Van Lunen grinned as he shared his addition to the thread: "I said 'Lock it up with a heart!'"
"And we just all hit heart!" Zac Hill said.
"We all just want to have fun," Nelson said. "Jake's my number one for team events until the end of time, and we all have good personalities for playing."
"These are two of my favorite people for playing Magic," Hill added.
Nelson, boisterous as ever, summed the team up well: "Win, lose, or draw we'll walk the plane together."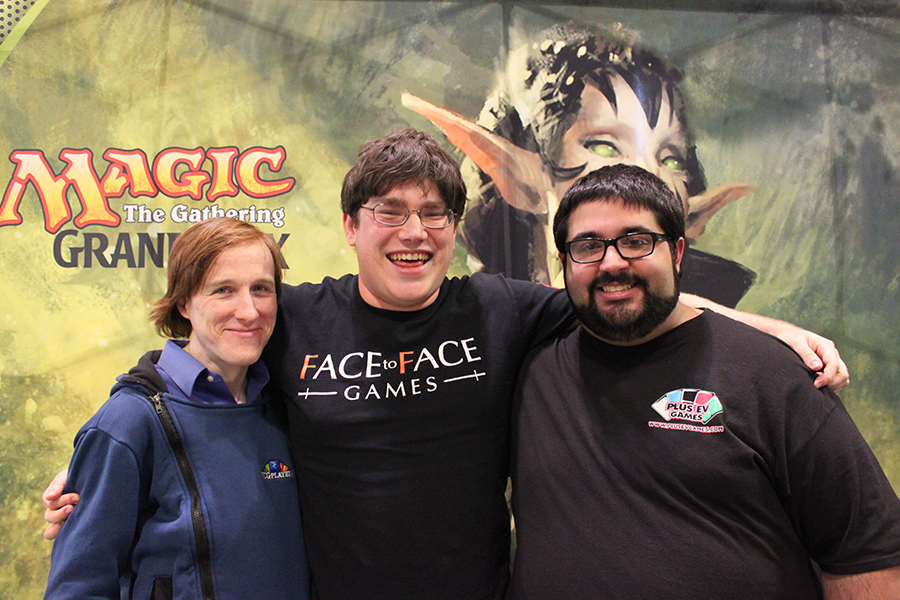 Craig Wescoe – Alexander Hayne – Frank Skarren
"It's all Craig's fault," Alexander Hayne explained. Hayne, the 17th-ranked a Pro Tour and multiple Grand Prix champion, was affable as ever between his friends. "He masterminded this team a long time ago. We wanted to team together for Grand Prix Portland but at the time I had a team, so he locked Frank and I in for this one."
"What really happened was that after Ari Lax won he Pro Tour they decided three Pro Tour champions on one team was too many," two-time Limited Grand Prix winner Frank Skarren joked.
"It's breaking up the monopoly," Craig Wescoe said, the other Pro Tour winner on the team.
Hayne turned serious a moment. "Frank is somebody I like working with and somebody I though I could learn from." It didn't last long. "It wasn't true but.."
Wescoe was more than happy to play along. "The last two we teamed with went on to win a pro Tour so we wanted to share."
A good-natured jab with a hearty compliment from his teammates and all Skarren could do was smile.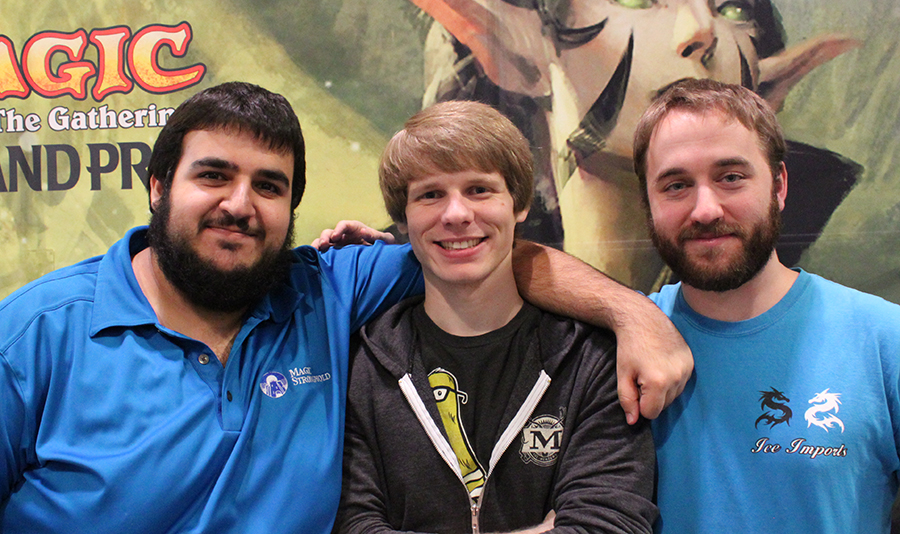 Mani Davoudi – Brandan Nelson – Ross Merriam
Like many looking into a weekend requiring teammates to play, Ross Merriam hadn't planned to play in Nashville. "I hadn't planned to attend because I typically don't fly to Grand Prix. I enjoyed the format at a PTQ and haven't had this much fun playing Limited in awhile. The next step was looking for a team and Brandan said he and Mani were so here we are."
So what's the other side of the coin? "We met in Japan for the Pro Tour in 2011," Davoudi explained. "We got along and did some team drafts there. Along with another friend we made in Japan, we were talking on Facebook for the Grand Prix San Jose, when team formats came back. After that our other friends stopped playing so for the next Grand Prix we recruited another friend from Japan: Josh McClain. Since them our third has been just a rotating cast member for every Grand Prix."
"I wasn't originally planning to attend either," Davoudi said, "but Brandon talked me into it."
So was it all Nelson's fault? When asked, Merriam and Davoudi both looked at Nelson who shared a humble "You could say that."