Peter Vieren's biggest success so far had been a Top 8 at Grand Prix Lyon in 2010, while Hannes Kerem could look back on a semifinals finish at the 2008 World Championship. So it was about time, for both of them, to get another good result. They each had a loss already and were looking to avoid another, though of course only one of them could.
Kerem was playing the ubiquitous Hangarback Abzan, Vieren had brought a somewhat less popular deck in Blue-Black Control.
The Games
Kerem got off to an unusually slow start with Anafenza, the Foremost being his first play and Ajani, Mentor of Heroes his second. Both never made it to the battlefield though, thanks to Clash of Wills and Negate, respectively.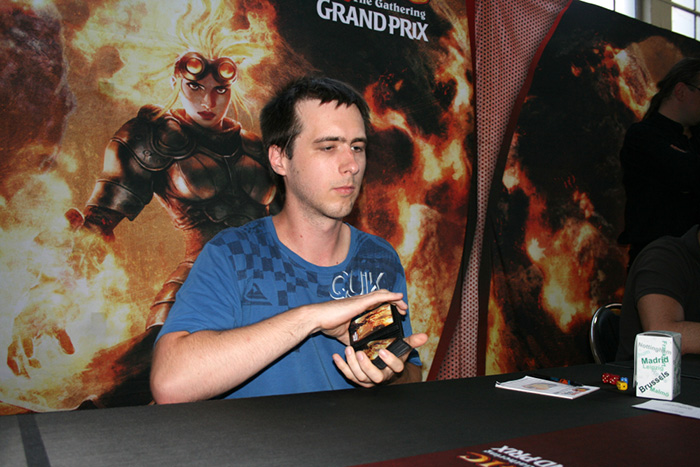 Peter Vieren
Fleecemane Lion caught Bile Blight, Elspeth, Sun's Champion met Hero's Downfall, Ajani, Mentor of Heroes ran into Dissolve … Vieren seemed to have all the answers, partly thanks to a Jace's Ingenuity squeezed in between. He even had the perfect foil for when Hangarback Walker left behind a number of Thopter tokens: Silumgar, the Drifting Death.
Peter Vieren 1-0 Hannes Kerem
In the second game, things began with a mulligan for Vieren and a Hangarback Walker for Kerem. Anafenza, the Foremost came next, and when Kerem followed it up with Thoughtseize he saw a hand with one Dig Through Time and lands.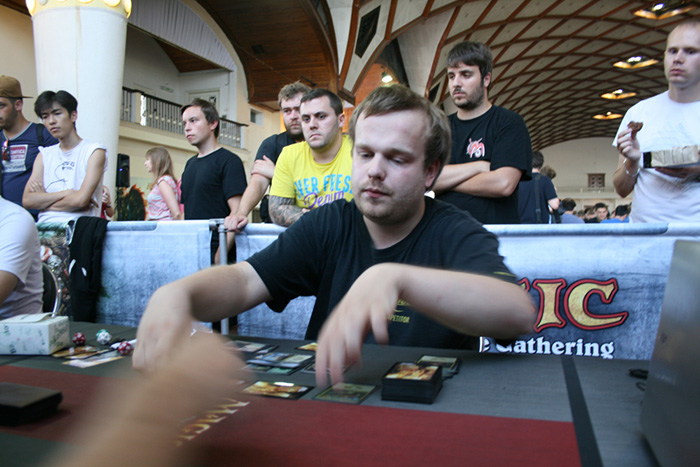 Hannes Kerem
Now left without any spell at all, it didn't take Vieren long to concede and pick up his cards.
Peter Vieren 1-1 Hannes Kerem
In the beginning of game three, Bile Blight and a pair of Dissolves took care of a face-down Den Protector, a Thoughtseize, and Ajani, Mentor of Heroes. But Kerem's Hangarback Walker stuck around, dealt some damage, and grew to 4/4 before eventually dying to Hero's Downfall.
Meanwhile, Vieren restocked with Jace's Ingenuity and Dig Through Time. He then killed the Thopters as well as a freshly-summoned Fleecemane Lion with Languish. For the Hangarback Walker which followed he had Perilous Vault, and finally Kerem found himself without further threats.
Another Dig Through Time dug up one of the few threats Vieren had in his deck. Ugin, the Spirit Dragon was later joined by Liliana Vess, then Dragonlord Silumgar, while Kerem resigned himself to the inevitable.
"Yeah, I don't think I have any outs," said Kerem and extended his hand.
Peter Vieren 2-1 Hannes Kerem