South America has been hosting Grand Prix since the earliest days of professional play. These events serve as a window into the development of the player communities here, the rising strength of their players and the friendly (but fierce) national rivalries.
1998 - Rio de Janiero, Brazil
I'll let a picture do the talking first.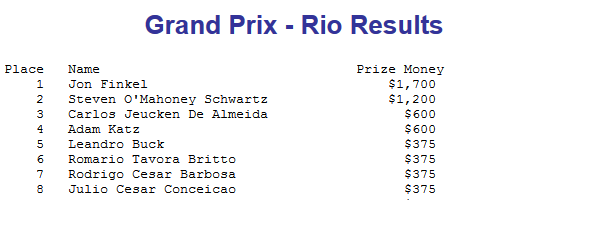 To me there's a real poetry in this being the result of the first South American Grand Prix. Not just because when it comes to Jon Finkel I lose all objectivity, but also because I love the image of two future Hall of Famers coming to a community just taking its first steps into professional play and putting up a performance that says "This is what greatness looks like. This is what we all work towards."
1999 - Sao Paulo, Brazil
Brazil's second Grand Prix, and the local players were determined that they would not suffer a second defeat at the hands of visiting pros. This time they "only" had to dispatch Alex Shvartsman, the original Road Warrior. He fell in the semifinals, and so it was a showdown between Brazil's Rafael Assafi Alvarenga, just fifteen years old, and Douglas Maioli of Argentina. This was the start of South America's great rivalry. When Alvarenga dealt the killing blow, the Brazillian spectators that had been cheering for him went absolutely wild, hoisting him onto their shoulders and carrying him around the room in triumph. Alvarenga's victory was for all Brazil.
2000 - Buenos Aires, Argentina
Now it was Argentina's turn to feel the sting of a foreign victory. After Pablo Huerta lost his semifinal match the hometown fans had to watch Mexico's Hugo Araiza defeat Chile's Walter Witt in the battle for first place. However, this event was also notable because none of the visiting North American pros managed to crack the Top 8. Clearly, South America was finding its stride.
2001 - Rio de Janiero, Brazil
Alvaregna was in the hunt to add a second Brazilian GP Trophy to his collection, but his Top 4 finish fell just short of the mark, as did that of visiting Justin Schneider. Nor did odds-on favorite Alex Shvartsman get to hoist the trophy, as he was defeated in the finals by the jolly giant and future World Champion, Carlos Romao.
2001 - Santiago, Chile
The First-GP hazing continued as the Grand Prix made its way to Chile. Hopes were high as both Jorge Rodriguez and Jose Luis Echeverria Paredes won their quarterfinals matches on opposite sides of the bracket, but both fell in the semifinals. Having put five players in the Top 8 was cold comfort for Chile while Matias Grabenja of Argentina defeated Mexico's Gerardo Godinez Estrada to become the first Grand Prix Santiago Champion.
2001 - Curitiba, Brazil
This was another coup for Brazil. Neither Alex Shvartsman nor Antoine Ruel could stop Guilherme Svaldi from taking home the trophy. Argentina wasn't left out entirely, however, as their rising star Jose Barbero put up his second Top 8.
2002 - Sao Paulo, Brazil
Antoine Ruel continued to find near-misses in Brazil with yet another Top 4. Despite stopping him, the hometown fans had little to celebrate. The finals featured Argentina's Gabriel Caligaris defeating Felipe Desiderati in the finals.
2004 - Porto Allegre, Brazil
A major victory for Argentina, as Gabriel Caligaris squared off against Jose Barbero in an All-Argentinian finals. This time it was Barbero who emerged victorious.
2008 - Buenos Aires, Argentina
Turnabout is fair play, and so Brazil took both finals berths. Francisco Braga defeated Felipe Alves Pellegrini to become the Champion.
2009 - Sao Paulo, Brazil
Brazilian Daniel Almeida Alves defended home turf against Andres Monsalve of Argentina.
2011 - Santiago, Chile
This tournament was a humdinger. The Top 8 included Owen Turtenwald, Melissa DeTora, Martin Juza, and Paulo Vitor Damo da Rosa. Incredibly, none of them reached the finals. Instead it was Brazil's Igor Silva Pinto and Chile's own Carlos Iturra. However, Chile was once again denied the trophy.
2012 - Sao Paulo, Brazil
Here we see the start of the modern era of Grand Prix density in Latin America. Brazil's Reinaldo da Silva Jr. bested the field.
2013 - Rio de Janiero, Brazil
Jose Francisco Silva shares the championship with his close friend Arthur Villela in an All-Brazil finals. Villela chose to concede to ensure his friend would reach Gold status for the year.
2013 - Santiago, Chile
At long, long last, Chile defends its home tournament from visiting pros. Luis Navas wasn't on anyone's radar going into the tournament, but he wound up winning the whole thing, defeating Argentina's Matias Soler to the cheers of his countrymen.
2014 - Buenos Aires, Argentina
Another Brazil/Argentina clash in the finals. Local hero Demian Tejo had the support of the crowd, but he couldn't defeat Philippe Monlevade.
2014 - Sao Paulo, Brazil
South America's first team Grand Prix saw three of the top four teams hail from Brazil. The surprise trio of American tourists - Armando Bulnes, Stephen Berrios, and Ian Farnung - rounded out the mix. They fell in the semifinals, and it was the favorites Carlos Alexandre "_batutinha" dos Santos Esteves, Guilherme Merjan and Tulio Jaudy who took top honors.