5 Pro Tour Top 8s, including a win at Pro Tour Charleston in 2006. 20 Grand Prix Top 8s, including 4 wins. Tomoharu Saito should need no introduction. His opponent was Emerson Ramirez, a local player well known in the community, and who represented Chile at Worlds in 2007. Ramirez won the die roll and elected to play.
Game 1
Ramirez was off to a flying start, with a Subterranean Scout on the ground and a Vryn Wingmare in the air. Saito stalled the ground forces with a Akroan Sergeant, but a Charging Griffin from Ramirez kept the pressure up in the air.
Saito summoned a Ghirapur Gearcrafter, planning on shutting the Wingmare down. Ramirez assessed the speed of his assault and decided to use a Suppression Bonds on the token, continuing the air raids.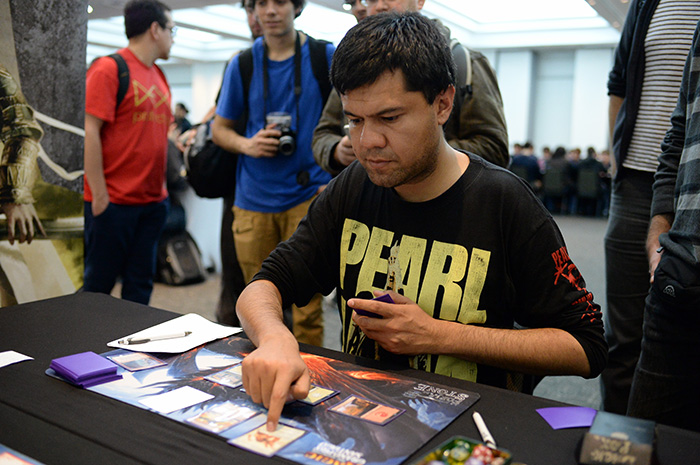 Emerson Ramirez pummelled Tomoharu Saito in Game 1
While Saito managed to stabilise the ground forces, Ramirez continued to pummel him in the air. Eventually an Infectious Bloodlust on the winged horse forced the concession from Saito.
Ramirez 1 - Saito 0
Game 2
Saito, on the play, was on the front foot with two early Ghirapur Gearcrafters. One traded with a Topan Freeblade from Ramirez, who then played a Ghirapur Gearcrafter of his own. Saito summoned a Hitchclaw Recluse. Ramirez swung into it with a Ghirapur Gearcrafter. Saito, sensing a trick, eventually decided to block. The Gearcrafter died, but in his second main phase Ramirez called a Meteorite down from the sky to smite the spider. It wasn't meant to be, as Saito saved his arachnid with a Titanic Growth.
Saito called an Outland Colossus onto the battlefield, which Ramirez quickly neutralized using Suppression Bonds. Ramirez tried to stablise with an Aven Battle Priest. Saito, having none of it, summoned a Volcanic Rambler. Ramirez cast an Abbot of Keral Keep, flipping a Celestial Flare.
"Fine!" said Saito.
"Not so fine." joked Ramirez.
"Sorry," replied Saito, "Unlucky."
Over the next few turns the Volcanic Rambler and a Prickleboar picked off Ramirez life total until the local conceded.
"That spider had to die for me to win." Ramirez sighed.
Ramirez 1 - Saito 1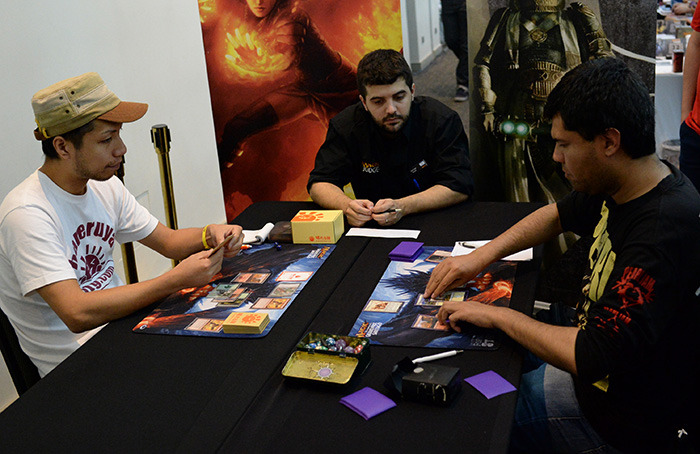 Tomoharu Saito and Emerson Ramirez battle it out.
Game 3
Ramirez mulliganed to six, the look on his face as he kept showing deep concern. He played out a turn two Subterranean Scout, but a Dragon Fodder in response by Saito made the Chilean groan aloud.
When Ramirez missed his next land drop, Saito moved firmly into the driver's seat, summoning a Dwynen's Elite, Pharika's Disciple, and an Embermaw Hellion in quick succession. Ramirez did his best to fight them off, but his powerless Yoked Ox and a Ghirapur Gearcrafter were lackluster in the face of Saito's raw power.
When Saito summoned a Woodland Bellower, Ramirez appeared ready to pack it in. But Saito made a mistake, using the Bellower's ability to tutor up a Nissa, Vastwood Seer. Saito was stopped by the judge; the Bellower could not fetch a Legendary creature. Saito was given a warning, his first for the tournament.
Regardless, it was too little too late for Ramirez, who tried to rally a comeback with a War Oracle, only to find it dead to a Wild Instincts from Saito. Ramirez extended the hand and it was all over.
Ramirez 1 - Saito 2