In the first semifinal to finish, two-time Grand Prix Top 8 competitor and one-time winner, Pierre Sommen met newcomer Carlos Ballester García. Sommen had brought a version of Abzan Aggro, Ballester García was piloting a green devotion deck with a sizeable addition of red.
Game 1
Sommen was the aggressor right from the start. His Rakshasa Deathdealer was itself dealt with via Crater's Claws, but his Siege Rhino stuck around and was later joined by another Rakshasa Deathdealer, while Ballester García's Polukranos, World Eater didn't, thanks to Abzan Charm. Another Polukranos tried to stand in the way of the almighty Rhino but caught a bout of Bile Blight.
Ballester García tried to claw his way back into the game by way of Whisperwood Elemental. Alas, it was too late, as Sommen took to the air with Wingmate Roc and its mate and took the game.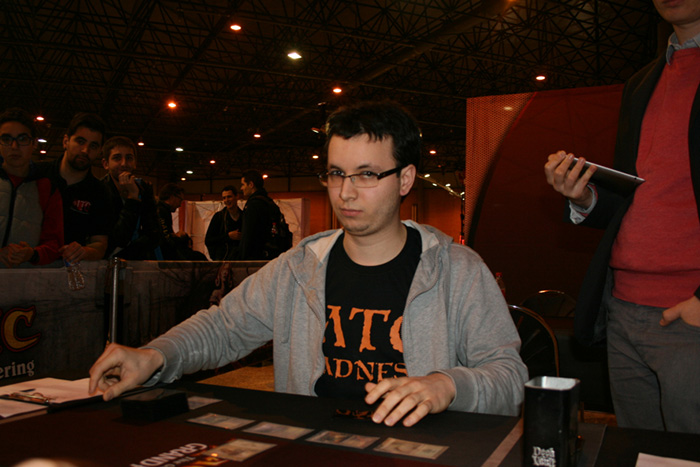 Pierre Sommen 1-0 Carlos Ballester García
Game 2
Ballester García led with Voyaging Satyr, then dismantled Fleecemane Lion with Lightning Strike, then summoned Whisperwood Elemental, then killed Anafenza, the Foremost with Crater's Claws, then summoned Courser of Kruphix, and finally trumped all of Sommen's defenses with Hornet Queen. This game was all Ballester García and the victory was his as well.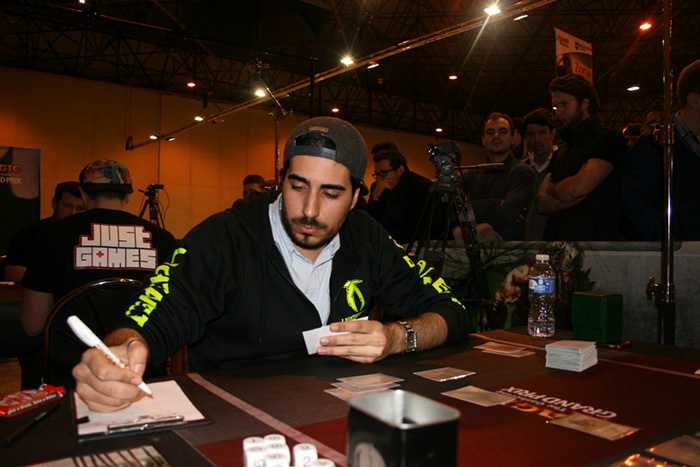 Pierre Sommen 1-1 Carlos Ballester García
Game 3
Sommen again led the charge, this time with Anafenza, the Foremost followed by Siege Rhino. After Voyaging Satyr, Ballester García didn't have a fourth land. He was able to shoot down Siege Rhino with a pair of Lightning Strikes, but found no answer to Sommen's Sorin, Solemn Visitor and that was that.
Pierre Sommen 2-1 Carlos Ballester García