If you're new to Magic coverage, or have just been hiding under a rock on Mars, you may not know Paul Rietzl. The Pro Tour Hall of Fame elect sits at a comfortable 13th-ranked slot in the Top 25, with well over a decade of competitive success across Grand Prix and Pro Tour levels. Among his feats, after willing Pro Tour Amsterdam in 2010, was narrowly missing the Top 8 of Grand Prix Paris in 2012... at the same time as he fought to a Pro Tour Paris finals showdown.
Paul Rietzl plays good Magic.
Allen Sun is a name new to the coverage team and readers at home. Entering just his second Grand Prix this weekend at Salt Lake City, Sun put up a stellar run on Day 1 to an undefeated record of 8-0-1 then followed it my claiming the King of the Hill seat from Nathan Holiday and never looked back. Through twelve rounds, Sun had yet to sign a match slip with a loss for him.
Of course, no king rules forever and Sun was in for the fight of the chair.
The Decks
After drafting a deck he "was very happy with" in the first draft, Rietzl's rails wavered slightly. His triple Generator Servant, Ancient Silverback, Burning Anger deck was support with hits such as two copies of Vineweft. "I've never cast this card. We'll see," Rietzl said during deck construction.
Sun's deck was, perhaps, a little more exciting. With two copies each of Juggernaut and Triplicate Spirits Sun had assembled an aggressive deck that could pound on the ground or soar to victory. It wasn't the most interesting of ways to try and win – Triplicate Spirits was one of the premium white commons one could draft in the format – but it's reliability wasn't to be denied.
The Games
"My deck does one thing so I'll just keep doing that. I'm in my element." After a beat Rietzl asked the obligatory follow up: "Get it?"
It was a strange start for the top ranked player. While Rietzl swarmed the board with three copies of Generator Servant – two of which traded early – it was Sun that ran into trouble stuck on three lands. Stranded cards in Sun's hand meant Rietzl's slower start could have taken off, but he seemed to find more lands than he needed.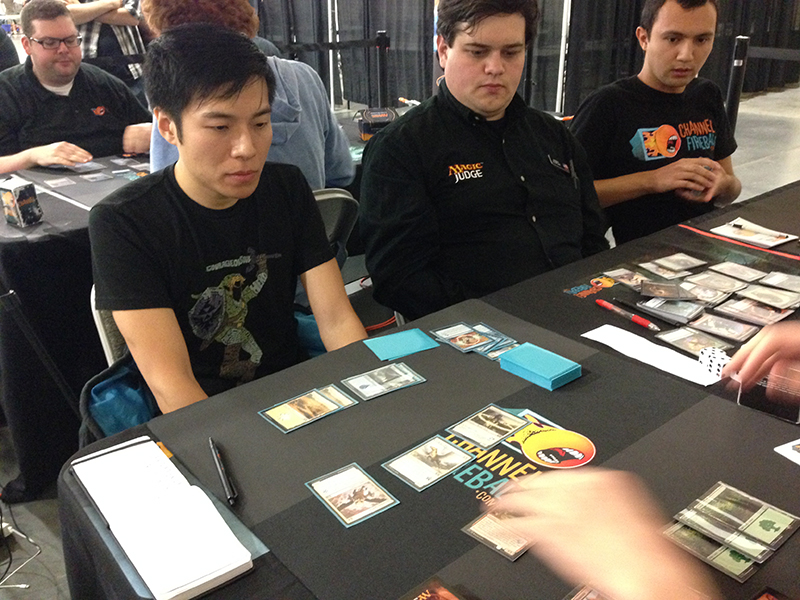 Allen Sun wanted to hold the King of the Hill crown, but his mana wasn't cooperative.
When Sun hit his fourth land the waves of creatures began to trickle out again: Razorfoot Griffin, followed a Juggernaut. But Rietzl wasn't done.
"That was a good draw," the Hall of Fame elect said as he cast Cone of Flame to wipe away Sun's side of the battlefield. Ancient Silverback that followed was enough to finish Sun off
"Cone of Flame was so good. That's why I drafted that card: So I could draw it. I'm not going to look a gift horse in the mouth," Rietzl said about his back-breaking play.
Rietzl 1 – Sun 0
The second game put Rietzl onto a speedier start with Frenzied Goblin and Goblin Kaboomist, though he only got one landmine out the deal. Rummaging Goblin let Rietzl dig into his deck, which let him put Inferno Fist onto the Frenzied Goblin at ready.
"Wall of Essence could be a problem," Rietzl said when Sun played it for his turn. Things seemed to turn worse when Rietzl cast Satyr Wayfinder, only to put Ancient Silverback into the graveyard. Sun's Triplicate Spirits forced Rietzl to use both Inferno Fist and Plummet to stem the bleeding, which gave him time to Restock both the Silverback and Plummet.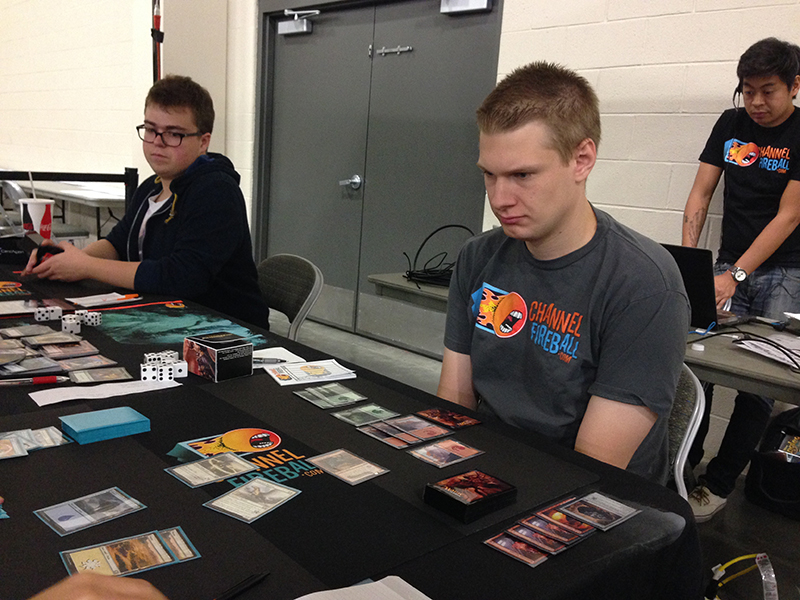 13th-ranked Paul Rietzl summoned a very angry Ape to help carry him to victory.
This time it was just Ancient Silverback Rietzl cast after Sun made Juggernaut appear. Stoke the Flames was the answer to the artifact, and with Ancient Silverback online Rietzl added Burning Anger to it. Throwing 6 damage around at will, Rietzl's remaining removal let him hold control until the angry Ape did its work in just three short turns.
"Oh wait, I'm the King of the Hill!" Rietzl exclaimed. The finish let Rietzl rise to the top of the points standing with 17th-ranked Eric Froehlich. Drawing the next round looked to prime the new King for a seat at the Top 8, but it'd be two more rounds until he'd know for certain.
(13) Paul Rietzl defeated Allen Sun, claiming the crown as King of the Hill!