Fresh-faced Jan Ksandr faced off against Pro Tour warrior Ben Stark in the semifinals of GP Sydney. The two were perfect examples of opposite ends of the Pro Tour spectrum; Ksandr had recently secured his first Pro Tour berth, and with his first Grand Prix Top 8, had just secured a second. On the other side, Stark already had four Pro Tour Top 8s under his belt, including a win at Pro Tour Paris in 2011, and is in the Pro Tour Hall of Fame.
Ksandr drafted a Blue-Black control deck with a variety of end-game options. In building his deck he considered cards like Voldaren Pariah, Nephalia Moondrakes and Emrakul, the Promised End. This included a Tamiyo, Field Researcher splashed off two Terrarion, a Foul Orchard, and one lonely Plains. "I'm not sure if it's good, but it might work," Ksandr had said.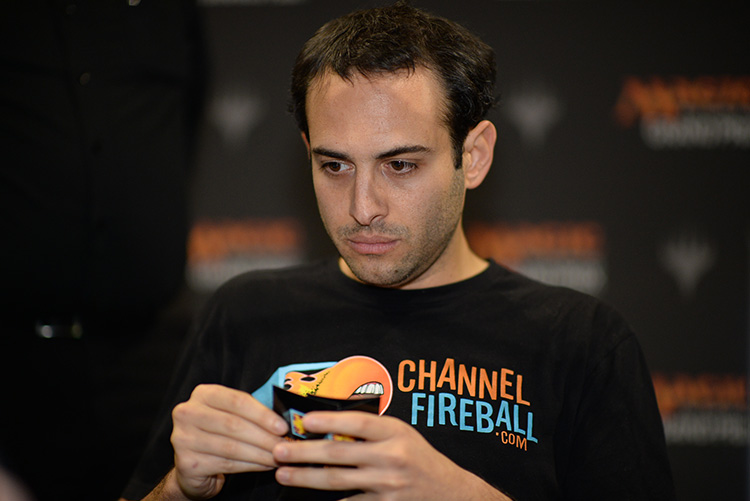 Stark, on the other hand, had a more traditional aggressive Red-White deck, featuring three Ride Downs. "I think it's fine," he said prior to the games. "It's aggressive, the curve is fine, and there's plenty of ways to get through."
In Game 1 Stark started off aggressively, but Ksandr's Tooth Collector killing Stark's Devilthorn Fox slowed him down. Ksadnr pushed his advantage with Stitchwing Skaab and Advanced Stitchwing. Stark attacked into the Advanced Stitchwing with a Dawn Gryff, then used one of his three Ride Downs to finish it off.
Ksandr mulled his options while tapping his foot endlessly under his chair. Ksandr chose to recur his Advanced Stitchwing, discarding two cards. Stark went on the defensive, summoning a Sigardian Priest. But it wasn't enough, with a Pale Rider on Ksandr's side of the board helping to close out the game.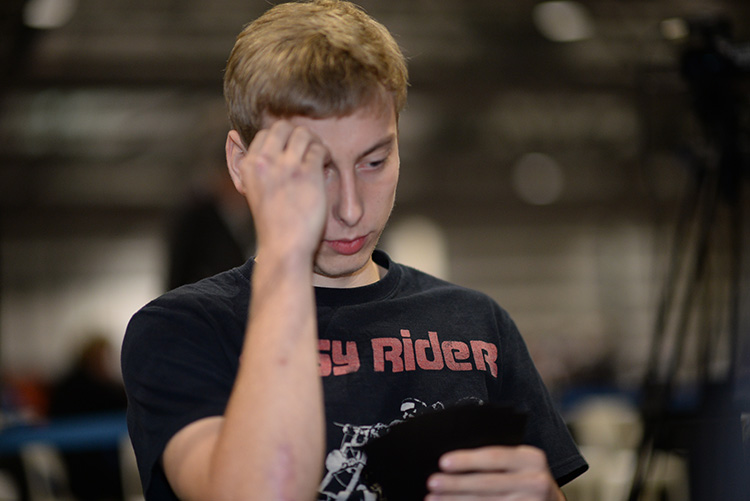 In Game 2, Stark launched off quickly with a turn-one Insolent Neonate against Ksandr's Terrarion, but had no apparent Turn 2 play. Ksandr called on the dark arts to summon a Wailing Ghoul, but at the end of Ksandr's turn Stark cashed the Neonate in for a Bloodmad Vampire. The vampire attacked, the zombie blocked, but a Ride Down from Stark killed the braineater and added a counter to the vampire. Stark continued to apply pressure while Ksandr found himself stuck on three lands, and eventually pings from a Thermo-Alchemist and Cryptolith Fragment mean Ksandr had no outs to recover.
Ksandr elected to play again Game 3. A fast Thraben Gargoyle and Tooth Collector from Ksandr help him stabilise against the aggressive Stark. Although they traded evenly for a while, it became clear Stark's deck couldn't get the momentum it needed to race the control deck. A Dark Salvation for two put Stark well behind, and when Ksandr used Terrarion to cast Tamiyo, Field Researcher and tap down Stark's remaining team, it was clear the writing was on the wall. Shortly after Stark offered the hand.
Ksandr won, 2-1, and moved onto the finals of GP Sydney.