After three rounds, 47 players had managed to escape from the first Draft portion with pristine 3-0 records.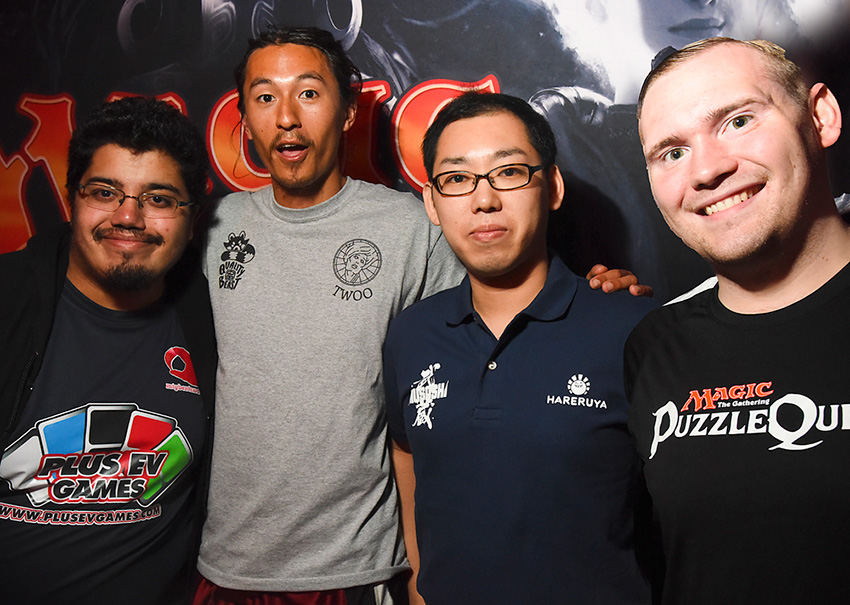 Among the 3-0 drafters were (from left) Christian Calcano, Travis Woo, Shota Yasooka, and Owen Turtenwald, all of whom were near the top of the Draft Master standings going into this Pro Tour.
Naturally, we were interested in all the 3-0 decks, their color combinations, and their card choices. I ran the numbers and turned it into an analysis extravaganza.
What was the most popular color among 3-0 drafters?
At the Grand Prix last weekend, aggression was the name of the game. For example, Kelvin Chew drafted a deck with five Cartouche of Zeals in the Top 8 of Grand Prix Beijing, and Martin Dang second-picked Bloodlust Inciter in the Top 8 of Grand Prix Richmond.
Here in Nashville, many of the pros were still into brutally aggressive black-red heckbent (built around having one or fewer cards in hand) and red-white aggro (with small exert creatures) decks.
| | |
| --- | --- |
| Main Color | Number of 3-0 Decks |
| White | 23 |
| Black | 23 |
| Red | 23 |
| Blue | 13 |
| Green | 12 |
As you can see, white, black, and red were responsible for the majority of the 3-0 decks. As a note, small splashes for three cards or fewer were rare, and I excluded them from the color analysis—only the two main colors were taken into account.
| | |
| --- | --- |
| Color Combination | Number of 3-0 Decks |
| Black-Red (Heckbent) | 10 |
| Red-White (Aggro) | 8 |
| White-Black (Zombies) | 7 |
| White-Blue (Embalm) | 6 |
| Black-Green (-1/-1 Counters) | 4 |
| Green-Blue (Ramp) | 3 |
| Red-Green (Monsters) | 3 |
| Green-White (Exert) | 2 |
| Blue-Black (Cycling) | 2 |
| Blue-Red (Spells) | 2 |
What were the most-played main deck commons among 3-0 drafters?
We saw a lot of early drops and black removal spells among the 3-0 Draft decks.
Note that these numbers the total number among all decks, so if a deck had three copies of Splendid Agony, then that contributed three copies to this statistic.
As far as the uncommons were concerned, Ahn-Crop Crasher was by far the most popular card among 3-0 decklists, with thirteen copies total.
And if you were wondering what the best rares and mythic rares in the format are, then I don't have a definite answer, but I can at least tell you that the following ones had at least four combined copies among the 3-0 decklists:

How many lands did the 3-0 drafters run?
Another topic that had come up at the previous weekend's Limited Grand Prix events was the correct number of lands. With cheap cycling spells allowing players to cheat on lands and hardly any double-colored cards to constrain mana bases, many players felt comfortable with 8-8 mana bases.
Nevertheless, just about as many of the 3-0 drafters opted for the tried-and-true 17 lands. The average number of lands was 16.53.
Who were the 3-0 drafters and what were their first picks?
To support the coverage at this Pro Tour, players were asked to write their first pick in each pack on their deck registration sheets. Here are the three first picks and the names of all the 3-0 drafters.
What does an exemplar decklist look like for each color pair?
To give you an idea of how certain archetypes might look like, we have an arbitrary 3-0 decklist for each two-color combination. The first lists that we show is for black-red—the most popular archetype—and then we go down descending order of popularity among 3-0 decklists.
Study up on the info compiled here and you might be on your way to going 3-0 in your next Amonkhet draft!