Timothy knows exactly what he likes most about Magic.
"I like to play red because it plays with fire," he explains matter-of-factly as he shuffles his cards before sitting down across from his opponent at Pro Tour Khans of Tarkir.
If the number of Jeskai decks is any indication, it's a sentiment shared by many here in Honolulu. One version even made it to the finals of the Pro Tour in the hands of eighth-ranked Shaun McLaren.
Except there are a few things different about Timothy. For starters, Timothy is 11 years old. And he's at the Pro Tour on a field trip, watching a giant screen in the event's public hall as the United States' Ari Lax makes his Pro Tour Top 8 debut against Japan's Yuuya Watanabe, a living legend since his debut on the Pro Tour.
Timothy hadn't heard of Magic until a few months ago, but the confident and outspoken sixth grader is now one of the game's many avid young fans.
All thanks to Sean Pottenger.
...
Pottenger was born and raised in Hawaii. He picked up his first Magic card when he was Timothy's age, and he began playing Friday Night Magic soon after. Before long he was looking toward Grand Prix and dipping his toes into the competitive side of the game.
He loved it. The strategy, the depth, the rush of needing a particular card and finding it; it all appealed to Pottenger.
And he was committed. So committed that 10 years ago when he wanted to buy a plane ticket to fly to San Diego for the Junior Super Series—a tournament series that awarded scholarships to players under 18 and an event that he wasn't even qualified for—he lobbied his parents to let him do so on his own dime. To their credit, his parents trusted their son to fly across the Pacific for a card game they didn't understand, and that was the start of a whirlwind tour for Pottenger. He won a last-chance qualifier for the Junior Super Series, and a few years later he took the next step and qualified for his first Pro Tour.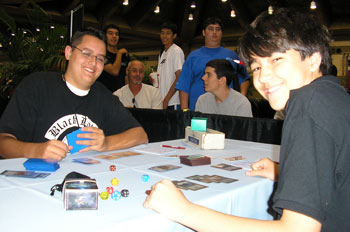 Sean Pottenger (right) at his first JSS from 2005.
And that was Pottenger's life for a time, traveling across the world to play in Grand Prixs and Pro Tours — he qualified for six in all, with his best finish being 77th place — while attending school. But as he transitioned into adulthood, things began to change for Pottenger, who was following in his mother's footsteps and on his way to becoming a teacher.
Before long, it was decision time.
"It was hard to merge Magic with the other parts of my life," he said. "It was very much that 'closet-nerd' thing. Eventually I had to decide, and teaching is more important to me than playing competitive Magic."
So while Pottenger stayed involved with the small but vibrant Hawaiian Magic community, his playing career took a backseat to his teaching pursuits. The late nights spent testing the newest Standard deck gave way to late nights studying or early morning lesson plans. As with any competitiveplayer, the transition was tough even though Pottenger knew it was the right decision.
But it wouldn't be long before Magic came back into Sean's world in a big way.
...
Eleven months ago, the 24-year-old Pottenger was already a busy man. He worked several part-time jobs in the education field, and Magic was less and less a major part of his life.
That is, until the Afterschool All-Stars came into the picture. The program at Honolulu's Washington Middle School was in need of another teacher, and the biggest perk was that applicants got to choose what programs they offered twice a week for the kids staying late after school let out.
Looking around at dozens of kids the same age as he was when he first cracked open a pack of Magic cards during the Urza's Saga block, Pottenger knew exactly what he would do.
"I made it a gaming class," he explained. "I would teach those who were interested to play Magic, and we would play other games as well. I designed it so they're able to teach each other whatever games appeal to them."
The response was immediate. Classes in the program are typically attended by a dozen or so kids; Pottenger regularly has up to 25 in his classes. He spends one day a week leading a lesson designed to teach the class a fundamental principle best learned through gaming, such as team cooperation or how to navigate disagreements between different groups, and the other allowing the kids to play what they want, which often includes Magic.
"It allowed me to combine my two passions: teaching and Magic," Pottenger said. "Almost all my closest friends I met through Magic, and more than just the game I want to bring that community to these kids.
"It's a catalyst to bring them together. Half of these kids would have never spoken to each other, and here they're playing together and learning how to get along. The best way to learn is in a community, and in a world of education that is so focused on testing and rigor, that's the part that is often left out. The kids have come together and helped each out in every way, and I'm very proud of what we've done in the class."
As classes resumed this fall, Pottenger found ways to continue to grow the class. He began to bring in public speakers from around the community, including those from the local Magic community. The same players who had freely given their extra cards to help the kids learn the game were now giving their time as well.
Things were still rolling along in the class—Pottenger's next goal was working with a local game store to provide an Xbox to the kids so they can play the console version of the game, Duels of the Planeswalkers—when news came round that Pro Tour Khans of Tarkir would take place in Honolulu.
It was time for a field trip.
But not any ordinary field trip. Pottenger contacted Wizards of the Coast hoping to be allowed to bring the kids into the event hall and look around. What he actually received was a little different.
The kids who were able to make the trip—Timothy, Xander, Ryder, Coby and Rain, a ninth-grader who took Pottenger's class last year and now volunteers her time to help—got the grand tour. They received a behind-the-scenes tour from Director of Global Brand Marketing Mark Purvis complete with a trip to the filming studio and Top 8 area (Timothy couldn't believe how bright it was under the lights), an intimate question-and-answer session with Magic R&D members Dave Humpherys and Eric Lauer, and plenty of free decks to play with as they watched the Top 8.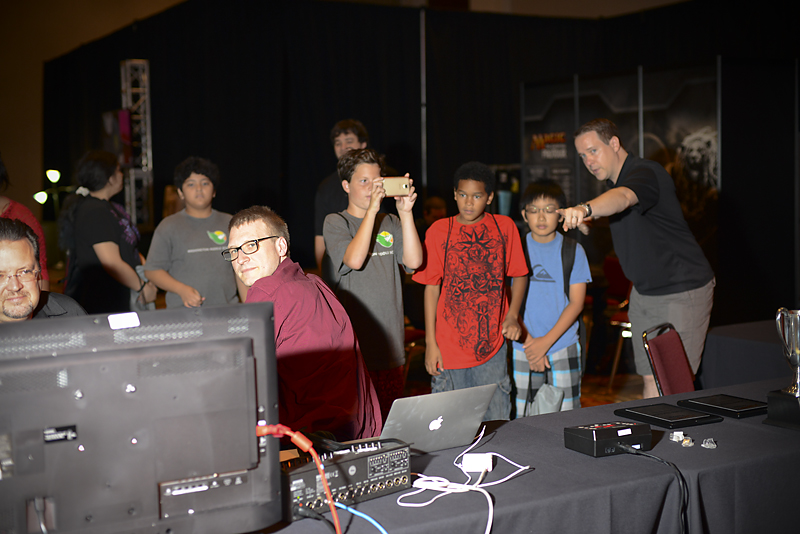 Pottenger's students are given the Pro Tour back-stage tour.
"I knew [R&D member] Gavin Verhey from the JSS, and I just sent him a message asking what I needed to do to bring the kids to the event," Pottenger said. "He got me in touch with the right people, and they really rolled out the red carpet. I got way more than I ever imagined."
...
As Pottenger looks across at the little group of students who made the trip to Pro Tour Khans of Tarkir, he knows he still has a long way to go. He hopes to move from a part-time to a full-time position teaching, but he knows that Magic is something that will now always be part of his teaching life.
"The end goal?" he asked himself as he watched Ryder correct an earlier mistake by finally attacking with his Terra Stomper, "I know it's a long way away, but if one of my kids won a Pro Tour, that would be way better than me winning a Pro Tour could ever be."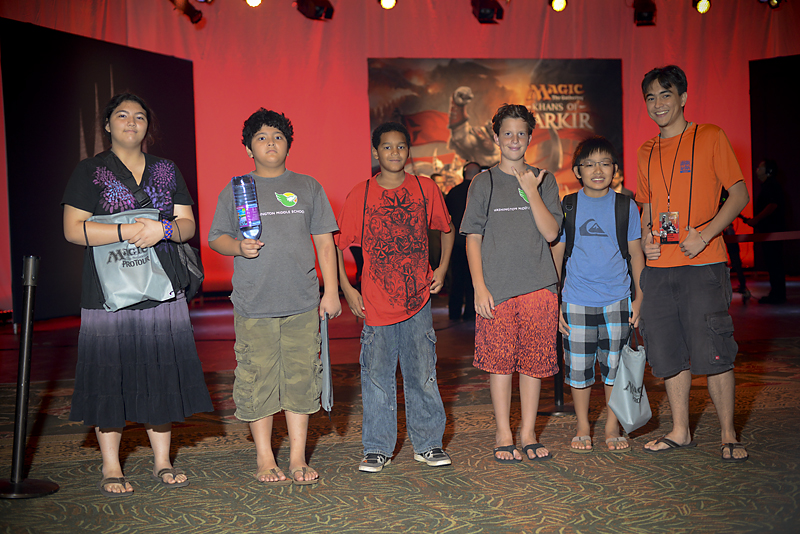 Future Pro Tour competitors, perhaps!