Richard Neil Reeves has long been considered one of the best Limited players in the history of the game. Way back in 2002, Pro Tours were exclusively Limited or Constructed. There were two Limited Pro Tours that year. Neil Reeves Top 8ed both of them. Neil Reeves has been silently putting together a comeback over the last few months. With a pair of PTQ wins and a 5-0 start here this weekend, it's clear that he still has what it takes to compete at the highest levels. I watched Reeves draft at the beginning of Day 2 and sat down with him afterward to discuss his thoughts on the draft.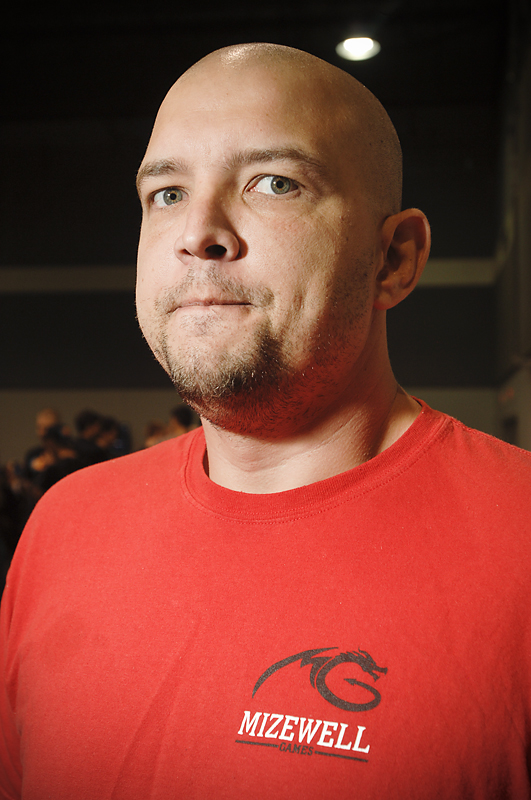 Rich Neil Reeves is no stranger to the Pro Tour lights. Back in the early 2000s, he was considered one of the great Limited specialists.
Let's jump right into the draft!
Pack 1
Pick 1:
Reeves opened a less than stellar pack where his first pick was between Siege Wurm and Elvish Mystic. Reeves felt that Siege Wurm is particularly good in convoke strategies, but Elvish Mystic is the superior card in decks like Green-Blue, Black-Green, and Red-Green. He decided to go with Elvish Mystic to keep his options open.
Pick 2:
The next pack was very weak. Razorfoot Griffin, Satyr Wayfinder, and Shaman of Spring were the only cards worth considering. Shaman of Spring is the weakest of the bunch in terms of raw power level. Razorfoot Griffin is a good card, but it's not worth committing to a second color for it. Reeves felt that Satyr Wayfinder may not have an excessively relevant body for combat, but it's quite good with the convoke mechanic and it works nicely with the various graveyard interactions in the format. The fact that it contributes to Convoke while also finding a land makes it very good alongside cards like Feral Incarnation and Siege Wurm.
Pick 3:
Again, Reeves found himself looking at a pack without a lot of playability. Jalira, Master Polymorphist and Will-Forged Golem were the only cards of note. I haven't even tried to make Jalira, Master Polymorphist into anything, but Reeves thought the card to be quite strong in this format. It's very good at making irrelevant bodies into real creatures. It's good with Coral Barrier, Forge Devil, Satyr Wayfinder, and other cards that give us a relatively lackluster body in exchange for a strong effect. Still, having already picked Elvish Mystic and Satyr Wayfinder, Will-Forged Golem was solid pick that would be making his main deck the majority of time, regardless of future picks.
Pick 4:
Keeping options open turned out pretty well here. Reeves was passed Kird Chieftain, easily the strongest card in his deck thus far. The other cards in the pack weren't remotely comparable to the bomb uncommon and Reeves was given more obvious direction for future picks.
Pick 5:
Will-Forged Golem and Gargoyle Sentinel showed up in Reeves' fifth pack. Reeves asserts that Gargoyle Sentinel is better in more controlling black-based decks, but considering his previous picks, Will-Forged Golem was an obvious choice once more.
Pick 6:
Accursed Spirit is a strong card in this set, but Reeves wasn't in Black. Still, the pack seemed somewhat dry for what he wanted and Accursed Spirit gave him an escape hatch to move in on Black if there weren't any more Green or Red cards in the coming packs.
Pick 7:
Living Totem
Pick 8:
Naturalize
Pick 9:
Rogue's Gloves
Pick 10:
Runeclaw Bear
Pick 11:
Plummet
Pick 12:
Clear a Path
Pick 13:
Tireless Missionaries
Pick 14:
Lava Axe
Pack 2
Pick 1:
Reeves opened an atrocious second pack. There was very little in the way of playable Magic cards. Gargoyle Sentinel isn't a particularly impressive card, but it's definitely playable and the pack was so dry that it seemed like an obvious pick.
Pick 2:
Again, Reeves was looking at a weak pack. There were some playable white and blue two and three mana creatures, but Hunt the Weak is a strong card for Reeves' deck and it was a clear pick when compared to the other options
Pick 3:
Reeves hadn't passed much, if any, playable Red in the first pack, so he was expecting to get rewarded. A late Lightning Strike was an easy pick here, even with an Elvish Mystic in the pack.
Pick 4:
The red kept coming, and Inferno Fist was a welcome addition the the deck.
Pick 5:
Another Lightning Strike showed up, and it was clear that moving into Red was the right choice.
Pick 6:
Stormtide Leviathan is a very strong rare in this format, but Elvish Mystic was much more in line with Reeves' plan for the draft. A lot of random cards might not be worth taking over Stormtide Leviathan, but Elvish Mystic is an important piece of the green deck and Reeves' generally weak stack of cards couldn't afford to be switching colors at this point in the draft.
Pick 7:
Feral Incarnation
Pick 8:
Miner's Bane
Pick 9:
Naturalize
Pick 10:
Solemn Offering
Pick 11:
Verdant Haven
Pick 12:
Carnivorous Moss-Beast
Pick 13:
Glacial Crasher
Pick 14:
Rogue's Gloves
Pack 3
Pick 1:
Reeves opened an even worse pack than his last here. There were some playable white creatures, but nothing spectacular, or even good. Krenko's Enforcer may be hard for cast for Reeves' deck, but it was among the two or three best cards in the pack and Reeves was forced to take it.
Pick 2:
Borderland Marauder
Pick 3:
Inferno Fist
Pick 4:
Heat Ray
Pick 5:
Scrapyard Mongrel
Pick 6:
Crowd's Favor
Pick 7:
Crowd's Favor
Pick 8:
Blastfire Bolt
Pick 9:
Marked by Honor
Pick 10:
Goblin Kaboomist
Pick 11:
Research Assistant
Pick 12:
Wall of Fire
Pick 13:
Encrust
Pick 14:
Staff of the Wild Magus
After the draft, I sat down with Reeves to ask how he thought it went. He was frustrated. His packs didn't cooperate very well. He put himself between white-blue and white-black drafters with a red-green plan and wasn't able to reap excessive rewards for doing so. Reeves wanted a bomb, but he didn't get one.
Still, Reeves had a solid deck and it appeared that a lot of players at the table were switching colors and stepping on each others toes. Reeves ended up with a good, albeit not exciting red-green deck. He was playing five pieces of removal and a healthy dose of reasonably vanilla creatures. He struggled to decide whether Carnivorous Moss-Beast or Blastfire Bolt should be his twenty-third card. Eventually, he settled on the Moss-Beast.
"My deck has a 10% chance of going 0-3, 30% chance of going 1-2, 50% chance of going 2-1, and 10% chance of going 3-0."
Once at the highest levels of competition, players need to maximize their chances of victory in any way possible. Sideboarding is an extremely important part of Magic 2015 Limited. Reeves' sideboard was very strong. Cards like Wall of Fire, two Naturalize, Clear a Path, Plummet, Crowd's Favor, and Blastfire Bolt may all come in for various opponents.
How will the draft master from days of yore perform in the draft portion of Day 2 at Pro Tour Magic 2015? Stay tuned to continuing coverage to find out!