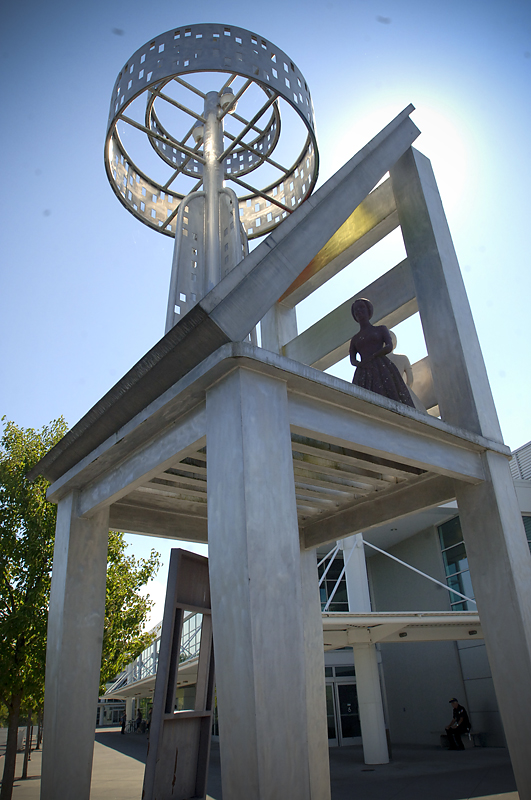 The City of Portland hosts the great mages of the multiverse.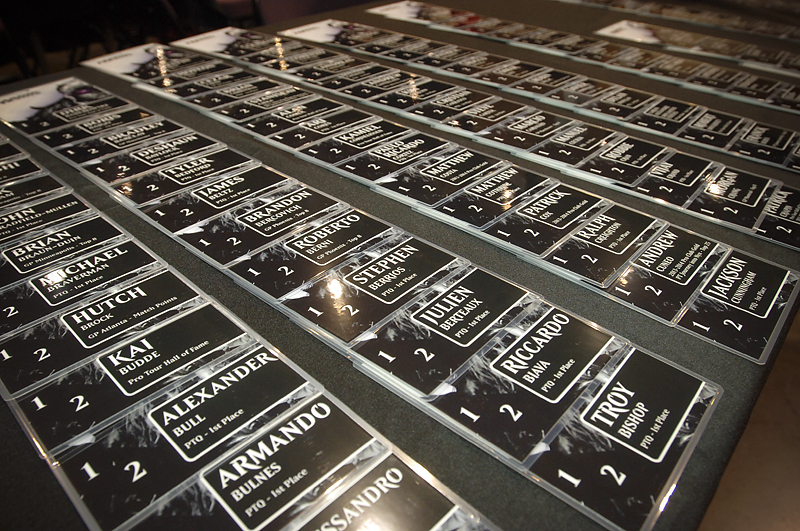 Badges for all entrants to keep imposters at bay. It will take more than a flawless impersonation to get your hands on that Kai Budde badge, which I learned the hard way.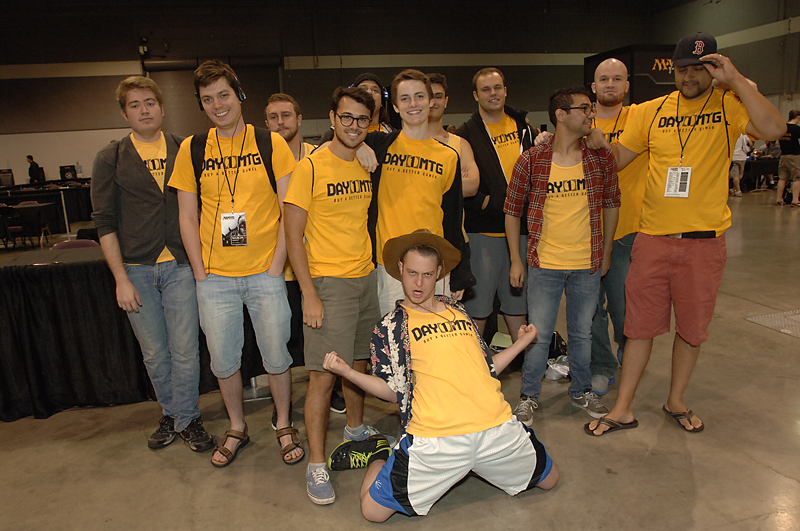 Teams of all stripes have turned out to do battle. Contrary to Ben Friedman's belief, it is not a dance battle.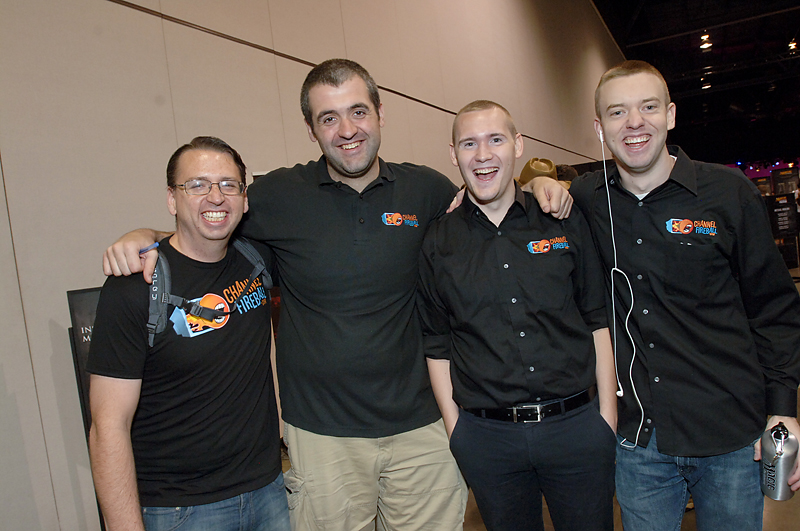 There are teams of masters...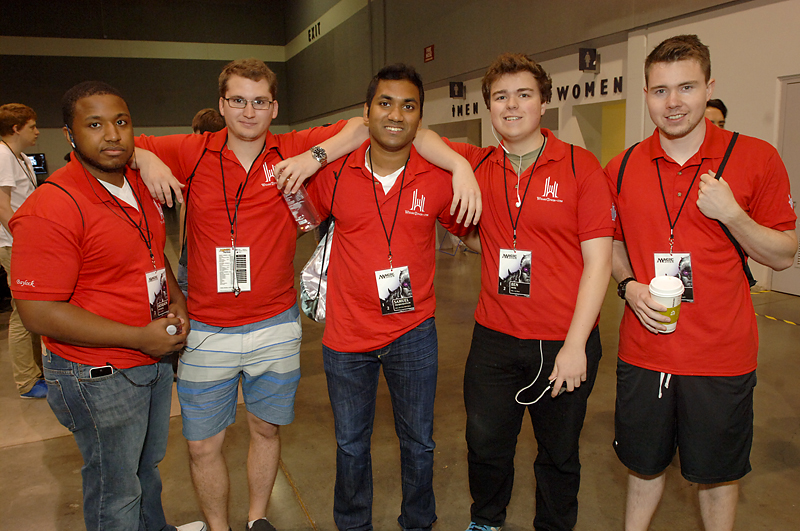 ... teams of masters-in-training...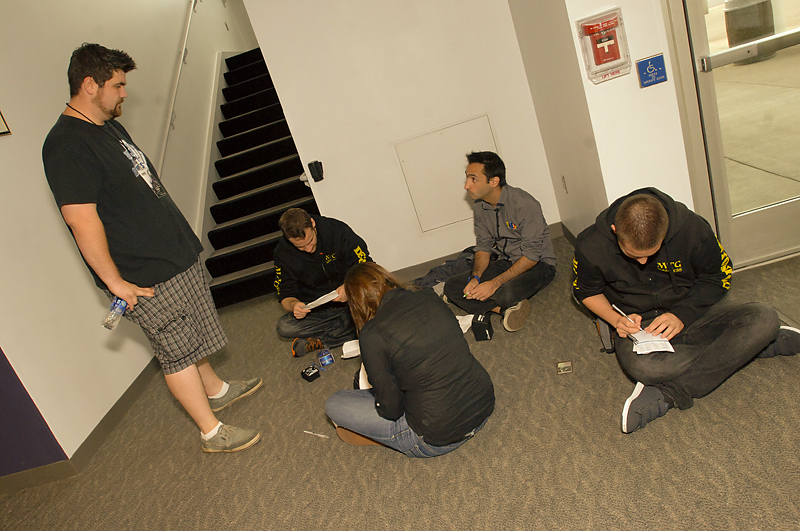 ... and of course, the Anti-Chair League are making their presence known. Former Player of the Year Brad Nelson looms, but to no avail.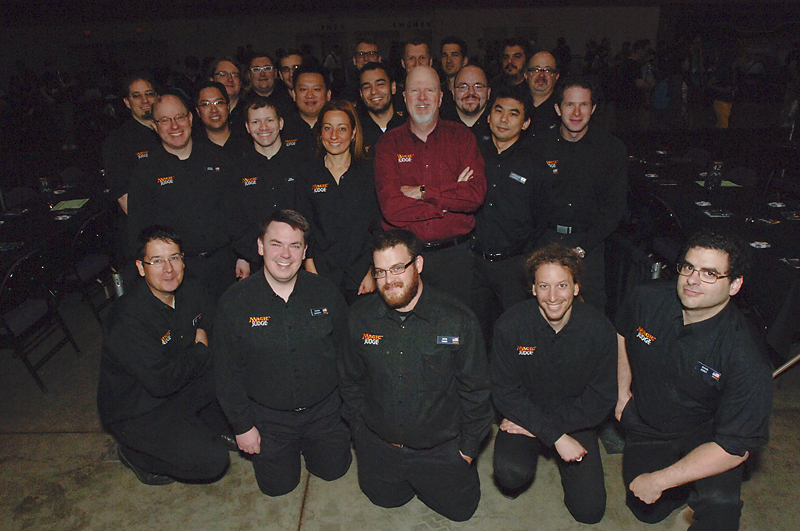 Head Judge Scott Marshall and his diligent judges. It's a tough job, but they do it with pride.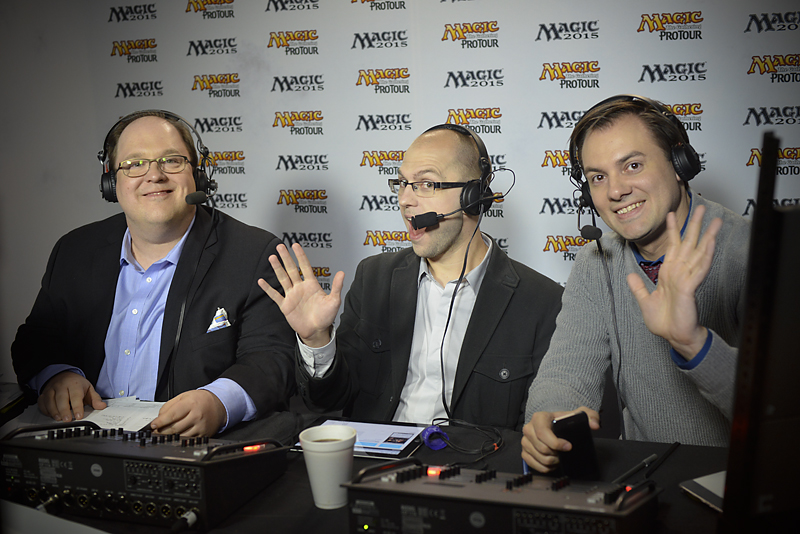 Hall of Famer Randy Buehler, Zac Hill and Marshall Sutcliffe work all weekend to bring you the excitement of the Pro Tour. Not pictured, fellow excitement-bringers Rich Hagon, Brian David-Marshall, Rashad Miller and Tim Willoughby.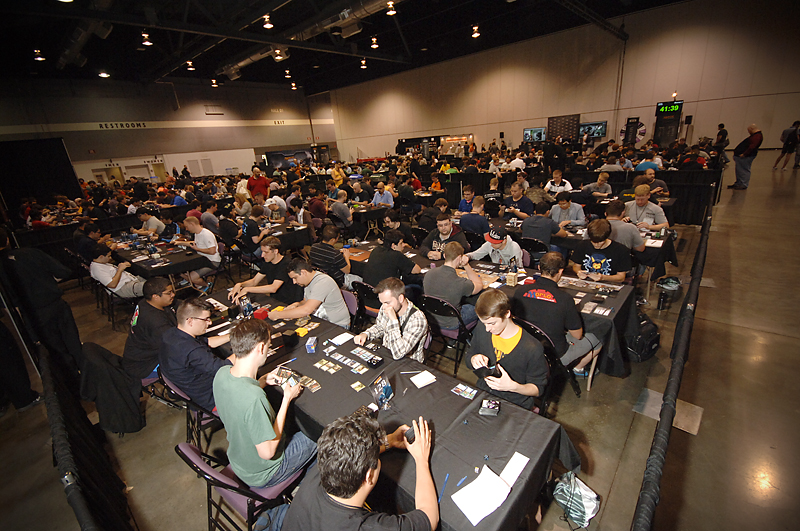 The tournament is in full swing, and a glorious sight to behold!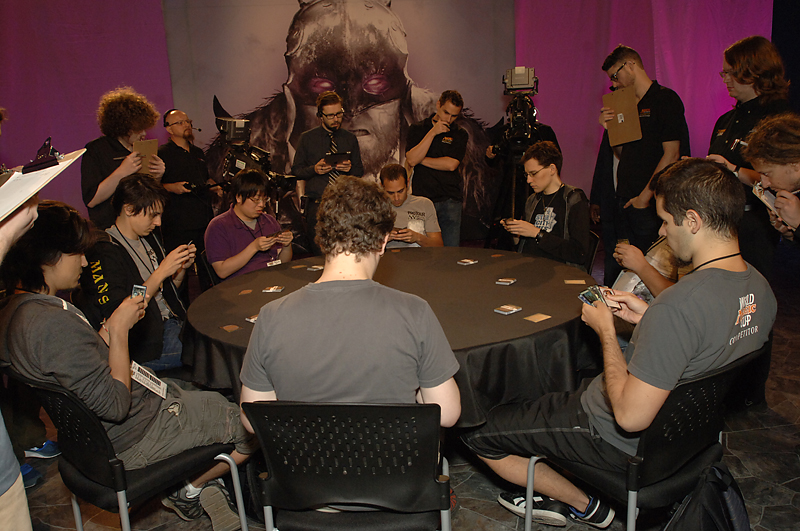 The featured Draft Table are put under maximum scrutiny.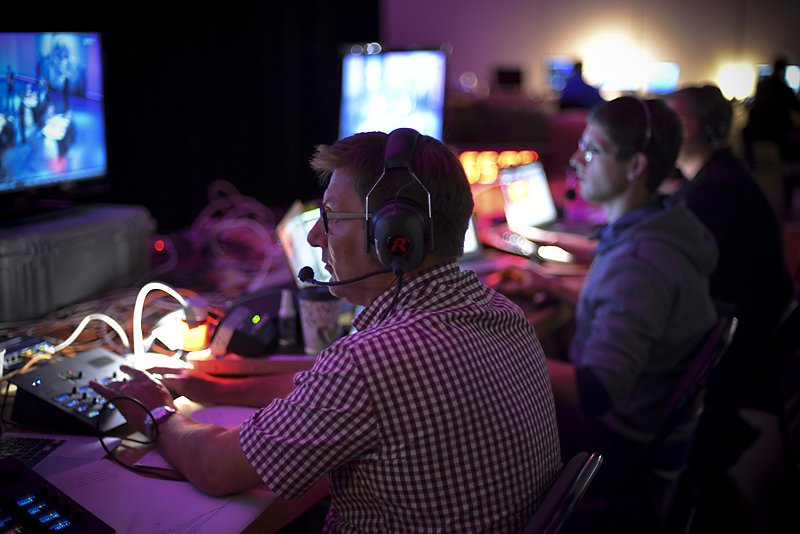 Just some of the people working tirelessly behind the scenes, doing the heavy lifting of video production.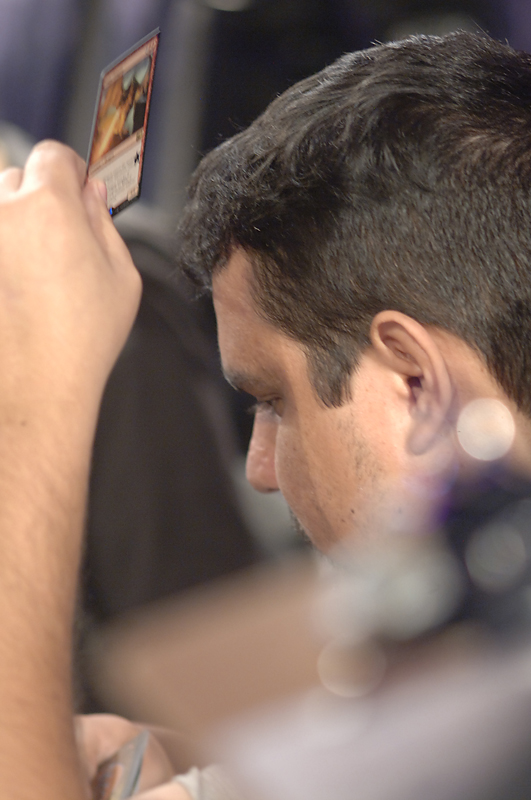 Take note of this pose. This is the proper way to signal to the reporter transcribing your draft that you have cracked "a good one."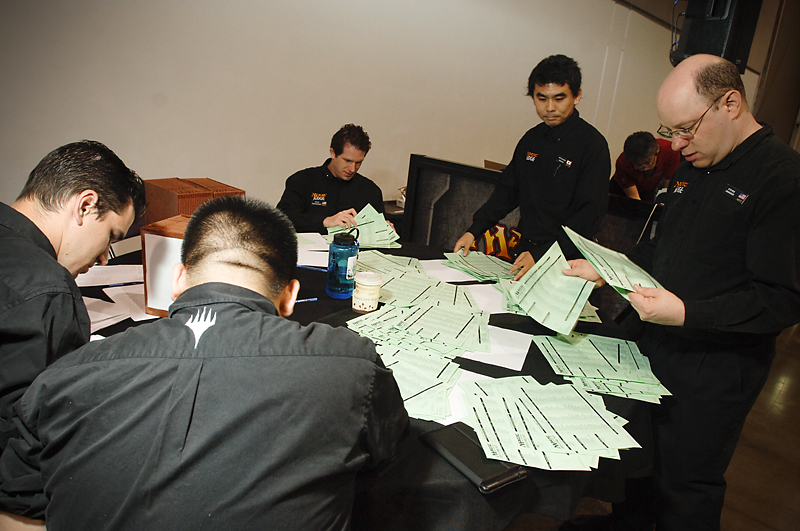 Judges caught in the act of the aforementioned diligence.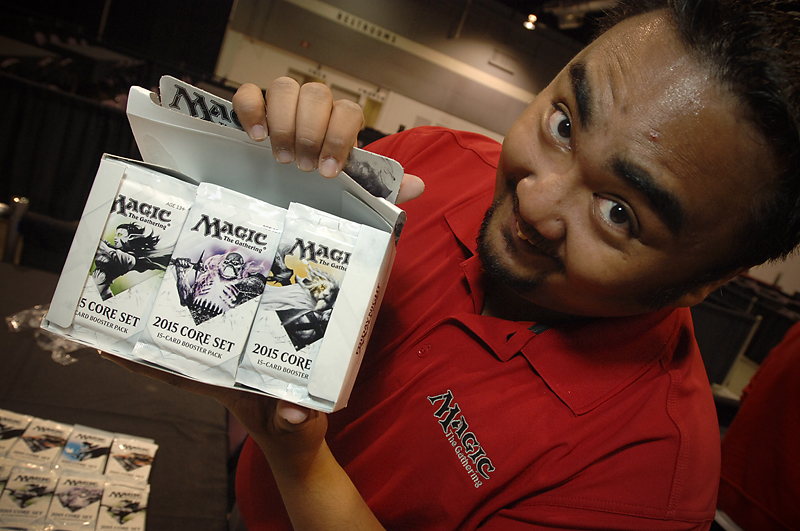 Looking to draft? Pro Tour Host Dr. Billy San Juan has the prescription for you! All competitors receive a complimentary draft set after registering on Thursday. As you might expect, impromptu drafts sprouted like dandelions.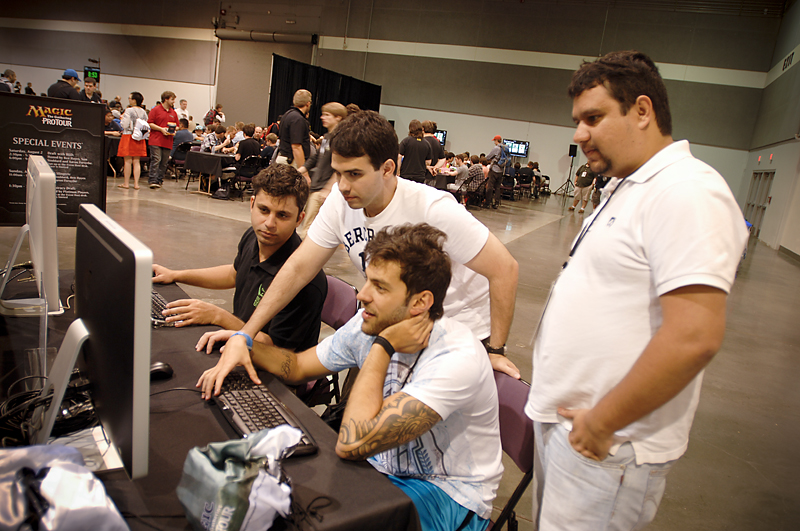 Computers with internet available on-site so that all competitors can stay connected, even far from home.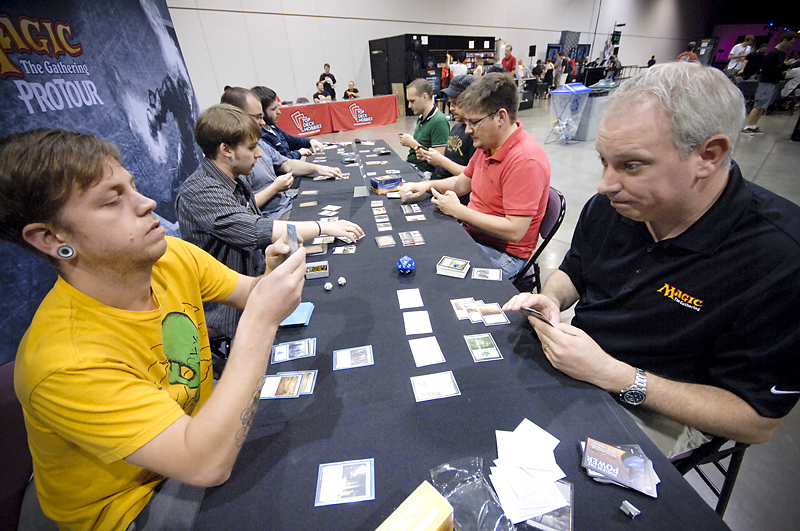 Also, members of Magic R&D are on-site to duel against the public. Here, Director of R&D Aaron Forsythe expresses an unclassifiable emotion.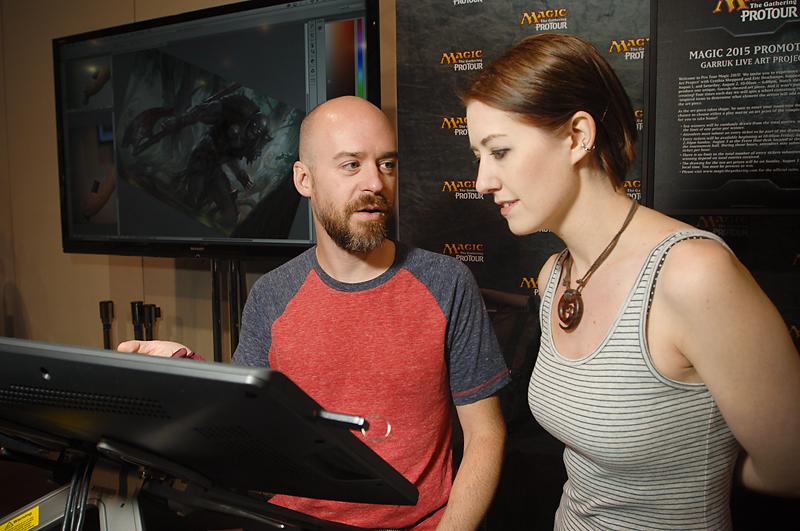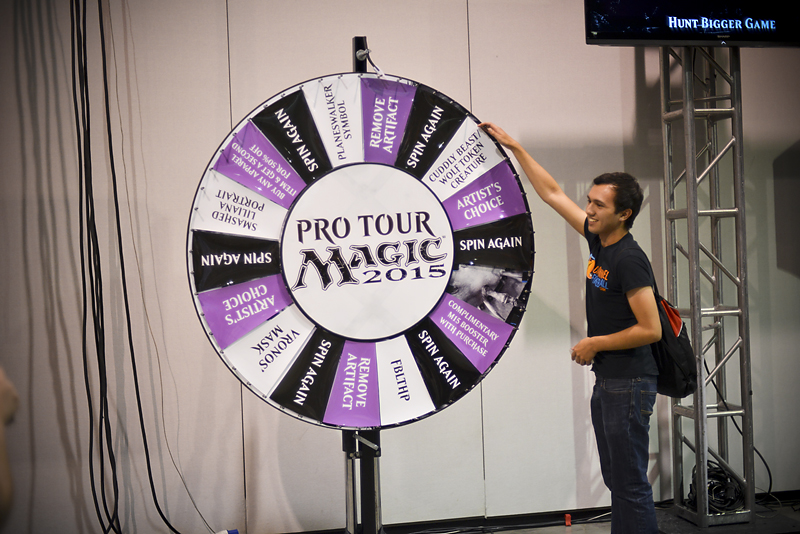 They had to keep up with increasing complications from "The Big Wheel." Here, Jacob Wilson tries to spin "Cuddly Beast/Wolf Token Creature."
Pro Tour Champions Patrick Chapin and Tom Martell react appropriately.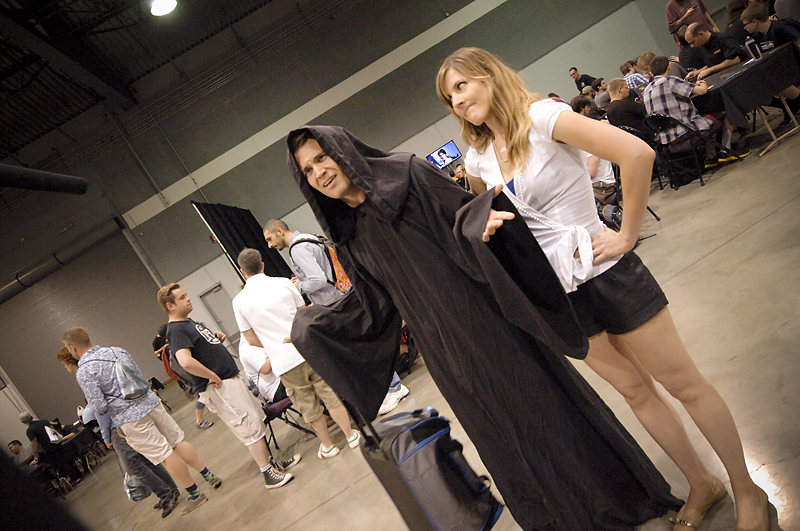 Hall of Famer Brian Kibler is incredulous that his friends didn't keep their promise to "Totally wear a cloak to the Pro Tour if you do, we're not joking at all."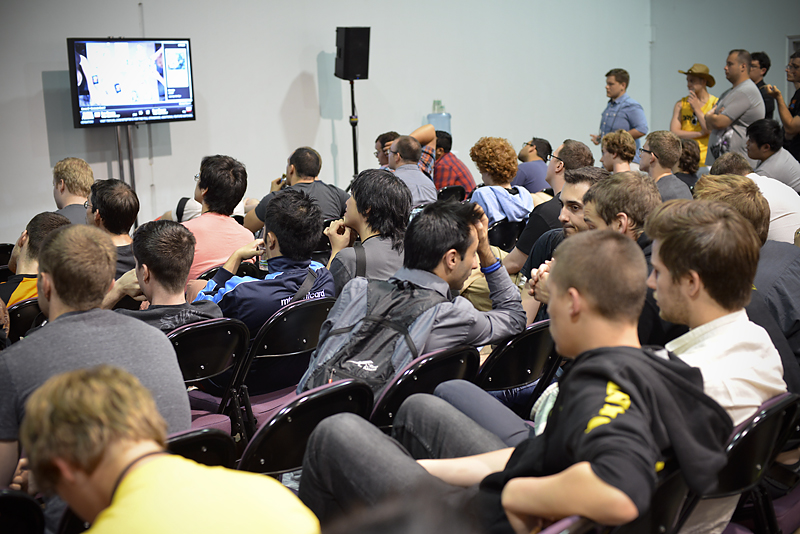 There's a large viewing area where players and spectators alike can watch the video stream. This picture also doubles as a game of "Spot Grand Prix Champion Nathan Holiday" (bonus points for also spotting Hall of Famers and Pro Tour Champions)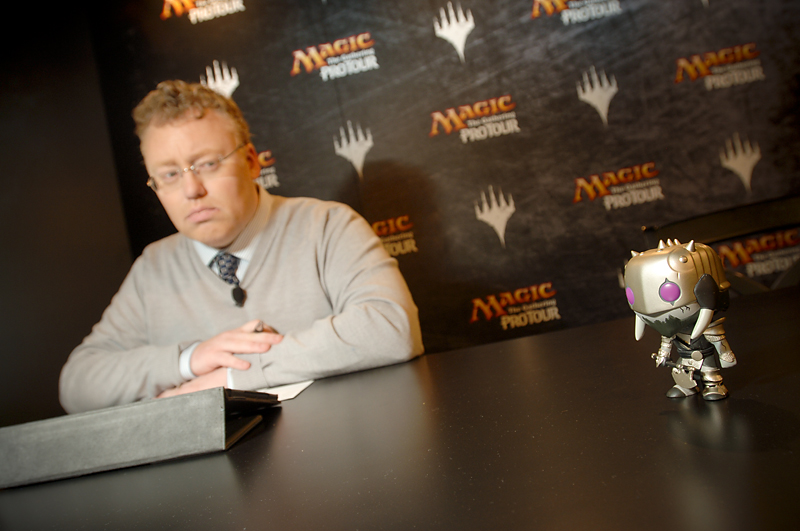 Tiny Garruk, Apex Predator has decided to hunt the biggest game of all: Host Rich Hagon. Here we see Garruk biding his time, waiting for Hagon's suspicions to fade.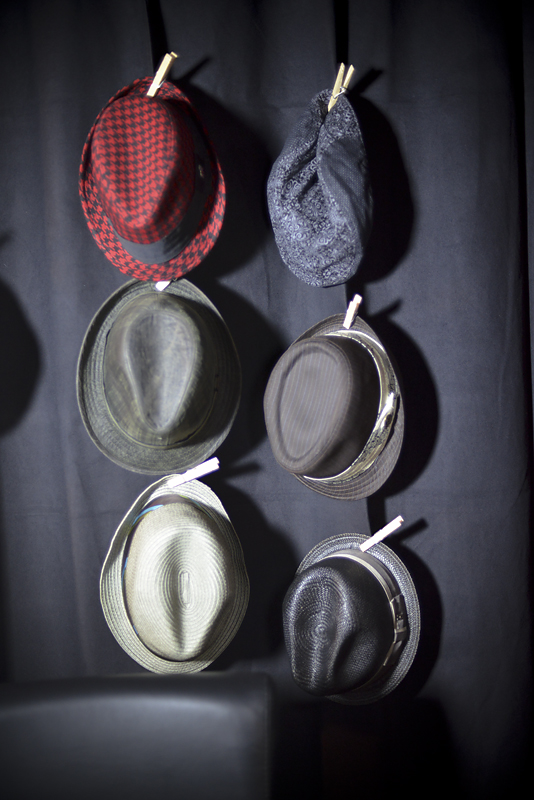 "But what man could wear so many spectacular hats?" You already know who it is!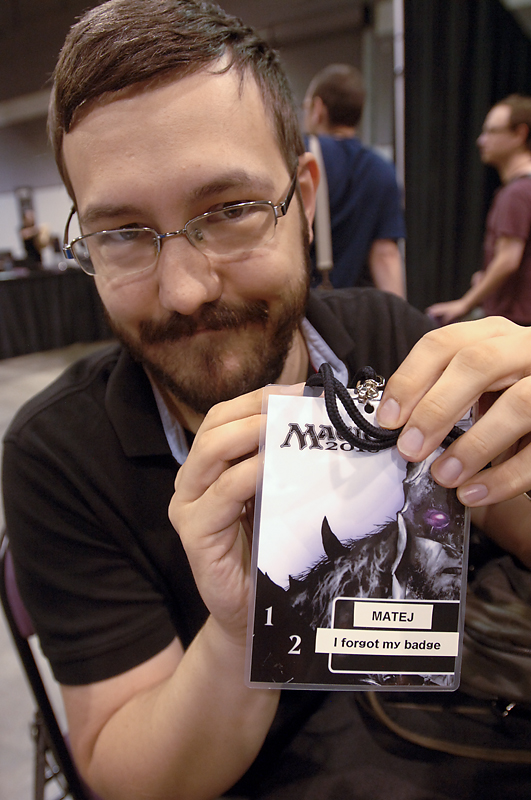 Matej Zatlkaj is suitably contrite.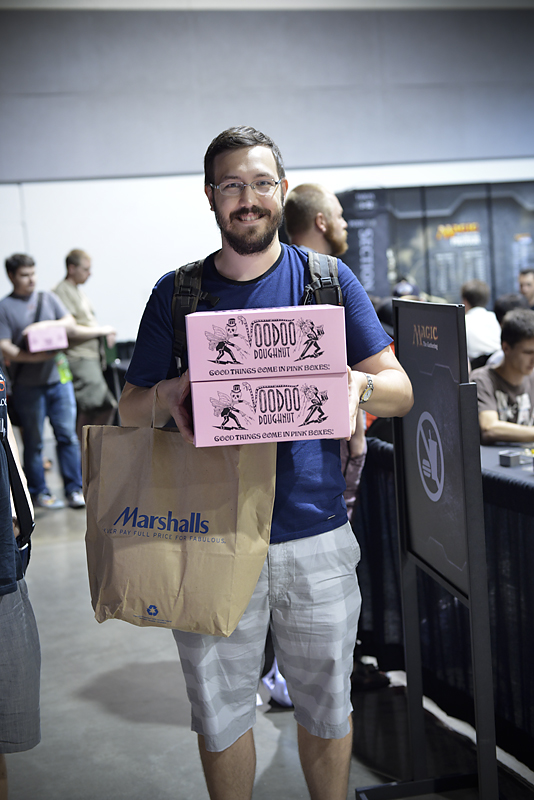 Of course, donuts are the shortest path to forgiveness.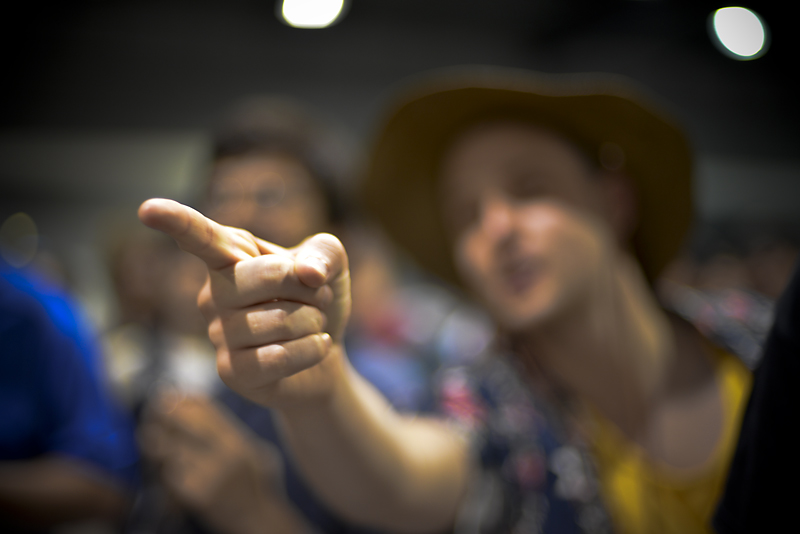 Runner-up for the role of "Ronan the Accuser." He's a method actor.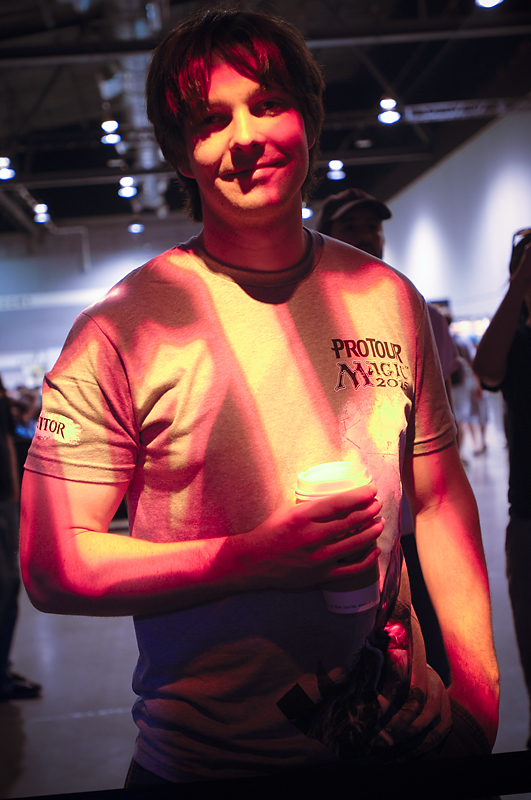 Even when forced to watch from the sidelines, Reid Duke IS Magic.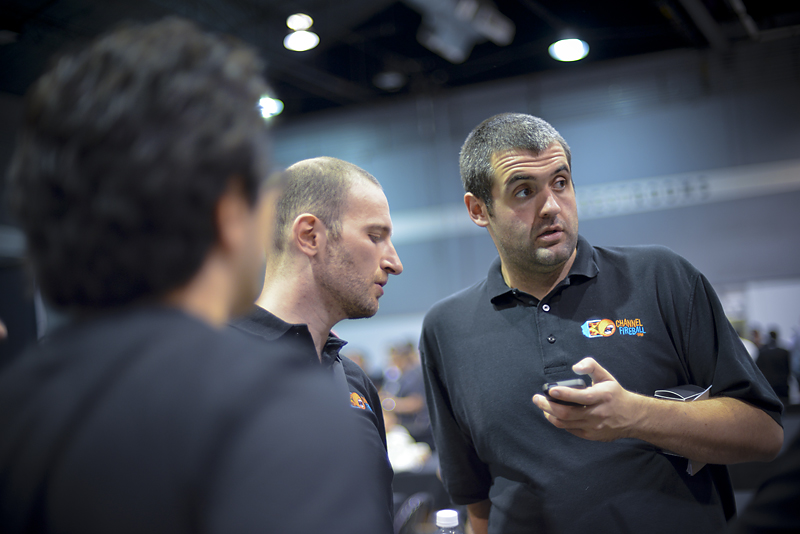 As the battle for Top 8 heats up, serious faces take over.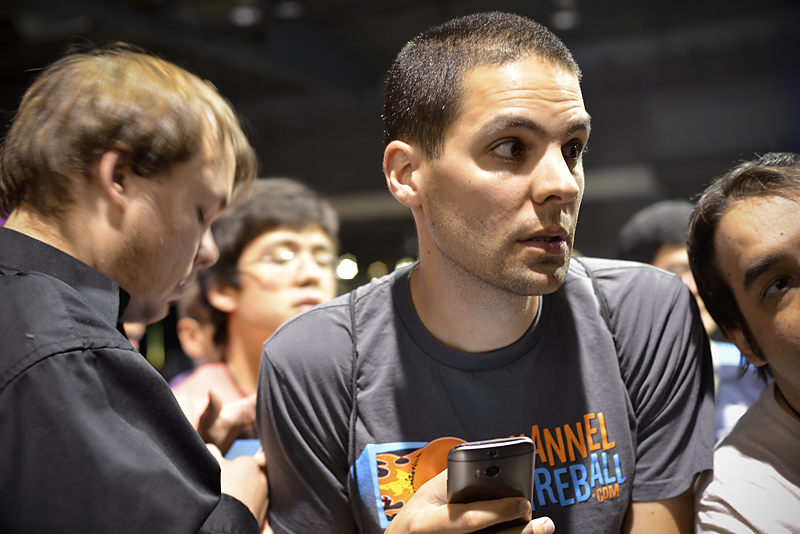 Matt Sperling put up a 7-1 record on Day 1 and kept his eyes on the prize all through Day 2 despite the mounting pressure.As the battle for Top 8 heats up, serious faces take over.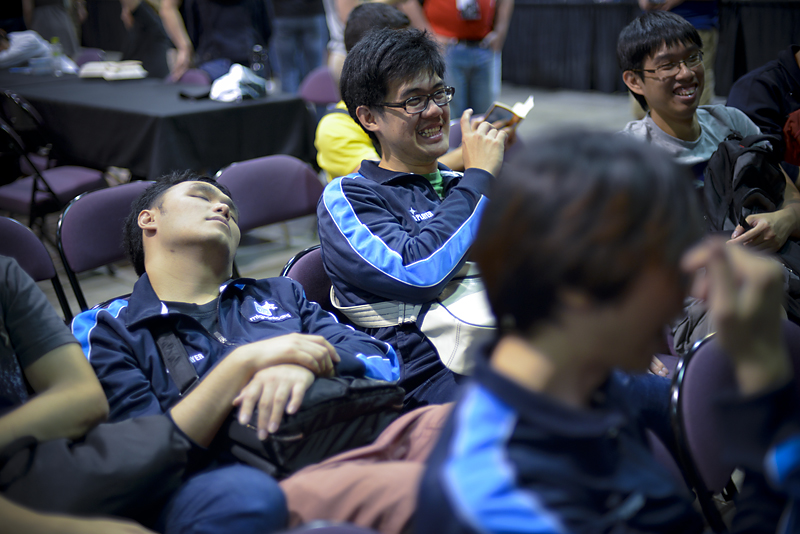 Here, APAC powerhouse Team MTGMint enjoy some much-needed downtime. Lee Shi Tian takes this to its logical conclusion.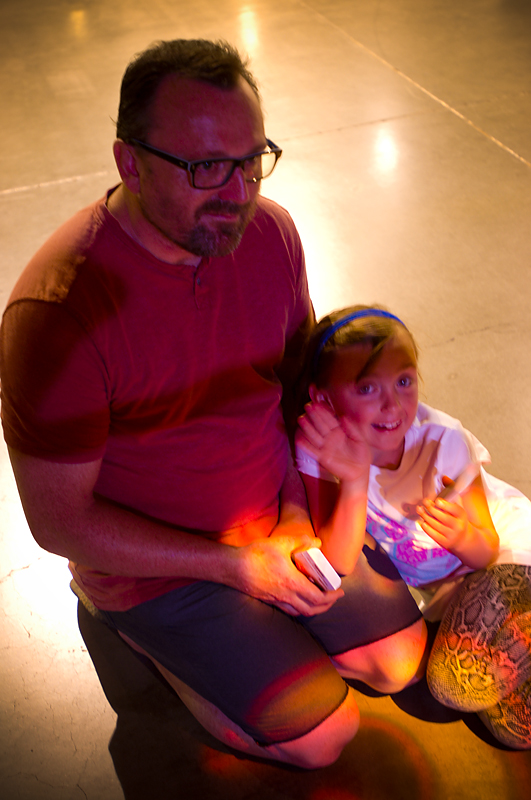 It's been two fantastic days of Pro Tour action that has delighted gamers both young and old...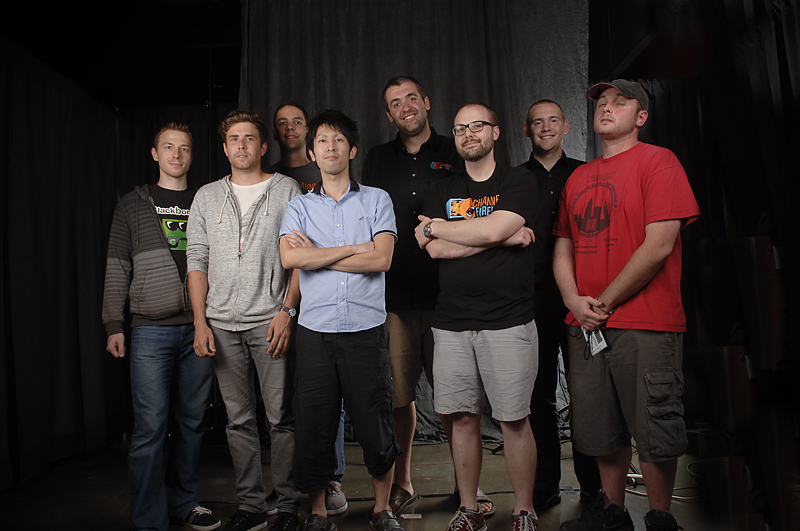 ...and we haven't passed the finish line yet. Sunday brings us our Top 8 matches! Who will be the winner this weekend?