Day One had been something of a dream run for Rich Hoaen, an old-school player that earned a Pro Tour Top 8 appearance in 2003 and has been back around the scene recently. That run culminated in a perfect 8-0 start on the first day of Pro Tour Magic Origins, and he has set his sights firmly on the Top 8.
Widely regarded as a Limited master in his time, Hoaen had spent the weekend joking about how he didn't know what some of the cards in Magic's newest set did, and he didn't remember their names. But while he may have passed himself off as disconnected, his results from Friday spoke loudly, with a perfect draft followed by an undefeated run in Standard.
Day Two, however, was off to a slower start. A difficult draft and a pair of losses put Hoaen's back up against the wall as he sat down for Round 11 against twentieth-ranked Mike Sigrist, one of the hottest players of the past year. The American entered the weekend in range to make a run of the Player of the Year title, and a win in Round 11 would move him to 9-2 and well on his way to that goal.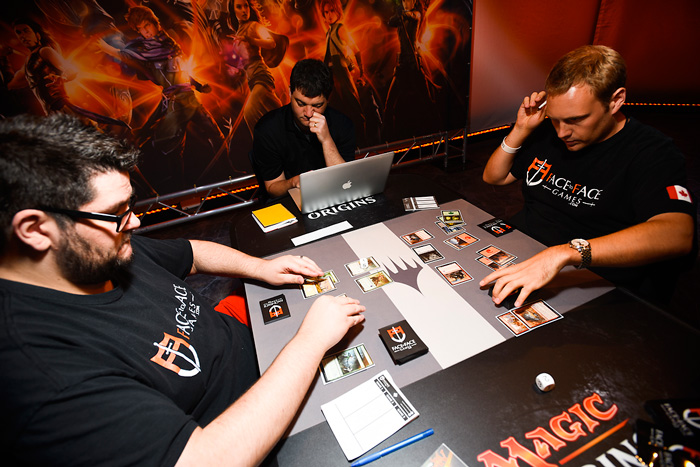 While Rich Hoaen is simply looking to salvage a rough start to Day Two, Sigrist is seeking to rebound from a 1-1 start to improve his shot at Player of the Year.
The Games
A loaded draft pod meant that powerful decks were harder than ever to come by, and both Hoaen and Sigrist had solid-if-unspectacular decks, with Sigrist playing green-white while Hoaen was battling with black-red.
The first game started with a Shambling Ghoul for Hoaen met by Knight of the Pilgrim's Road for Sigrist. Declining to block the Ghoul for fear of a combat trick, Sigrist took the first hit of the game but did more than his share in return thanks to the Knight finding its inner Wild Instincts to take down an Akroan Sergeant. An attack for 5 also made the Knight renowned.
Prickleboar was the response from Hoaen, but a second Wild Instincts took it down and allowed the offense to continue for Sigrist. Totem-Guide Hartebeest fetched up Knightly Valor the next turn, ensuring a quick end to the first game.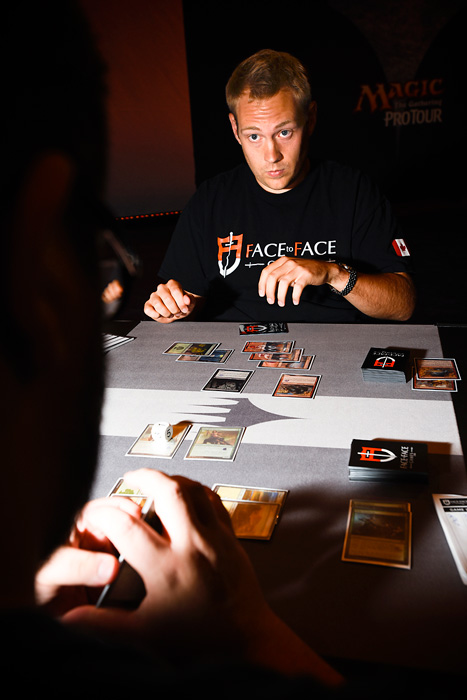 Hoaen attempts to put up a fight, but to no avail in the first game.
For a format that's known to be aggressive, the second game started off just as inauspiciously, with a Shadows of the Past for Hoaen followed by an Akroan Sergeant and a Nantuko Husk to trade with Sigrist's first creature.
Prickleboar followed, but once again it was taken down by Wild Instincts. This time, Hoaen had a second, and with his defenses up thanks to the now-renowned Sergeant, it meant the vicious attacker was free to roam wild. But as vicious an attacker as Prickleboar is, Vastwood Gorger is an even more potent blocker, and that's exactly what Sigrist followed with.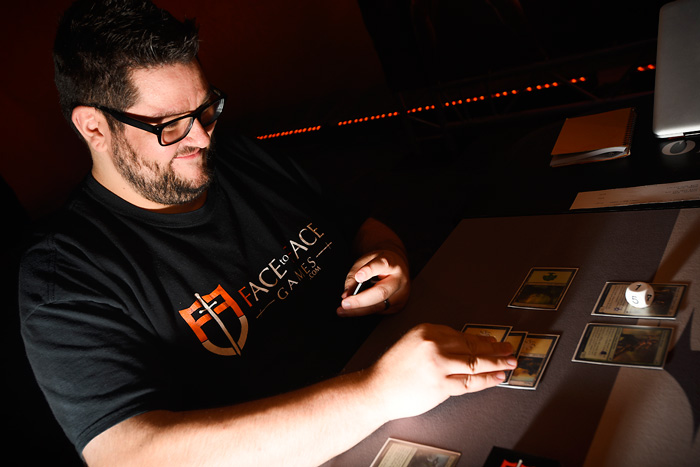 Sigrist, sitting back happily with his board position.
Undeterred, Hoaen sent the Prickleboar into the red zone, planning to use the Fiery Impulse in hand to upend the Gorger with first-strike damage. A smart double-block by Sigrist foiled that plan, and Hoaen was forced to use the Impulse just to force a trade.
The two-for-one opened the door for Sigrist to attack again, and a timely Enshrouding Mist on the next turn removed Hoaen's last blockers, leaving Hoaen helpless to prevent a second Wild Instincts from closing out the game and sending Sigrist back to the Standard rounds at 9-2.
Rich Hoaen 0 – Mike Sigrist 2