OVERVIEW
Date: November 24–26
Format: Ixalan Team Limited
Official hashtag: #gplyon
The Grand Prix will be held at:
Lyon EurExpo
9 Avenue Louis Blériot
69680 Chassieu
France
Tournament Organizer: ChannelFireball
Email: events@channelfireball.com
Phone: 1-408-727-7827

Main Event Registration Fee: €75 per player (€225 per team)
Maximum Main Event Capacity: 2,400 (800 teams)
Online Registration: September 8 until Friday, November 24 at 21:00 local time
On-site Registration: Friday, November 24, from 11:00-21:00 local time (subject to availability)
Registration for the Grand Prix main event closes Friday night. There will be no Saturday registration.
The main tournament at Grand Prix Lyon is open to Magic players of all ages.
Players must have a signed waiver and consent form to compete at Grand Prix Lyon. Forms can be downloaded here and will be available on-site. Minors must have a parent of guardian's signature on these forms. Minors will not be able to register or play unless we receive a waiver signed by a parent or guardian. No exceptions.
Many Grand Prix offer additional services to participants, such as Sleep-In Specials and VIP packages. Sleep-In Specials allow players with byes to skip the player meeting on Saturday and arrive shortly before their first round begins. VIP packages provide various perks such as complimentary bottled water, special seating, and exclusive artist signings. Details of these services vary from event to event; please check the organizer's website for specifics.
Promotional Items
Players who participate in the Grand Prix main event will receive a promo card (while supplies last). Each Grand Prix also offers additional promotional items. Check the Grand Prix website for further details on other awesome bonuses you may be able to get at the Grand Prix!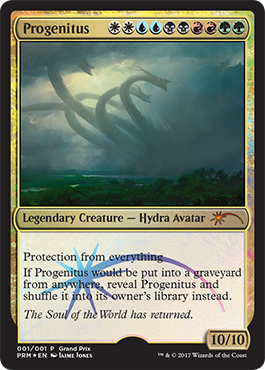 Live Streaming Video
Follow live streaming video coverage of the Grand Prix on twitch.tv/magic!
*If Grand Prix attendance is 0-999 teams, prize money will be paid out to 24th place. If Grand Prix attendance is at or over 1,000 teams, prize money will be paid out to 58th place.
Attendance at a Grand Prix is calculated on participation, not preregistration. The Tournament Organizer will announce Grand Prix attendance as soon as this is confirmed. Tournament attendance and standing are subject to review by Wizards of the Coast before being finalized.
Prize money is awarded per team.
All prizes displayed in U.S. dollars. Prizes subject to change.
Top 4 teams and all players with 36 match points or greater at the end of the event also earn invitations and airfare to Pro Tour Dominaria.
Pro Points earned at this event count toward the Rivals of Ixalan cycle for the Pro Tour Players Club.
TOURNAMENT BYES
Team Limited events do not offer byes.
Side Events
Along with the main event, there are additional side-event tournaments to play in at a Grand Prix. The Side Events listed in this section are on the schedule of every Grand Prix. For a more robust listing of side events, visit the Grand Prix website. Side events at a Grand Prix have a 3x Planeswalker Points multiplier (or whichever multiplier is appropriate for the event type).
Friday
"Foiled Again"
A straight Swiss tournament lasting three or four rounds. Participants get one past promo card for playing, then one additional promo card per match win. Format varies by event.
Saturday
"Rebound" Event
Format at organizer's discretion. Players who also played in the main Grand Prix tournament will get a discount for entry.
Sunday
Pro Tour Qualifier
The winner of the Pro Tour Qualifier receives an invitation to the same Pro Tour that the Grand Prix feeds. The format depends on the format of the Grand Prix: if the Grand Prix is Limited, the Pro Tour Qualifier will be Standard; otherwise the format of the Pro Tour Qualifier will be Limited. The Pro Tour Qualifier will consist of either an eight-round Swiss tournament with a maximum of 225 players, or eight single-elimination pods of 32 players each; in either case, a Top 8 single-elimination playoff will take place.
Artists
Some of the hottest and most famous artists in Magic will be joining us at the Grand Prix. All artists will be available to sign cards, playmats, and more. In addition, all will be selling prints, artist proofs, original art/sketches, and doing custom alterations of mats and cards! See the Grand Prix website for more information about the artists that will be attending.