Ixalan Booster Packs

Each booster pack includes 15 cards to add to your collection—and you can expect one of those 15 to be a rare or mythic rare! Some packs even contain a premium foil card!

Booster Pack

15 Cards / Pack
1 Land
3 Uncommons
1 Rare or Mythic Rare

Play In

Standard
Sealed
Draft
and more!
Buy-A-Box

Get a Treasure Chest When You Buy a Box of:

Ixalan, Iconic Masters, Unstable, Hour of Devastation, Amonkhet, Aether Revolt, Kaladesh, Modern Masters 2017

* While supplies last

Booster Pack

1 Alternate art premium foil Rare
4 Rare or Mythic Rare
2 Premium foil cards
2 Premium foil basic lands

Check with your store for availability

Promotion starts on November 24 and continues while supplies last

Play In

Standard
Sealed
Draft
and more!
Ixalan Bundle

For centuries, the untamed jungles of Ixalan have hidden a coveted secret: Orazca, the city of gold. Unfurl your sails, saddle up a Dinosaur, and battle your rivals as you embark on a journey to claim the plane's greatest fortune for yourself!

Includes

10 Ixalan booster packs
1 Ixalan Card box
1 Player's Guide
80 Basic land cards
1 Magic learn-to-play guide
1 Spindown life counter

Play In

Standard
Sealed
Draft
and more!
Planeswalker Deck

Will you choose Jace, Ingenious Mind-Mage or Huatli, Dinosaur Knight? Try them both with these two battle-ready decks featuring 8 new-to-Magic cards!

Includes

60-card deck
2 Ixalan 15-card booster packs
Deck box
Strategy insert

Play In

Standard
Sealed
Draft
and more!
Deck Builder's Toolkit

The Deck Builder's Toolkit puts 285 cards at your disposal, with everything you need to create multiple Magic decks. No two toolkits are the same.

Includes

125 semi-randomized cards
4 15-card booster packs from recent sets
100 Basic Lands
Deck builder's guide
Reusable card storage box

Learn to build your best deck!

Play In

Standard
Sealed
Draft
and more!
Magic Online

Experience all of Ixalan on your PC. Play Draft, Leagues, or all of your favorite Magic formats.

Visit MTGO.com to download and play!

Play Ixalan on Magic Online starting September 25

Great for Experienced Players!

Play In

Online
Standard
Sealed
Draft
and more!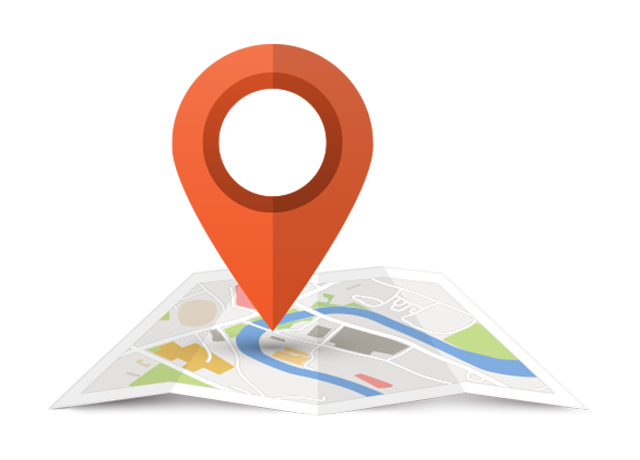 Ixalan Story
Jace, Alone
A man wakes up alone on an island, his memory as absent as his means of arrival.
Read now!
Ixalan's Binding
Mana cost: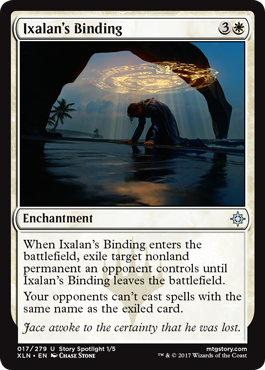 The Third Aspect of the Sun
Huatli is a Warrior-Poet of the Sun Empire. Her talent in combat and creativity know no bounds, but when faced with a frightening encounter and an even more astounding vision, she must overcome discomfort to live up to expectation.
Read now!
The Talented Captain Vraska
Vraska has never been happier. Finally able to be the leader she always knew she could be, she captains The Belligerent with the skill of the greatest of commanders. She had kept Jace Beleren alive initially to utilize his talents, but soon discovers that they make quite the team.
Read now!
Vraska's Contempt
Mana cost: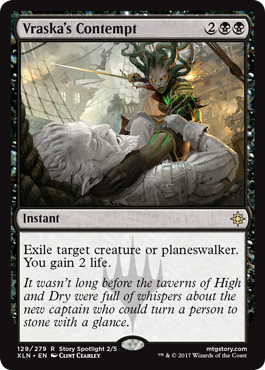 The Shapers
With so many different groups seeking the golden city of Orazca, how will the River Heralds keep the city's power from falling into the wrong hands?
Read now!
Something Else Entirely
The Belligerent harbors at High and Dry, and Jace gets the lowdown on Vraska's mission.
Read now!
Thaumatic Compass
Mana cost: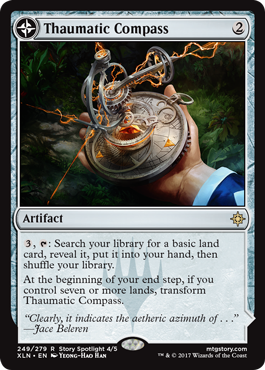 The Race, Part 1
After the River Heralds marooned The Belligerent, Jace and Vraska escape intact. Meanwhile, Huatli and Tishana team up to track down the compass that could lead them to the Golden City, and Vona pursues.
Read now!
River's Rebuke
Mana cost: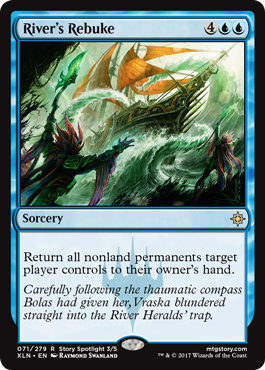 The Race, Part 2
The race to the Golden City picks up the pace as each group jostles for position. Everyone needs the Thaumatic Compass to reach the city, but who will get there first?
Read now!
Perilous Voyage
Mana cost: