Standard 2020 Event Info
Get a head start on the upcoming Standard format and earn extra Set Mastery XP! Play Standard 2020 by using cards from: Guilds of Ravnica, Ravnica Allegiance, War of the Spark, Core Set 2020, and select cards from Throne of Eldraine! You can play this event as many times as you want.
Start Date: September 9, 2019 at 8 a.m. PT
End Date: September 26, 2019 at 4 a.m. PT
Format: Standard 2020 Play and Standard 2020 Ranked Events (Guilds of Ravnica, Ravnica Allegiance, War of the Spark, Core Set 2020, Throne of Eldraine*)
*Only the event rewards from the Eldraine Courtside Brawl will be available during this event.
Event Structure:
3 Wins or 2 Losses (whichever comes first)
Event Rewards:
1 Win: 50 XP
2 Wins: 150 XP
3 Wins: 250 XP
How to Join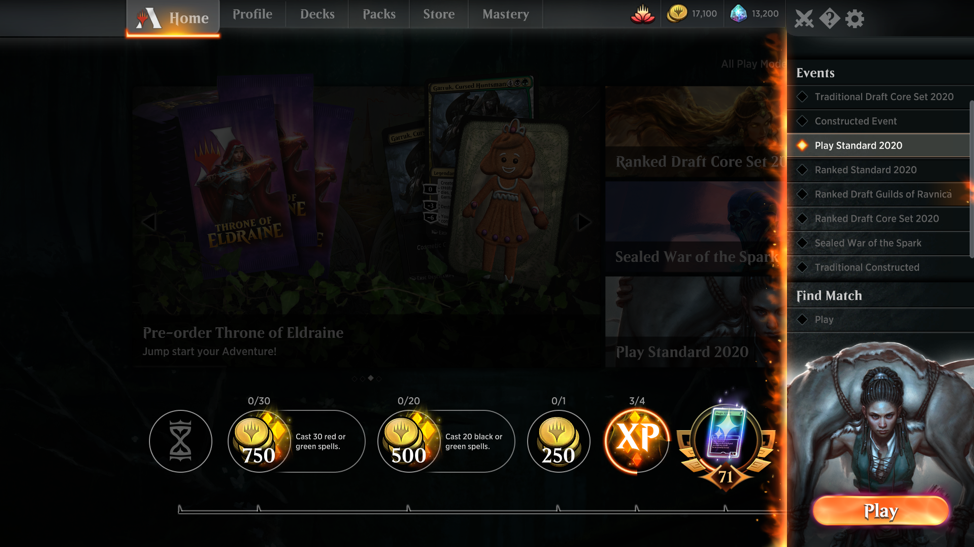 You can join either the Play Standard 2020 or Ranked Standard 2020 events on the play blade under the "Events" section.
Both Events are best-of-one (Bo1).
Ranked will contribute to your current Constructed Rank (Core Set 2020 Season 2)
Building Your Deck
If you create your deck through the event page, the deck format will automatically default to "Standard 2020".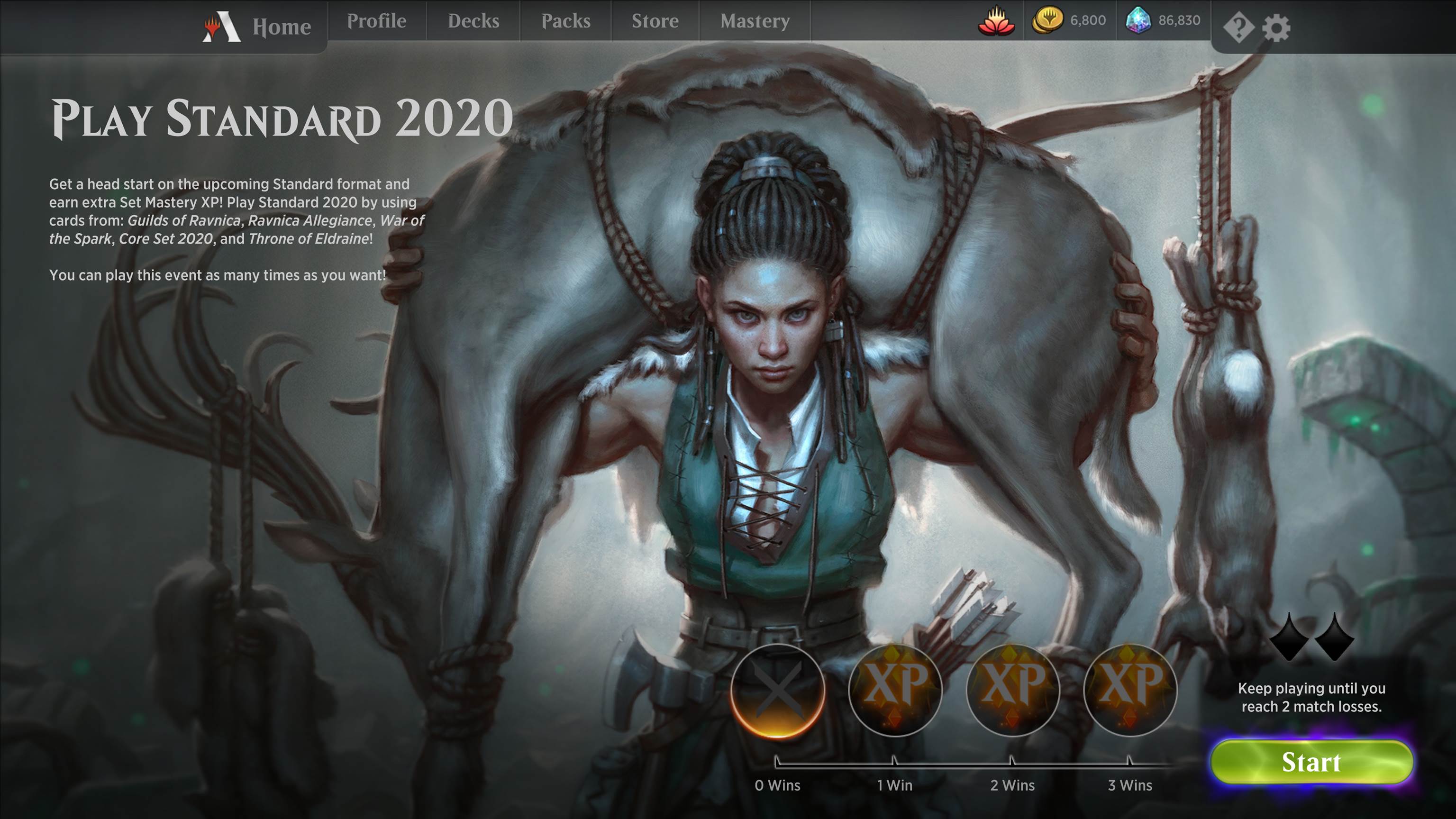 If you build your deck by creating a New Deck through the Decks page, you can select "Standard 2020" as your format to only show the cards playable in this event: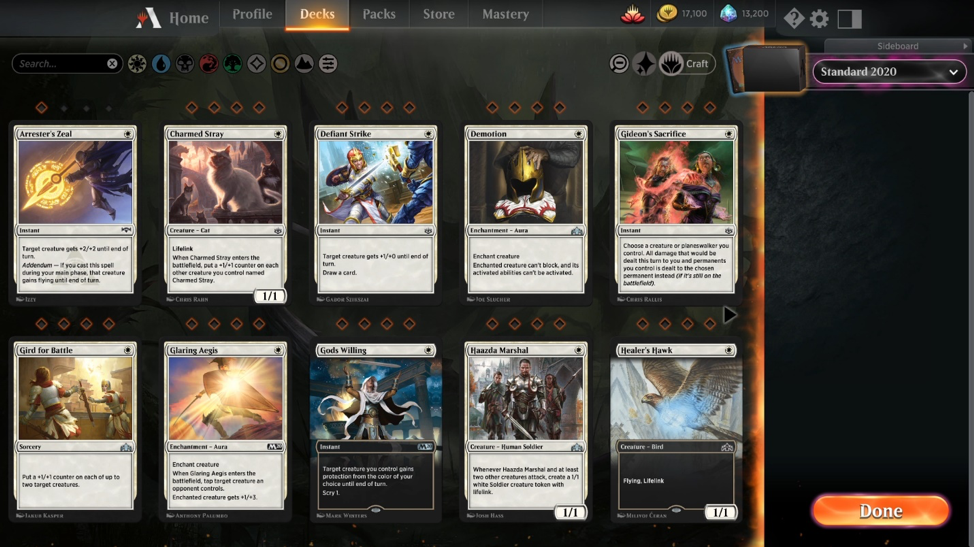 Throne of Eldraine
Players who participated in the Eldraine Courtside Brawl can use their reward cards as part of this event:
Faerie Vandal
Order of Midnight
Syr Konrad, the Grim
Savvy Hunter
Inspiring Veteran
Heraldic Banner
To view these cards in your collection and/or while deckbuilding, you can either search for each card by name, or search "e:eld" to view all available cards: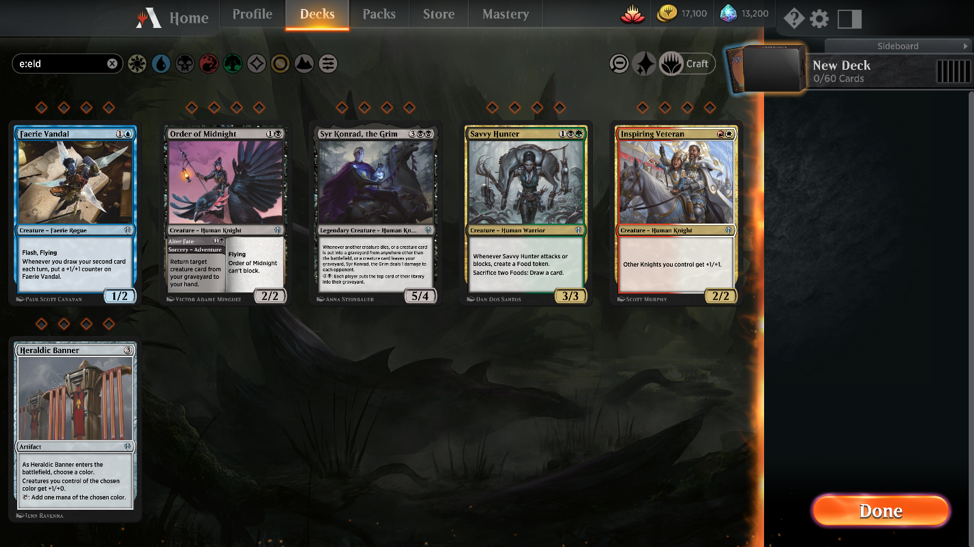 Important Note:
The Throne of Eldraine cards were only earnable during the Eldraine Courtside Brawl event. These cards cannot be crafted or collected from packs until Throne of Eldraine fully releases on September 26.