INTRODUCING FIRESONG AND SUNSPEAKER
INTRODUCING FIRESONG AND SUNSPEAKER

Buy a box of Dominaria from a participating WPN store to get your copy of the brand-new Minotaur legend duo Firesong and Sunspeaker!

SO LEGENDARY, YOU CAN'T GET IT IN DOMINARIA BOOSTERS.

GET YOUR BOX EARLIER THAN EVER: PREORDER FOR PRERELEASE PICKUP!

EACH BOOSTER BOX CONTAINS 36 DOMINARIA BOOSTER PACKS

PREREGISTER FOR PRERELEASE APRIL 21 AND 22

YOUR FIRST CHANCE TO PLAY WITH THE LEGENDARY HEROES OF DOMINARIA
IMPORTANT DETAILS
Firesong and Sunspeaker promo card is only available with the purchase of a Dominaria booster box from participating Wizards Play Network Stores, while supplies last.
Prerelease pick up of Dominaria booster boxes is available only at participating WPN stores from April21–22, 2018. Dominaria officially releases on April 27!
Not all WPN stores are participating in this promotion, so make sure to check in with your local store for details.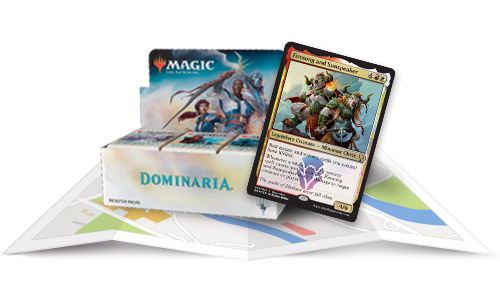 Find a Store Near You
Check with your store to see if they are participating!