The Legendary Team-Ups of March of the Machine
The Multiverse is learning that the only way to survive—much less hold the line against—the Phyrexian onslaught is to work together. These team-ups prove just how powerful even unlikely allies can be!
You can find legendary team-ups in March of the Machine, which can be preordered from your local game store or from online retailers like Amazon.
DJERU AND HAZORET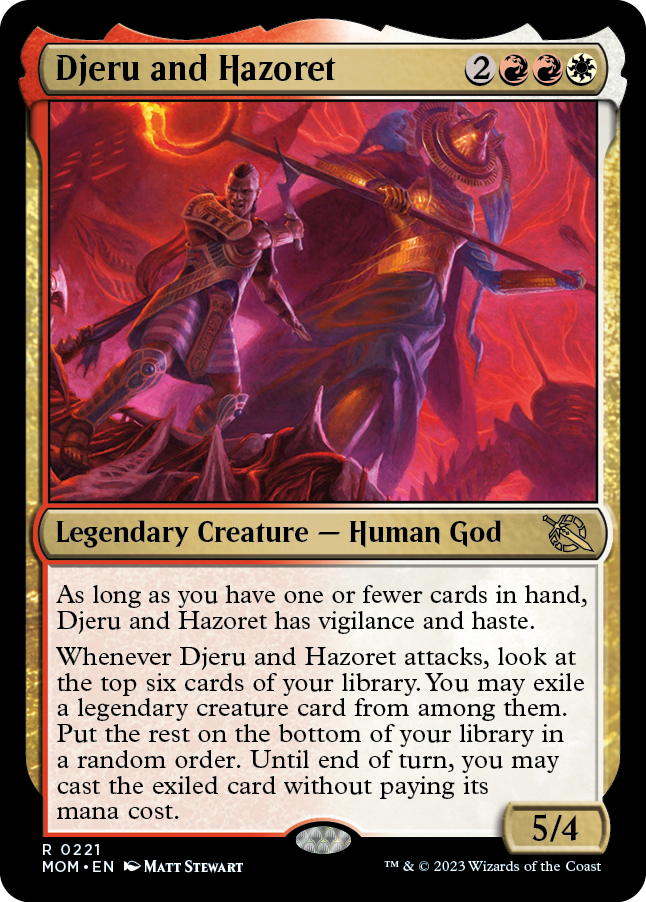 Warned of the incoming invasion, the survivors of Amonkhet went into hiding, hoping to evade Phyrexian notice, but it turned out to be futile. Those who had survived Nicol Bolas's ravaging of their plane, however, were tough and resourceful, and as soon as they gathered their bearings, they struck back with a vicious plan that relied heavily on Hazoret, their protector god, with Djeru as her loyal lieutenant.
To their surprise, when they arrived at Naktamun, they found the Scarab God and Locust God already there, engaged with the invaders. With the insect gods' undead hordes distracting the Phyrexians, Hazoret used her flaming spear to ignite the glistening oil within the Phyrexians' veins. As they writhed in agony, Djeru led a crop of elite fighters to dismember them, making sure they were out of the picture for good. In the aftermath, the inscrutable insect gods departed for the deep desert without a word.
DRANA AND LINVALA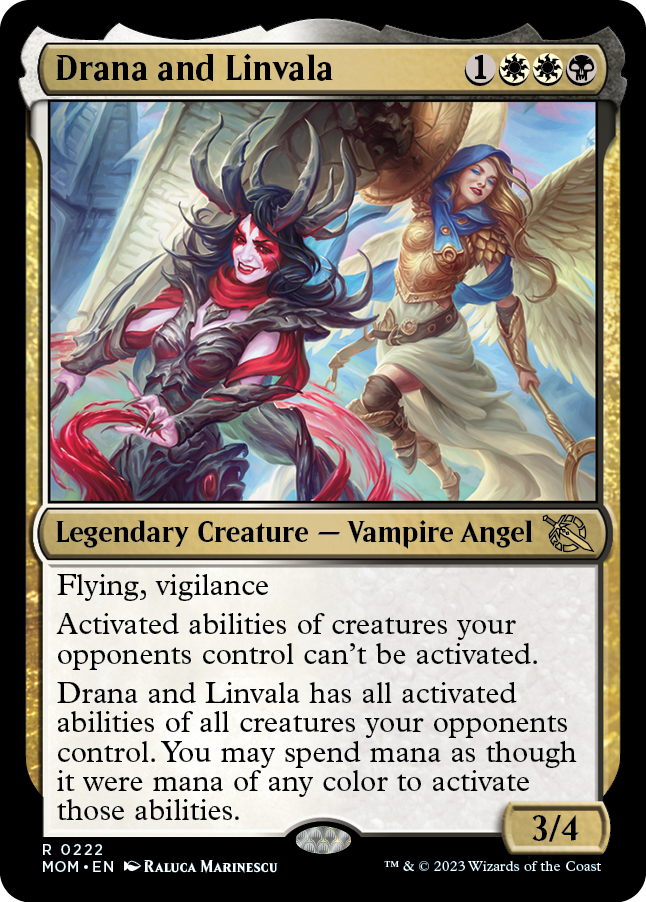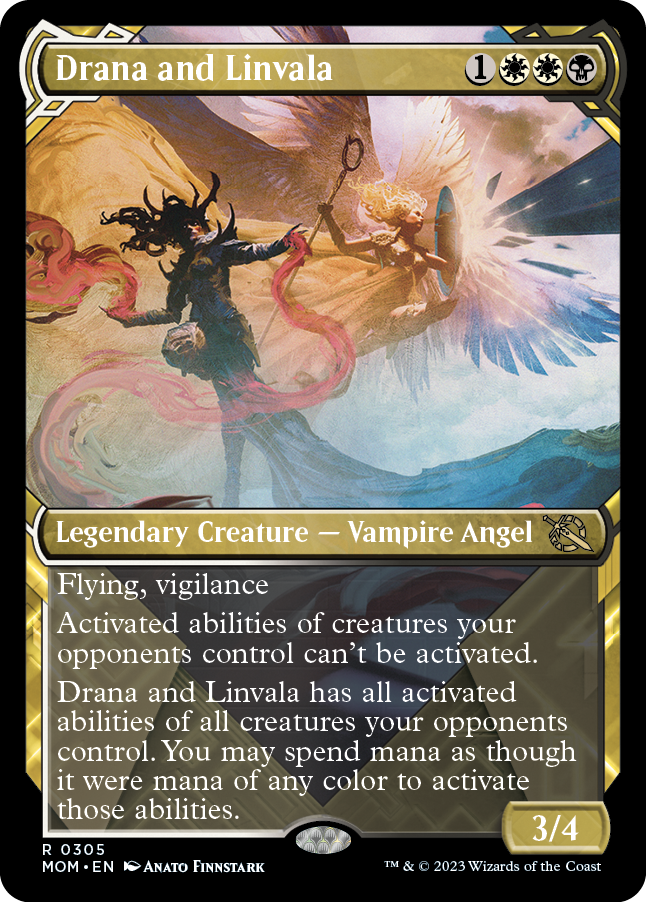 More by accident than anything else, the vampire bloodchief Drana and the angel Linvala found themselves fighting in the same skies during the thick of Zendikar's invasion. A chance encounter during battle led to a startling discovery: bloodchief magic and angelic powers complemented each other surprisingly well, and together the two of them could do more damage than they had apart. As they've fought, the mutual disdain and dislike they held for each other has transformed into one of respect and appreciation for the other's power and skills.
BARAL AND KARI ZEV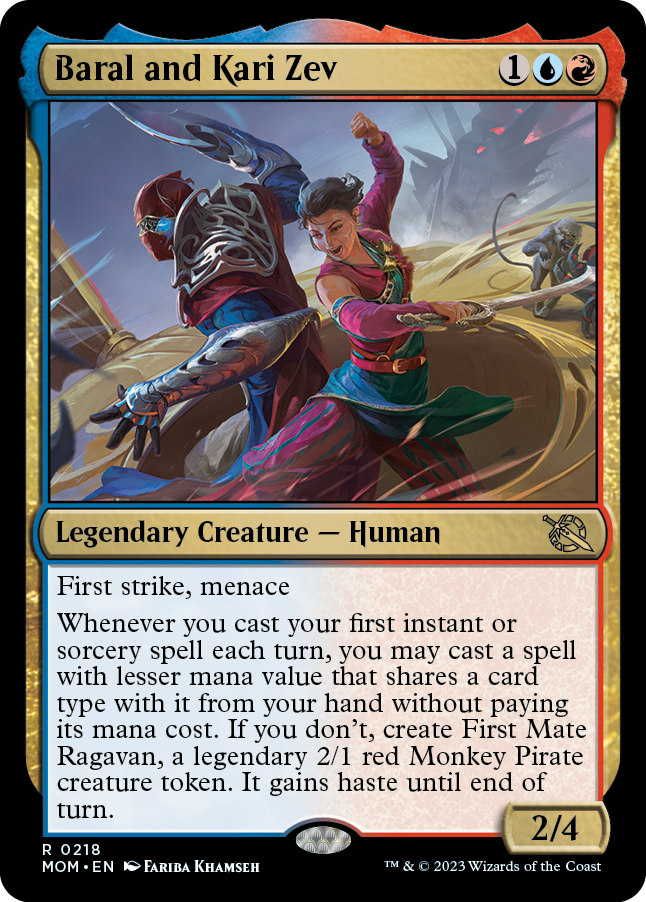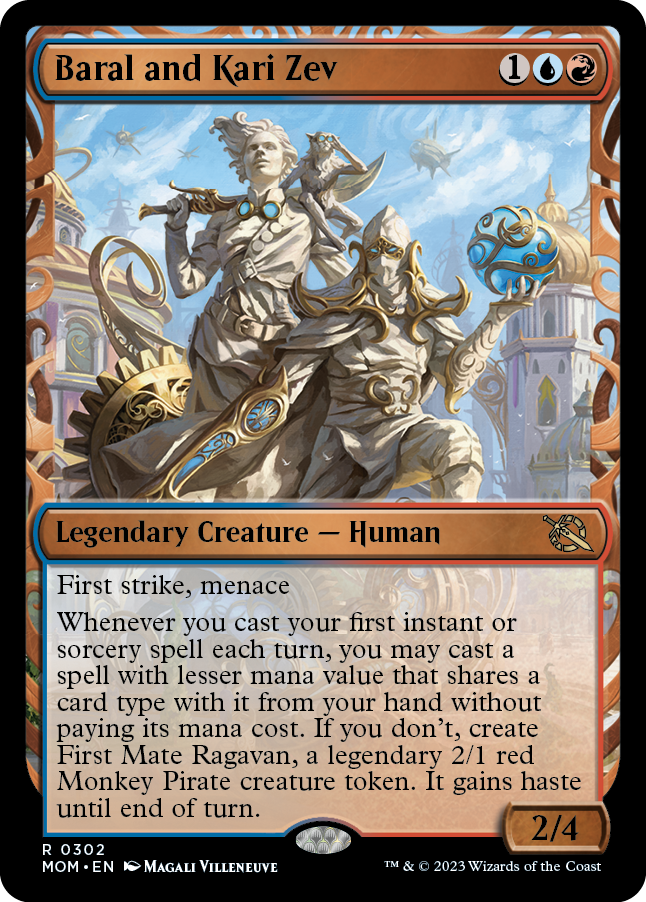 When the prison where ex-Consulate officer Baral was held was damaged by Phyrexian attacks, he lost no time in escaping. His delight at being free was cut short when he found himself facing a host of Phyrexians.
He would have died, if not for the timely intervention of the notorious skyship pirate captain Kari Zev. When Kari Zev realized exactly whom she had rescued, she gave Baral a choice that was no choice at all: help her fight or be thrown overboard.
Though they're allies for the time being, Kari has tasked First Mate Ragavan to watch Baral for any sign of deception. They know that if they both survive, they'll find themselves on opposite sides once again.
YARGLE AND MULTANI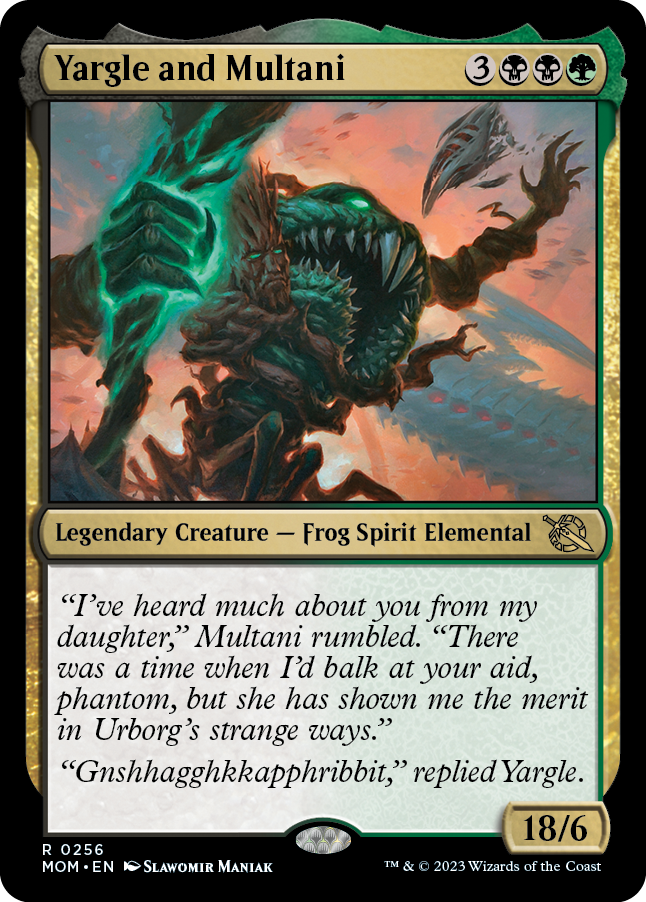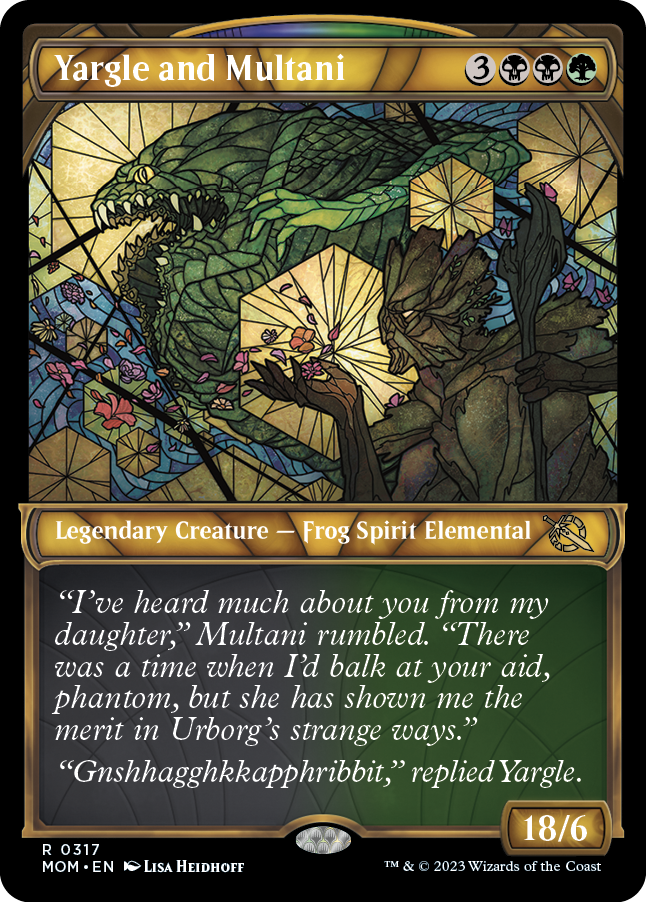 When the demonic frog spirit Yargle first noticed the Phyrexians charging toward him, he was elated: so much food, all so eager to be eaten! What he didn't realize was that the more he ate, the more he exposed himself to the dangerously virulent glistening oil. Someone else noticed, though: Muldrotha, an Urborg elemental who was the daughter of the maro-sorcerer Multani.
Seeing the danger that Yargle was in, she sent a plea for assistance to her father. Muldrotha managed to persuade him, and Multani bound himself to Yargle, using his powers and existing knowledge of Phyrexia to grant increased resistance to glistening oil. Though Multani had been initially reluctant to help, he found himself impressed by the insatiable nature of Yargle's appetite and found himself with a new appreciation for Urborg's strange ways.
INGA AND ESIKA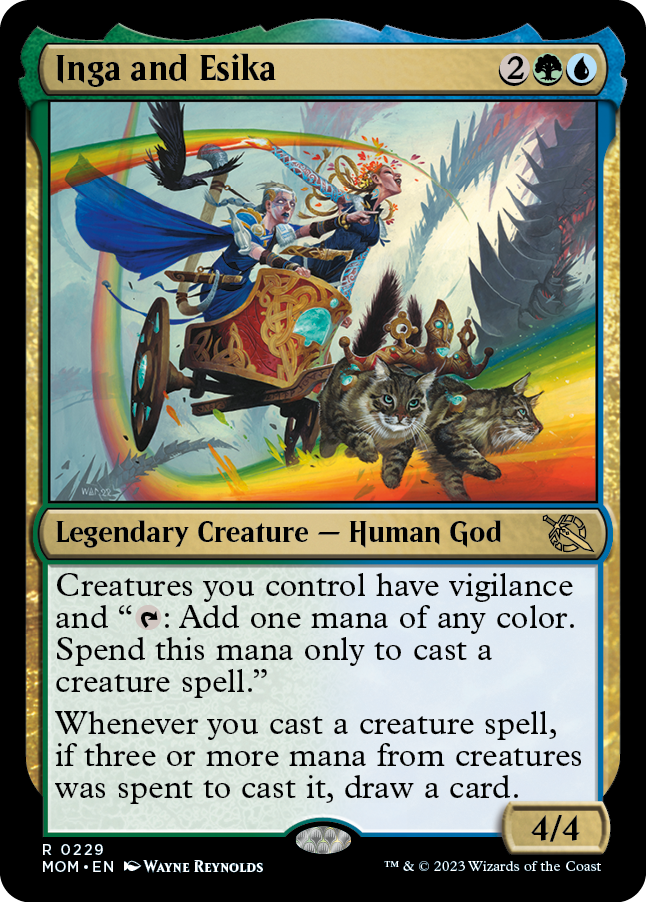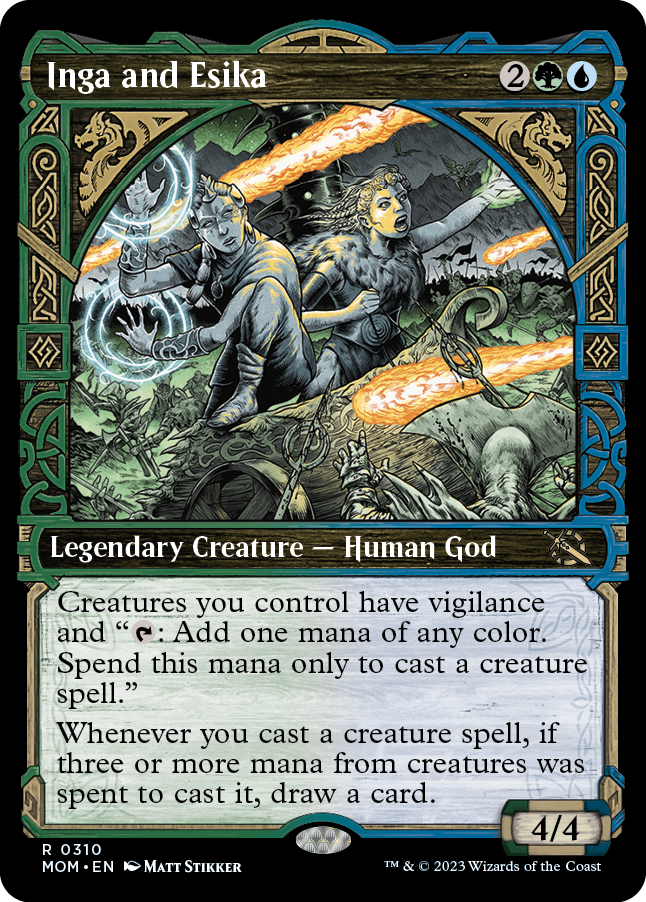 A year ago, the god Esika barely survived an attack from a Phyrexian invader who stole some essence of the World Tree. Fast forward to now, when the Phyrexian Invasion Tree, grown from that very stolen essence, broke through into the Cosmos on Kaldheim.
This intrusion by a corrupted version of the tree disoriented Esika to the point where she lost her sense of the Cosmos and could no longer navigate it. This was critical, as the other gods, embroiled in their own fights against the Phyrexians, were relying on her Cosmos Elixir to bolster their powers and keep them free of corruption.
Esika's solution was to reach out to the one mortal she trusted would be able to help her: Inga Rune-Eyes, leader of the Omenseeker clan. With her unique gift of vision, Inga charts safe routes for Esika's chariot through the Cosmos, bringing the god wherever she's needed most.
ERRANT AND GIADA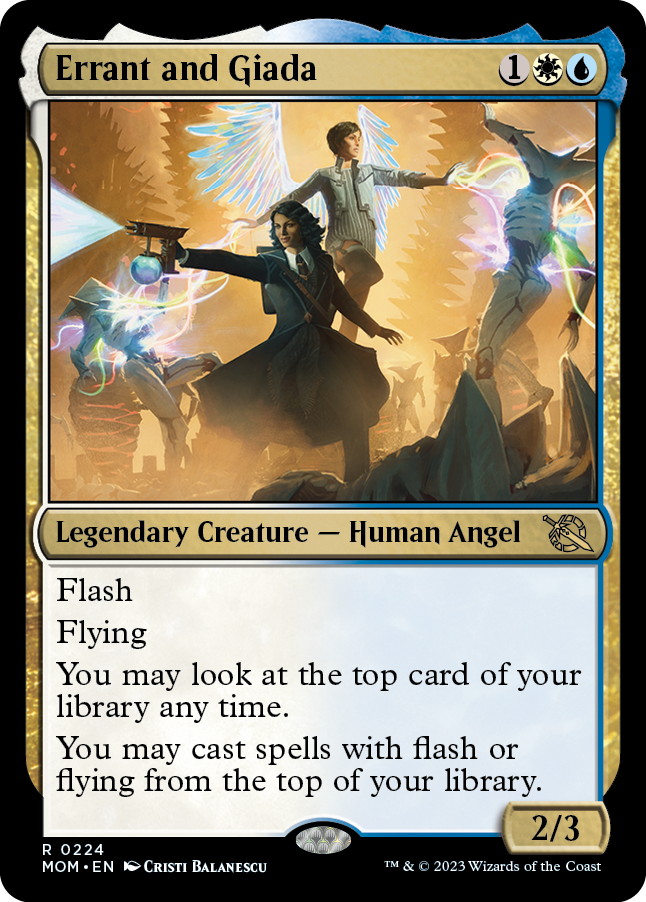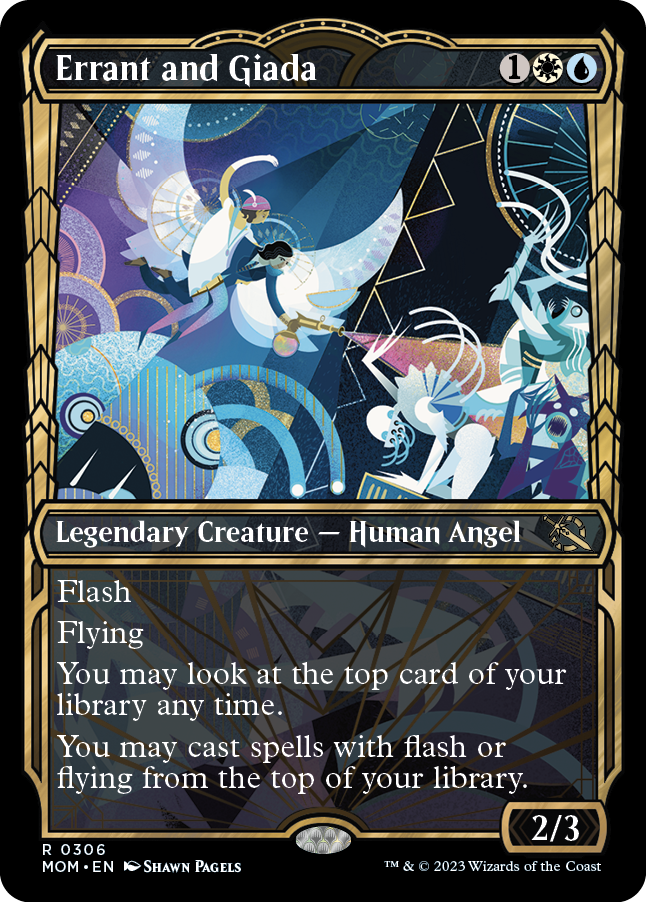 When Giada transformed into a wave of holy light, she set into motion the awakening of the angels of New Capenna. Weeks later, as Atraxa's forces threatened to overwhelm the city of New Capenna, the resistance fighters hatched a last-ditch plan: topple Park Heights and crush Atraxa herself.
Instrumental to that plan was the street artist Errant, who was entrusted with placing the charges that would topple the skyscrapers. Little did she know that she was being closely watched by the now fully formed angel Giada. If the plan succeeded, it would give the restored angels of New Capenna the chance they needed to turn the tide of battle across the Multiverse.
Though she never made her presence known to Errant, Giada was there with her every step of the way, lending extra potency to her halo cartridges and shielding her from the worst of the harm. And it was Giada at the end who ensured Errant was rescued by one of her sisters instead of falling to her death as Park Heights collapsed.
KOGLA AND YIDARO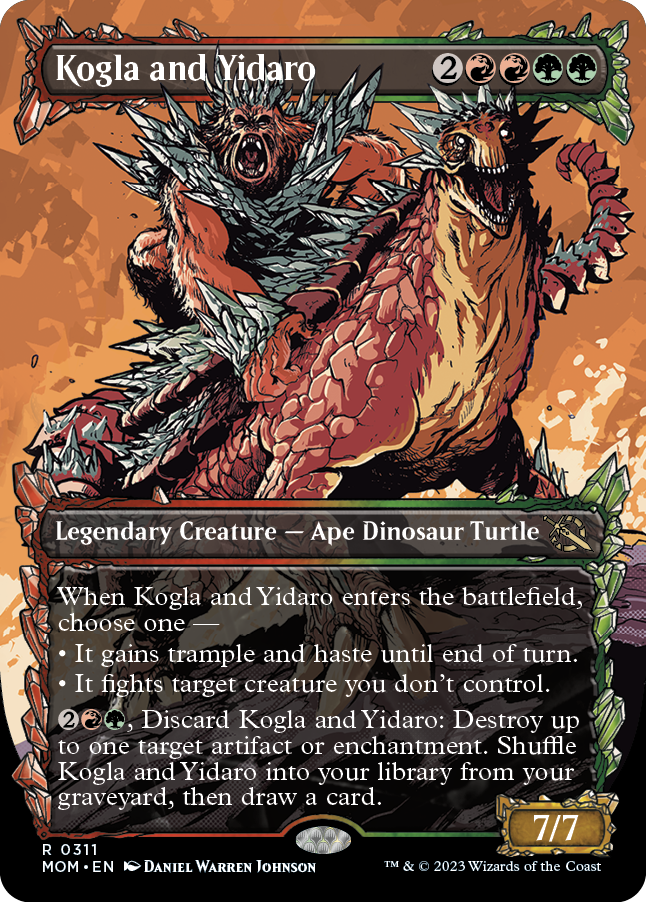 What do you get when you cross a giant, furious ape with a giant, spiny-backed turtle? You get forcibly impaled giant Phyrexians! Despite Kogla's enthusiastic and vigorous maneuvers, it's not clear if Yidaro knows that he's being functionally employed as a Phyrexian perforator. At the very least, he's aware of some occasional big jolts as he goes about his own fights, but thankfully they don't interfere with his own ferocious maulings.
GHALTA AND MAVREN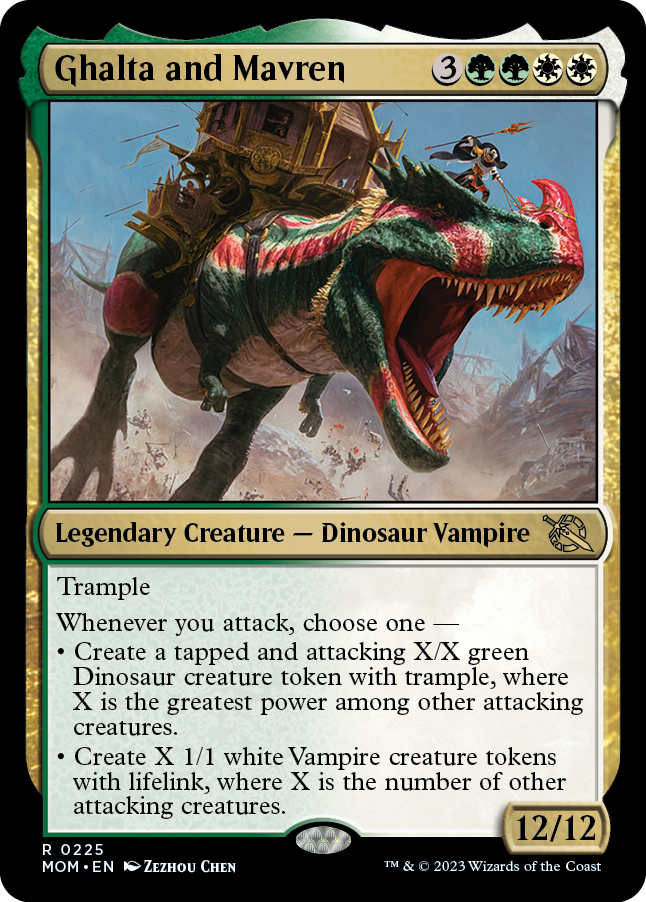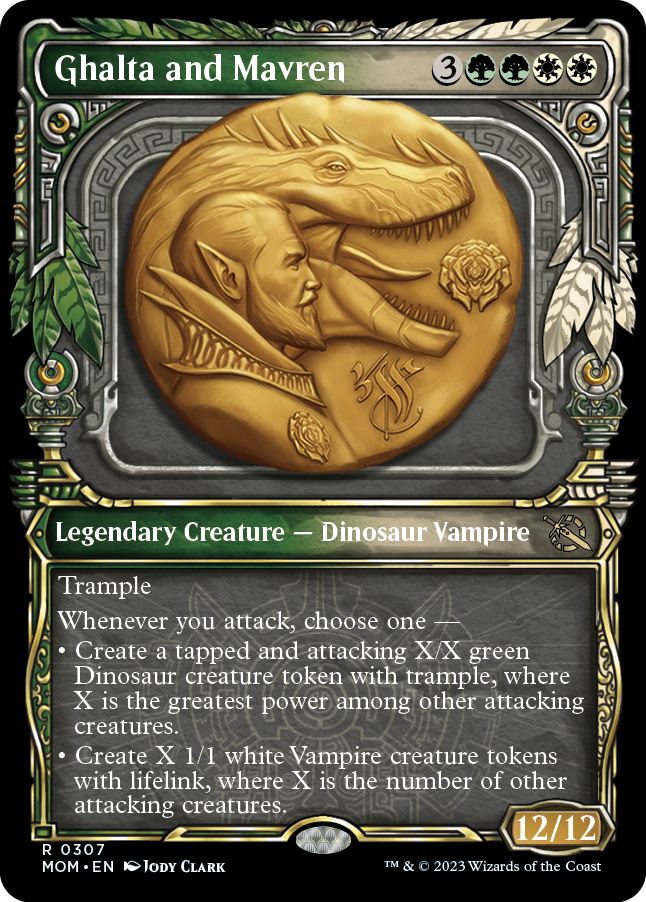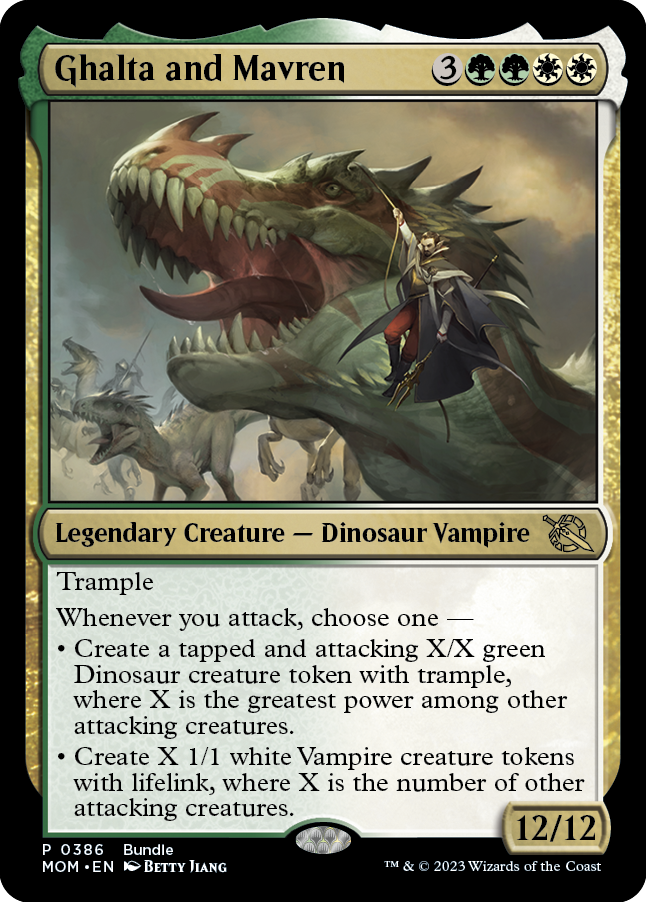 After being summoned by the Sun Empire to ambush the Phyrexians invading Ixalan, the elder dinosaur Ghalta cut loose among the remaining Phyrexian ranks. Seeing an opportunity, Mavren Fein commanded his legionnaires to follow in the elder dinosaur's wake. Any Phyrexians that managed to dodge or survive Ghalta's rampage found themselves set upon by vicious vampire conquistadors. Casualties ran high, but by taking advantage of the chaos left in Ghalta's wake, Mavren was able to deal some serious damage to the invaders.
RANKLE AND TORBRAN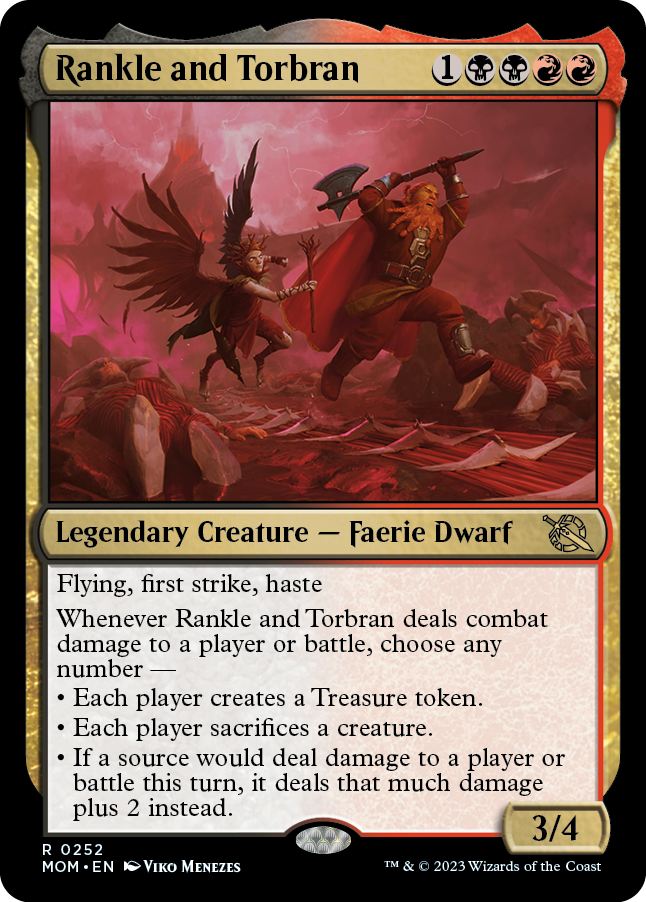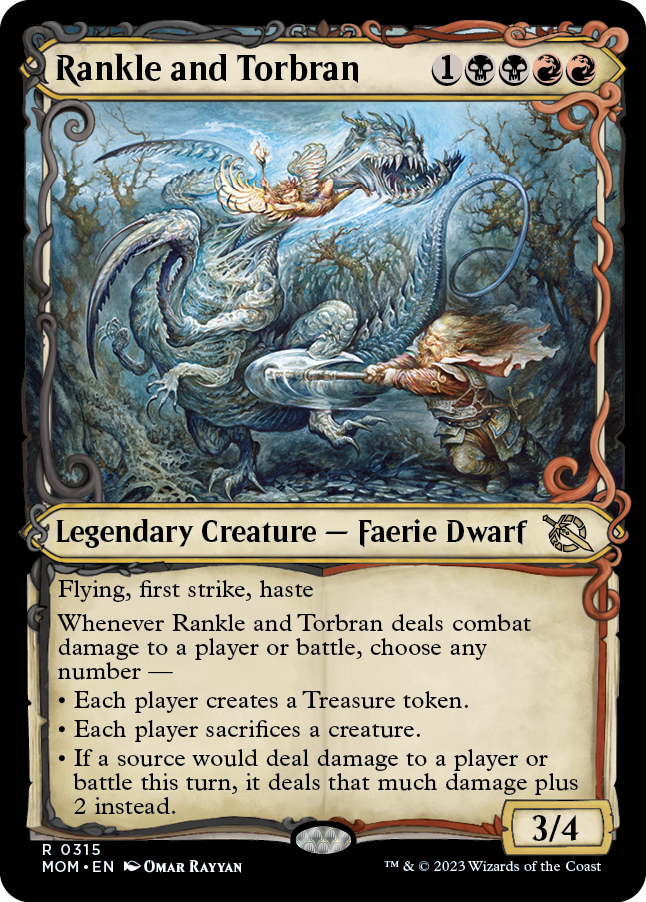 The everlasting bond of friendship and camaraderie between Torbran and Rankle began when Torbran rescued Rankle from a converter beast. It only deepened when Torbran revealed the nature of his quest, and Rankle valiantly stole the magic wishing ring that Torbran needed to complete his part of the plan to rout the Phyrexians.
Tragically, this star-crossed friendship came to an end when Rankle nobly sacrificed himself—and the last wish in the wishing ring—to lure the Phyrexians into a giant chasm, where they were put into an everlasting slumber. Torbran is sure to mourn his fallen ally for the rest of his days.
HIDETSUGU AND KAIRI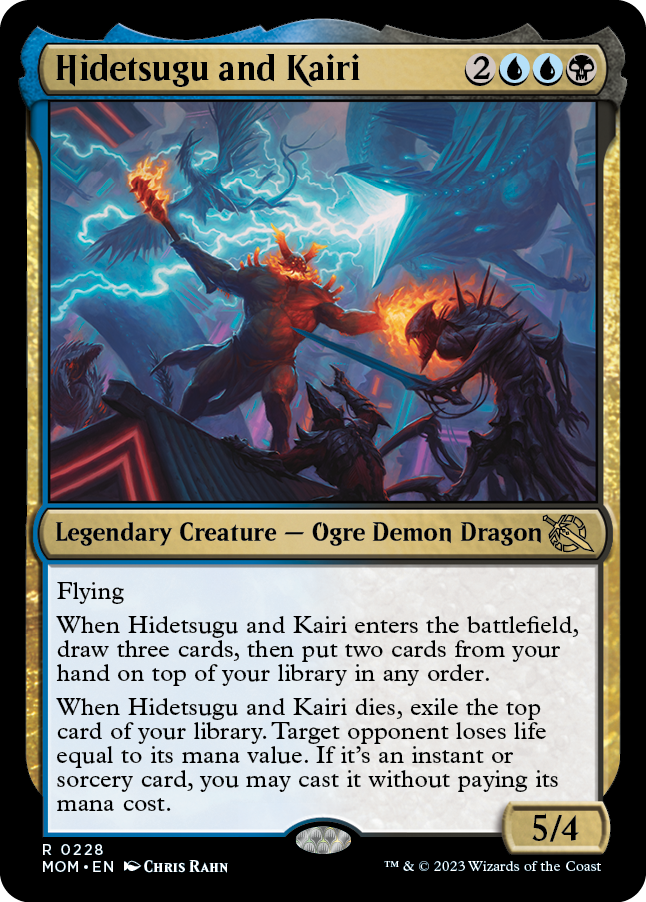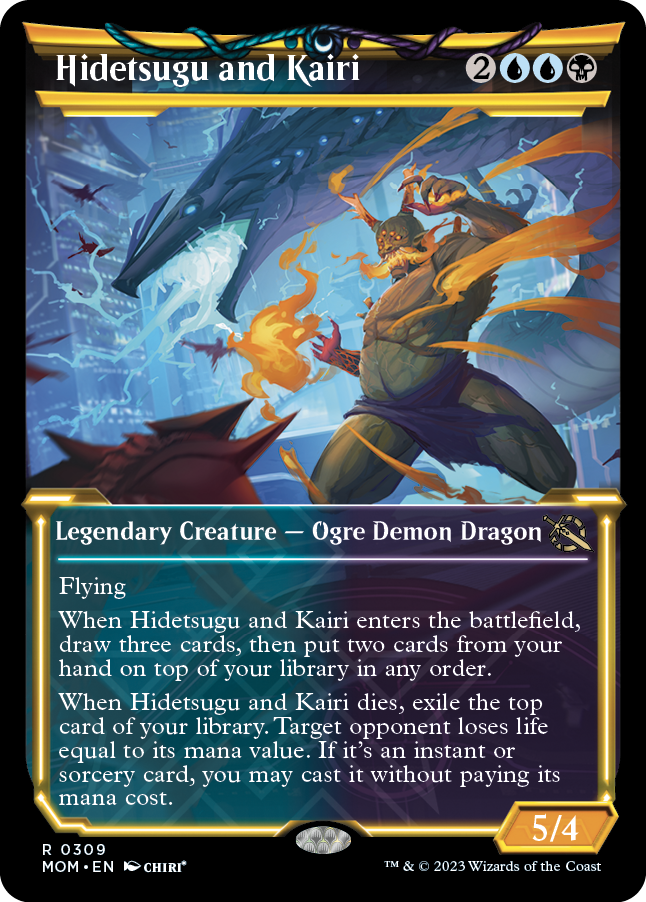 The most cool-headed and practical of all the spirit dragons, Kairi knew that if Kamigawa were to survive, it would need all the help it could get, even if that help came from less-than-desirable sources . . . like a certain demon, currently locked away in the spirit realm.
Hidetsugu was surprised to find that his jailbreaker was none other than the reincarnation of the dragon he had slain. Amused by Kairi's request for assistance and happy for the chance to wreak havoc, Hidetsugu agreed to fight alongside the dragon.
Kairi still vividly retains the memories of his previous reincarnation's death, and while they're on the same side for the time being, as soon as Hidetsugu is not needed, Kairi will seize the opportunity to lock him up once again.
BORBORYGMOS AND FBLTHP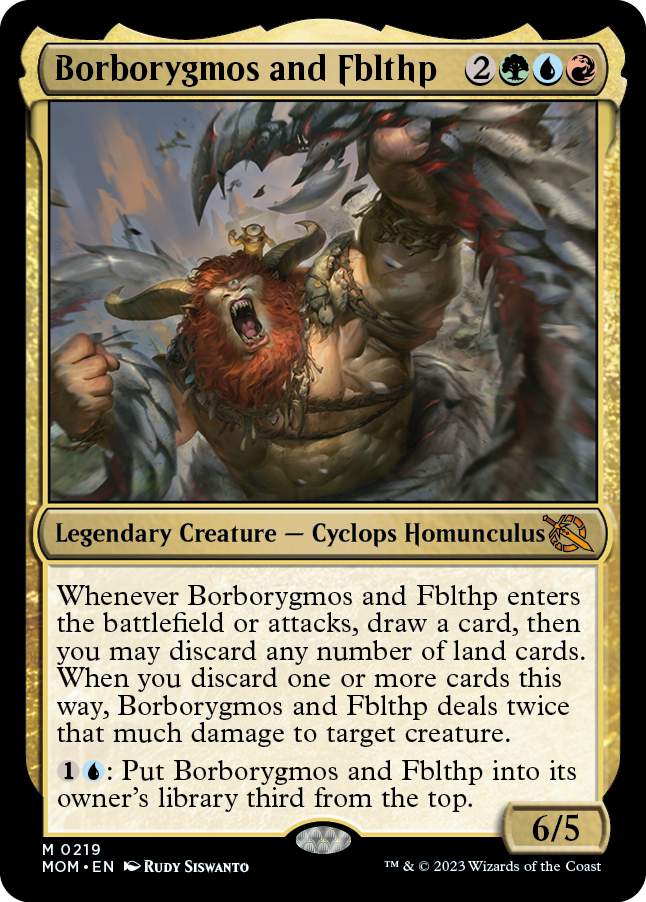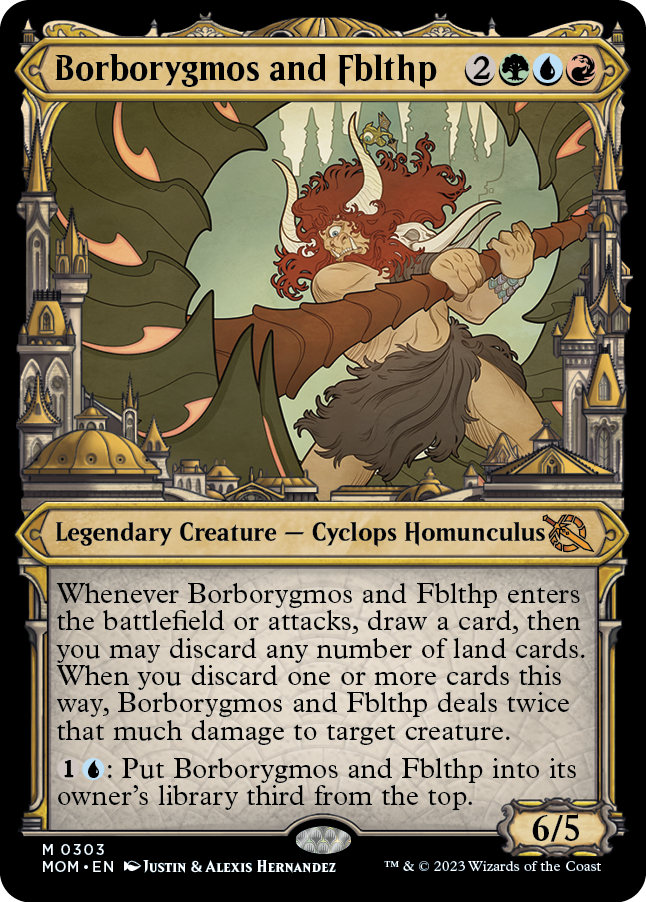 When the invasion broke through on Ravnica, the first thing the homunculus Fblthp did was run away . . . and somehow promptly wound up on the frontlines of the invasion, facing down hordes of Phyrexianized Golgari.
Luckily, he was rescued by Borborygmos, who happened to be smashing Phyrexians nearby. Inspired by the cyclops's combativeness, Fblthp decided to stay and assist. He squeaks in fright whenever a threat comes too close, and Borborygmos repays the favor by promptly turning and smashing whatever it is this tiny pipsqueak voice is yelling about in his ear. Together they're able cover all possible angles of attack, making them an unstoppable duo in Ravnica's defense.
ZIMONE AND DINA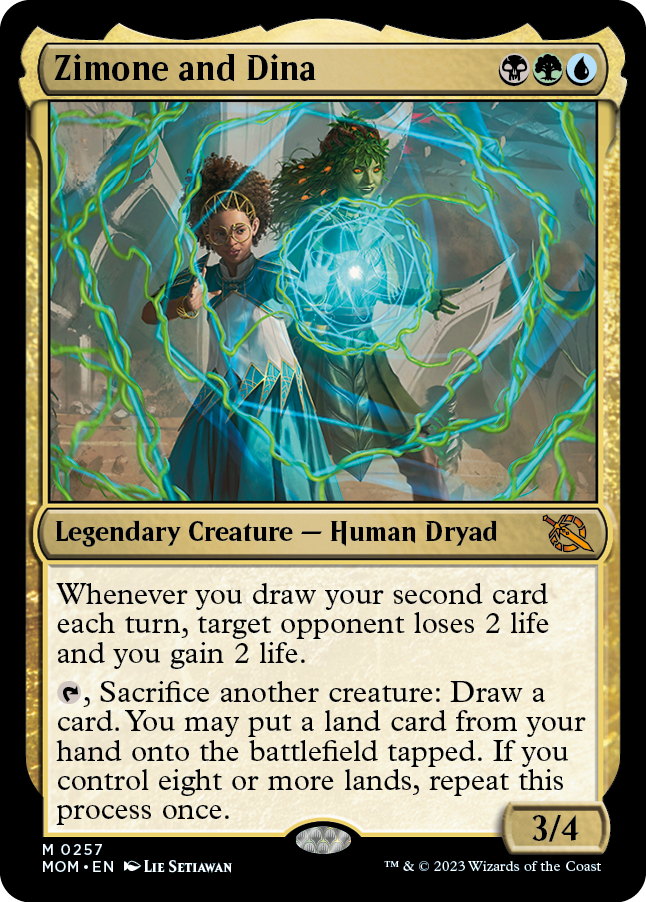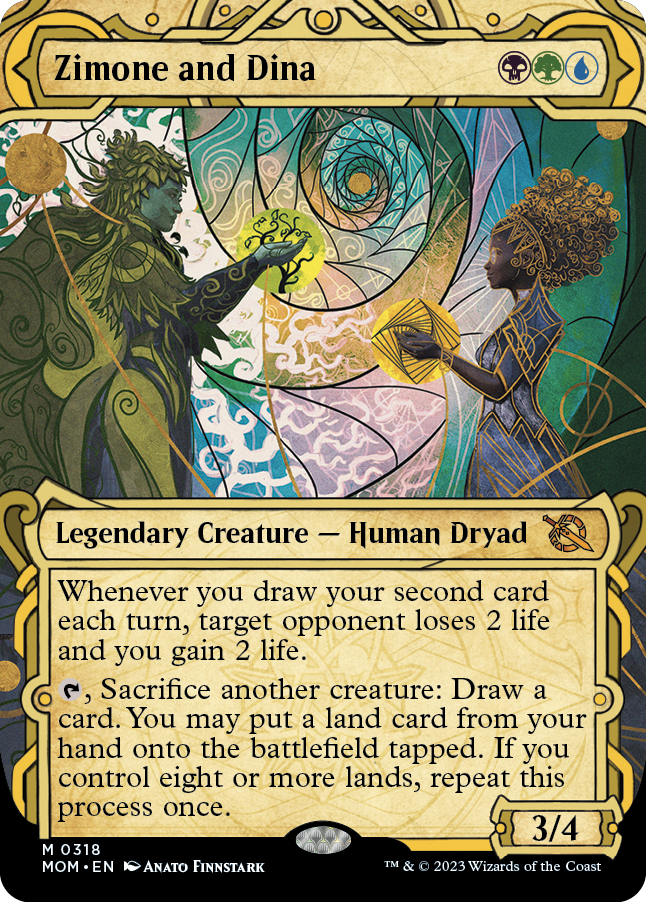 Though Zimone and Dina had been friends before, they'd never collaborated on a cross-college project . . . until now. Under pressure of certain death, they blended their magics together and found to their delight that the intersection of Quandrix mathematics and Witherbloom biology led to new interdisciplinary magics never before seen. Using mathematical theorems, Zimone enhances Dina's plant growths, allowing the two of them to deal exponentially more damage than they otherwise would have apart.
THALIA AND THE GITROG MONSTER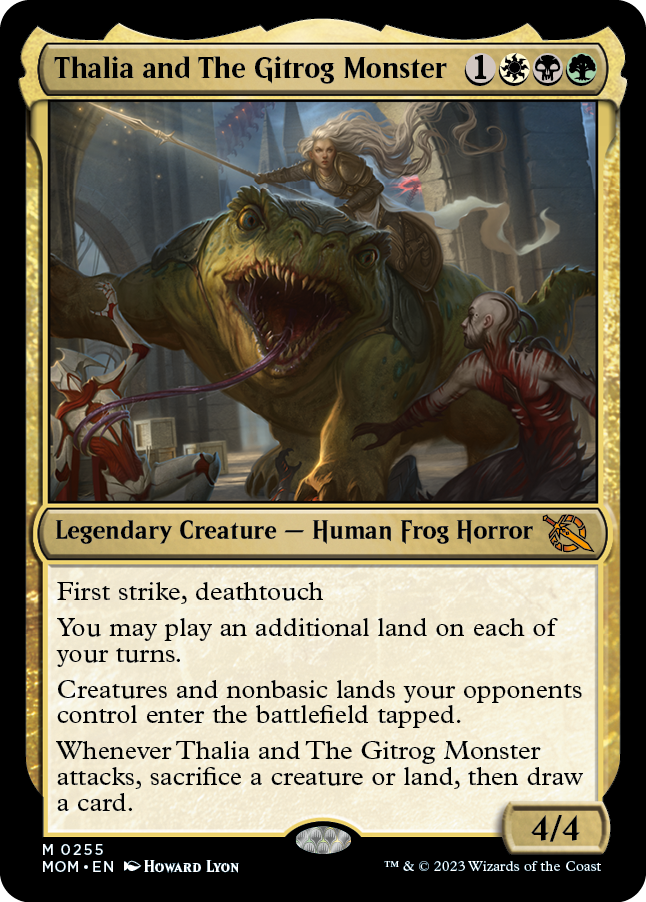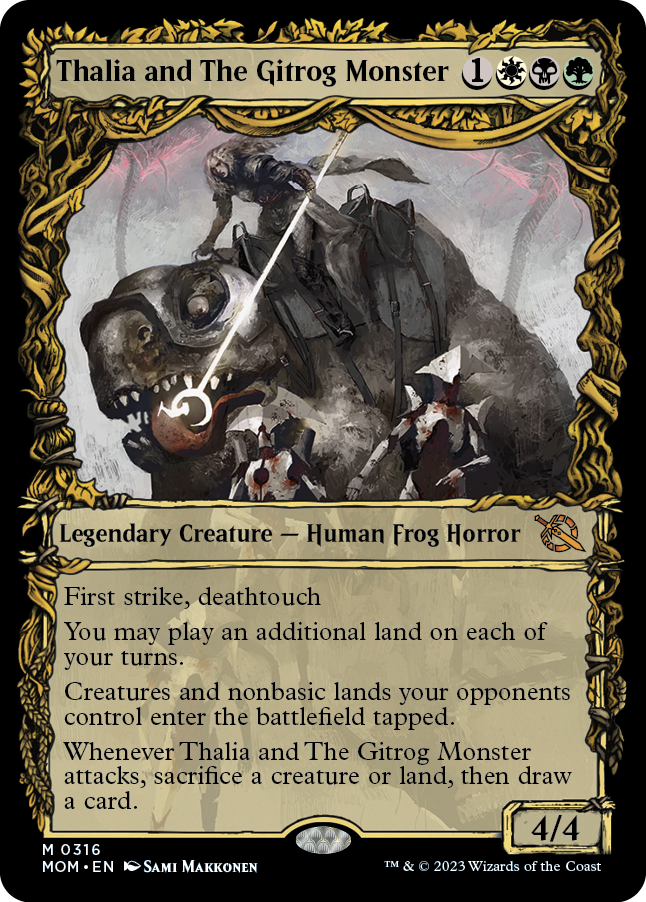 Life was good for the Gitrog Monster. Its cultists would bring it food or become its food. All was delicious and plenty, until the day that strange machines came to its lake—machines that tasted awful and tried to hurt it.
Knowing it was time to move on, the Gitrog Monster heaved itself out of the waters and headed straight for Thraben, where it found Thalia, the last survivor of her cathar squad, about to be overwhelmed by Phyrexians. Seeing the potential for a new human to bring it food, the Gitrog Monster bowled through her besiegers, saving her.
Then, it stood there waiting, and Thalia understood: it was offering to let her ride it. She did so and deals out devastating blows from its back, while it crushes enemies in its tongue's grip. Thalia doesn't control where the Gitrog Monster takes her and remains wary that, should the steady supply of invaders run out, she could become its next meal.
KROXA AND KUNOROS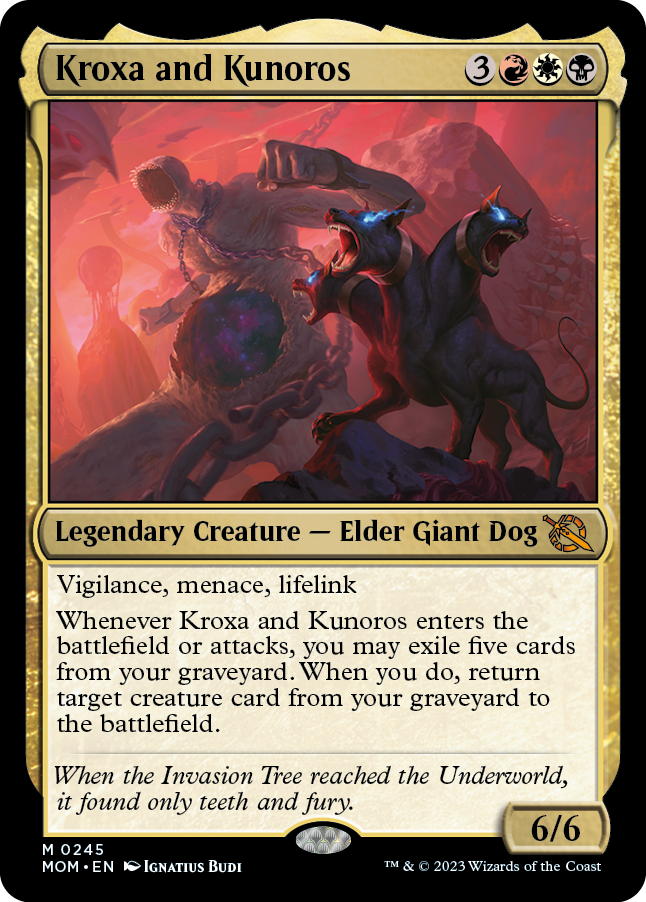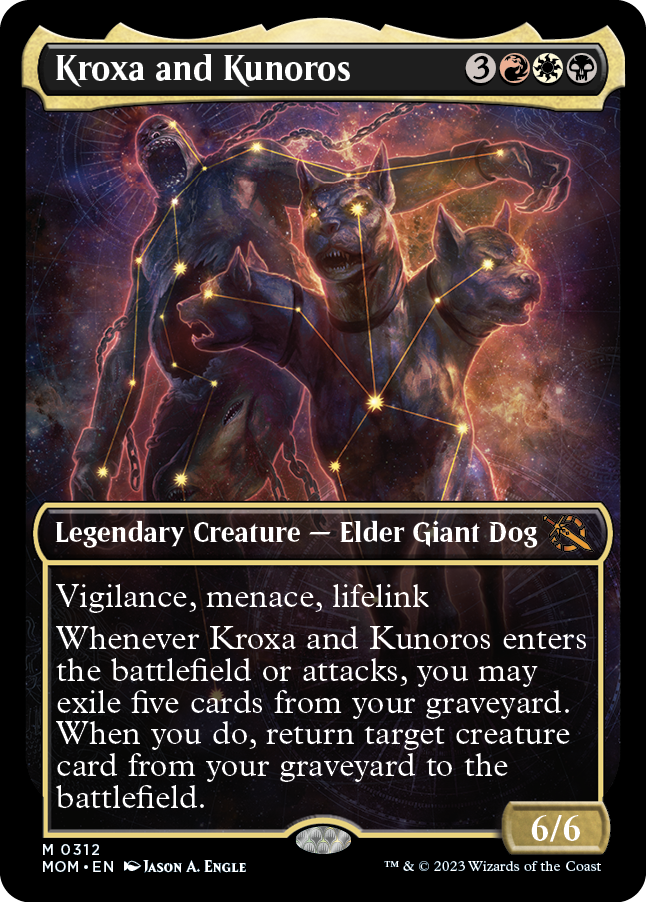 As the invasion of Theros neared total compleation, the branches of the Invasion Tree pierced into the Underworld itself. The Phyrexian forces marched through, compleating all they touched . . . until they encountered Kroxa, the titan of death's hunger, who devoured them so thoroughly that no trace of them remained—not even glistening oil. Seeing this, Athreos made the choice to strike Kroxa's chains and set him loose within the Underworld. To keep the titan from escaping to the mortal realm, Athreos charged Kunoros with keeping him in check. Kunoros shepherds the paroled Kroxa, guiding it along the paths that Athreos wishes, where it will inflict the most damage to Phyrexians and least damage to everything else.
ZURGO AND OJUTAI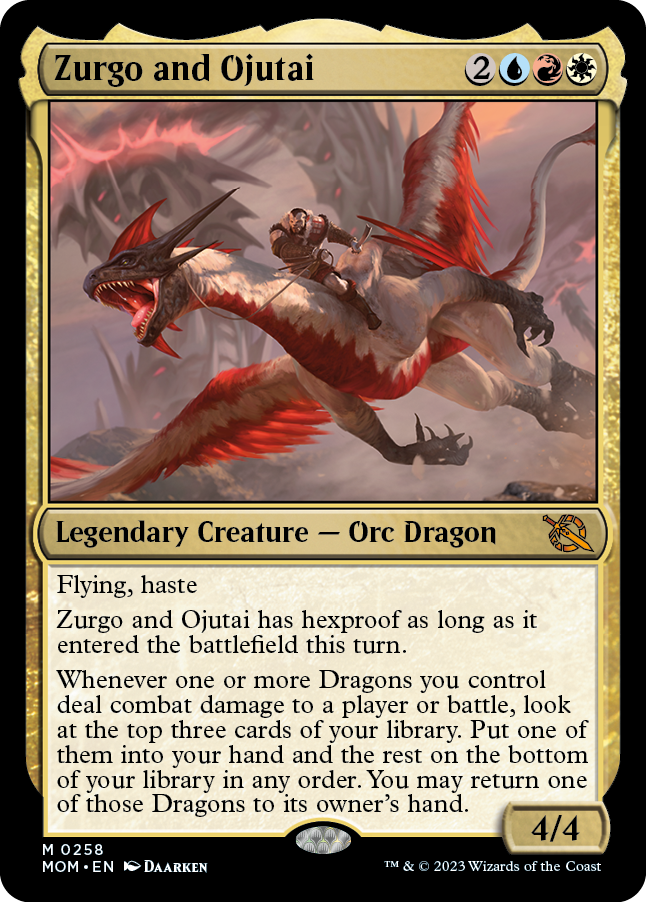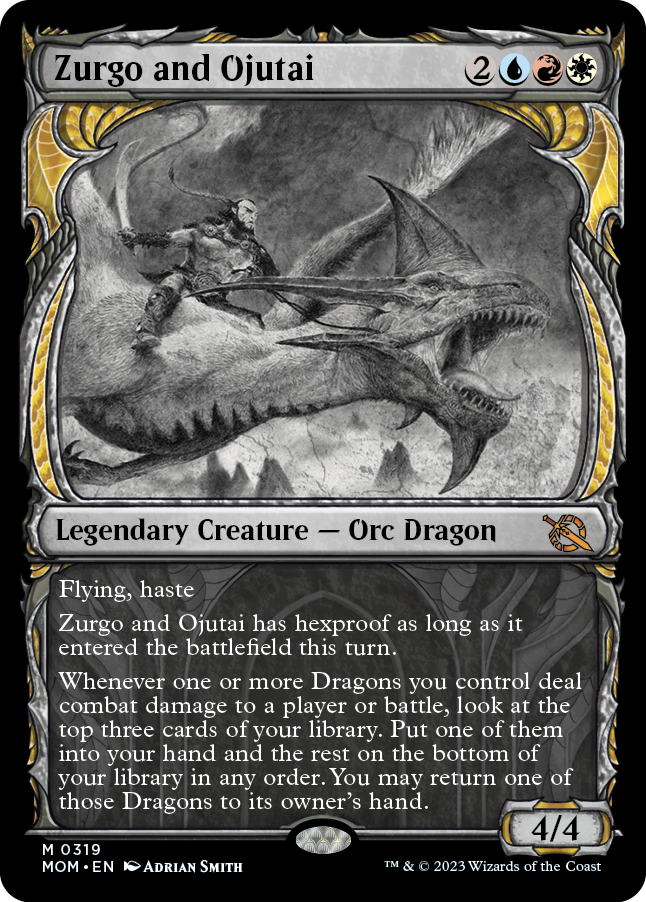 Though he had been harassed and beset by dragons throughout his life, Zurgo was the first to understand that dragons and non-dragons would not be able to survive without each other's help and would have to work together if they were to save Tarkir. Swallowing all his bitterness and pride, he approached the one dragonlord he thought would be the most likely to listen to reason: Ojutai. With the dragons' numbers decimated by the invaders, Ojutai agreed.
Together, the partnership of dragonlord and despised outcast set an example that others soon followed, leading to unprecedented cooperation between dragons and their scions.
---
Get your preorders for
March of the Machine
through your
local game store
or online retailers like
Amazon
!