Wilds of Eldraine | Episode 3: Two Great Banquets
---
Rowan,
I hope this finds you ...
I can't say it'll find you well when I know that you aren't. You're angry, you're frustrated. I understand. Nothing makes sense anymore.
Since you left, I've worried about you every day. Losing control at the mountain, taking off—you're trying to help, but you're driving yourself half to death. What we're dealing with isn't something anyone should face alone. We're family.
Please come home. I know you're hurting, but together, we can find some way to help.
Your brother always,
Will
Rowan reads the missive once. Her brother's neat handwriting stares back at her from the page. I know you're angry. I understand. We can find some way to help.
If he understood, he'd be here. And if he wanted to help, he'd also be here. Instead, she sits on her own in a Wealdrum tavern. The courier, wearing Kenrith livery, lingers in wait of a response.
She tries to think of one. I'm right to be angry. Our world is collapsing around us, and we don't have any clear answers. You want to sit at home and wait for them to show up. I'm tired of waiting. Why does that make you so afraid of me?
The messenger approaches. Rowan still has an empty page before her. She folds it in three, then hands it to her brother's servant. "Give him this, and tell him to come find me if he's serious."
A curt smile. A nod. The messenger leaves.
Rowan returns to her drink, seeing in it her own reflection. The face that had so frightened Will at the mountain.
It doesn't look so frightening to her.
What remains of Ardenvale awaits the knight errant. A veil of mist lays over the hills and valleys, concealing the metal bodies beneath. If she takes a false step she will tumble from her horse into a trench of Phyrexians.
As she nears the castle she sees more and more of the Wicked Slumber's violet swirl. By the time she stands at the shattered gates she must take great care where her feet fall.
Yet Rowan does not take great care.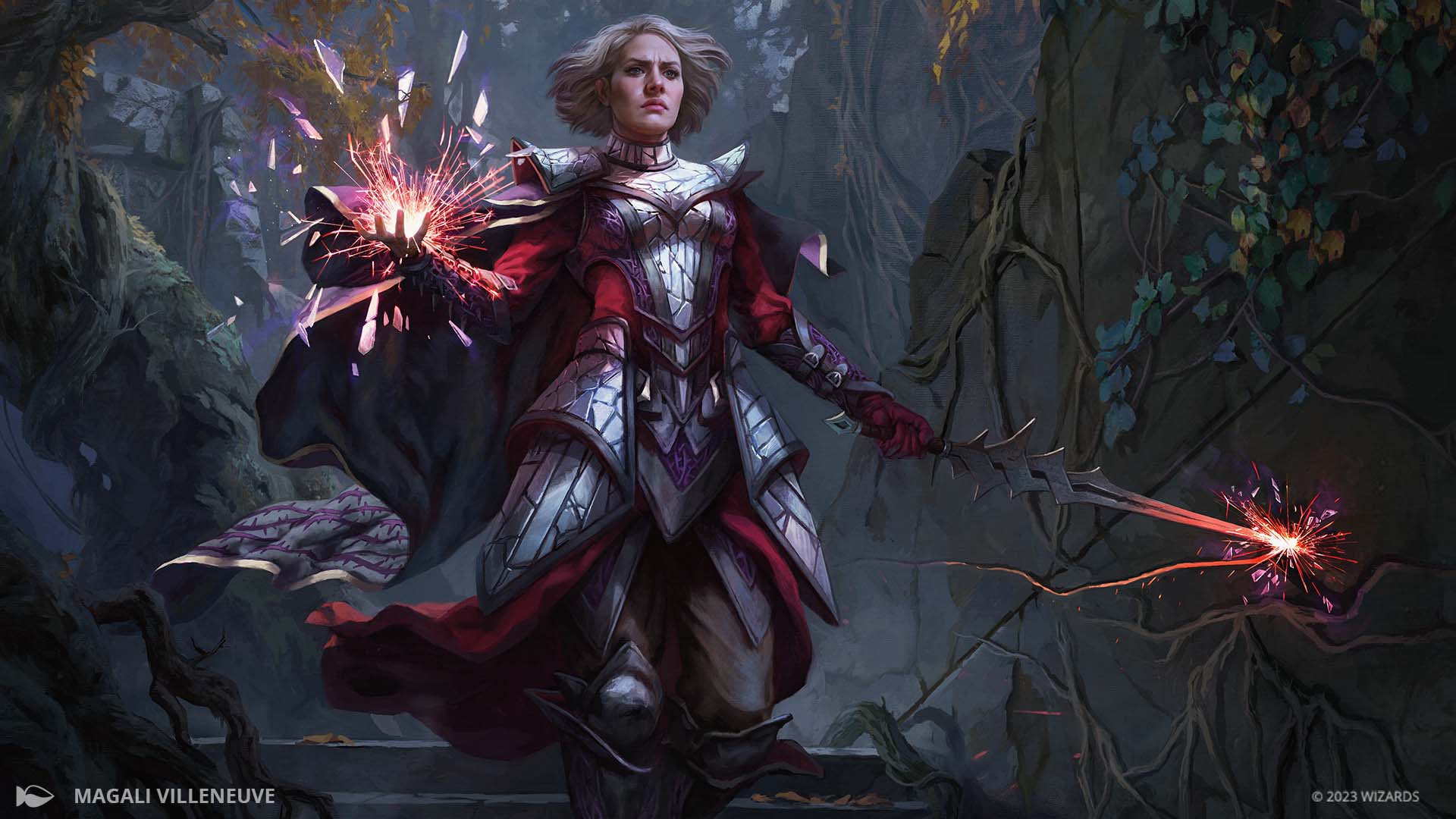 A blast of lightning widens a hole in the great oaken gates. She steps through, the scent of burning wood clinging to her cloak, and climbs the violet-cloaked stairs.
She makes it only five steps before she sees the knights.
Worthy they are, though their armor bears the patina of ill use: each as strong and stout as they had been last Rowan saw them. For she knows these helms, these suits of plate, these people. Her comrades stand with weapons at the ready.
Worst of all: each one is bedecked in the Slumber's mist. Like the strings of an unseen puppeteer it rises from every limb and weapon. While the knights themselves do not move, the mist is more than canny enough to move them: an arrow fired by one of her former archery instructors misses her by a coin's breadth.
Must this war continue to take from her? Her chest aches.
"It's me," she calls to them. "It's Ro! Wake up!"
Another arrow fired, this one struck down in mid-flight. The lump in Rowan's throat grows. Fighting seems the only option.
Readying her blade, she begins her climb through the melee.
Syr Saxon, a ranger of generous heart, and Syr Joshua the Beast Tamer once spent all their waking hours together. The same is true now that the sleep has taken them. Saxon swings his bone axe, a blow she must parry; Joshua seizes the opening to bring his warhammer down on her leg.
Pain ignites her vision. The old headache returns, as if summoned.
Rowan scrambles away from Joshua. Aiming at his feet and Saxon's, she channels another blast. Both men are thrown from their feet, metal clattering as they hit the wall nearby. Slumber keeps their bodies limp—in this case, a good thing. Staying limp is the best way to avoid injury at times like that.
Syr Joshua told her so.
Head ringing, sorrows heavy as a crown, she ducks another oncoming arrow. Swords, hammers, sickles, and clubs all rise to meet her on the stair. Her old companions do their best to break her bones. Weaving around them is the best thing she can do—but that won't suffice in every case. More than once she's forced to let out another blast. Each one leaves behind a bigger crater than the last.
And each one feels more thrilling.
She'd like to deny it, but that is the truth of the matter. Even as she worries for her friends she finds her blood singing with the melody this new power's brought her. And that, in turn, makes it easier to draw upon. No matter how often she tells herself that this is enough, she must keep from losing control ...
It's all too easy to do.
When she finds her way to the top of the steps, the knights lay resting beneath her. She looks into the charred ruin that once was the castle.
And there she finds more knights waiting. Beneath foreign banners they stand, weapons in hand, heads turned toward her. For months no one has lived in Castle Ardenvale, yet these knights wear their courtroom finery in place of their armor. Each one is dressed to sweep someone off their feet. A plush violet carpet leads beyond a veil of shifting shadow.
Gripping her sword, Rowan advances. Sparks crackle in her hand and along her blade's edge. Should anyone come near—well, isn't it better to finish fights as fast as you can? Isn't that the merciful thing to do?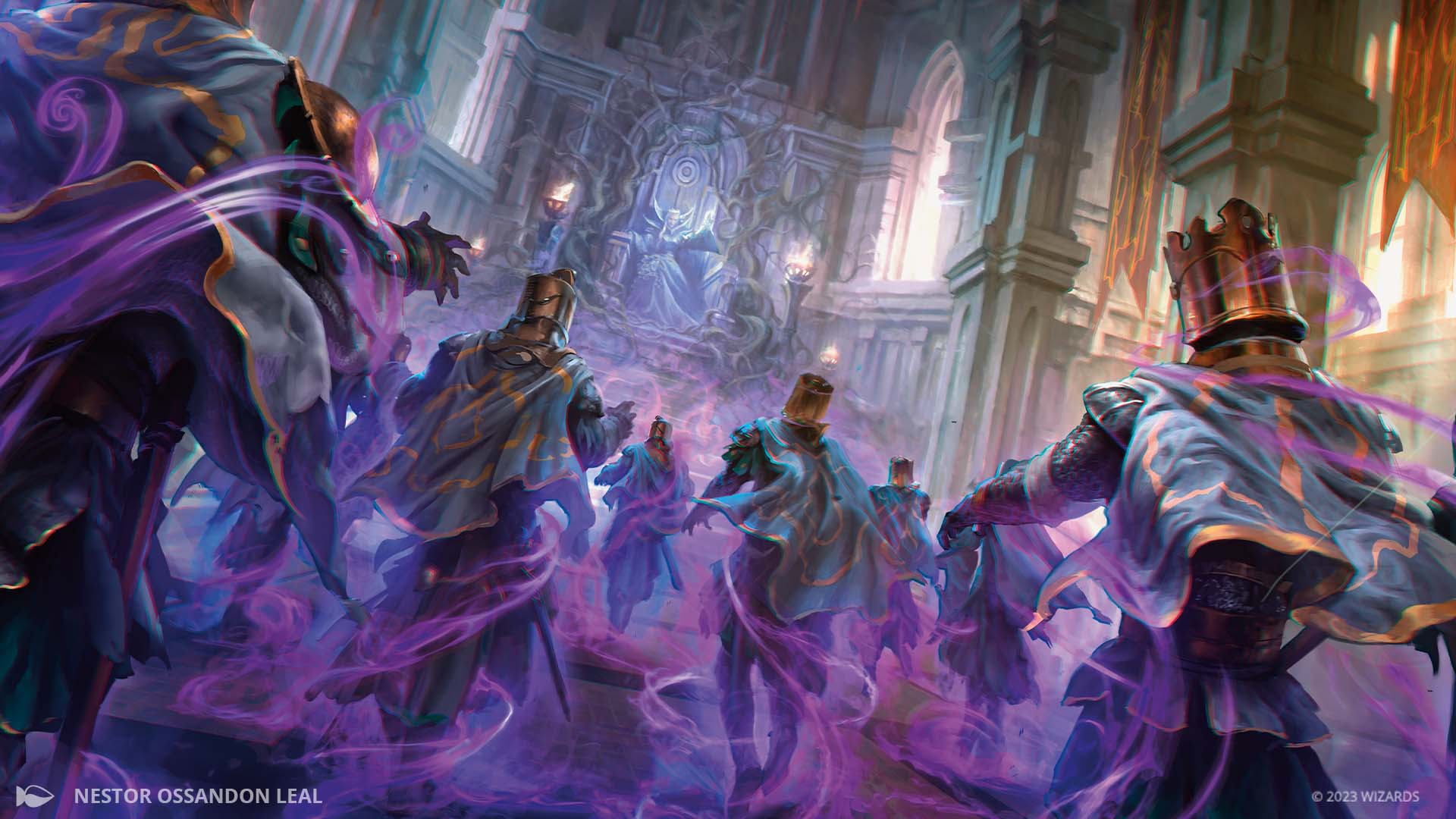 She expects the knights to attack her as they did along the stair. They do, though not so directly. Instead of charging at her outright they waltz toward her, some holding partners in their free hands. Even the terrible dancers move with uncanny grace through the ruins of Castle Ardenvale. Couples part only long enough to slice at her before returning to their strange dance.
Avoiding one lunge sends her into the path of an overhead cut; ducking that leaves her open to a halberd's swing. She raises an arm to block only for someone to take her hand and pull her further into the eerie celebrations. Dozens of knights press in, a swirling garden of the slumbering. Rowan cannot move without touching another. Her sword is wrested from her hand; her breath catches in her throat. Indecision is a pillory.
The crowd moves her along, each pair of dancers a cog. The swords are coming, she knows they are, but she has to find some way to get through.
She reaches for the swaying veil with her free hand—
—only for a pale white palm to press against her own. "Welcome to the Court of the Ardent Queen, Rowan Kenrith."
All at once, the silent dancing comes to a halt. Then, as one, they drop to their knees.
Rowan's erstwhile partner remains standing. A being of strange and terrible beauty, their face hollowed like a chalice, studies her. Smoke rises from the pits where their eyes should be. A cruel mouth smiles as the figure inclines their head. "We have been waiting for you."
Rowan reaches for her sword out of habit—only to remember she lost it in the thick of the crowd. She cannot spot it among the kneeling. "You're Ashiok. I've heard of you."
They only grin, revealing a mouth of pointed teeth.
"What are you doing here?" Does she mean on Eldraine, or Castle Ardenvale? She isn't sure.
"I am a friend and counselor to the one you seek here. She has done extraordinary work so far." They glide past her, the air cooler where they've touched it. A simple gesture behind her, and one of the knights produces her sword. He holds it out to her, laid across the flats of his palms. The figure squeezes her shoulder. "Go on. That is what you were looking for, isn't it?"
She's seen this tableau before. Her father and mother knighting the latest worthies. The crowns upon their heads. The crown she'd seen in her vision.
Rowan's hackles rise. She takes the sword. "Let these people go," she says—but she does not yet raise the blade against the mysterious figure.
"Are you certain that's what you want?" they ask.
"I am. They're my friends, and they've suffered enough without your meddling," Rowan says. "If you can control the sleepers, you're the one who cursed us, aren't you?"
Their smile reveals two rows of pointed teeth. "The one who cursed you lays there, beyond the veil. Do you wish to speak with her?"
Rowan grits her teeth. She does not wait for the figure to guide her but takes off on her own. When they reach the gauzy gray, it is the figure who parts it for her.
On the other side is a full feasting table with a beautiful woman in black at its head. The woman lifts a goblet toward her—in her other hand, Rowan sees, is a glass apple with strands of translucent violet snaking out. Magic. "Rowan Kenrith. A pleasure, and an honor, to finally meet you. Has anyone told you you look just like your mother?"
The faceless figure pulls out a chair for her. Rowan ignores them, walking straight to the woman. "Whoever you are, you have some nerve. That woman's got nothing to do with this," she says. She lifts the sword overhead, then brings it down in a mighty swing. That she stops a hairsbreadth from the woman's face is testament to her newfound control. Rowan wants nothing more than to rid the world of her—of this curse. "Did you call me here just to make sick jokes? "
The woman makes no move to stop her, nor even to stand. She sips from her goblet. "Dear Rowan, I brought you here because I admire the fire within you."
A knight is prepared to face all manner of weapons on the battlefield: swords, pikes, arrows, hammers. What they are not prepared for—and, indeed, what Rowan has never trained against—is such disarming sincerity. Her grip wavers. "What?"
The woman smiles. She lays her manicured fingers on Rowan's knuckles, gently easing the sword from its path. "The others are afraid of you, aren't they? Your comrades. Your people. Even your siblings."
Rowan swallows. "You don't know anything about them."
"Yet you haven't told me I'm wrong," the woman says. She never looks away—her eyes are rich as mead. "Your father's family tells you that you've changed. Your brother hardly recognizes you. You're in awful pain, and yet all he can seem to do is try to 'fix' you. Isn't that right, darling?"
Rowan's mouth opens. She cannot force any words to come out.
The woman rises to her feet. Rowan lets her. Just as her mother had so many times, she clears a shock of hair from Rowan's face. "I know what it's like to have your family turn their backs on you. But I won't."
Why does it ... Why does it feel like this? To be seen in this way? Rowan's breathing is shakier than she'd like to admit.
"You've been working so hard to keep everyone safe. Since the attack, that's all you can think about, looking after the Realm, your father's family. Making sure no one hurts you ever again," says the woman. She sits once more. "You wanted to know why I brought you here. Why I created the Wicked Slumber. Just like you, I wanted to keep my people safe. The invaders had no hope of standing against something like this. That it spread to the others is ... unfortunate, but even in that misfortune, I've discovered something beautiful. Would you like to know what that is, Rowan Kenrith?"
Her mouth has gone dry, her headache pounding harder than ever. If this woman wanted Rowan dead, surely she would be. And if the Wicked Slumber truly had come about as a way to stop the invasion ...
Her mother urging her to hurry, her father planting his feet for a hopeless last stand.
What if Rowan could have stopped it? What if she could have put the invaders to sleep, as this woman had?
"I would," she says. "I would like to know."
The woman's smile is warm as spiced wine. She turns to the stranger. "Ashiok, if you would?"
A blink, a moment of darkness, no more than that. When she opens her eyes again her parents are standing at the woman's side. There is her father, whole as he'd been in the vision; her mother, beaming and proud. Rowan, for whom words have failed, rushes into the arms of her parents.
Only for them to fade after she's closed her arms around them.
Rowan's whimper is not that of a knight, nor that of a woman grown—it is the whimper of a child carried from a cabin, too young to understand what had just happened. How cold she feels, standing where they stood moments ago!
"It felt real, didn't it?" the woman asks.
Rowan can only nod, staring at her hand. A little of their warmth still clings to her skin. "Was it ... was it you who sent the first vision?"
"With assistance from my own mentor, yes," the woman answers.
"My father said I would find my blood here," Rowan says. Her voice begins to waver. "You said I looked like my mother. You didn't mean Linden."
The woman's smile is oddly nostalgic. It occurs to Rowan why—she smiles the very same way. "No, I didn't."
"That woman killed me and my brother. She was going to drink our blood," Rowan says. Every word is a cut.
"My sisters have never been known for their wisdom—only their ambition," the woman says. "Your mother was the cruelest of us. Make no mistake, your father was right to strike her down, and Linden right in saving you. But that doesn't erase the magic in your blood, Rowan. You can use it for something good. You have the opportunity to redeem our line, to grant the Realm a boon unlike any other."
Anger in her heart. She stares down at her hands, already covered in blood. How long had she denied that part of her? The blast at the mountain. Her difficulty with control. What if the witch's blood was at its core? And the dream this woman had granted her ... how long had it been since Rowan was that happy?
"Why didn't they ever tell me about you?"
The woman tuts. "I imagine they didn't want you following in our footsteps. But that hardly matters now."
Rowan swallows. The storm inside her is almost too much to bear.
"Everyone you've seen on the way here—every dreamer in the Realm—experiences the same thing," says the woman. "Whatever they've lost has returned to them. In glad halls they celebrate the Realm's victory, surrounded by all those they hold dear. Picturesque meadows away from all the turmoil, the lap of a loved companion—wherever they wish to be, that is where they are. Where they will remain. No worries, no fears."
"People need more than dreams," Rowan manages. Yet it feels hollow even to say such a thing. Given the opportunity to spend eternity in a dream with her parents ... Could this cursed blood of hers grant that to the whole Realm?
"Some do. They can remain awake. But for those who seek escape, well, I've found a way to grant it to them. Their bodies yet serve my will, but their minds are elsewhere."
Rowan takes a steadying breath. "The Slumber doesn't pick and choose who it takes. You aren't approaching them one by one and asking. Whatever your will is—"
"My will is the same as yours, Rowan. I want to keep the Realm safe. I want to lead it. I want power," says the woman. "Power to drive off threats, power to secure my own future. Nothing in this world is so certain, so vital, as power. With power, you can command loyalty, grow stronger, endure any challenge thrown your way. To seize it you need courage and knowledge of your enemies; holding it lends you only more. You've come to realize that, haven't you? It's the reason no one respects your brother—and the reason they fear you. You've too much of my sister in you for their tastes. But I know your potential. I can be there for you, the way I never was for her."
Rowan's eyes fall to the ground—to the tiles she'd helped her father pick during the castle's last renovation. She liked the sunburst designs.
People respected her parents. They were fine warriors, kind of heart, and had earned their places.
What had Will done? He is kind of heart, but without the rest, would anyone . . . ?
And isn't keeping people happy the kindest thing she could possibly do? To say nothing of all this woman—her aunt?—had done for the Realm. Before coming here, Rowan thought the Slumber was a curse, but now she sees what a blessing it can be. The Realm's lost so much. Isn't ensuring that it stays whole the right thing, the gallant thing? And while her subjects slumber, she can see to their well-being. With an army of sleepers like this, they could ...
They could unite the Realm. They could turn the curse of their birth into something beautiful.
"You understand, don't you?" the woman says. "I knew you would."
Rowan presses her eyes shut. She can fix it. She can fix everything, if only she could . . . "Can you ... Can you teach me? To bring people peace in this way, to keep them safe? Can you teach me how to planeswalk again?"
"The spark is gone," says Ashiok, their voice a long, drawn-out hiss. "For you, and for many others."
The woman rises, grinning. "But the rest will be my pleasure. Every ruler needs an heir." She, too, opens her arms. "My name is Eriette, darling. Welcome home."
As Rowan lays her head on Eriette's shoulder, as she allows herself to relax for the first time in months, she wonders:
Just how long has it been since anyone understood her like this?