Wilds of Eldraine | Episode 5: Broken Oaths
---
Child Kellan to the castle ruins comes. Though his and Ruby's deeds have merited them the recent gift of ponies, he does not feel heroic astride his new steed. Far from it. As he surveys the once-proud hills and valleys around Castle Ardenvale, all he feels is resignation.
"Are you ready?" he asks Ruby.
She's atop her own pony, kitted in her namesake color, her cloak billowing out over its flank. There is good reason for such showmanship: a blade of eternal ice hides beneath the fabric. Hylda found Ruby's request for a sword "as big as she was" endearing rather than ridiculous. With the last bit of the crown's magic she'd granted Ruby the boon—and Ruby was only too happy, in most cases, to brag about it.
She is not bragging about it now. Who could, seeing the gloom upon Kellan's face? "Yeah, I am. But if you need more time to talk about it—"
"I don't," Kellan says. "We're going to do the right thing, and that's that."
Nary an enemy challenges them along the way to Ardenvale's gates. An eerie quiet rolls across the plains. Kellan's felt this before in the lead-up to a storm, the livestock all retreating hours before the people knew why.
When they see the battered state of the doors before them it is a sensible thing, a reasonable one: the proverbial storm that will consume them has torn the door from its hinges; the rotted, corrupted heart of the curse has eaten away at the wood; the dreamers that lurk behind it are the nightmares that plagued Kellan during their journey here.
This is not a place of succor or rest, nor a place of glory.
It is a place where wounds fester.
Kellan doesn't want to enter it. But he has given his word that he will, and something in his blood has affixed itself to this oath like enamel to a knight's shield.
"We can't go through the sleeping guards," he says. "We'll just be hurting them."
Ruby raises a brow. "Got a better idea?"
Kellan reaches in his cloak. In his hand, held aloft: the second bottle of frogification Troyan lent them.
Ruby grins. "You know, I like the way you think," she says. "But this time, you hold onto me."
There is something in Ruby's smile that reminds Kellan of better times. "All right, all right. Just bring us down easy."
"No promises," Ruby answers.
Kellan lashes the horses to a post. With two sacks of feed, they'll be set for the rest of the day—hopefully he and Ruby won't need any more time than that. After giving the horses a quick goodbye, he meets Ruby at the base of the castle walls.
They're in the air seconds later. Ruby isn't one to wait around for a cue.
Her landing skills are better than Kellan's, landing on her powerful amphibian legs only moments before she starts to revert to her human shape. Eriette must not have been expecting anyone to bypass the castle gates. There are no sleepers here standing guard, no closed eyes to watch them.
"Okay, okay, maybe Troyan wasn't so bad," Ruby says. She keeps her voice as hushed as their footsteps. "Where to?"
Kellan's brows meet as he thinks. "If I were a witch, I'd want to have the throne room to myself."
"Hylda said Eriette loved attention," Ruby says with a nod. "Probably got a whole bunch of people in there feeding her grapes and stuff."
Kellan tilts his head at her, but opens the first door he sees, all the same. "Why grapes?"
"I don't know. It's always grapes, though," Ruby says.
Ahead of them: a yawning hallway, dark and dreary, festooned with faded and defaced portraits. The stone floors and walls leave the air cooler within. Though there are plenty of torches in their holders, not one is lit. The only light granted them is that which filters in through the door—and the light of the curse along the floor.
Together the two heroes follow the winding cords of violet through the halls of Castle Ardenvale. Past empty bedrooms, ransacked war rooms, and raided armories they skulk. So open are their ears that the passing squeaks of mice are as loud as a dragon's dying cry.
It is thus no wonder that they hear the woman's footsteps before they see her. Soft, they are, but not soft enough: the creak of her leather boots, the scuff of sole against stone, even her belabored sigh gives her away.
Kellan and Ruby press themselves on either side of the door. Ruby is the first to peek, blade held at her side. When she gestures for him to do the same, it is with a stunned look.
He understands why. Standing before a lectern and surrounded by swirls of curse-clouds is a woman known even in Orrinshire. Rowan Kenrith, the daughter of the High King herself, has come to Castle Ardenvale.
Kellan cannot stop himself from smiling. She must have figured it out the same as they did. He can't believe their luck.
The glad tidings overwhelm his good sense. Kellan dashes into the room, and Ruby follows, her sword hanging toylike at her side. "Rowan!" he calls. Then, his cheeks reddening with embarrassment when she looks up, he sputters. "I-I mean, L-Lady Kenrith! Be careful with the curse—"
"Who are you? What are you doing here?" she answers. Strange—Rowan's frowning.
"We came to defeat the witch, the same as you," Ruby says. "Is there some kind of spell keeping you in place?"
Kellan hadn't thought of that. Good thing Ruby came along; she's always thinking on her feet. There must be something binding Rowan in place—the curse, maybe. The way it's swirling around her, that must be it.
"We can find some way to break the spell," Kellan offers. There are no cauldrons here, no unmelting ice, no sigils he can spot. Only books, wands, loose pages and ink wells. He scans these for answers. "Me and Ruby have gotten really good at that."
"We're heroes," Ruby adds, helpfully.
But Rowan Kenrith neither laughs nor smiles, nor even thanks them for their assistance. She lays her hands on either edge of the lectern. Sparks crackle along her fingers.
"I think the two of you should leave," she says, her voice cool and level.
"Ha, I mean, you probably could handle it on your own. But I need to be with you, at least," Kellan says. "I promised I'd help end this curse."
"You can do that from outside," Rowan says. "It'd be best if you weren't here."
Something in her voice raises Kellan's hackles. His tongue sticks to the roof of his mouth, and he looks once more at the page before him. In red-brown ink, jagged handwriting spells the truth.
Attempt 23. Haven't been able to put anyone to sleep yet except the old-fashioned way.
He has no time to process what he's just read, for when he looks up at Rowan, she's wreathed in sparking light.
Kellan's vision goes white.
---
"Kellan! Kellan, wake up! Don't make me get the prison water, I swear I will!"
... What?
Before he can sort out what's going on, he's hit in the face with something very, very cold; Ruby is standing before him with an empty bucket at her feet.
"Are you back?" she says.
Kellan clears his throat. The rope keeping his hands together has been severed already, likely the work of Ruby's frosty sword. But wait ...
"Where are we? And how did you get that sword back?"
"Take a look around, hero. Syr Rowan knocked us both out. She was trying to work some kind of dream magic on you when I woke up, but then ..."
Kellan's eyes land on sleeping guards face down on the ground. Clattering metal and creaking wood echo down the stone stairs into their small cell.
" . . .the cavalry arrived. She went off to deal with it, so I got my sword and woke you up."
Kellan stands. He hefts the chains overhead and drops them to the ground, all save the shortest, only long enough to wrap around his palm. "She really turned on us?"
"She thought she was helping you," Ruby says, frowning. "Kept saying that while she was working. That if she got the spell right, you'd be thanking her for what she was doing."
"Yeah, well, that wasn't a very good dream," Kellan says. He lets out a breath. "She's up there?"
"I think the witch is too," Ruby says. "Someone shouted Rowan's name, and it sure sounded ominous."
"Then let's get up there," he says.
---
In her heart of hearts, Rowan Kenrith knew this dream could not last. Just as no amount of training prepared her to save her family, no amount of wishful thinking could extend this respite into eternity. Her time with Eriette, studying the magic that would save Eldraine, had always been fated to end.
But she hoped she'd have longer than a few weeks.
As her brother's knights burst through the gates, sparks crackle along Rowan's forearm. Eriette, seated upon her throne, strains to control the dozens of sleepers among the ruins, violet strands flying from her hands to warriors' limbs. Rowan struggled just to keep the children asleep and weave a dream for them. Eriette is doing it for a whole army.
The last thing she needs are distractions, but what she can use is help. Ashiok had left the Realm to attend to business elsewhere. Rowan is the only person Eriette has left. At least until Ashiok returns.
A phalanx of knights breach the doors. To counter them, Eriette fields her dreamers, positioned in two ranks before the throne. Eriette might be her better when it comes to dream magic, but Rowan's taken enough tactics lessons to know this is going to end badly. Two ranks won't be enough to counter a phalanx of that size.
"Under order of His Majesty the High King of Eldraine, stand down!" shouts a woman in the vanguard. Rowan narrows her eyes; the voice is familiar. Is that a wooden arm? Ah—the jet of fire over the heads of the sleepers confirms her suspicions. Imodane. Of course someone that foolish would think shooting fire at innocent sleepers is a good idea. She was careless at the mountain and she's careless here.
Rowan focuses on the sparks in her blood, lets them grow, lets them build. All of this energy she unleashes in a fearsome bolt aimed at Imodane's feet. Stone shatters; smoke rises from a newly made crater in the castle's flooring.
"There is no High King in Eldraine," she booms. "Turn tail and return to the pretender, Imodane, or I'll dash you across the rocks."
"You!" says Imodane. "What are you doing here?"
"Ahh, Rowan," says Eriette from the throne. "Will you keep the vermin away for me, child?"
"They won't get in our way," Rowan promises. As she steps to the raised dais, she spots her brother, and knows that—one way or another—all of this is going to end today.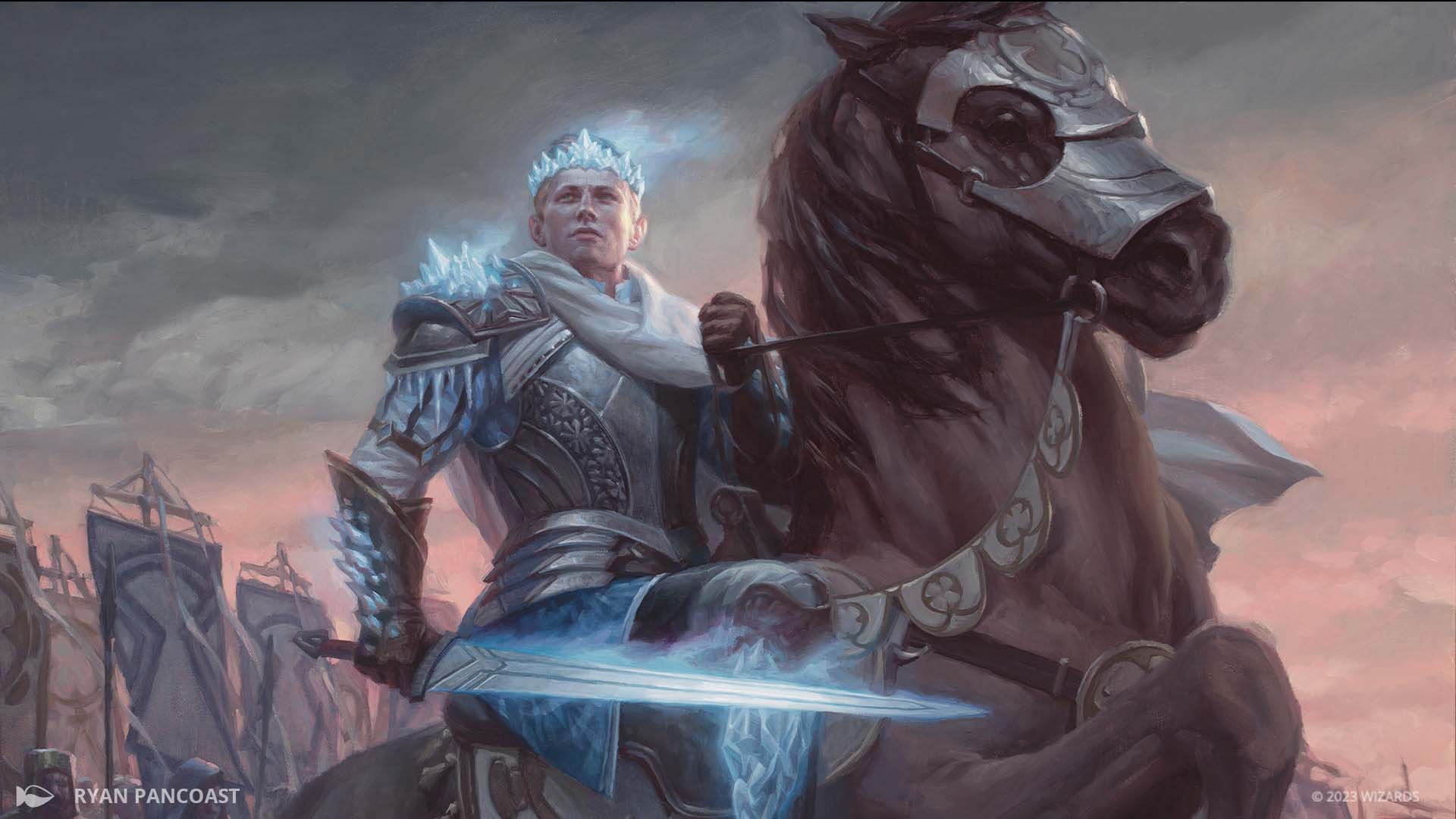 He rides atop his white horse behind the vanguard, his sword drawn. Rime coats his pauldrons, his vambraces. Despite riding into battle, he hasn't the sense to don a helmet. Seeing him ... Seeing him is seeing all the parts she least likes of herself externalized into someone else.
Worse still when he narrows his eyes, when he calls with his voice full of disbelief and ache, "Rowan? What are you doing?"
There is a lump in her throat, a pain unspeakable, when her brother looks at her like this. Like he's afraid of her. Like he wants her to be something other than she is, to wake up one day and return to being the woman he knew before. When will he realize the Rowan he knew is dead?
"I'm learning how to save the Realm," she says.
"Listen to yourself. Working with witches? Cursing the Realm? This isn't like you," he says. Is this what he thinks a High King should be—a man who is on the verge of tears atop his warhorse? "Please come home."
She wants him to understand. She wants so badly for him to understand that she's never going to be all right again.
But he won't.
She's charging them before she knows what else to do. Her sword beats back shields and snaps lances. In the thick of the melee her blood sings. Here, surrounded by steel's blooming petals, she is free from any thought save that which animates her limbs. Parry, riposte; dodge, blast.
When she reaches her brother, there is already blood on her armor. She levels her sword at him, he on his horse, and dares him to dismount. "Home is gone, Will!"
Cool eyes study her. When his feet finally touch the ground, his shoulders are doubled with the weight of his worries. He draws no weapon. "No, it isn't. Hazel and Erec need us—"
He's talking to her the way he talked to Imodane. His own sister. She can't stand another second of it. "Our parents are dead, the Realm is shattered, and you're acting like talking about it will help. It won't! Talking is never going to help!"
A rough slash to his chest will convince him to raise his sword. Even Will cannot compete with such a compelling argument—he raises his own blade to parry. It doesn't help him much. Rowan is stronger than he is. She's always been stronger.
Under a relentless barrage of blows he's beaten back, step by step, his warriors parting to let him pass. Whether because he'd given an order or because they fear her, the other knights do little to stop Rowan.
The only thing that does stop her is a bolt of ice. Will manages it between blows: she doesn't realize her feet are frozen to the floor until she tries to move them once more.
Rowan catches her breath. As the battle rages on around them—knight against dreamer, friend against friend—her brother fights back tears.
"Ro, I'm sorry," he says. "I didn't help you when you needed it."
It isn't what she was expecting from him. There's a sharp feeling at the corner of her eyes, a pain in her chest. An arrow flies over her head, landing in a dreamer behind her. She cannot look at Will for too long, or she's not going to be able to speak. She glances over her shoulder toward Eriette.
But it isn't just Eriette she sees. Rowan's heart sinks. The children must have gotten loose. Worse than that, they're attacking the throne. The girl in red is swinging a sword twice her size at Eriette; the boy fights with a whip of golden vine.
Eriette may be a powerful witch, but she's no fighter. She can't deal with the children and animate the dreamers at the same time.
Rowan looks to Will again. He's frowning, now. "You want to save her?"
"She's our aunt. This magic was always in our blood, Will," Rowan says. She's surprised at how young she sounds. "We can use it to save Eldraine. No one has to suffer anymore, no one has to die. We can keep them safe."
For a moment, she mistakes the hurt in his expression for sympathy. It is the longest moment of her life—a length of hope tied around her neck, a box kicked out from under her.
"I don't know you anymore," he says.
Sparks coalesce at her fingertips. Rowan blasts the vanguard again, creating another rend across the floor. Another wave of anger, another wave of frustration, another wave of hurt. Over and over she fires at her faithless former friends. All these people who knew how badly she was hurting and left her to rot, all these people who saw her bleeding and rubbed salt in the wound—let them know her power.
Only when the dust of her rage settles does Rowan let out a breath.
And there, where she expects to see them laid low, she sees a cocoon of ice. Pitted, cracked, and scarred, it yet stands in the face of her onslaught.
Will dismisses it with a wave of his hand. "This isn't going to work," he says.
"You don't know that!" Rowan answers. Winded and desperate, she cannot hold herself back from charging at him. Her sword arm will succeed where her magic failed—she's sure of it. Will could never match her on the field.
She slashes at him, only for a familiar hardwood hand to catch her blade. Imodane shoves her back and Rowan stumbles.
"You don't get it, do you, girl?" Imodane growls. Losing a weapon hasn't seemed to stop her. She punches her wooden fist into her fleshy palm. "He's going to be the one to reunify the Realm. Even I can see that now."
"Don't be so certain."
Ice against the nape of her neck; smoke in her lungs; a haze that threatens to carry her to somewhere beautiful and far. Veils of black coalesce into Ashiok's elegant form before the gathered army.
Rowan can't help but smirk. Eriette might have had trouble controlling so many at once, but for Ashiok it's second nature. The gathered dreamers attack with new grace, swaying out of the way of incoming blows, and dealing their own with vicious precision.
"Will isn't the only one with friends," Rowan answers Imodane.
They can't easily fight this off. Ashiok, at the center, is surrounded on all sides by their dreamers, and their dreamers are all too happy to defend. The phalanx must break if they're to attack.
Imodane sends a haymaker Rowan's way. She doesn't bother to dodge—her nose cracks, the world around her spins, copper floods her mouth. Worth it, if it gets her closer. Because there is something Rowan understands, something they don't know: the gathered knights cannot win against Ashiok. All she has to do is hold out long enough for Eriette to send all of them to sleep.
Rowan drives the pommel of her sword into Imodane's face. A moment's concentration is enough to channel sparks through the knight's armor. She howls, splitting off from the fight to try to tear off her plate mail, but she isn't the only enemy Rowan faces. A dozen knights at least have gathered to defend her brother while the others hold off the dreamers.
Thirteen to one.
Rowan likes those odds.
"All of these people are here because they believe in the same thing our parents believed in: a united Eldraine. You can't just make people do whatever you want!" Will says.
"You're only saying that because you've always been too weak to do it," Rowan answers. "Would diplomacy have stopped Oko? The Oriq?"
Three of Will's guards collapse around him, their bodies joining the pile of the slumbering. An incoming slash from one of the others gives her another chance. Rowan lunges into the blow, turning aside at the last second. With the distance closed she can crack her pommel on the knight's temple. Blood coats her knuckles as her opponent crumbles.
Halfway there.
In the distance she spots a flash of gold among Ashiok's smoke. The boy from earlier, swinging some kind of golden chain. Small as he is, he's managed to slip between the ranks.