We first launched FNM at Home in March of 2020 because players around the world weren't able to keep in touch with their local game store in the usual ways. We wanted to keep the Friday Night Magic fun alive, even when we couldn't do the gathering part. Thankfully, in-store play is available again in many locations, with more and more stores again offering in-person FNM.
With this in mind, we want FNM to go back to being a unique in-store experience, but we also want to continue the fun of MTG Arena's FNM at Home event.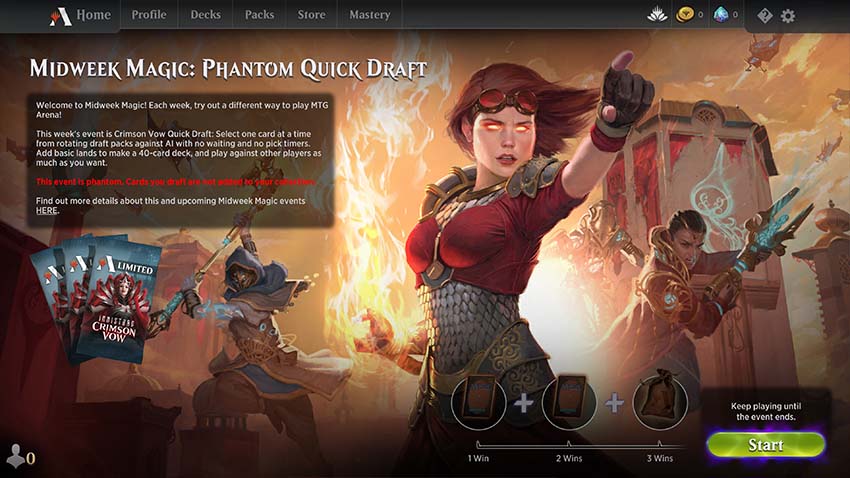 Introducing Midweek Magic
We've updated our FNM at Home event to take place Tuesdays and Wednesdays, lengthening it slightly so it's easier to play in, and renamed it Midweek Magic (announced in the July 2021 State of the Game article).
There is no entry for Midweek Magic, and you can earn up to three rewards for wins—there are two rare individual card rewards (known as ICRs) and one cosmetic reward.
So, you can enjoy Friday Night Magic with your friends at your local game store, and play in these fun MTG Arena events during the week!
Upcoming Midweek Magic Events
Updated September 14, 2022​​​​​​
Midweek Magic events begin on Tuesdays at 8 a.m. PT and end on Thursdays at 11 a.m. PT.​​
September 27–29: Historic
Bring a 60-card deck built from any cards in your collection not banned in the Historic format. Put your old favorites and new contenders toe-to-toe!

Banned Cards in Historic

Agent of Treachery
Brainstorm
Channel
Counterspell
Dark Ritual
Demonic Tutor
Field of the Dead
Lightning Bolt
Memory Lapse
Natural Order
Nexus of Fate
Oko, Thief of Crowns
Once Upon a Time
Swords to Plowshares
Thassa's Oracle
Tibalt's Trickery
Time Warp
Uro, Titan of Nature's Wrath
Veil of Summer
Wilderness Reclamation

October 4–6: On the Edge
Bring a 60-card deck using only cards from Kamigawa: Neon Dynasty, Streets of New Capenna, and Dominaria United. With only three Standard sets to work with, you'll need cutting-edge strategies to find victory!
October 11–13: Alchemy
Bring a 60-card Alchemy deck. Break out the latest and greatest from the lab, or maybe find a new favorite! Grinning Ignus is banned in the Alchemy format.
October 18–20: Explorer
Bring a 60-card Explorer deck and battle through Magic's history!
October 25–27: Standard Shakeup
We're removing some of Standard's most popular and powerful cards. Search for new strategies and bring the best 60-card deck you can create!