Here's the breakdown for Core Set 2021:
Slot one : Any rare or mythic rare from Core Set 2021, with a special Planeswalker symbol stamp on the card.
Slot two : A rare or mythic rare from a curated list cards. This card will also bear the Planeswalker symbol stamp.
Slot three : One of five Core Set 2021 cards in the dark frame of previous FNM promos.

The 5 Cards are: Selfless Savior, Frantic Inventory, Eliminate, Heartfire Immolator, and Llanowar Visionary

Slot four : A code card that redeems for one Core Set 2021 booster pack in MTG Arena.

The Fine Print: Code expires January 1, 2024. Limit 5 per account. MTG Arena (and its game codes) are not available in all regions and languages. Account registration required.
In regions where MTG Arena is not available, the Promo Pack is a three-card pack.
The contents of Core Set 2021 Premium Promo Packs are identical to the Promo Packs, but the first three cards will be foil.
A Closer Look at Slot Two:
Vraska, Golgari Queen
Arclight Phoenix
Assassin's Trophy
Steam Vents
Watery Grave
Overgrown Tomb
Sacred Foundry
Temple Garden
Chromatic Lantern
Pelt Collector
Knight of Autumn
Legion Warboss
Midnight Reaper
Drowned Secrets
Risk Factor
Beast Whisperer
Thief of Sanity
Mission Briefing
Deafening Clarion
Runaway Steam-Kin
Experimental Frenzy
Niv-Mizzet, Parun
Dawn of Hope
Ritual of Soot
Unmoored Ego
Ionize
Venerated Loxodon
Quasiduplicate
Hydroid Krasis
Spawn of Mayhem
Breeding Pool
Blood Crypt
Stomping Ground
Godless Shrine
Hallowed Fountain
Smothering Tithe
Deputy of Detention
Bedevil
Guardian Project
Gutterbones
Priest of Forgotten Gods
Incubation Druid
Kaya's Wrath
Gruul Spellbreaker
Cindervines
Electrodominance
Absorb
Mass Manipulation
Liliana, Dreadhorde General
Nicol Bolas, Dragon-God
Dreadhorde Arcanist
Karn, the Great Creator
Nissa, Who Shakes the World
Ugin, the Ineffable
Blast Zone
Jace, Wielder of Mysteries
Spark Double
The Elderspell
Feather, the Redeemed
Vivien, Champion of the Wilds
Karn's Bastion
Bolas's Citadel
Narset's Reversal
Sorin, Vengeful Bloodlord
Tamiyo, Collector of Tales
Domri, Anarch of Bolas
Vivien, Arkbow Ranger
Chandra, Awakened Inferno
Leyline of the Void
Knight of the Ebon Legion
Chandra, Acolyte of Flame
Voracious Hydra
Lotus Field
Leyline of Anticipation
Starfield Mystic
Mystic Forge
Leyline of Sanctity
Rotting Regisaur
Shifting Ceratops
Legion's End
Nightpack Ambusher
Brazen Borrower
Questing Beast
Fabled Passage
Murderous Rider
Gilded Goose
Castle Locthwain
Stonecoil Serpent
Emry, Lurker of the Loch
Torbran, Thane of Red Fell
Bonecrusher Giant
Elspeth, Sun's Nemesis
Storm's Wrath
Shatter the Sky
Woe Strider
Thassa's Intervention
Vivien, Monsters' Advocate
Ruinous Ultimatum
Genesis Ultimatum
Lurrus of the Dream Den
Kaheera, the Orphanguard
Planar Bridge
Yahenni, Undying Partisan
Harvest Season
Dragonmaster Outcast
Ob Nixilis Reignited
Painful Truths
Imprisoned in the Moon
Sigarda's Aid
Atarka, World Render
Crux of Fate
Shamanic Revelation
Authority of the Consuls
Ghirapur Orrery
Gonti, Lord of Luxury
Padeem, Consul of Innovation
Rashmi, Eternities Crafter
Temur Ascendancy
Jace's Sanctum
Tendershoot Dryad
World Shaper
Previous Promo Packs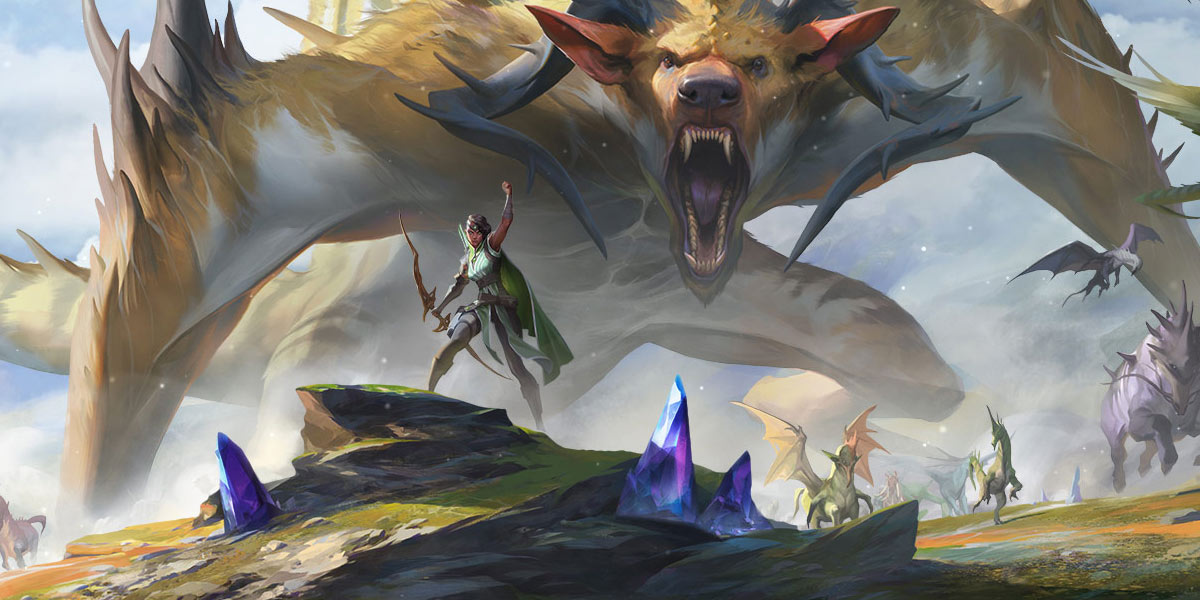 Ikoria
Lair of Behemoths
download the PDF
Theros
Beyond Death
Download the PDF
Throne of Eldraine
Download the PDF
Core Set 2020
Download the PDF