A First Look at Magic: The Gathering® – Doctor Who™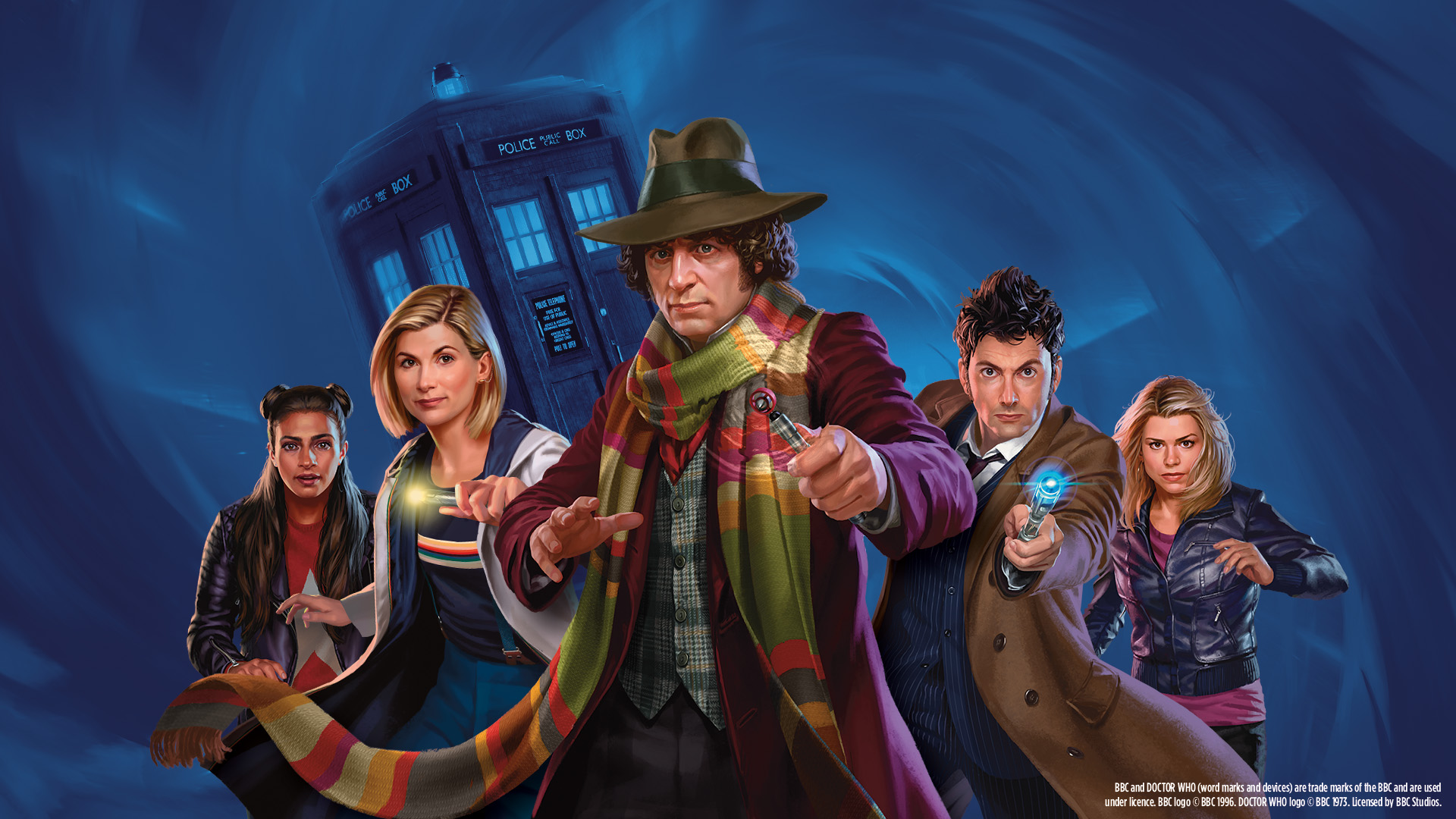 For decades, Doctor Who™ has taken us on adventures through time and space. Now, in the year of the series's 60th anniversary, Doctor Who™ comes to Magic. We're bringing the Doctor, their companions, their foes, and more to you in the form of four Commander decks. These all feature new-to-Magic cards, as well as reprints with new Doctor Who™–themed art, allowing you to immerse your deck in the world of the Doctor.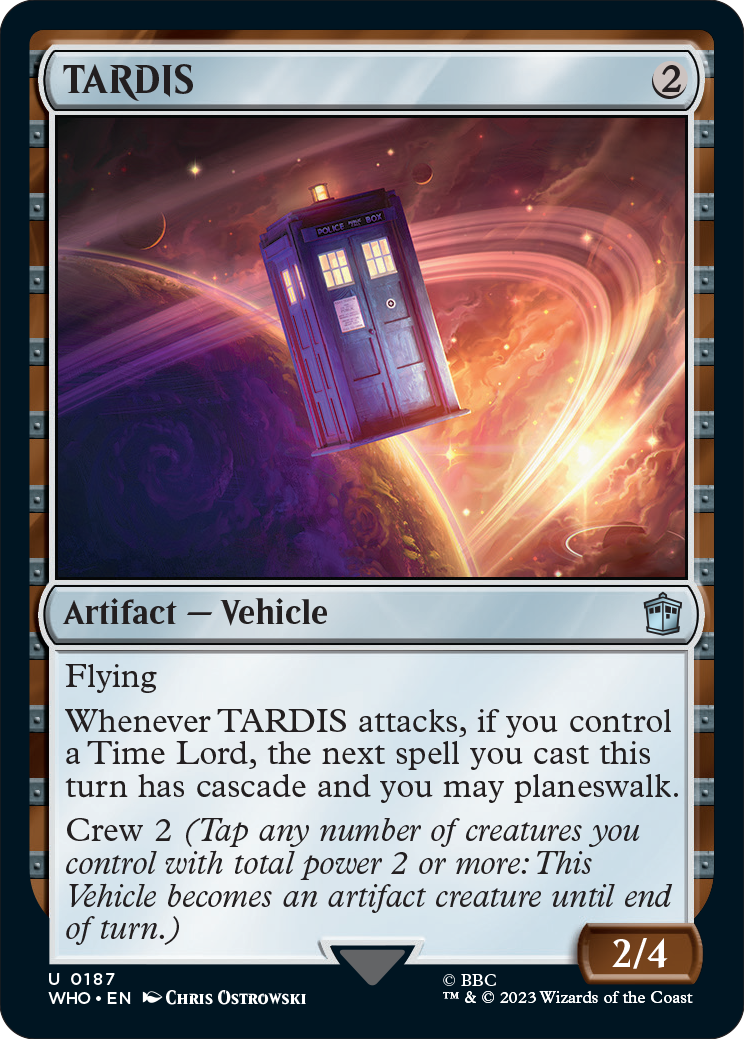 These decks are a labor of love, invoking the history of Doctor Who™ through the lens of Magic. Designers, writers, and artists worked to capture the world of Doctor Who™ in a way that made it exciting for fans of Doctor Who™ and Magic.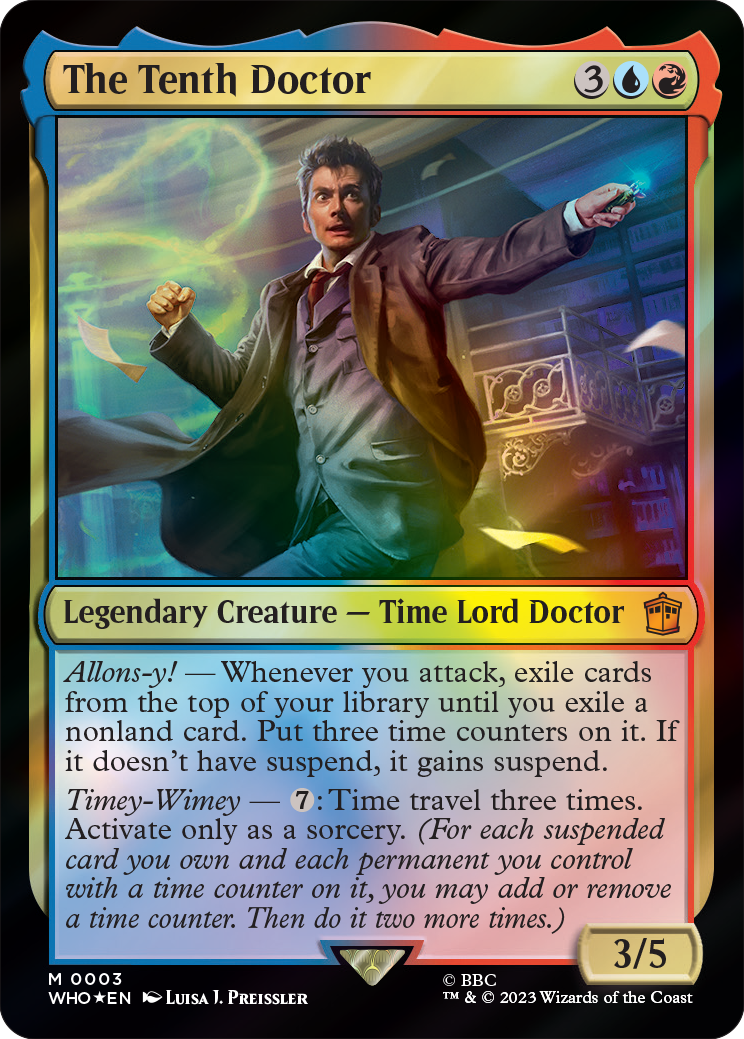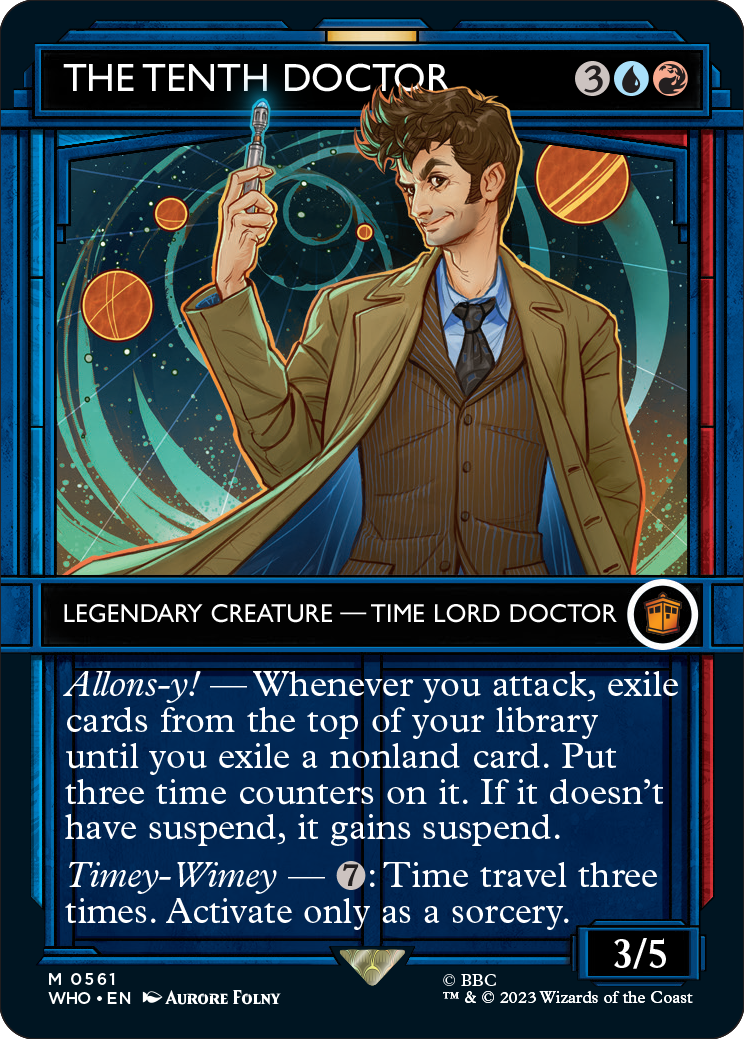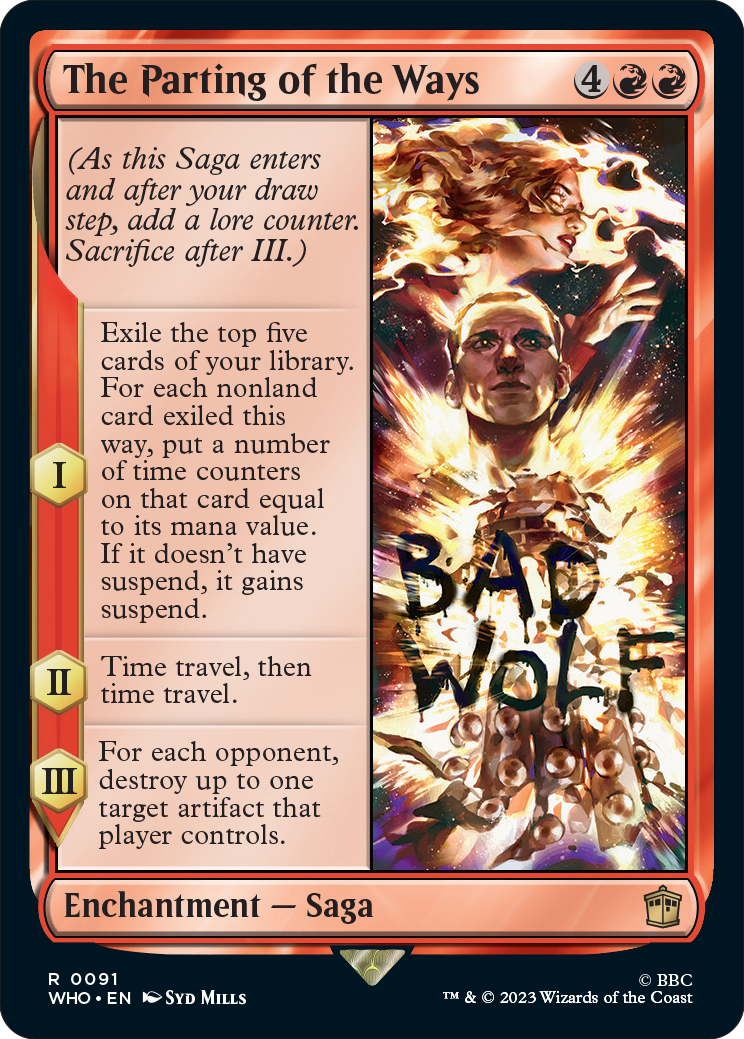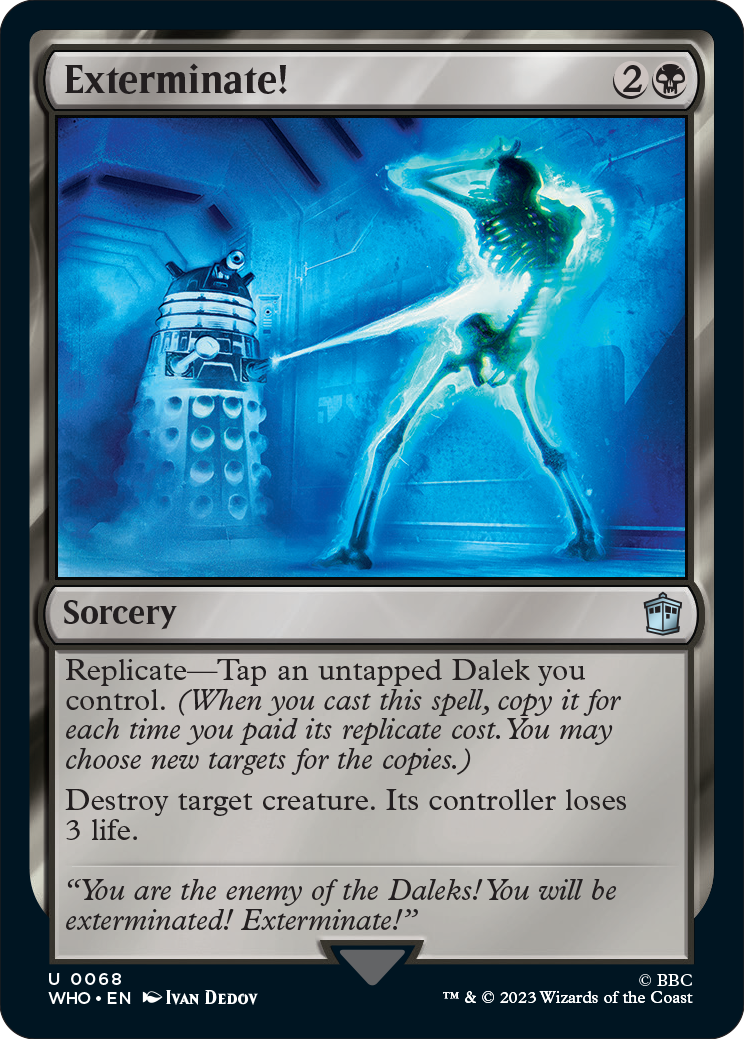 The Doctor has travelled across the universe on their many adventures, and so will you with the plane cards included in each Commander deck! These cards represent the iconic locales of Doctor Who™, with each deck containing ten new-to-Magic plane cards so that you can travel throughout time and space as chaos ensues.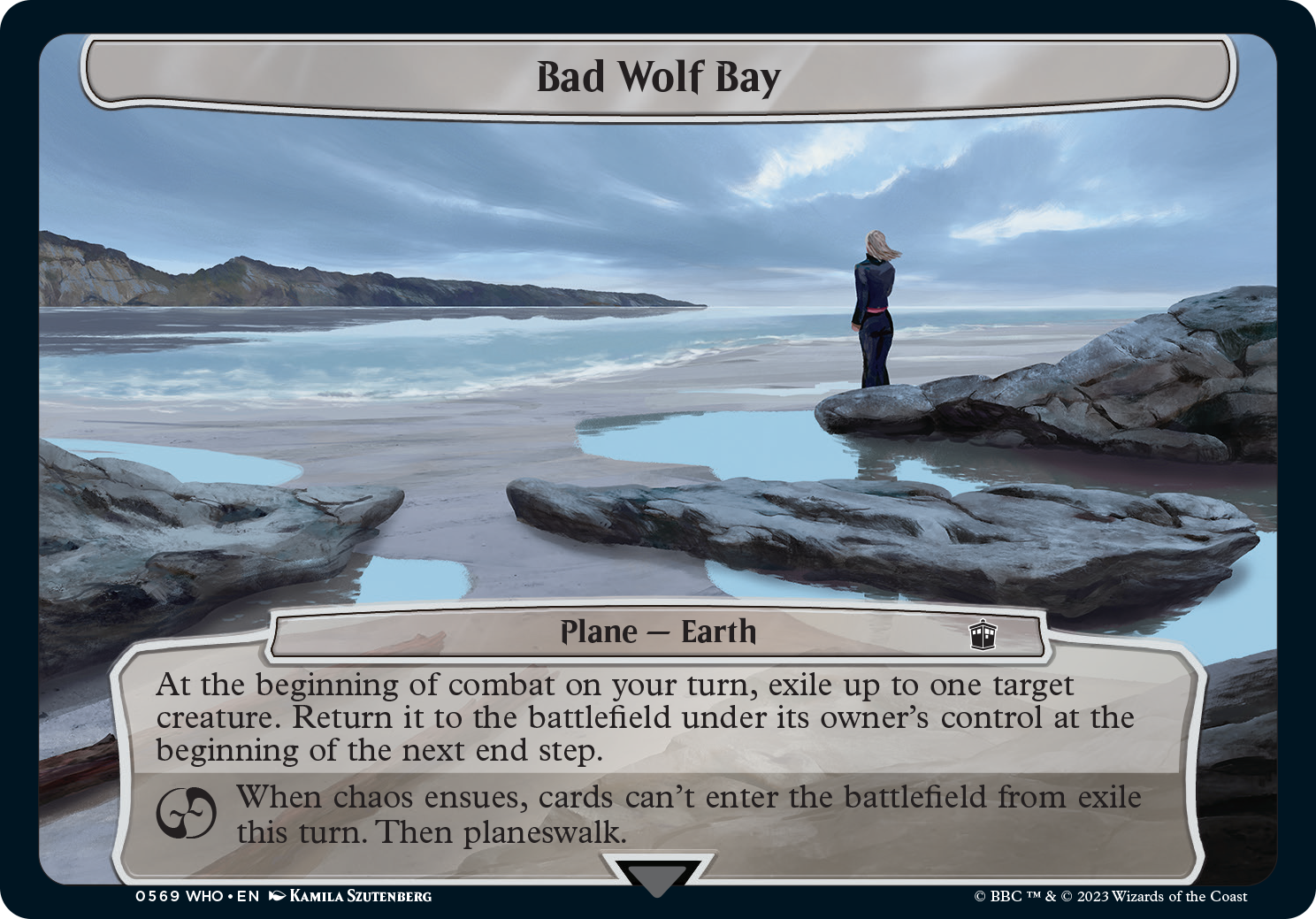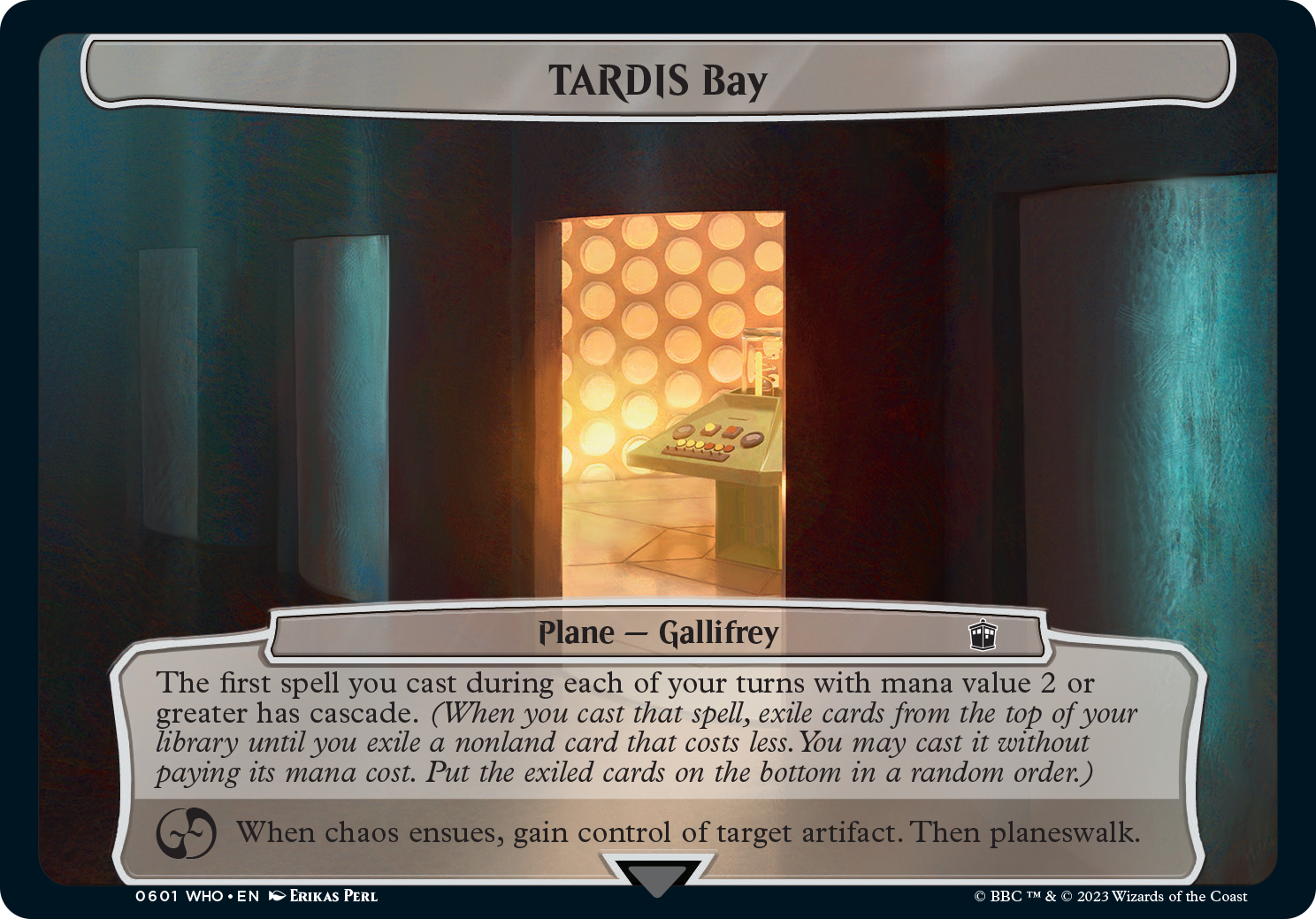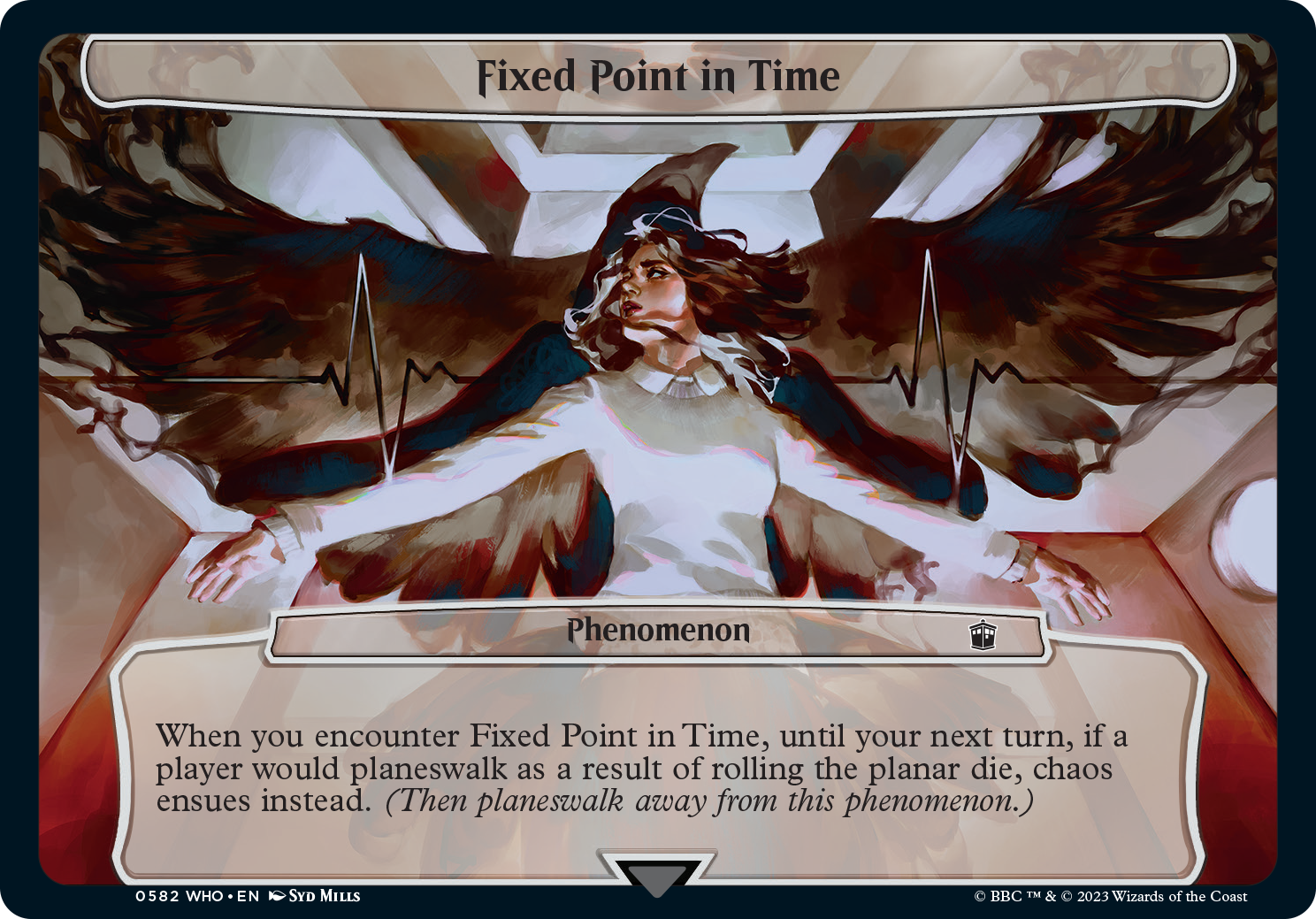 Each Commander deck will feature new cards that will be legal in Legacy, Vintage, and Commander. These cards are designed for Commander, accentuating the fun and social aspect of the format that players love.
During MagicCon: Barcelona, we revealed some of the new cards, mechanics, and themes of these decks. Now, we've gathered all that information here. Get ready for Magic: The Gathering® – Doctor Who™!
Magic: The Gathering® – Doctor Who™ Set Details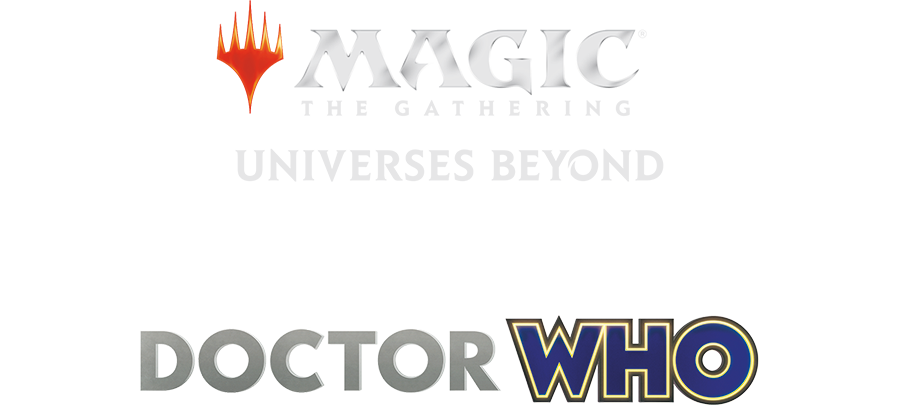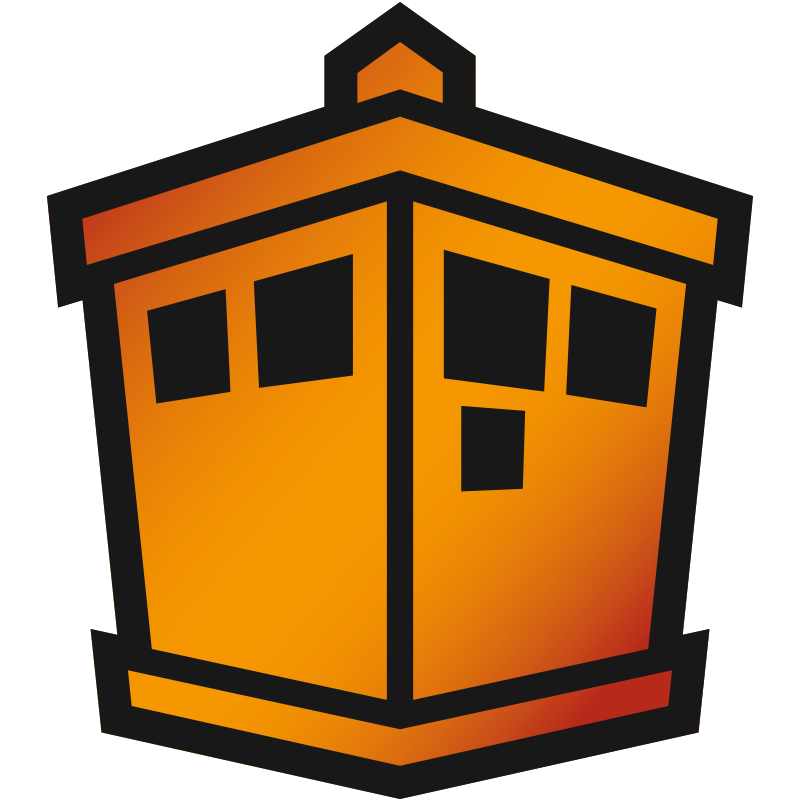 Magic: The Gathering® – Doctor Who™
Set Code: WHO
Magic: The Gathering® – Doctor Who™ Set Legality: Legacy, Vintage, and Commander
MTG Arena Legality: Not available on MTG Arena
Website: Magic: The Gathering® – Doctor Who™
Magic: The Gathering® – Doctor Who™ Important Dates
The TARDIS Photo Event (with Promo) at MagicCon: Las Vegas: September 22–24
Debut: October 3
Previews: October 3–6
Game Knights Gameplay: October 11
Global Launch: October 13
Launch Party Events: October 13–15
There's a universe's worth of places to get Magic: The Gathering® – Doctor Who™ with four Commander decks, Collector Boosters, and Secret Lair drops all in the style of Doctor Who™. As for what's in those, well, why don't you join us for some of the reveals?
Allons-y!
Take a Photo with The TARDIS at MagicCon: Las Vegas!
Fans joining us at MagicCon should take note: The TARDIS is landing in Las Vegas this September. During MagicCon: Las Vegas, attendees will get the chance to take a photo with the iconic blue box—and maybe score a cool promo for visiting. MagicCon: Las Vegas will be just a little bit bigger attending on the inside than from outside!
Magic: The Gathering® – Doctor Who™ Commander Decks
Blast from the Past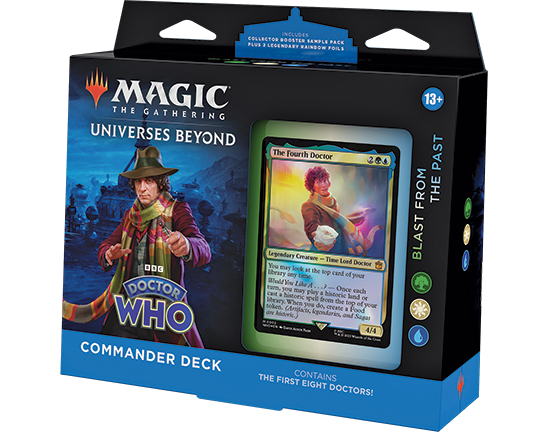 In 1963, the Doctor first appeared to audiences around the world. This deck honors those early years of Doctor Who™, spanning the show's run from 1963 to 1989. Blast from the Past, a green-white-blue deck, is led by the Fourth Doctor. But he's not alone. The Doctor travels with their companions, brought to Magic with the Doctor's companion mechanic.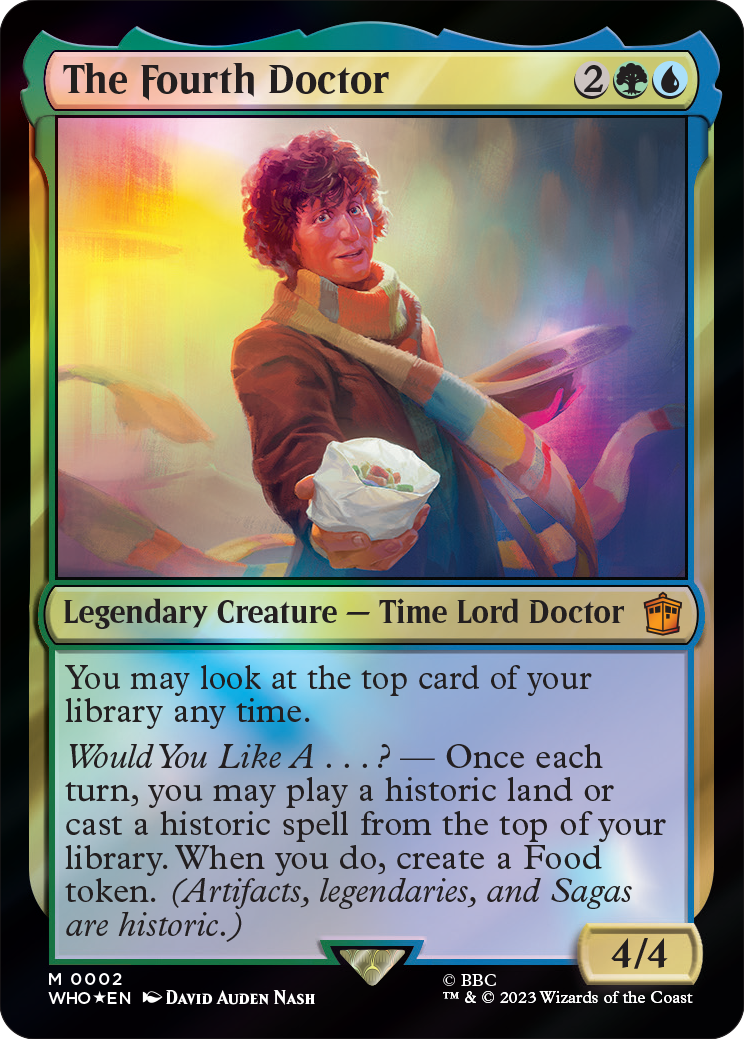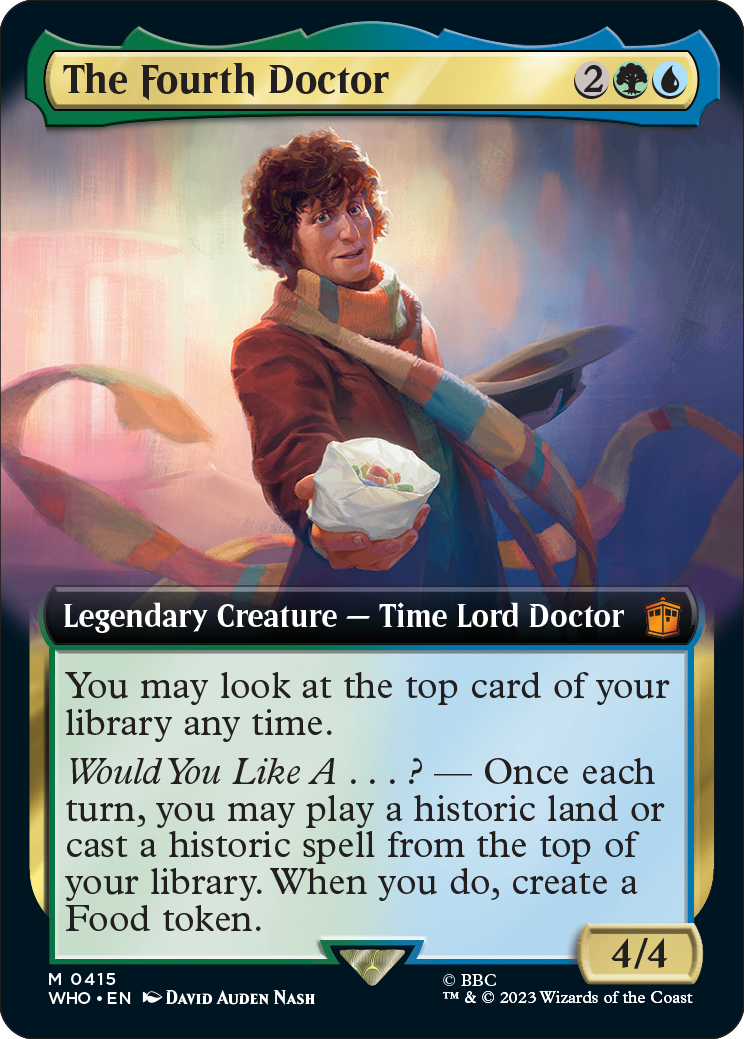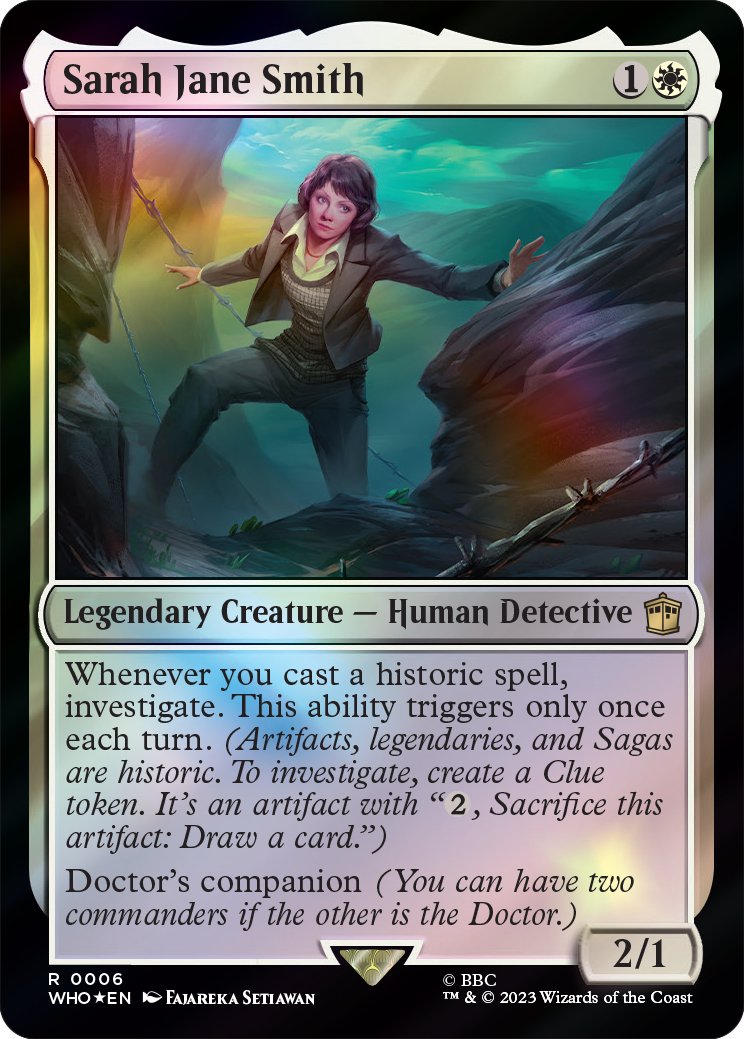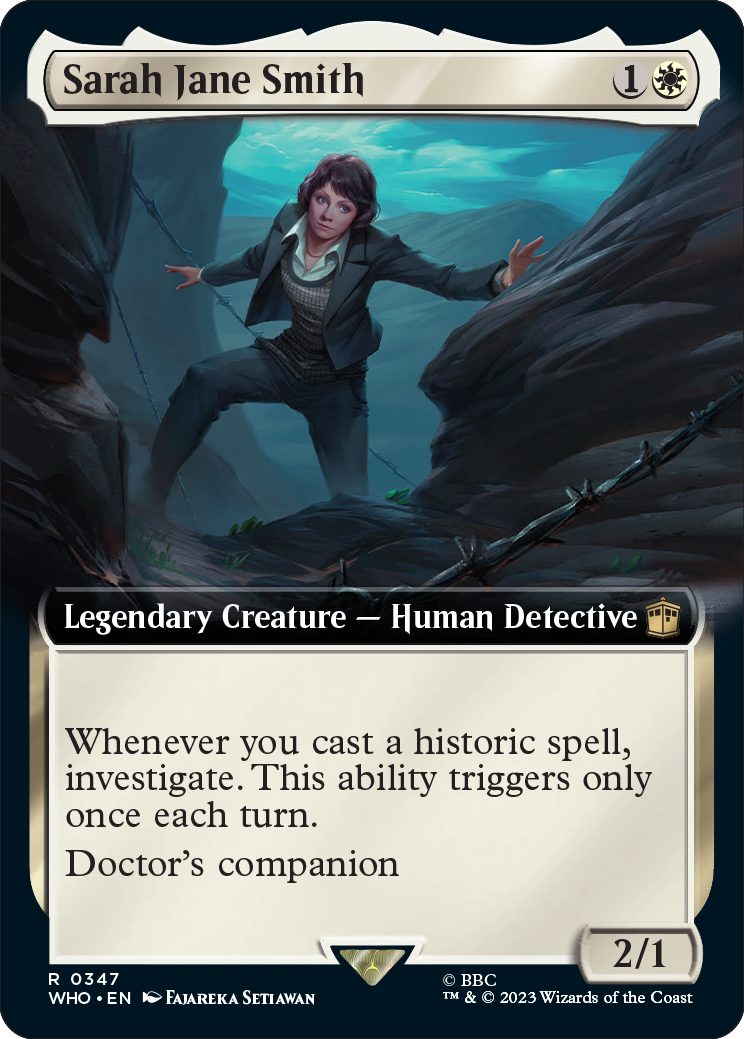 Take Sarah Jane Smith. She has the ability Doctor's companion, allowing you to have her and another creature as your commanders if the other creature is the Doctor. You'll be able to pair the Doctor with their most iconic companions, or even come up with your own combinations. What would happen if the Fourth Doctor teamed up with Rose Tyler? You'll be able to decide with your own Doctor Who™ decks. Blast from the Past captures the history of Doctor Who™ with the historic mechanic. First seen in 2018, historic returns as a central theme in this deck, encouraging you to play plenty of legendary creatures from throughout Doctor Who™.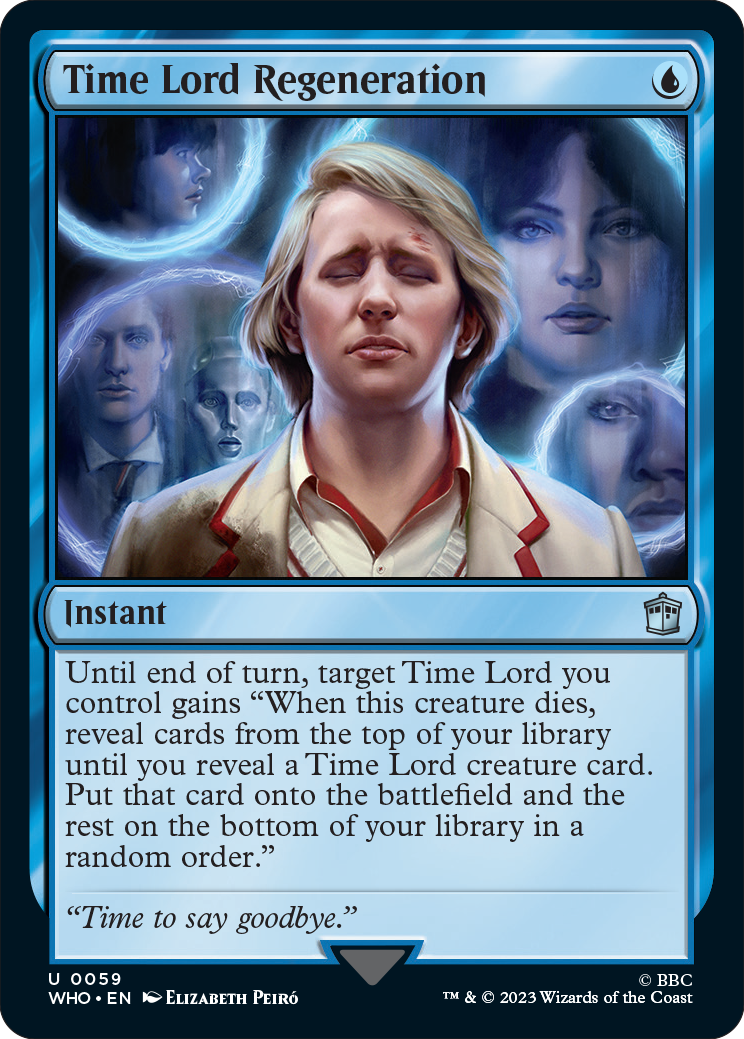 Historic also cares about Sagas, another central theme of the Doctor Who™ Commander decks. Iconic episodes of Doctor Who™ are depicted in these Sagas, each one telling the story of the Doctor with dazzling artwork and powerful mechanics. And, of course, the tokens are on-theme, too.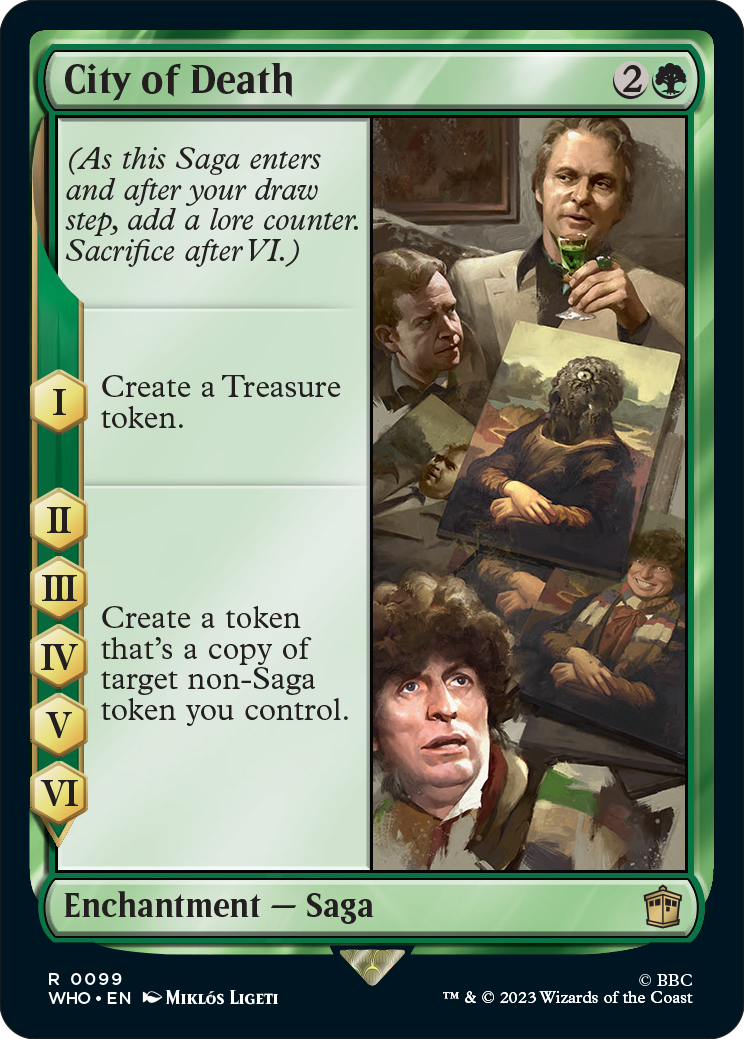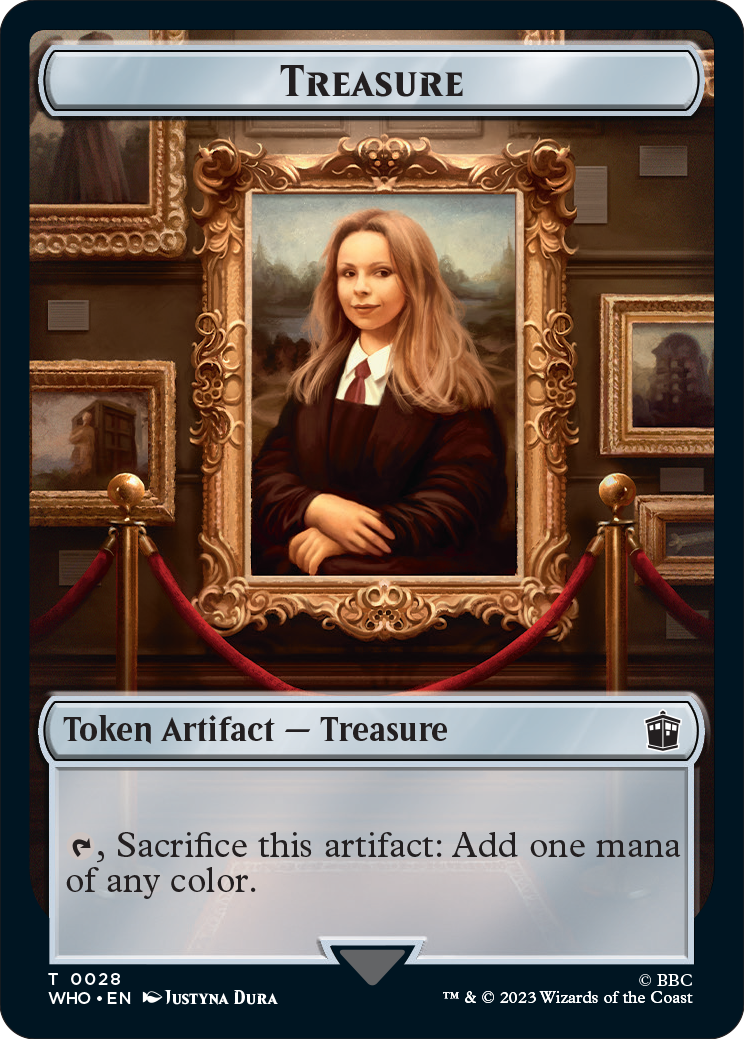 You'll see more of Blast from the Past once previews begin. But for now, let's time travel to the future for our next deck.
Timey-Wimey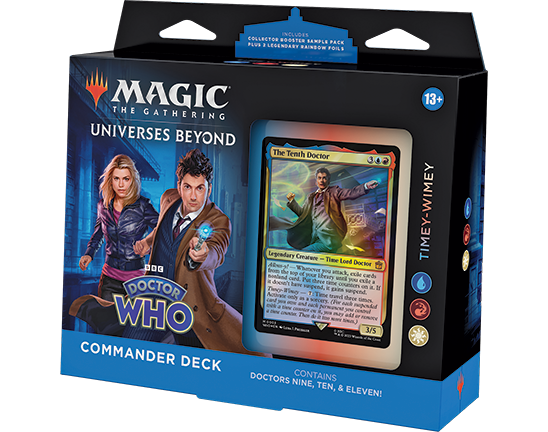 Timey-Wimey is a deck all about the big ball of wibbly-wobbly, timey-wimey stuff that is time. This deck is run by the Tenth Doctor and his companion Rose Tyler. The two give this blue-red-white deck a theme of time manipulation, namely through the mechanic of time travel.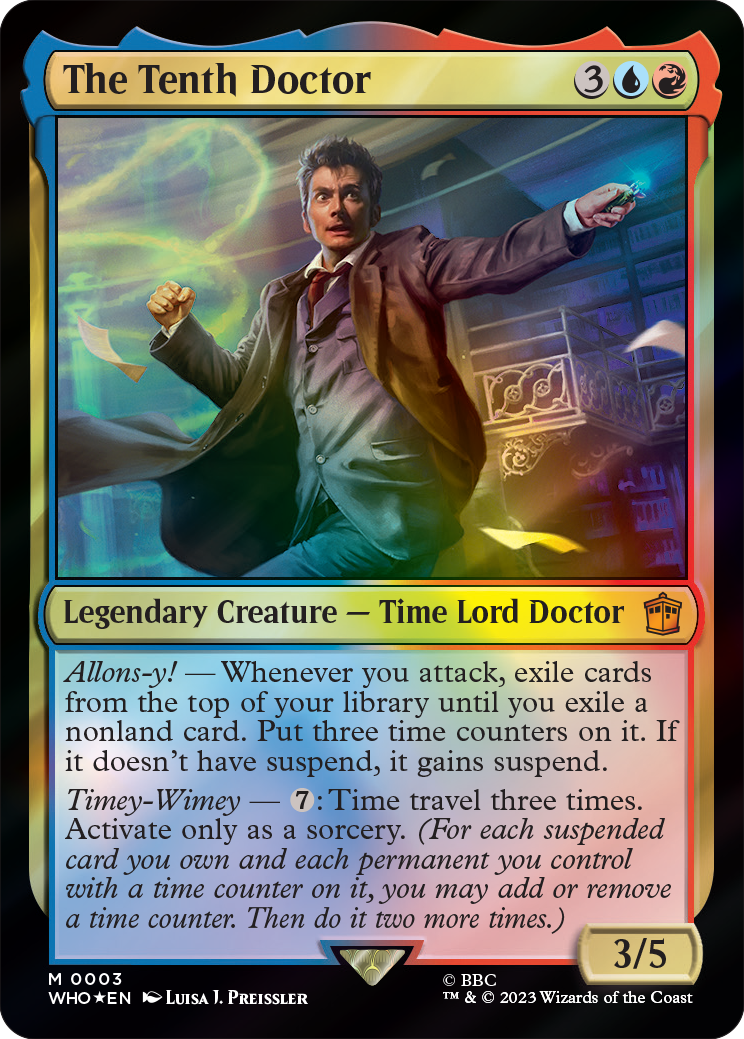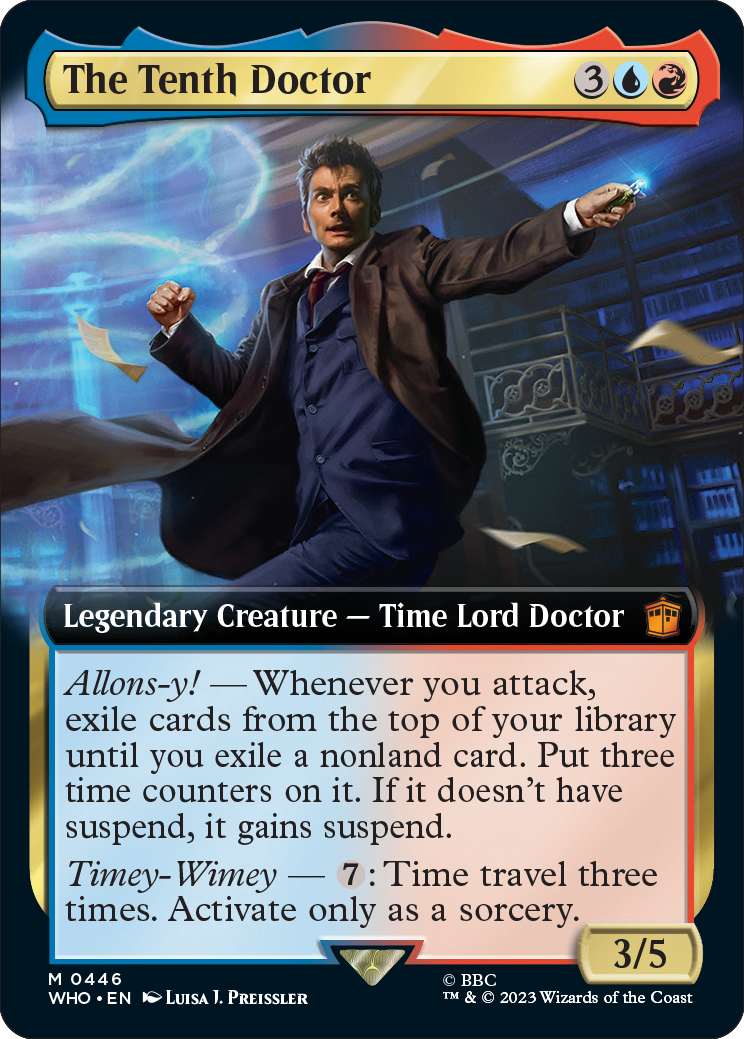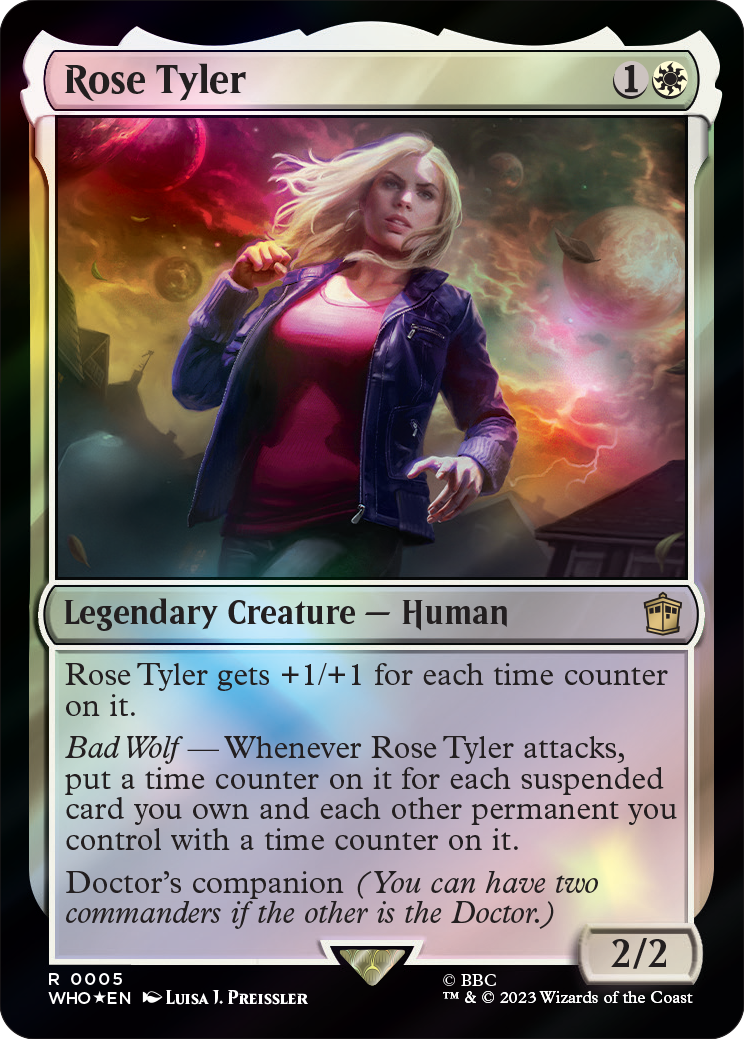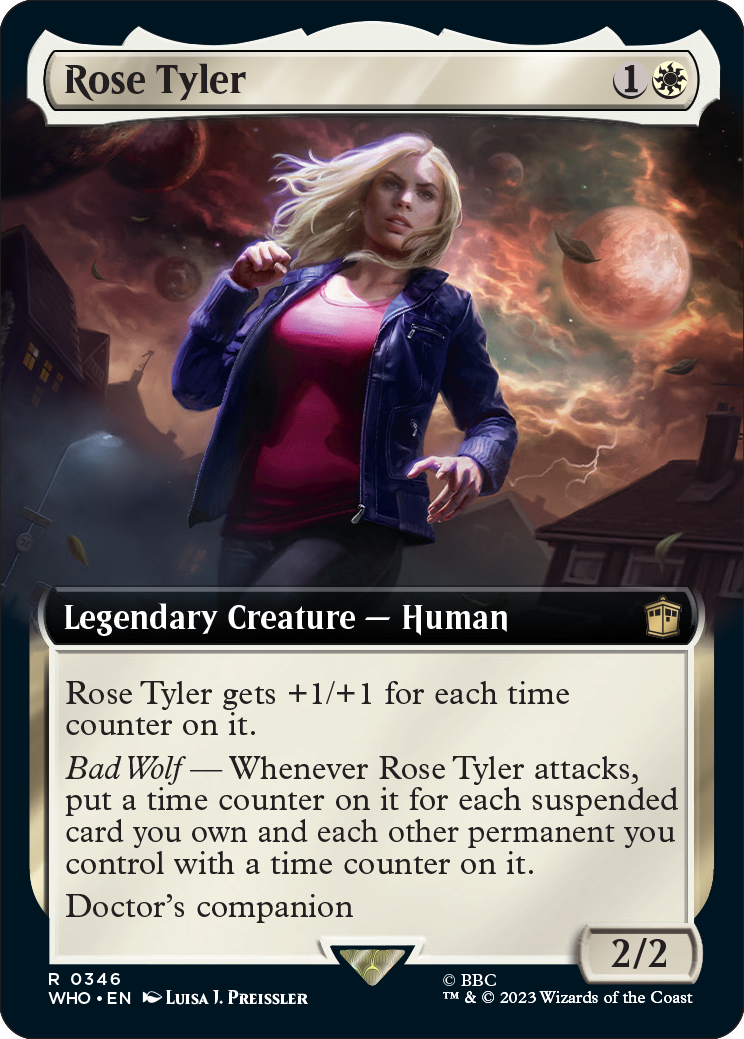 Time travel is a brand-new mechanic that focuses on the manipulation of time counters, something we first saw in 1994. With Doctor Who™, we're giving it a new twist. Time travel lets you add and remove time counters, letting you play with suspend, vanishing, and other fun mechanics from across Magic.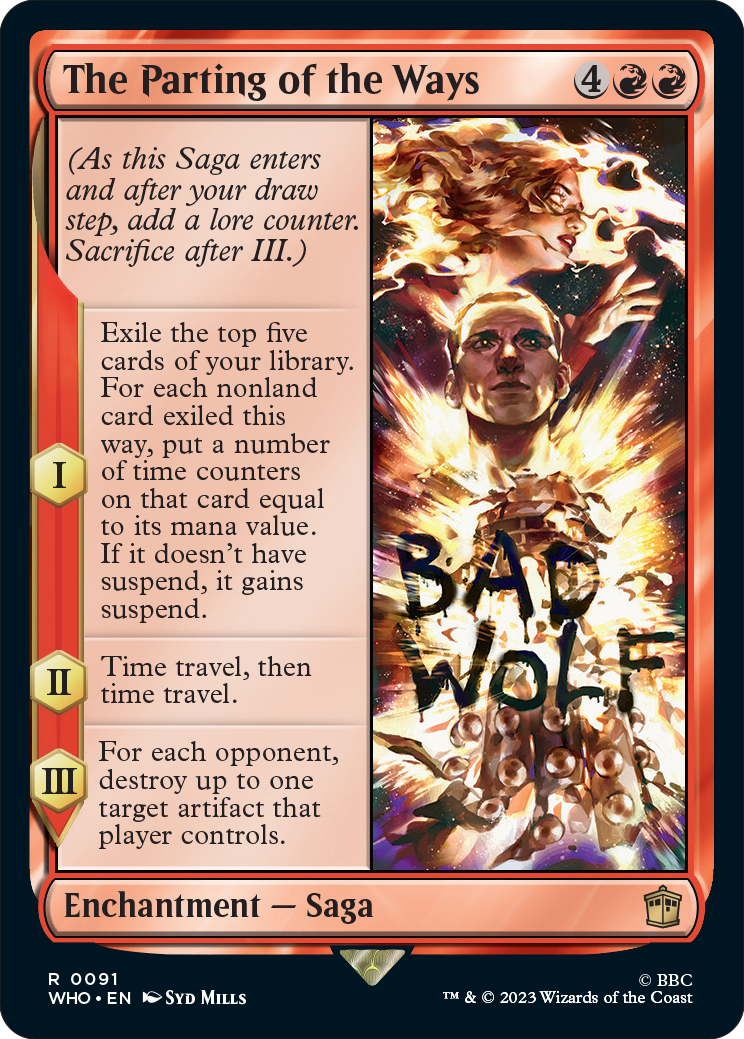 This deck places the Ninth, Tenth, and Eleventh Doctor's journeys in the spotlight, featuring characters, alien worlds, and exhilarating stories from across the Doctor's many adventures.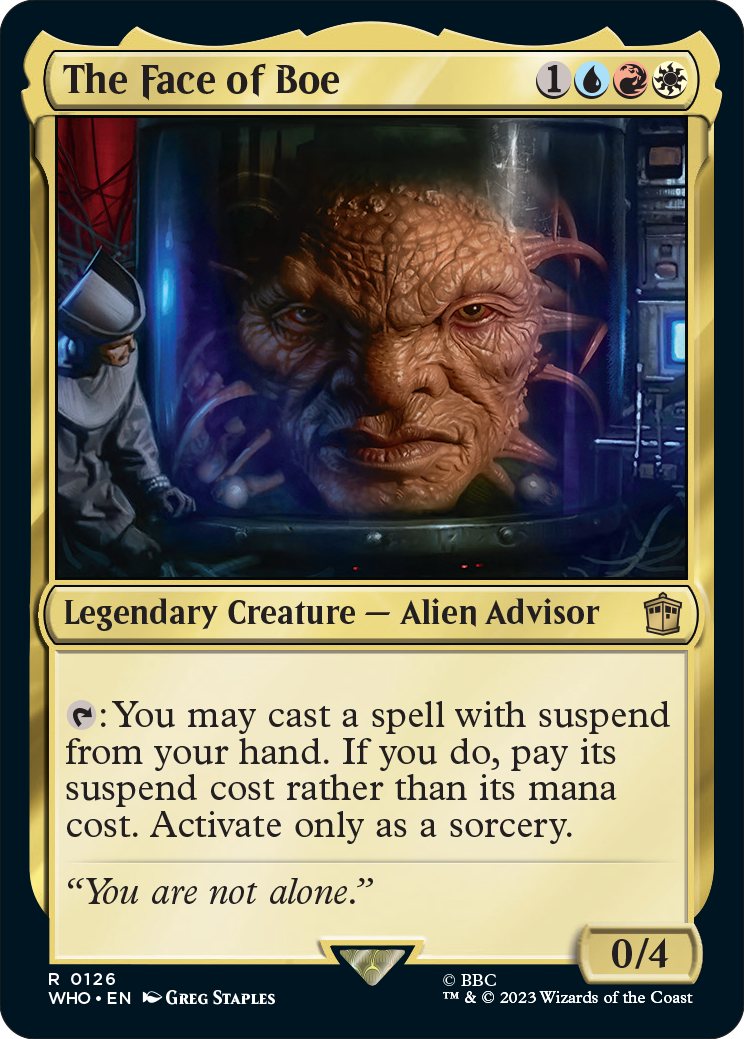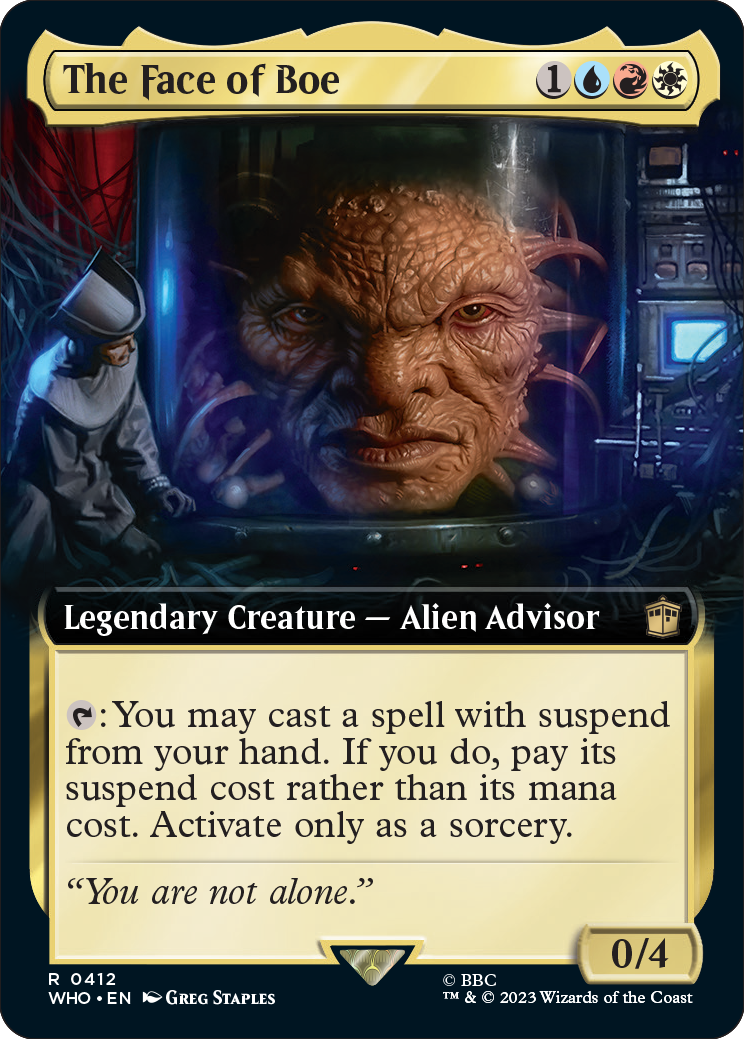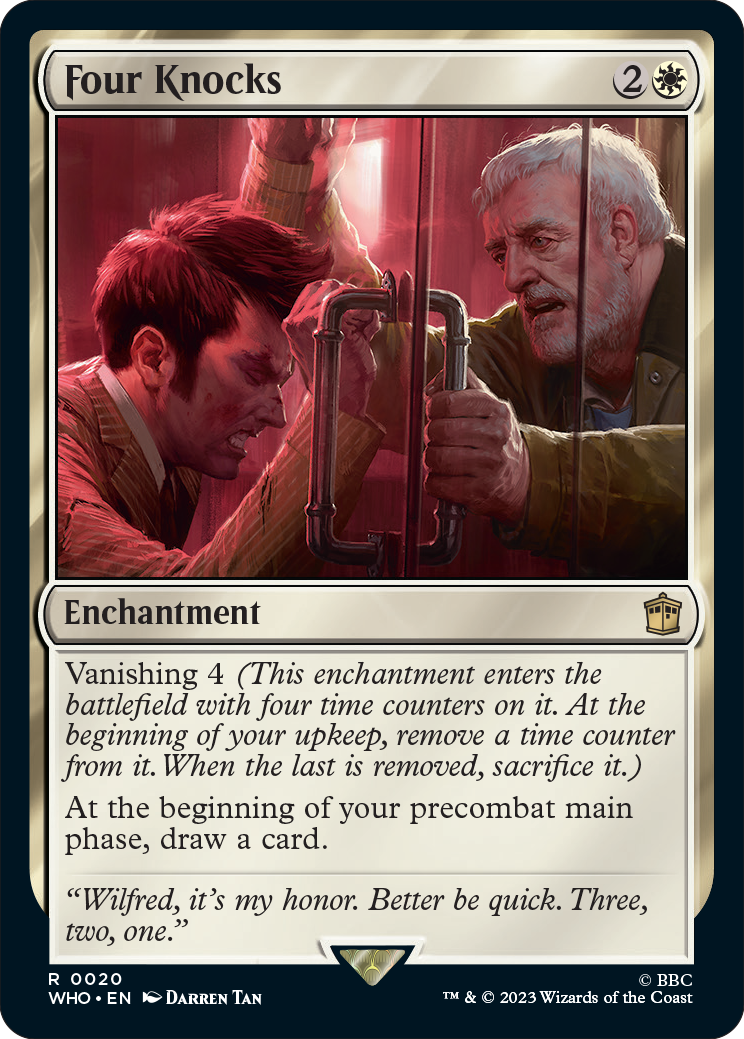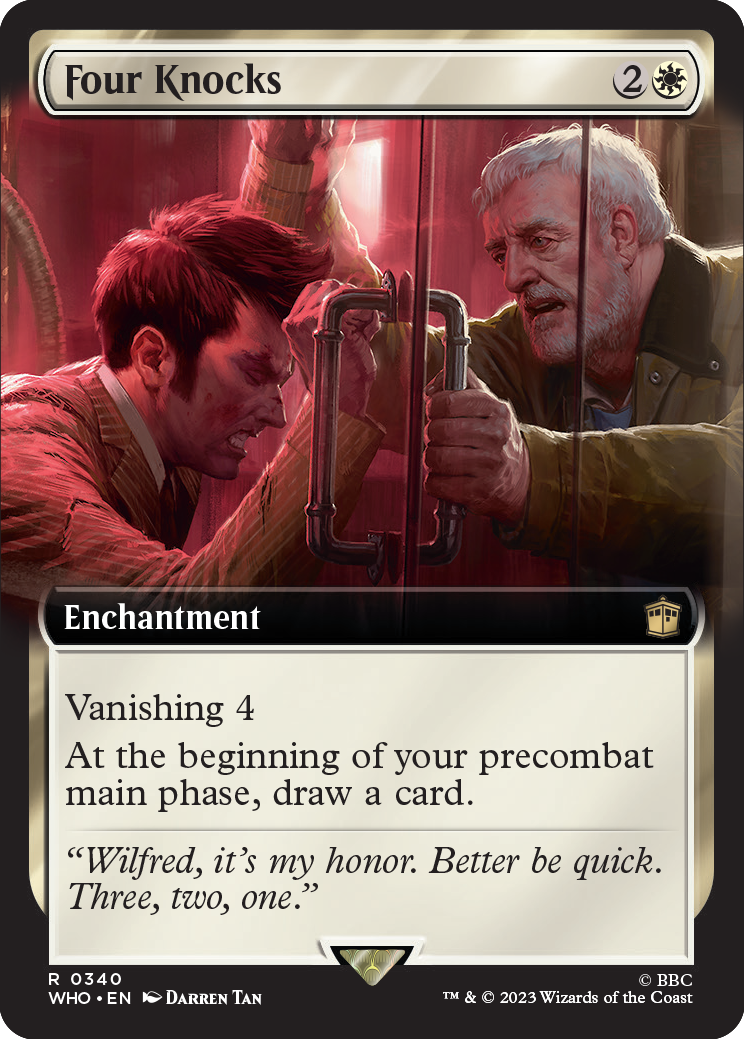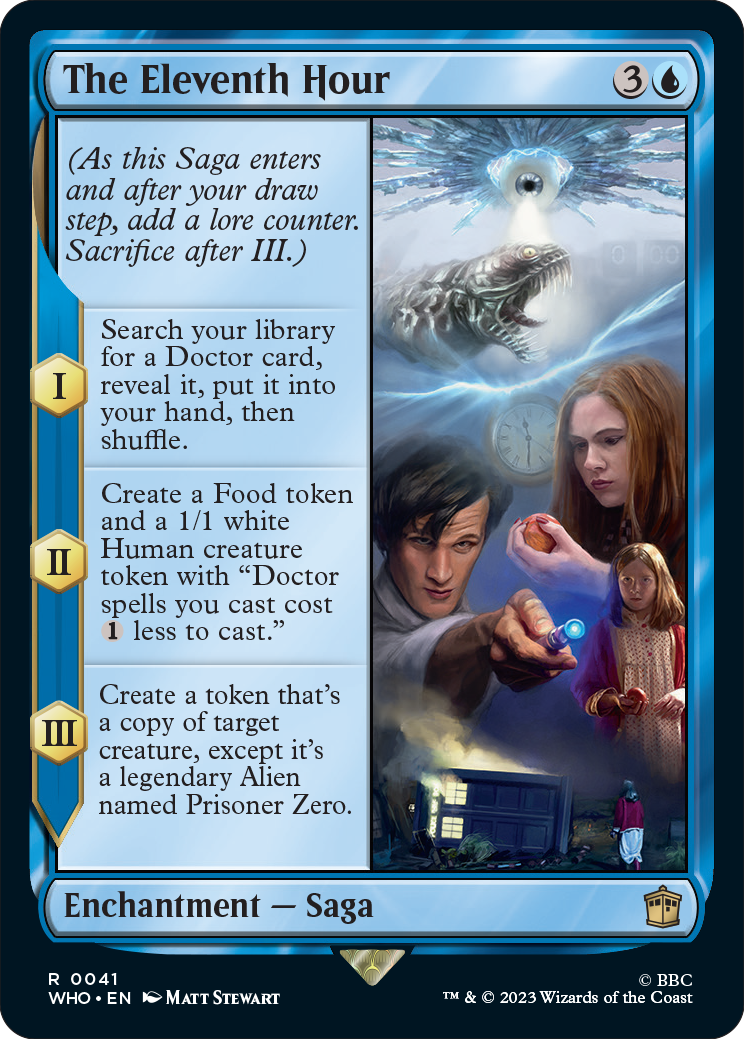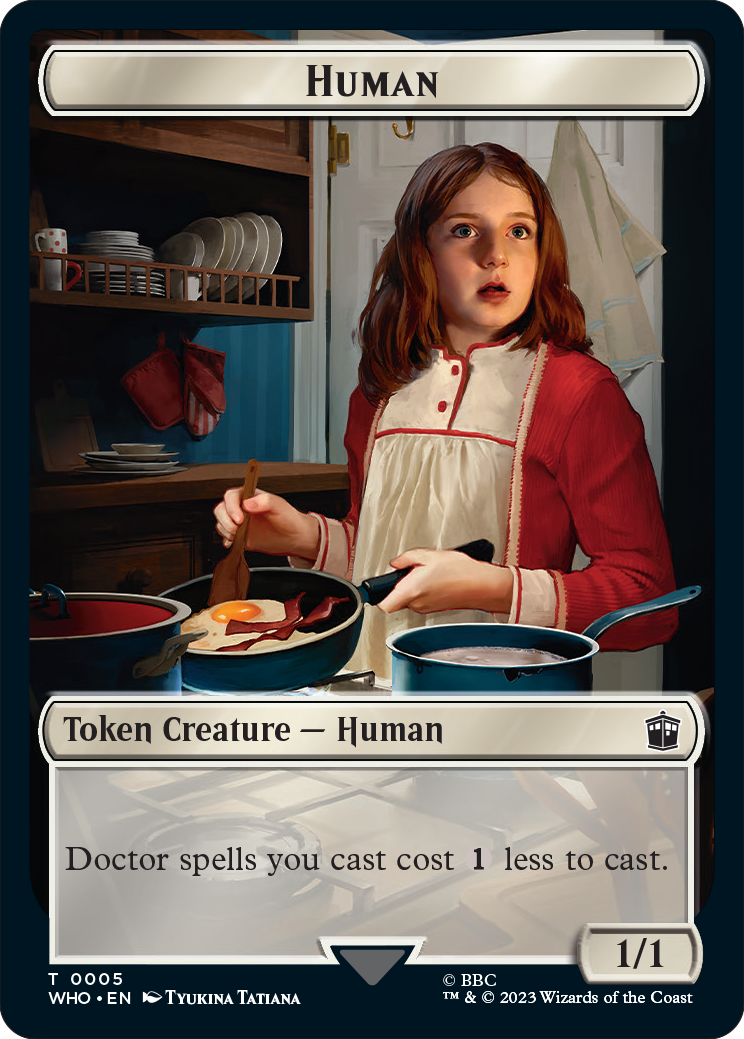 Timey-Wimey brings the escapades of the Doctor to Magic with a distinct flair of time travel. With three Doctors, this deck is filled with easter eggs and references to Doctor Who™ that will be sure to make fans say "Fantastic!"
Who knows, there may even be another Time Lord present …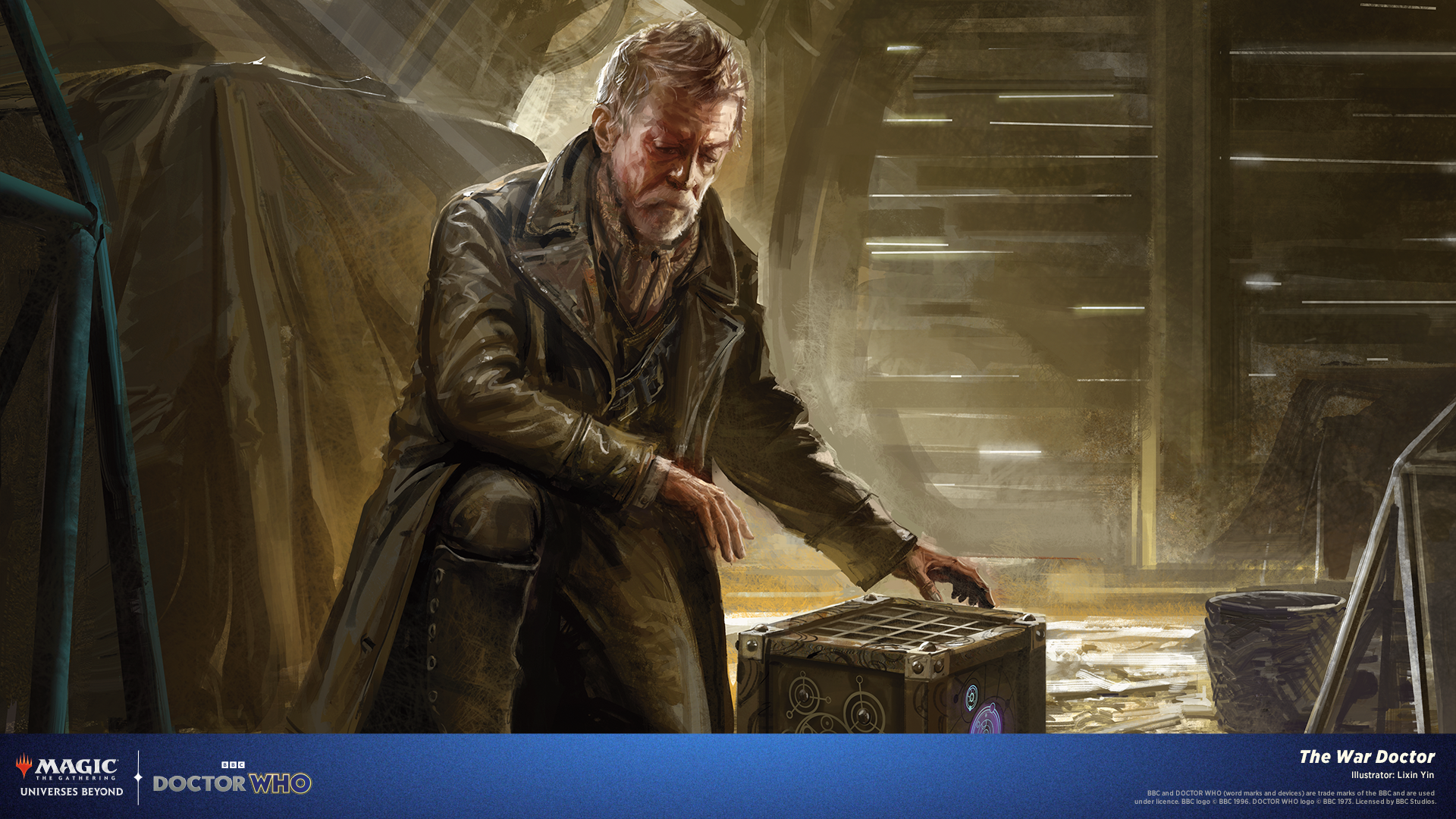 Paradox Power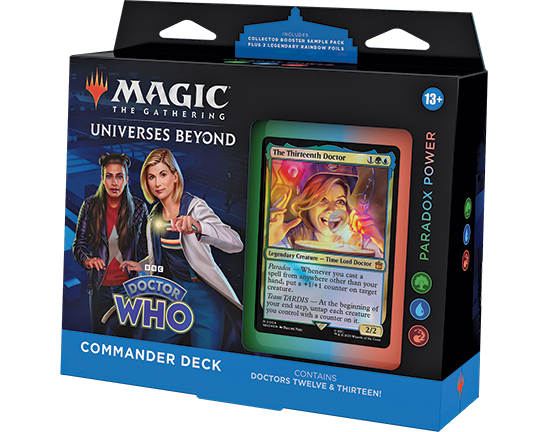 In Paradox Power, the wild nature of time is on full display as spells fly from all directions! In this green-blue-red deck, you can expect the unexpected when the Thirteenth Doctor and Yasmin Khan arrive. With the Twelfth Doctor and the Thirteenth Doctor being at the deck's core, the paradox mechanic is working overdrive to create the exciting plays Commander is known for!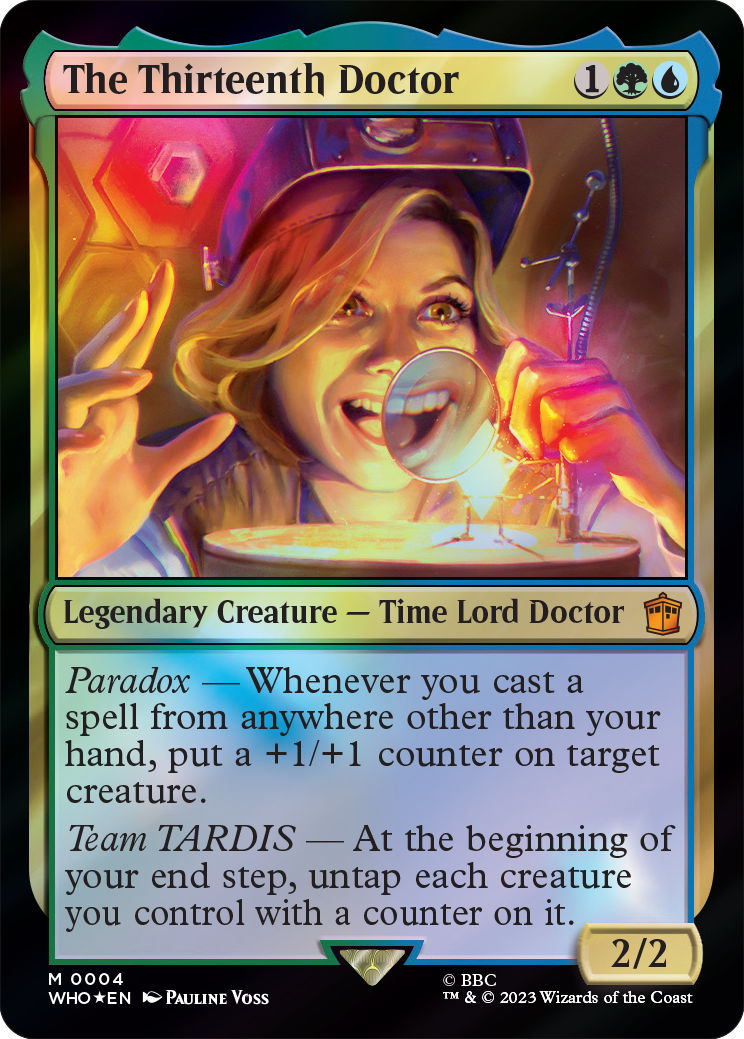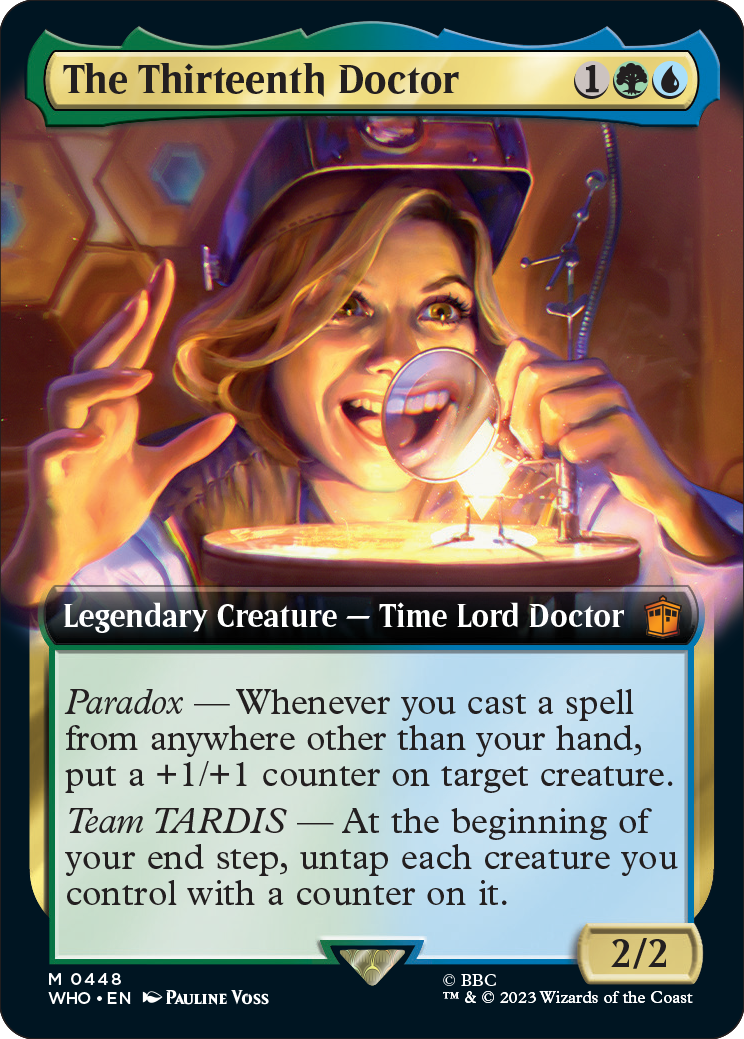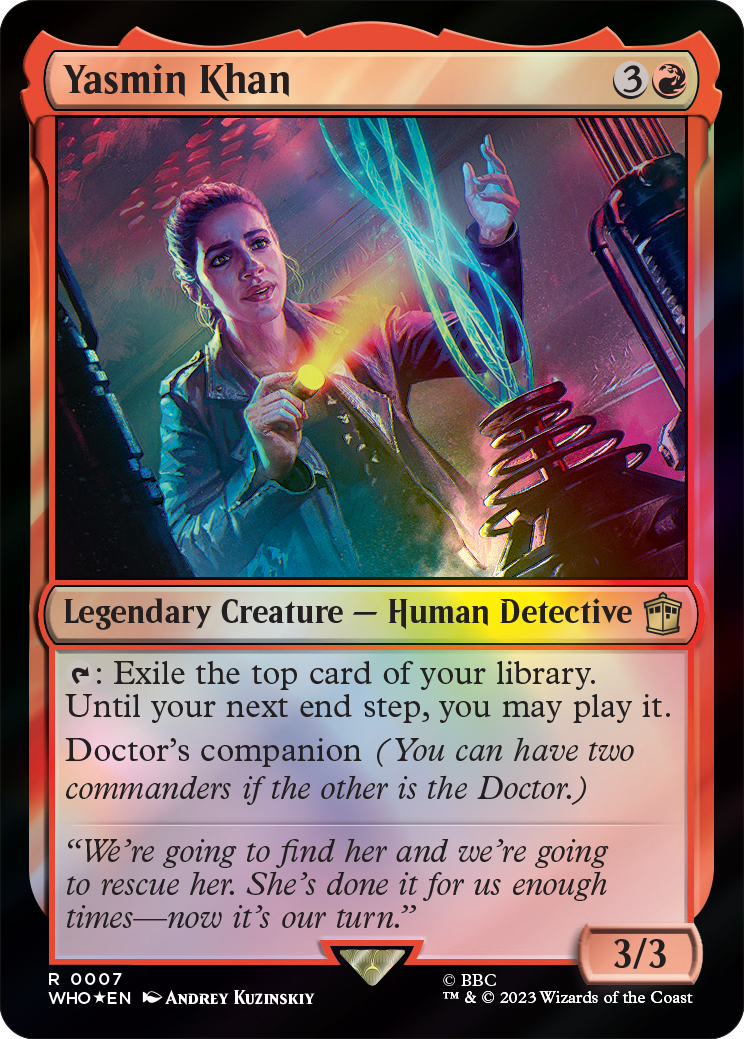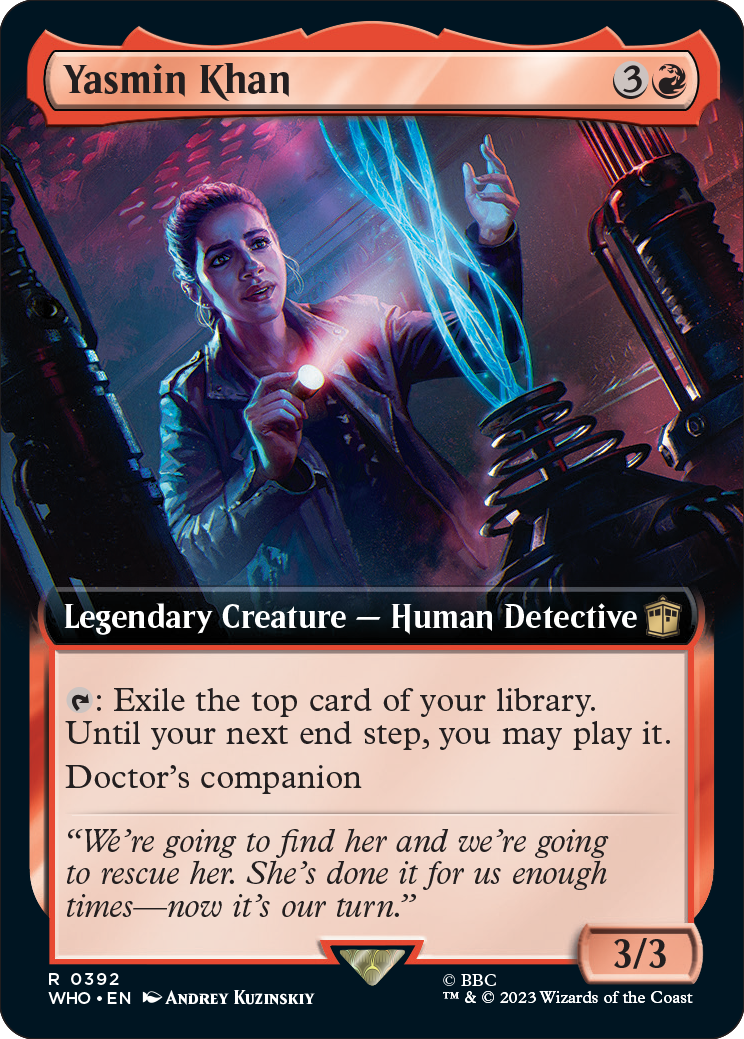 Paradox gives you a special benefit whenever you cast a spell from anywhere other than your hand, synergizing with flashback, rebound, suspend, and more! With these tools at your disposal, Paradox Power is sure to wow you with a chaotic frenzy of time-travel shenanigans.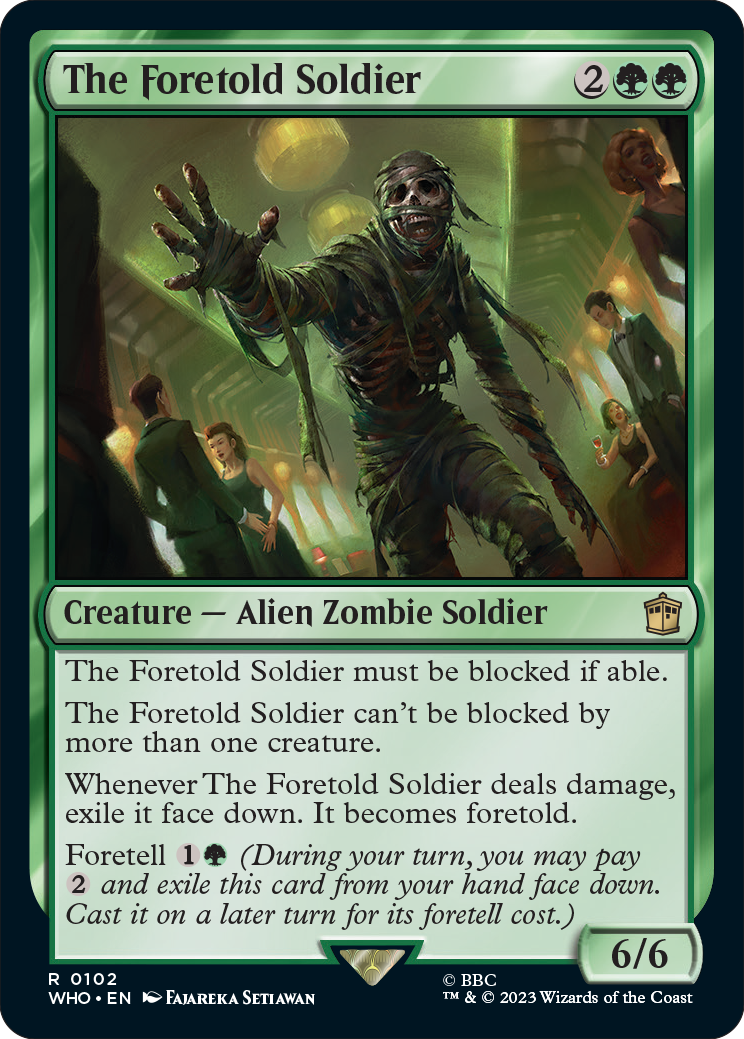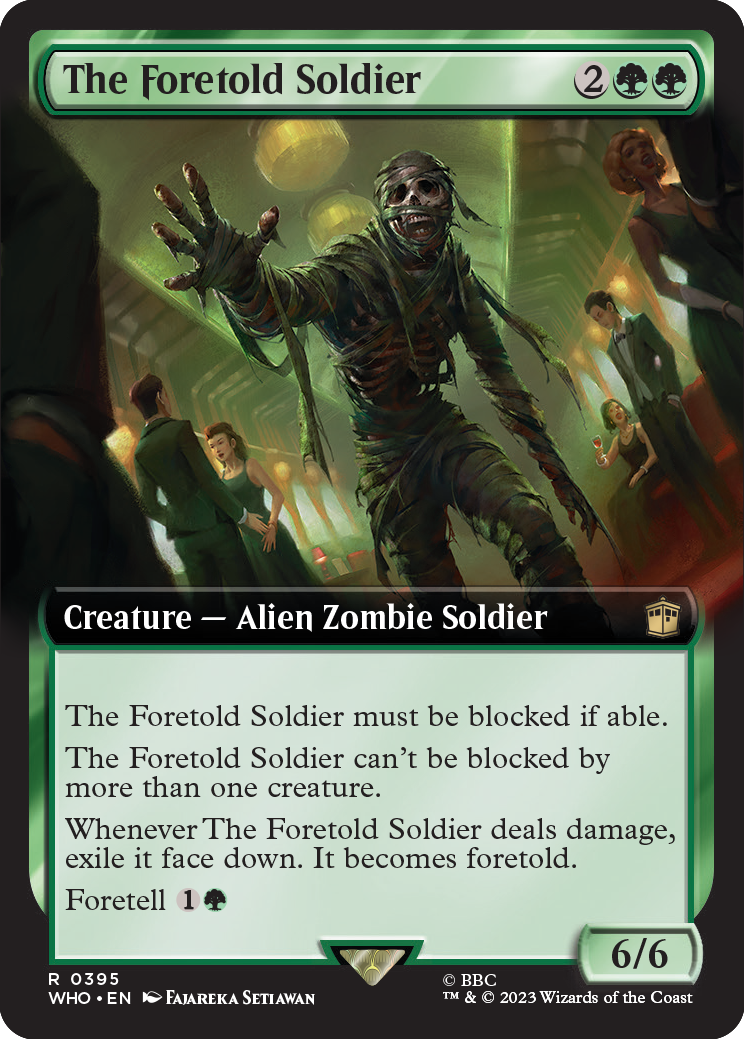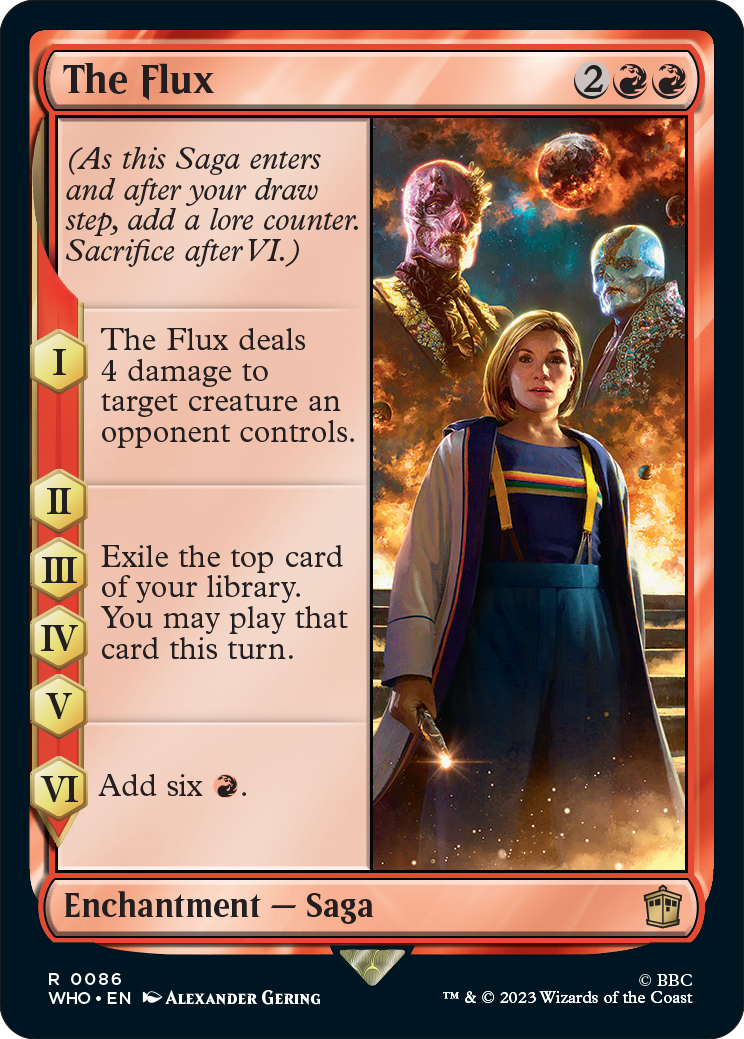 Speaking of chaos, the Planechase format comes to Doctor Who™, amplified by the TARDIS. Appearing in each deck helmed by the Doctor, the TARDIS allows you to travel throughout the universe in search of your next adventure.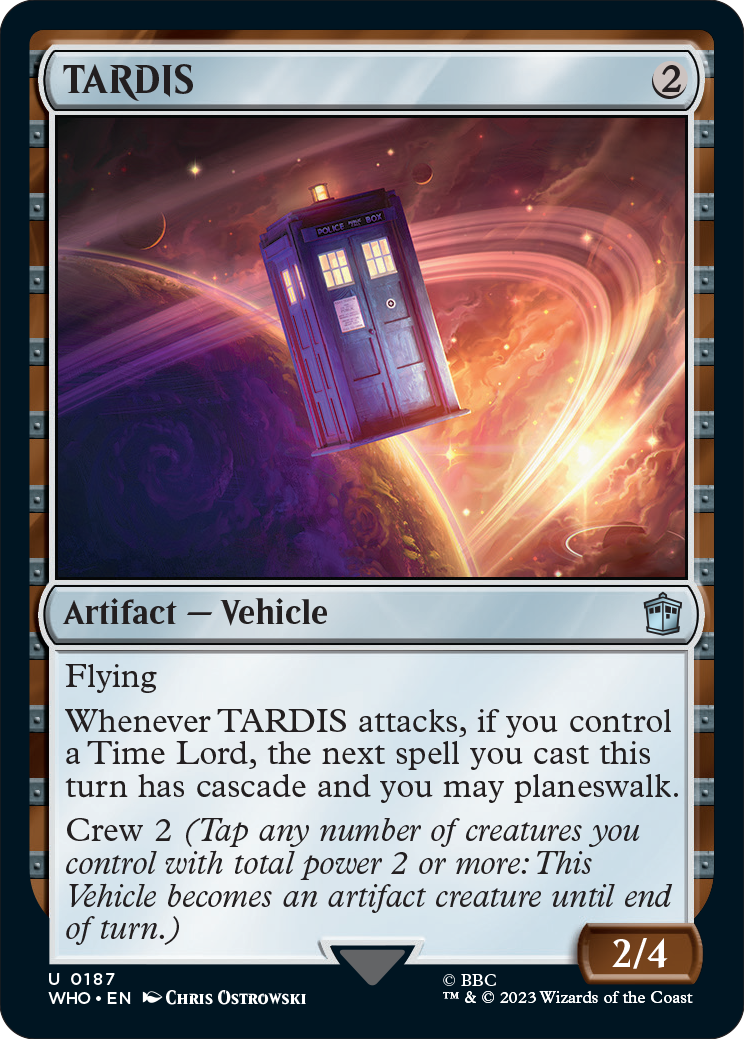 Plane cards show off some of the most famous places in Doctor Who™ history, with locations that fans have loved and feared for decades. When you hop aboard the TARDIS, who knows where (or when) you'll end up?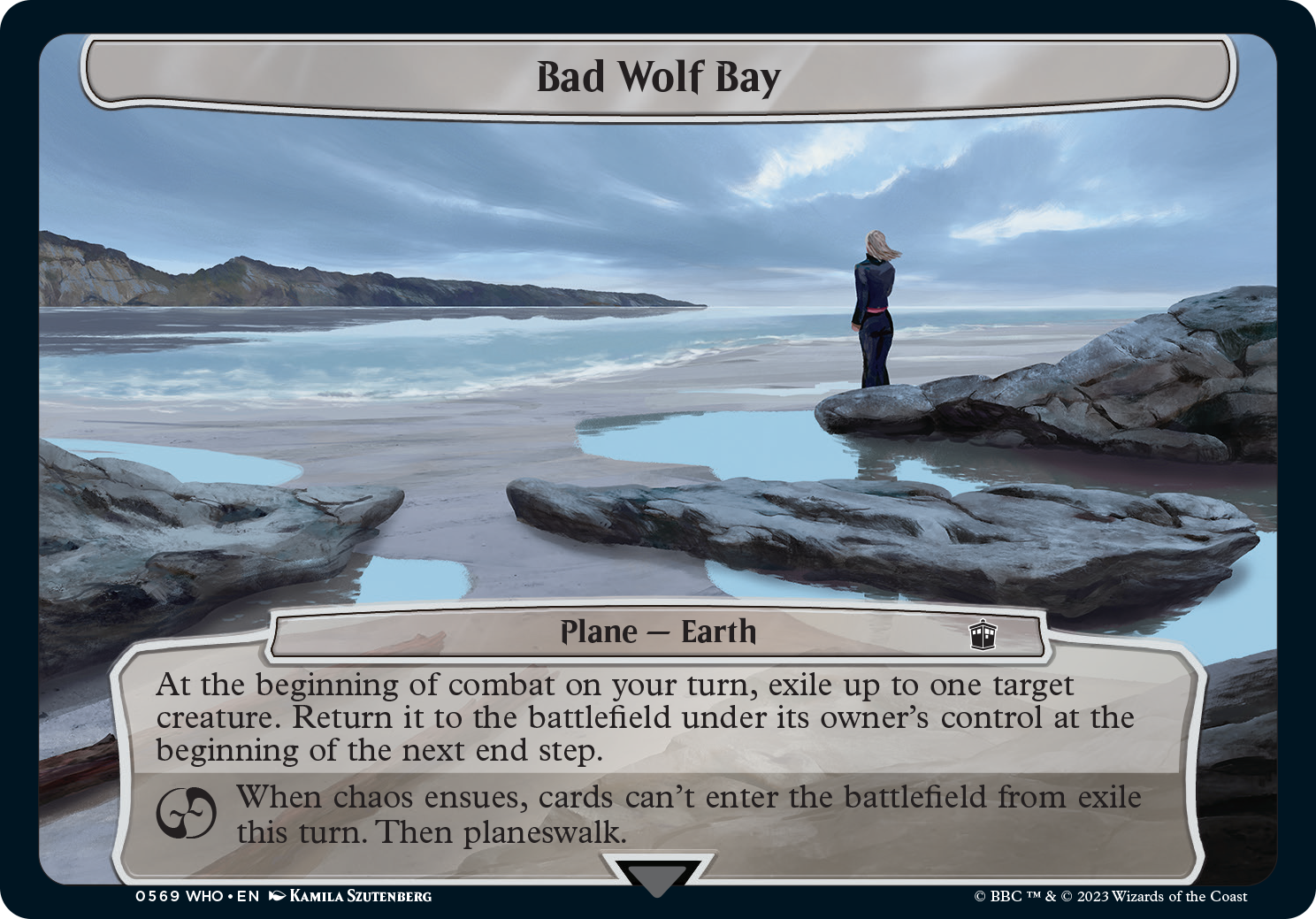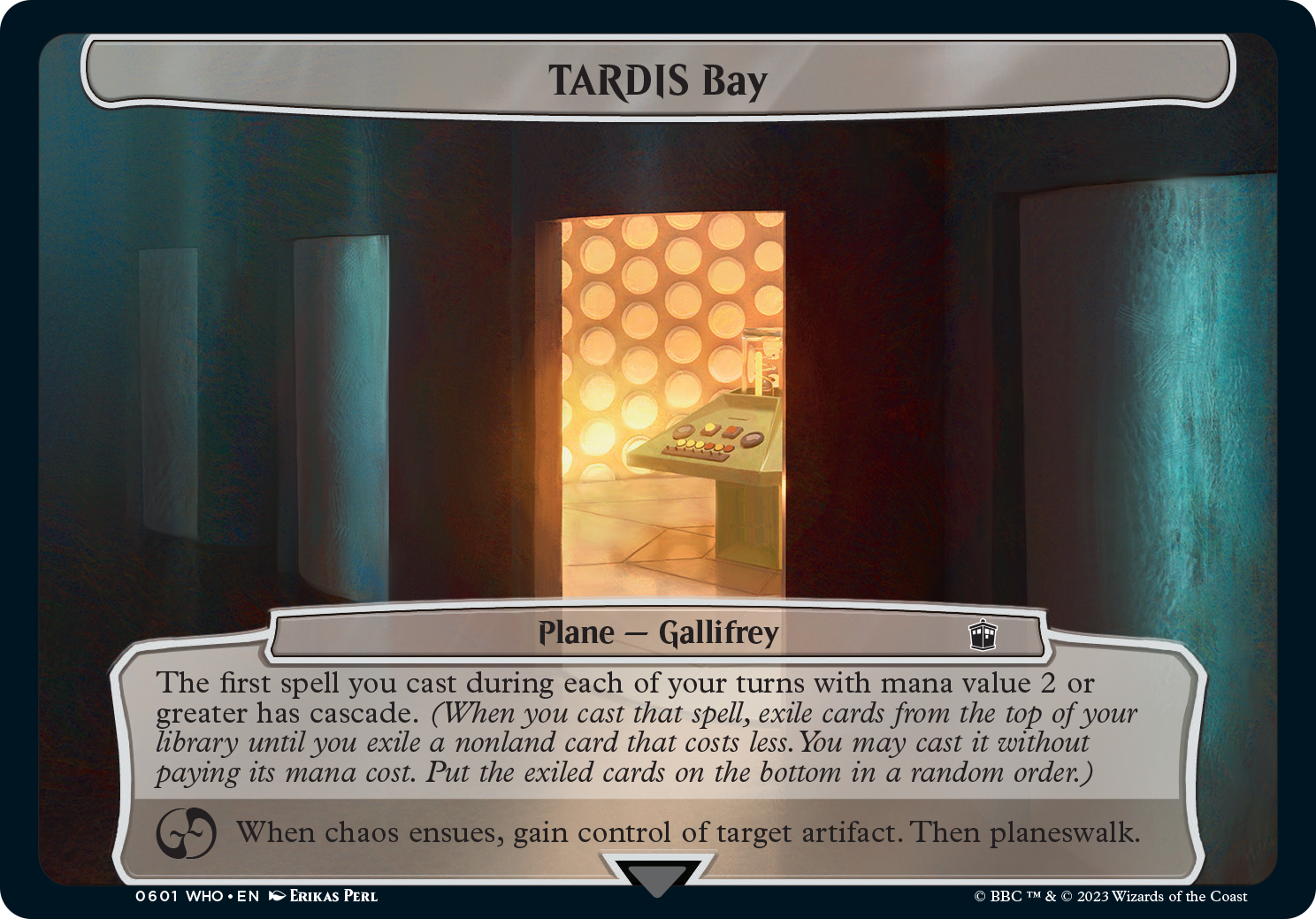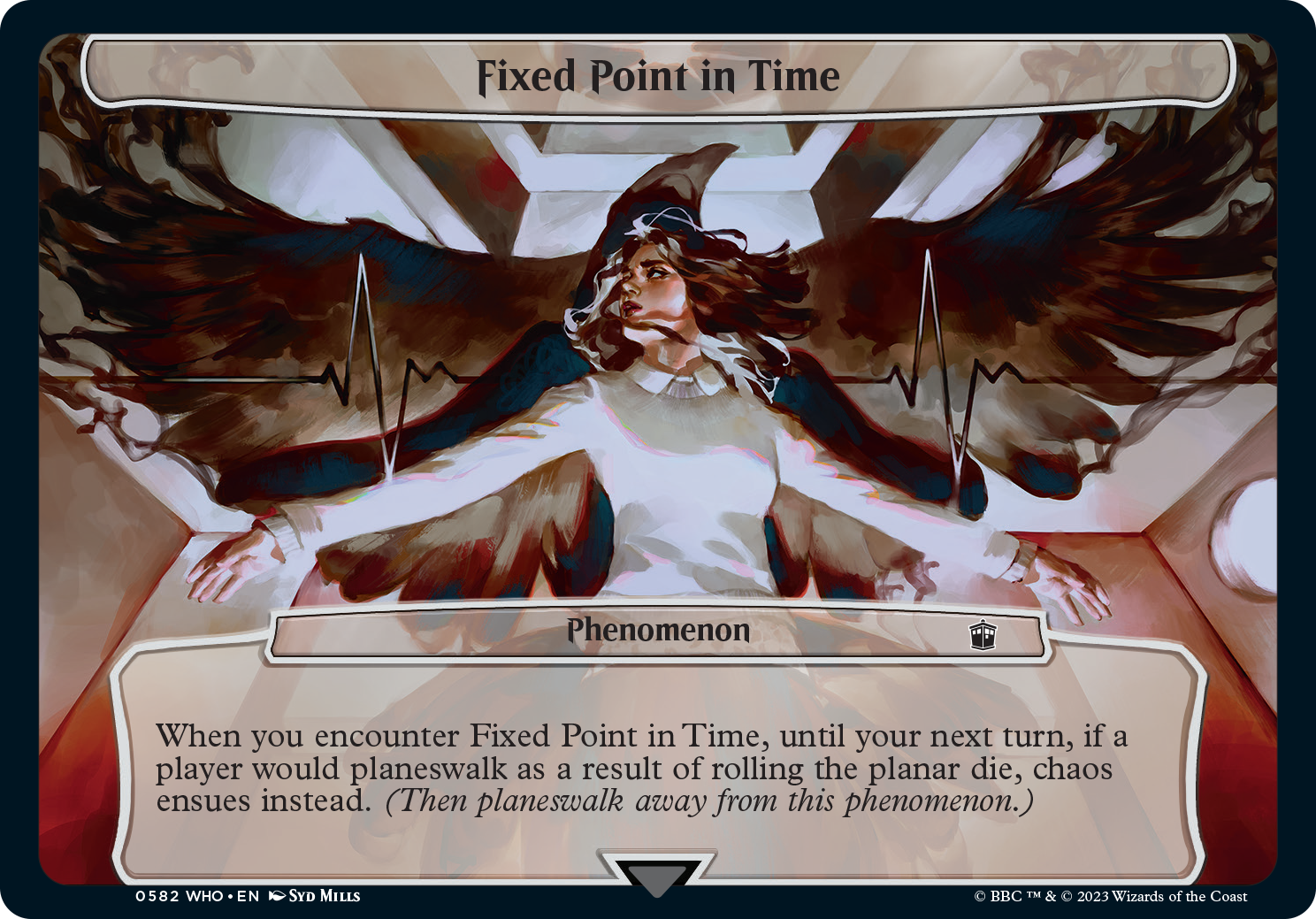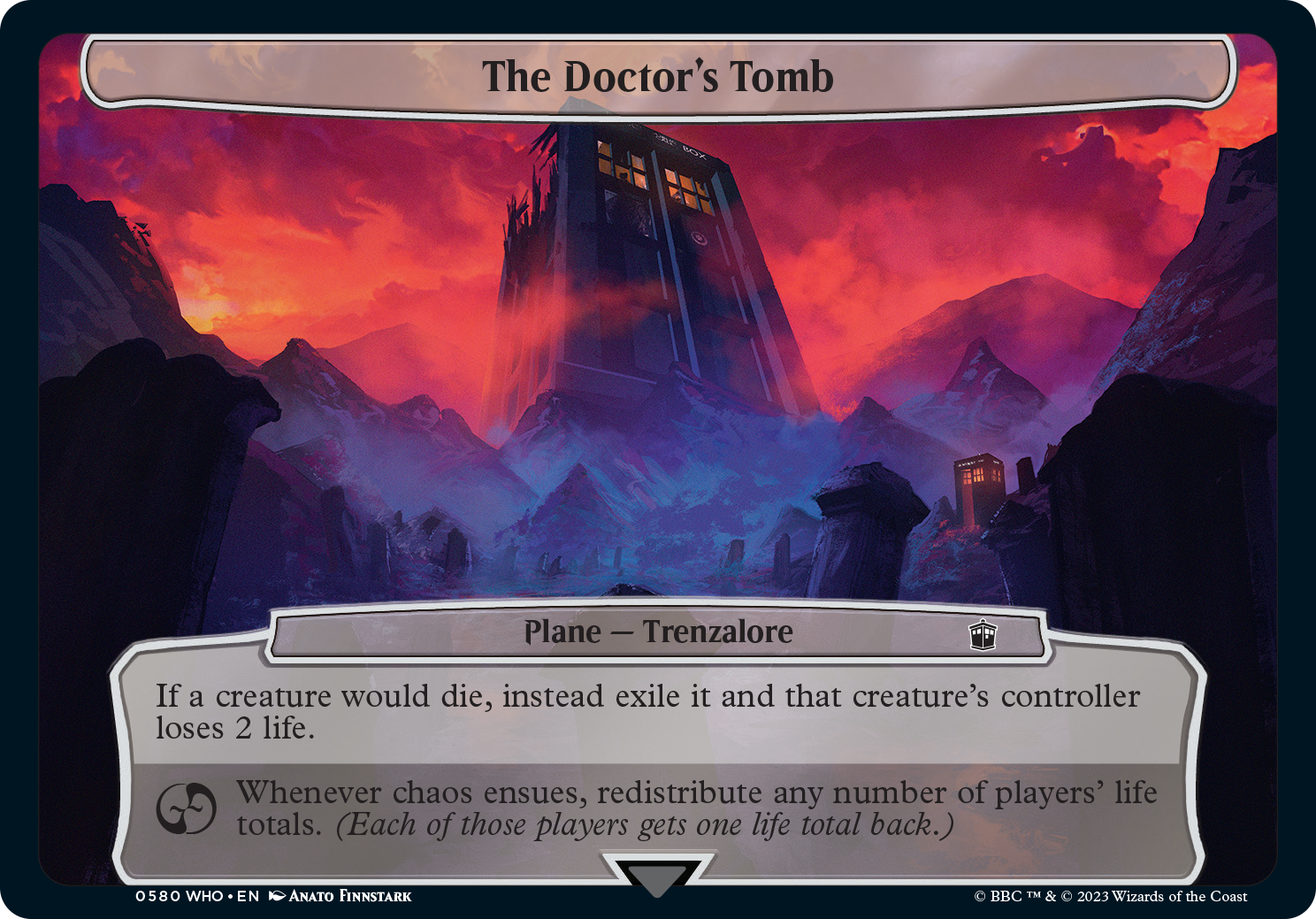 Masters of Evil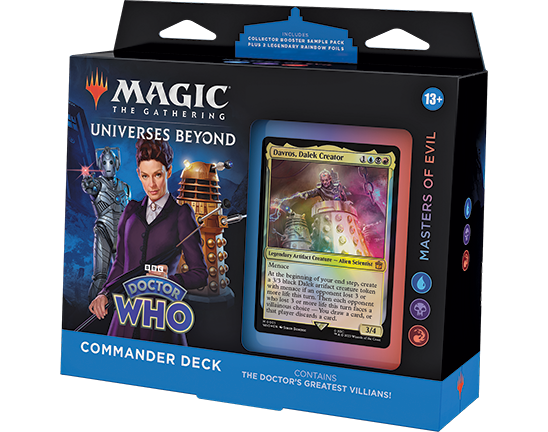 Wherever the Doctor does good, there is sure to be a villain doing evil. This blue-black-red deck is all about the terrifying foes the Doctor has combated over their many journeys through time. While several characters from across Doctor Who™ make an appearance, the deck focuses on the Daleks, the Cybermen, and the many incarnations of the Master. This is embodied with the villainous choice mechanic, seen here on Davros, Dalek Creator.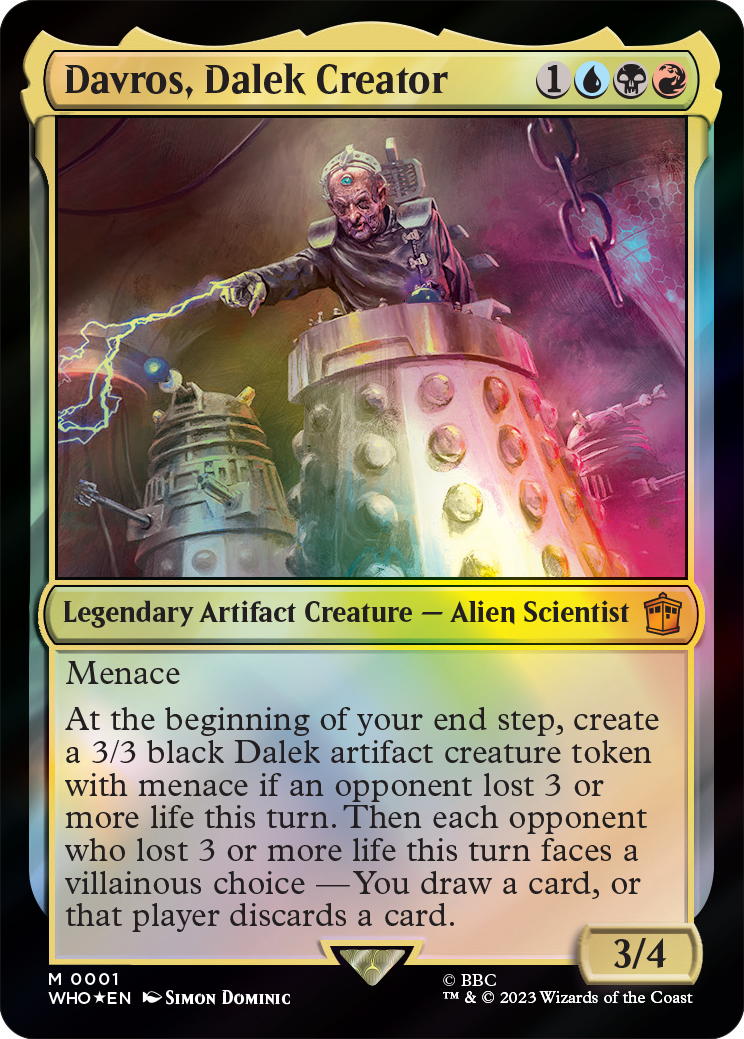 When you force your opponents to make a villainous choice, they will be forced to choose between two options, each one benefiting you. As the deck puts pressure on your opponents, you can gather resources by drawing upon the power of the Doctor's most infamous foes.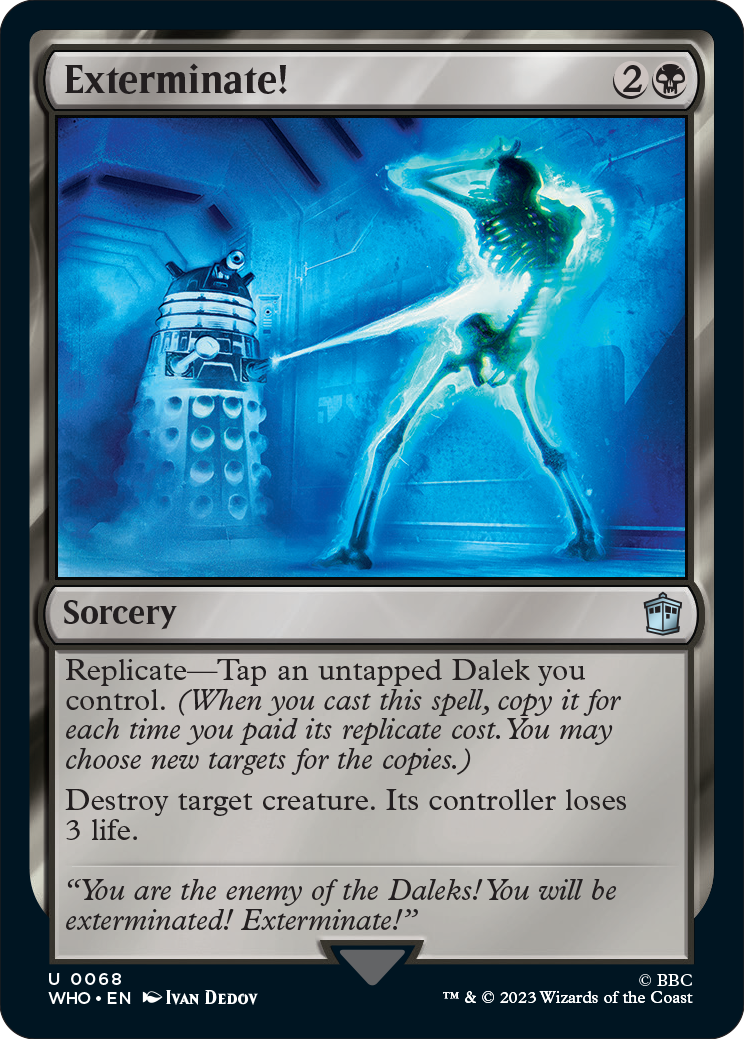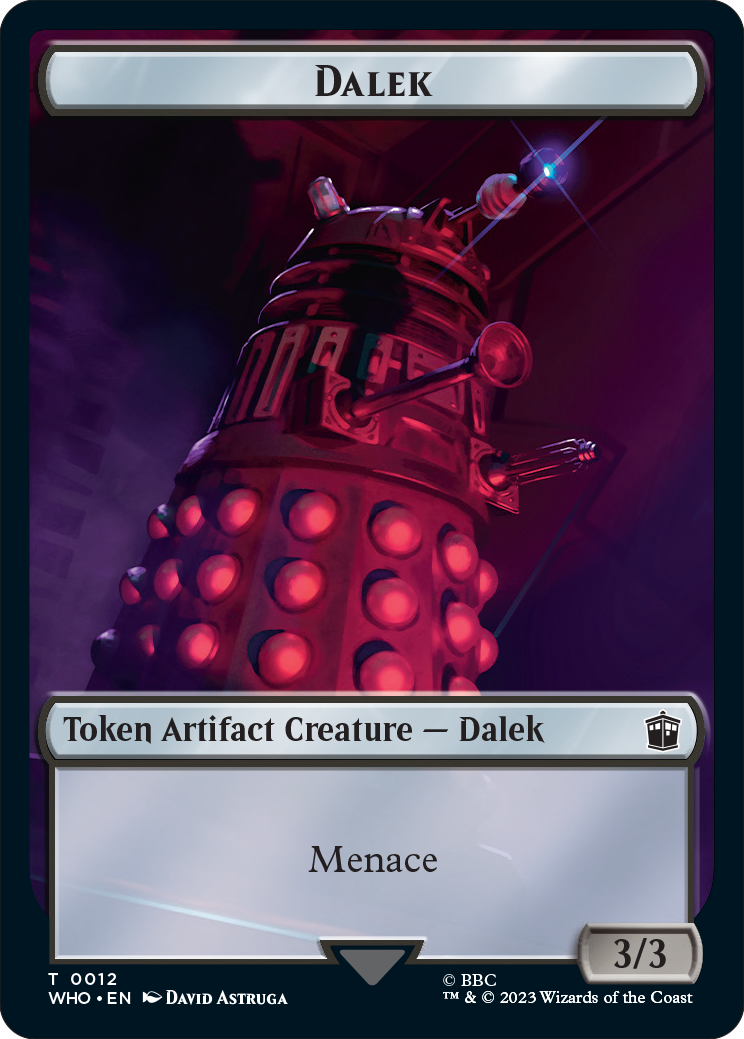 The Doctor has faced off against several powerful enemies in their past, each one planning to be the one that finally defeats the Time Lord. Which one will you choose to command your deck?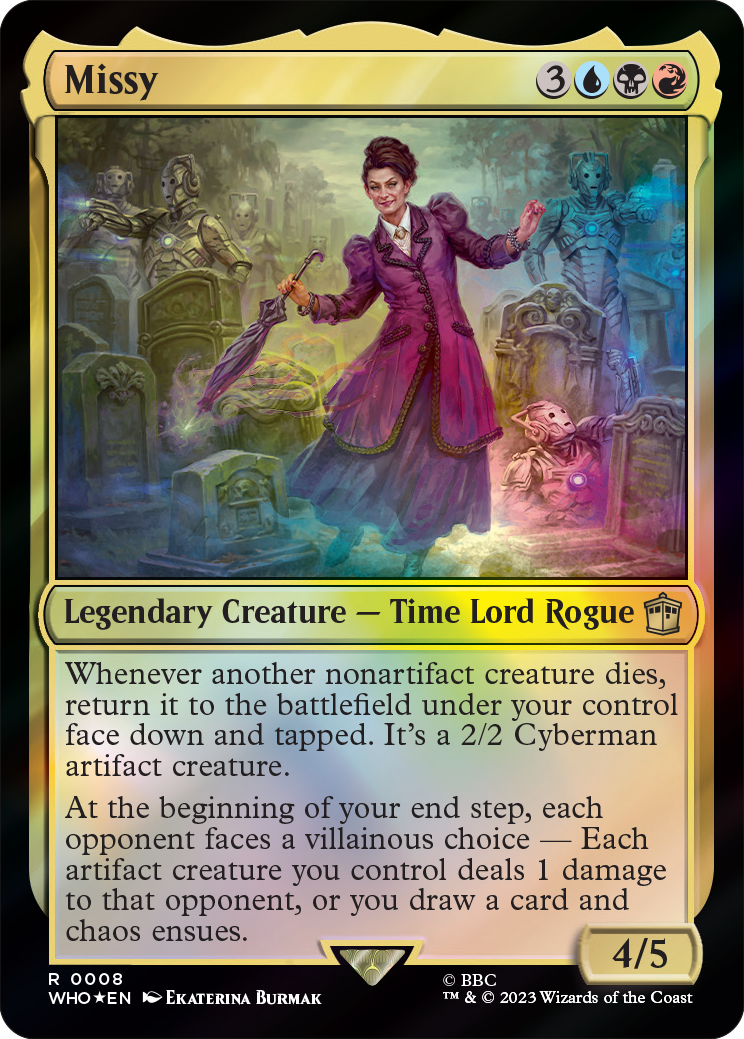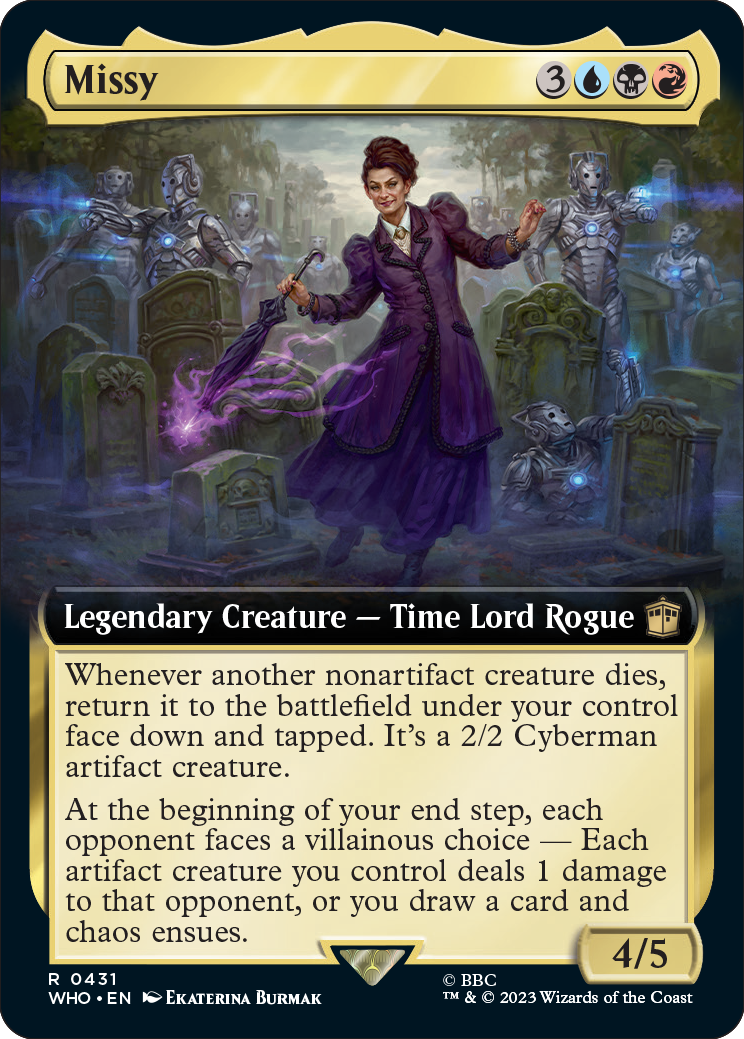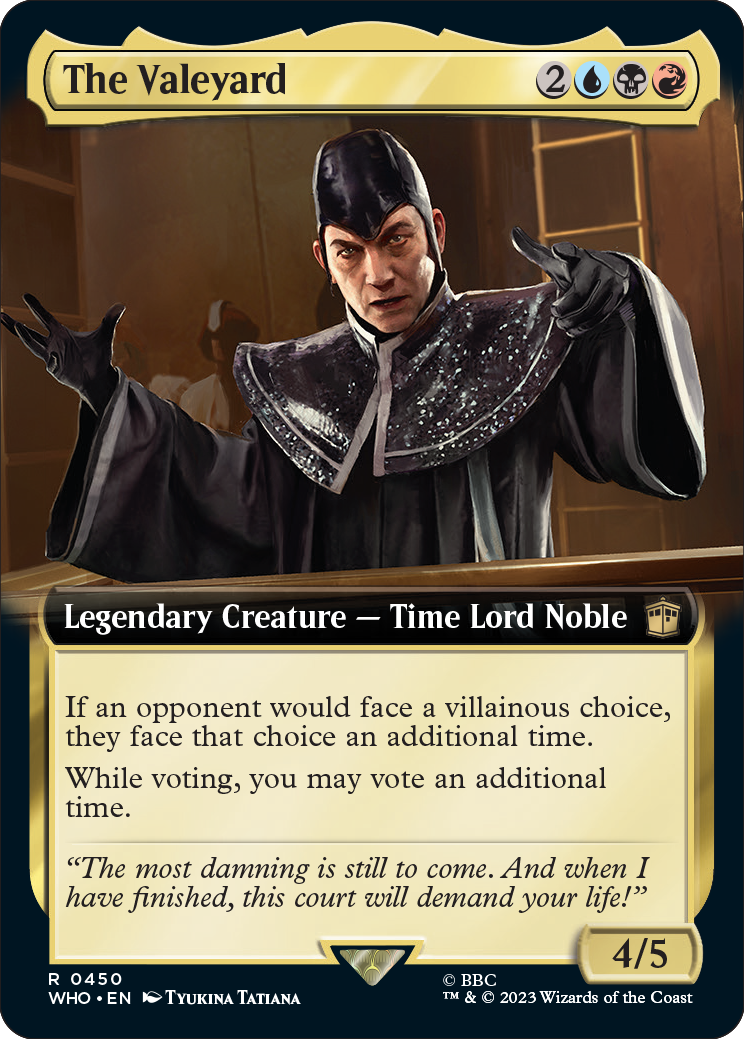 No matter what villain you choose to play as, this Commander deck allows you to take on the role of some of the Doctor's greatest enemies. Get ready to upgrade your game with Masters of Evil.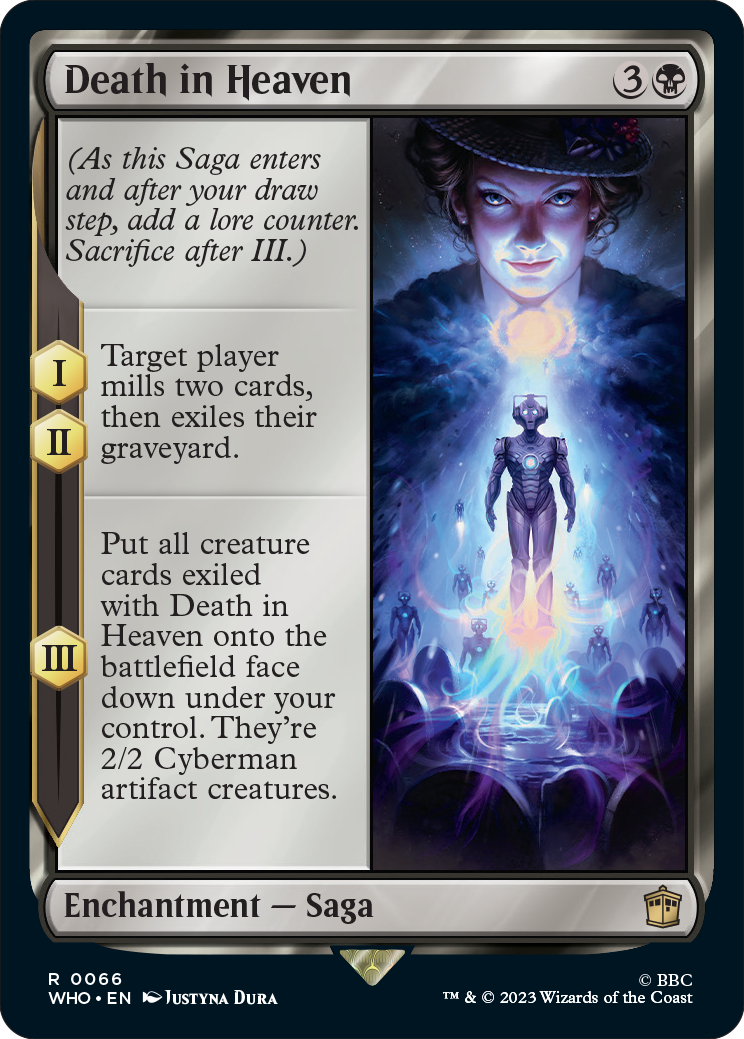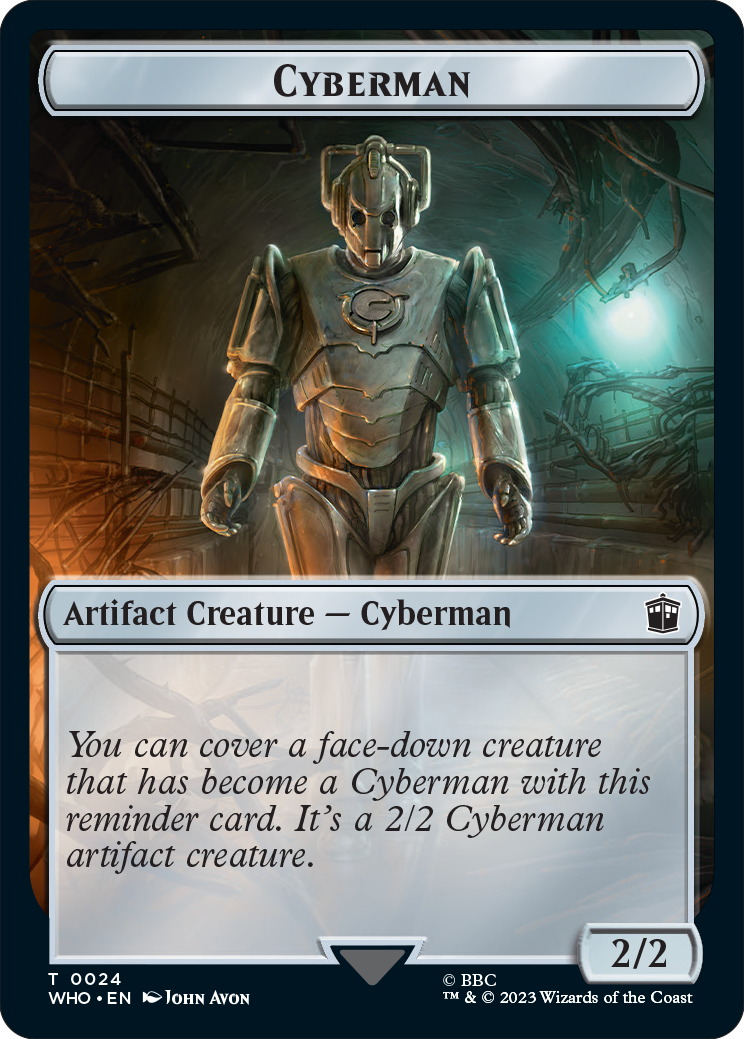 Magic: The Gathering® – Doctor Who™ Collector Boosters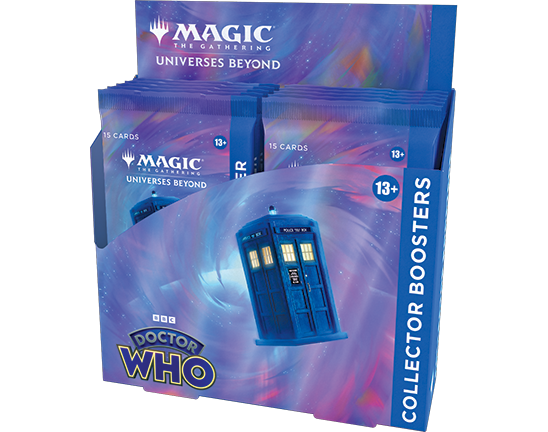 We're not just celebrating Doctor Who™ with these decks. The fun also comes to Collector Boosters, giving your favorite cards from this set special treatments, foils, and artwork. Want to see?
Surge foils return here, and you won't want to miss them. You can open the characters, story moments, and more captured in cards from the Commander decks with beautiful surge foil treatments. (Planechase planes are not found in Collector Boosters and are not available in traditional foil, foil-etched, or surge foil treatments.)
You'll also be able to collect special TARDIS showcase versions of several cards in this set. Only available in Collector Boosters, these versions give new artwork to cards from the Commander decks, focusing on flashy styles and breathtaking artistry. As an example, every single version of the Doctor has a TARDIS showcase version …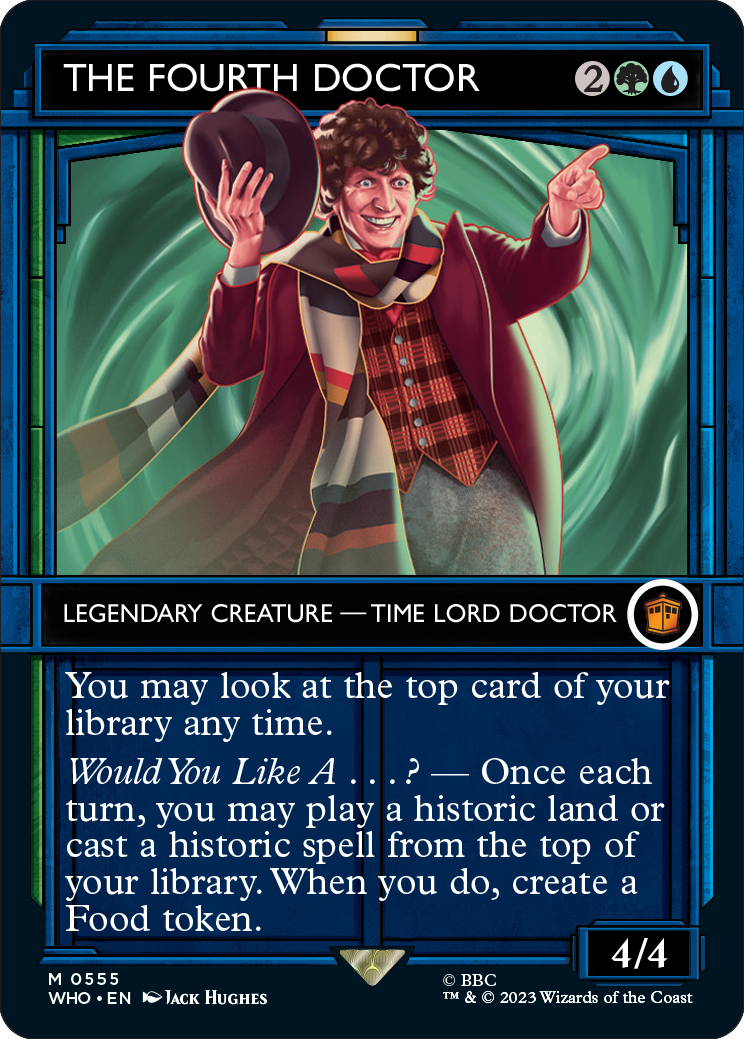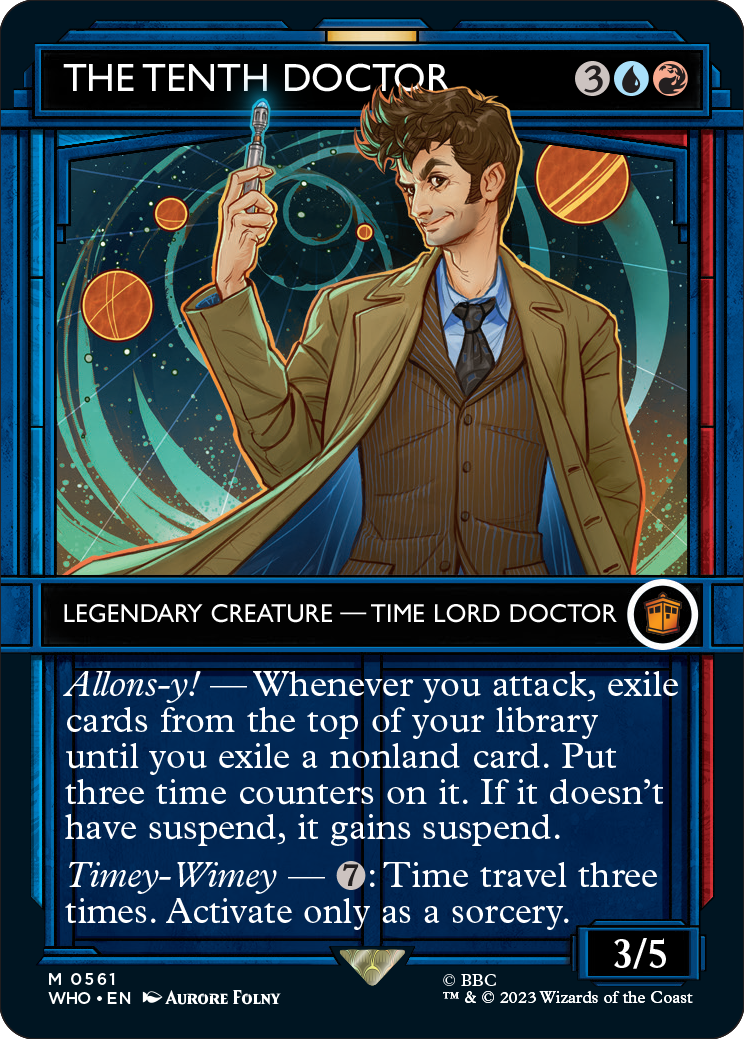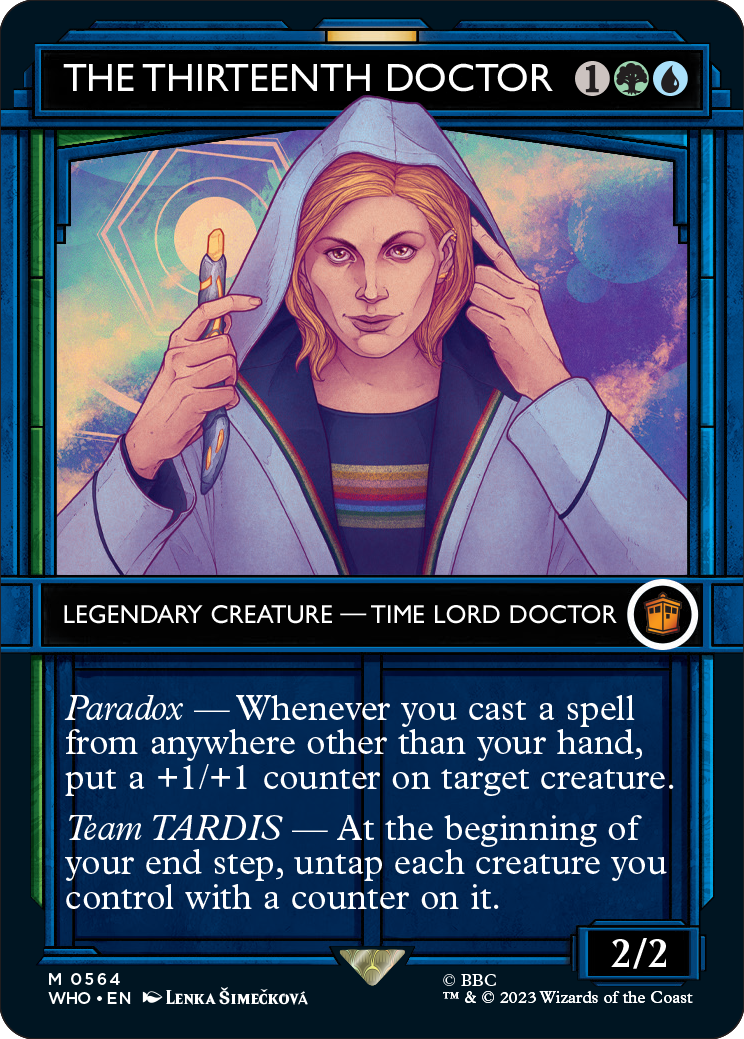 … as well as many of the Doctor's loyal allies …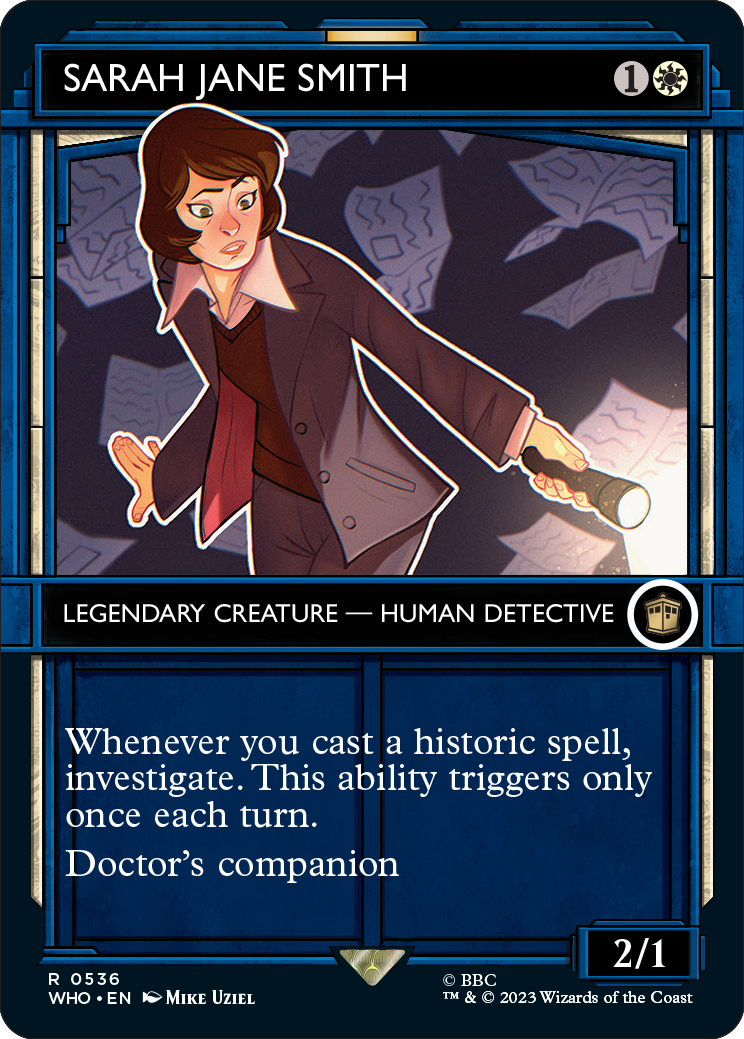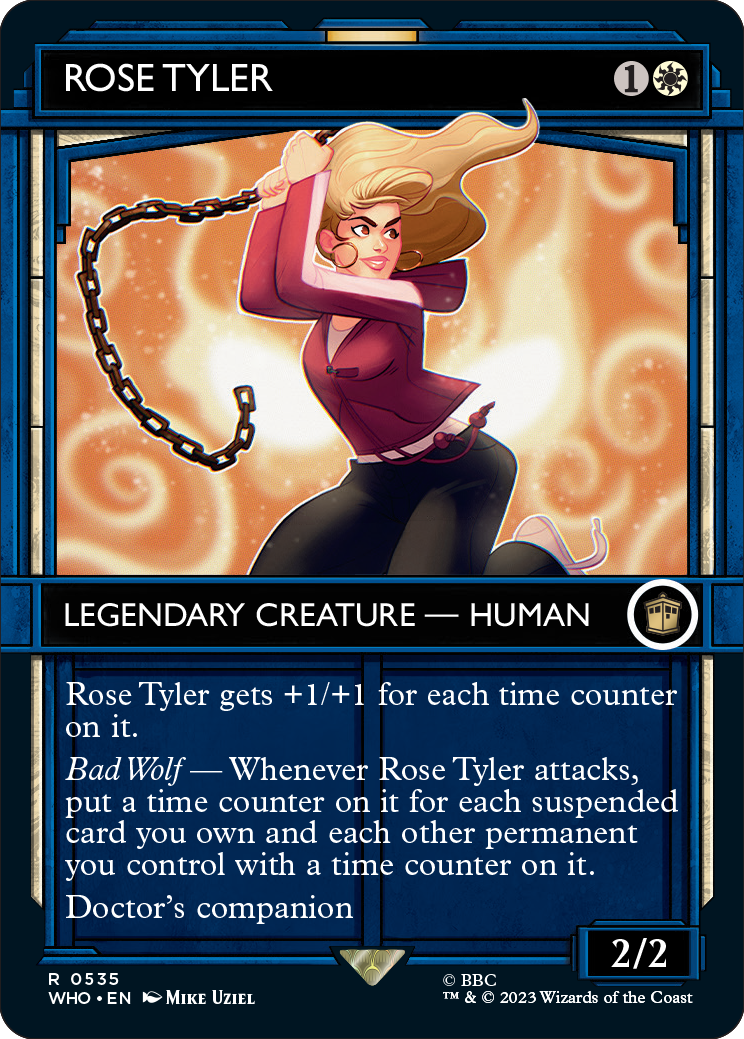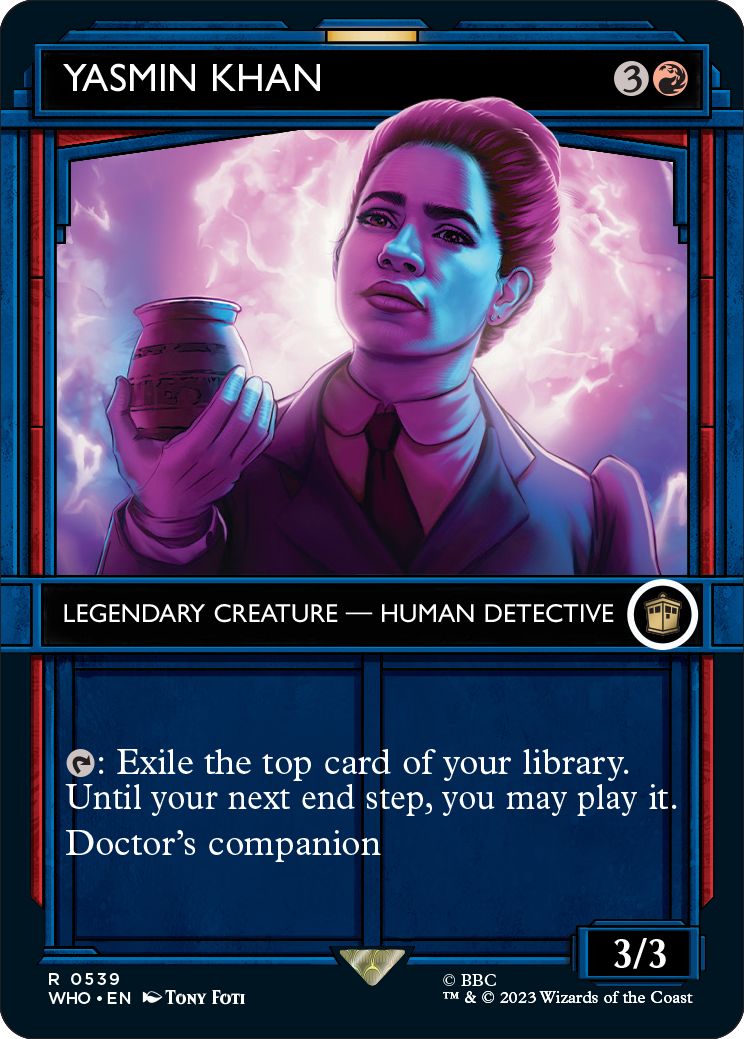 … and their fearsome enemies!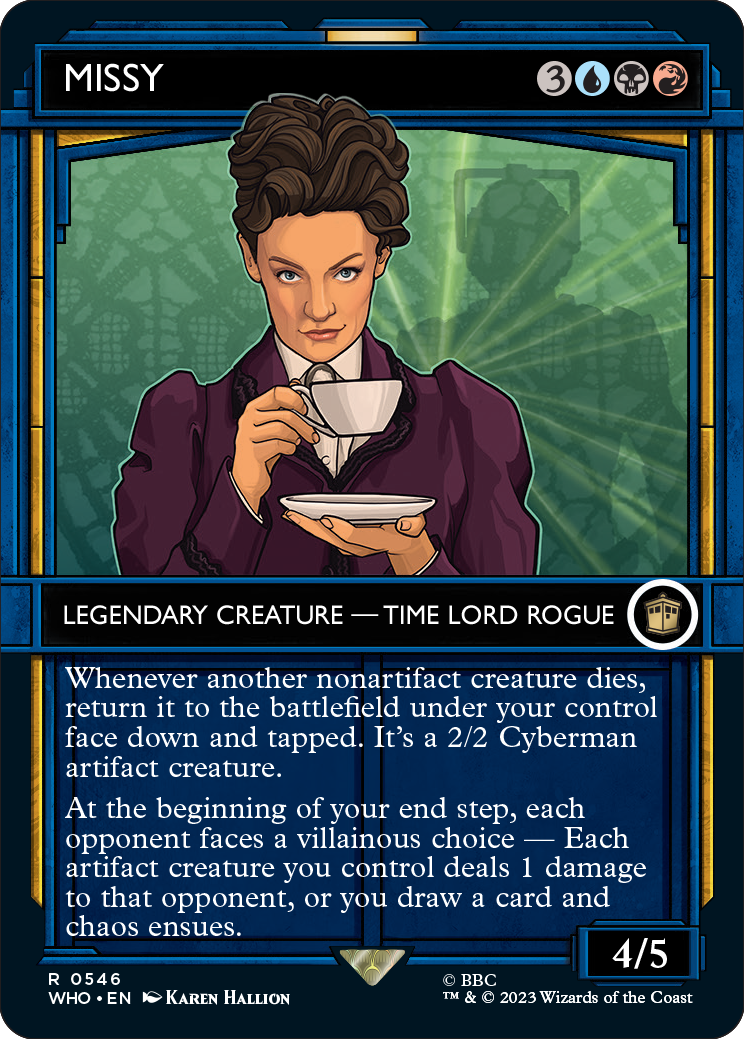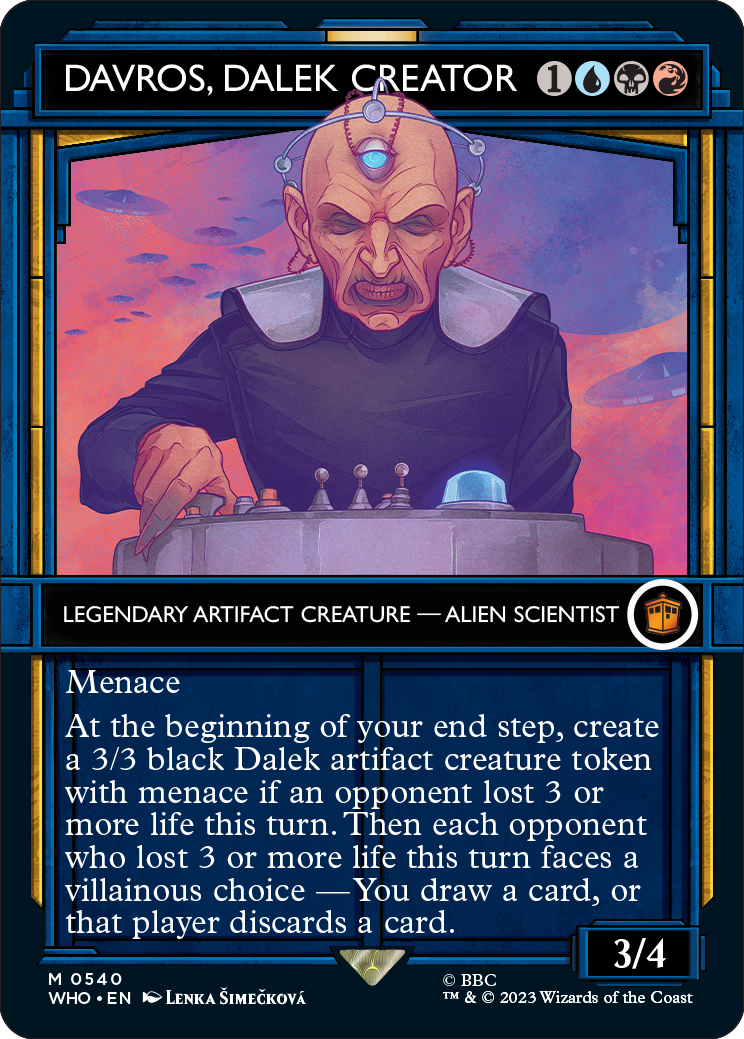 You also may encounter special serialized Doctor cards in Collector Boosters. Extremely rare and extremely stylish, these printings of the Doctor are marked with their own serial number. Each card will receive only around 500 printings and can only be found in Collector Boosters.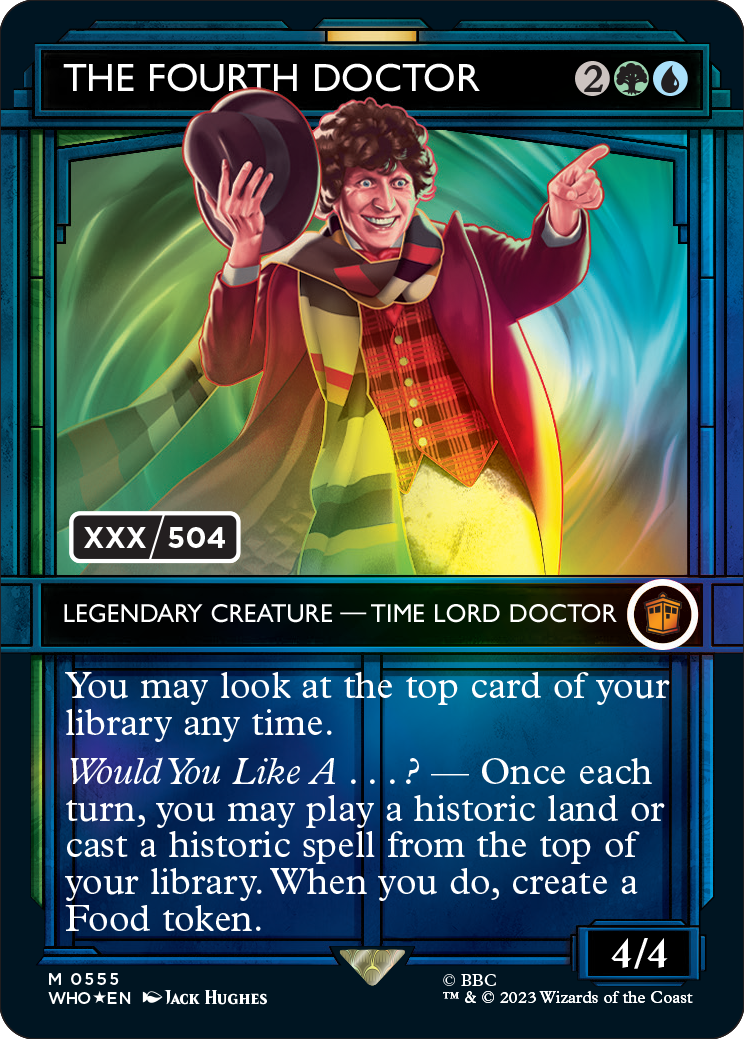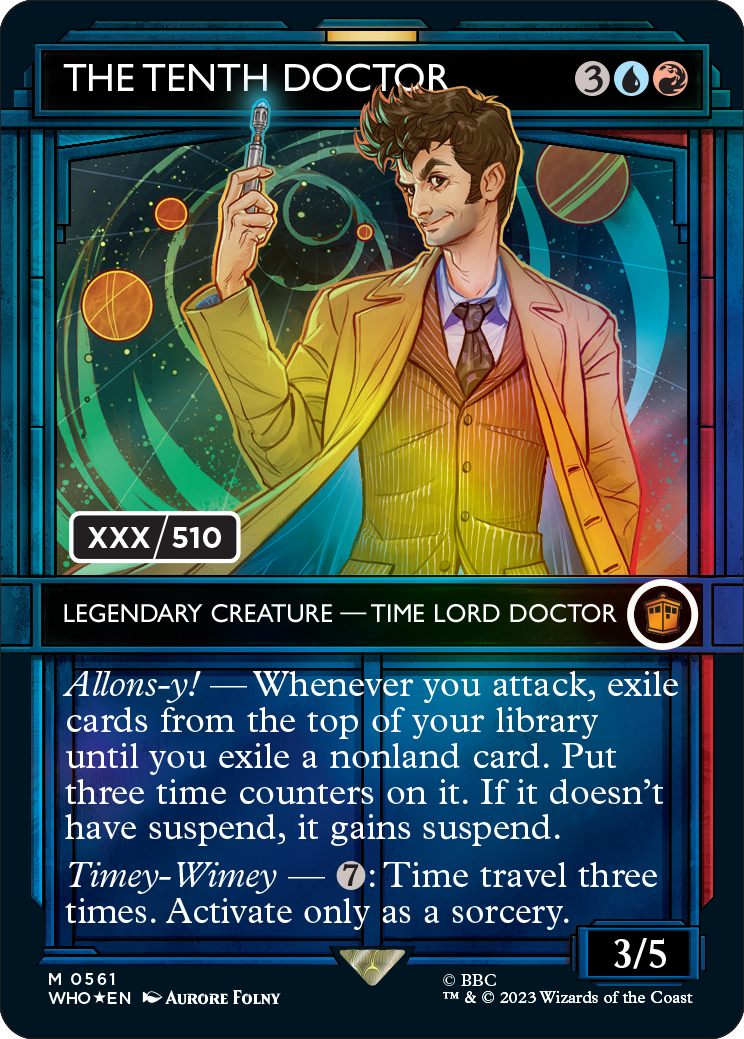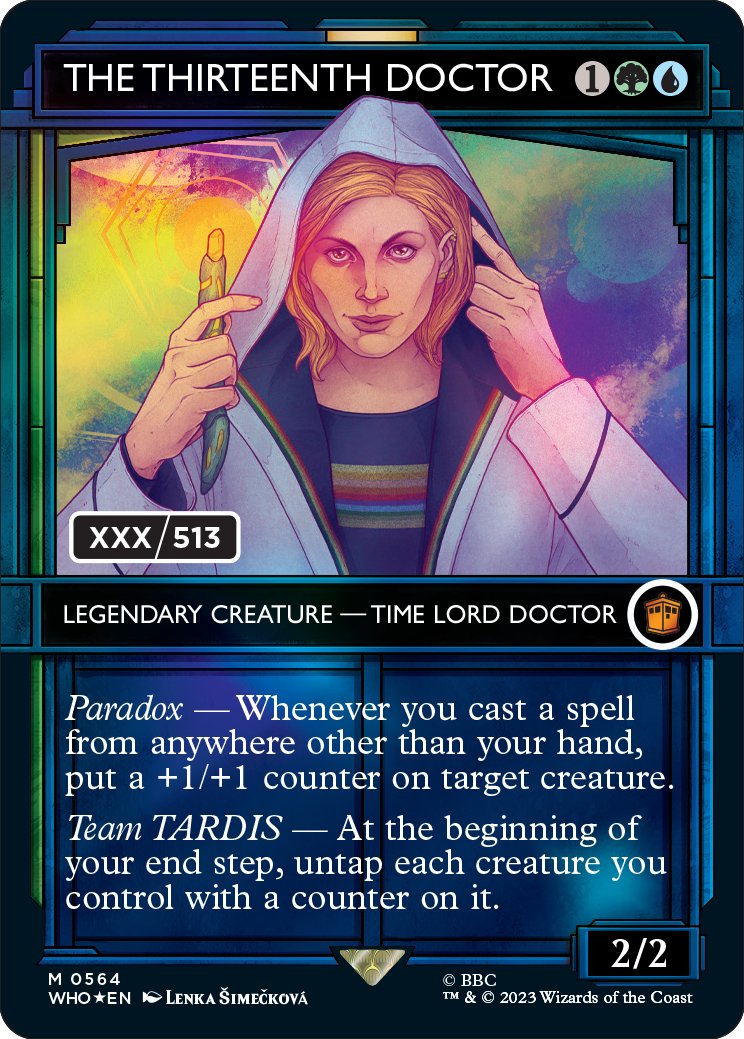 Serialized Doctor cards are localized in English only and are available in Magic: The Gathering® – Doctor Who™ Collector Boosters of any language. Non-serialized Doctor cards are mechanically identical to their Serialized versions. See product packaging for details. Images are digital renderings, not actual cards.
Geronimo!
Magic: The Gathering® – Doctor Who™ releases on October 13, 2023. You can preorder it now from online retailers like Amazon, your local game store, and elsewhere Magic products are sold. We know you're excited for Doctor Who™ to come to Magic, so we'll have more to share with you at the debut on October 3, 2023.
What? You want one more preview?
That would mean breaking the laws of time.
Maybe just this once.