Treasured Festival: Historic Singleton, June 2–5
Ixalan is a plane full of wonderous treasure—so much treasure that you may have trouble knowing what to do with it all! In the Treasured Festival: Historic Singleton event, you can collect Treasure card styles—four wins gets them all!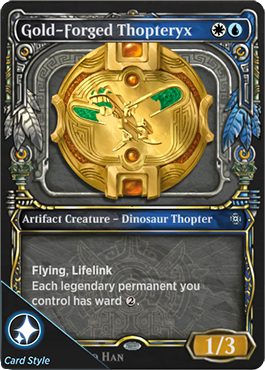 Gold-Forged Thopteryx Treasure card style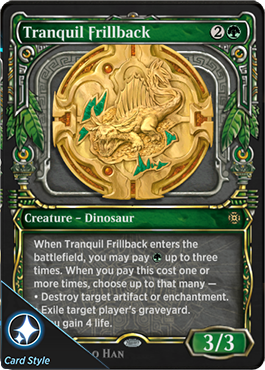 Tranquil Frillback Treasure card style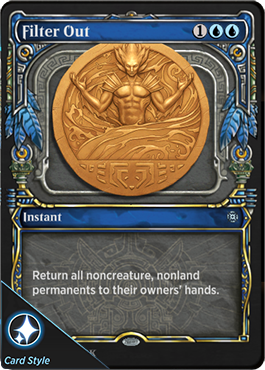 Filter Out Treasure card style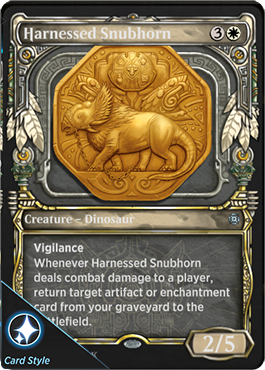 Harnessed Snubhorn Treasure card style
Bring a 60-card Historic deck with no duplicates besides basic lands and excluding cards in the banned list (see below). At the start of each of your upkeep phases, you create an artifact Treasure token to sacrifice for a mana of any color, reaping the bounty of Ixalan!
Event Details
Dates: June 2, 6 a.m. PT (15:00 UTC) until June 5, 6 a.m. PT (15:00 UTC)
Entry: 2,500 gold or 500 gems
Format: Historic Singleton Best-of-One
Structure: Play as much as you want until event ends.
Rewards:
| | |
| --- | --- |
| Wins | Rewards |
| 4 Wins | Gold-Forged Thopteryx card style |
| 3 Wins | Tranquil Frillback card style |
| 2 Wins | Filter Out card style |
| 1 Wins | Harnessed Snubhorn card style |
---
Historic Banned List
Agent of Treachery
Brainstorm
Channel
Counterspell
Dark Ritual
Demonic Tutor
Field of the Dead
Indomitable Creativity
Karn, the Great Creator
Korvold, Fae-Cursed King
Lightning Bolt
Mayhem Devil
Memory Lapse
Mishra's Bauble
Natural Order
Nexus of Fate
Oko, Thief of Crowns
Once Upon a Time
Ragavan, Nimble Pilferer
Revel in Riches
Swords to Plowshares
Thassa's Oracle
Tibalt's Trickery
Time Warp
Uro, Titan of Nature's Wrath
Veil of Summer
Wilderness Reclamation
Yasharn, Implacable Earth