Extra Life 2022 Is Here and You Can Join
Our proud partnership with Extra Life continues in 2022. With your support, we've donated over $4 million since the partnership began in 2013, and we'd love to see that number grow higher and higher!
Formed in 2008, Extra Life is an annual fundraising event where people from all sorts of gaming spaces come together to support Children's Miracle Network Hospitals. Donations go directly to Children's Miracle Network Hospitals and the local hospitals fundraisers choose to support. For Wizards of the Coast, we have chosen to support Seattle Children's Hospital. It's a great way to give to those in need through the community you love.
Wizards of the Coast was Extra Life's Partner of the Year in 2019 and 2020, and recipient of Seattle Children's Care Award in 2021. The generosity, dedication, and support of Extra Life by Wizards of the Coast gaming communities—Magic: The Gathering, Dungeons & Dragons, MTG Arena and beyond—makes all the difference.
Each year, the Magic community comes together for an annual Magic Extra Life live stream charity fundraising event benefiting Children's Miracle Network Hospitals. Wizard of the Coast has been a proud partner of Extra Life since 2015. This year, we're continuing to raise the bar with a goal of $2,000,000.
In order to reach our goal, we need your help. Below you can find out how to support this year's fundraising efforts. With a Secret Lair drop, MTG Arena cosmetics, unique Extra Life merch, and a live charity stream—there are more ways than ever to support kids in need!
Secret Lair: Extra Life 2022
We teamed up with some mega-talented kids to illustrate their creative visions of well-known Magic creatures like Birds of Paradise and Sliver Legion. Each of these masterworks was then placed in the capable hands of art superstars Tyler Jacobson, Andrea Radeck, and Steve Prescott for their own layer of creative interpretation! Everyone's results are stunning, which is why it's great that you're getting two copies of each card in the drop—one with the kids' art and another with the professional piece. One of our favorite parts has to be the flavor text, which arose from our conversations with the children.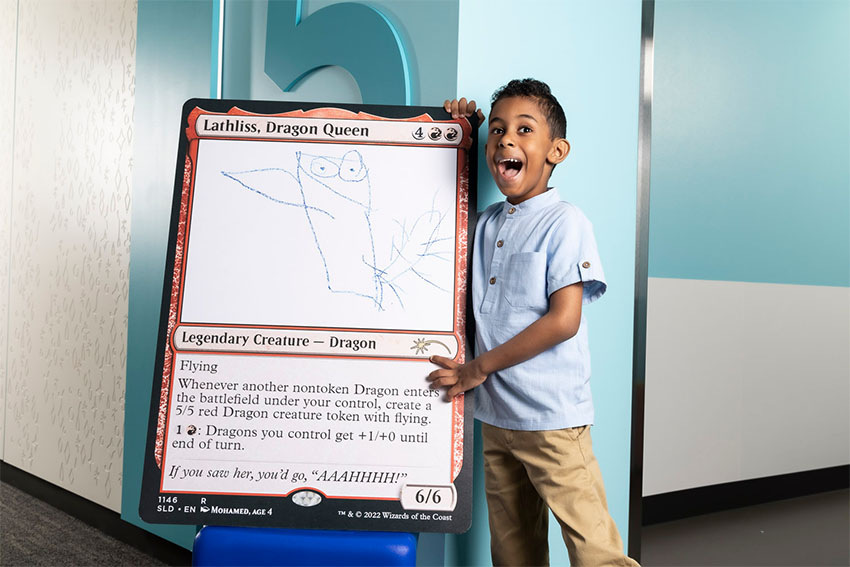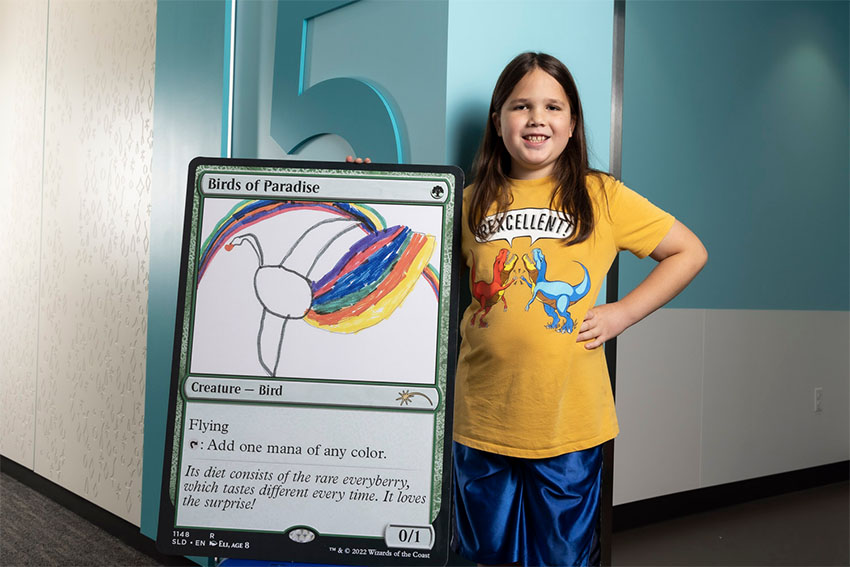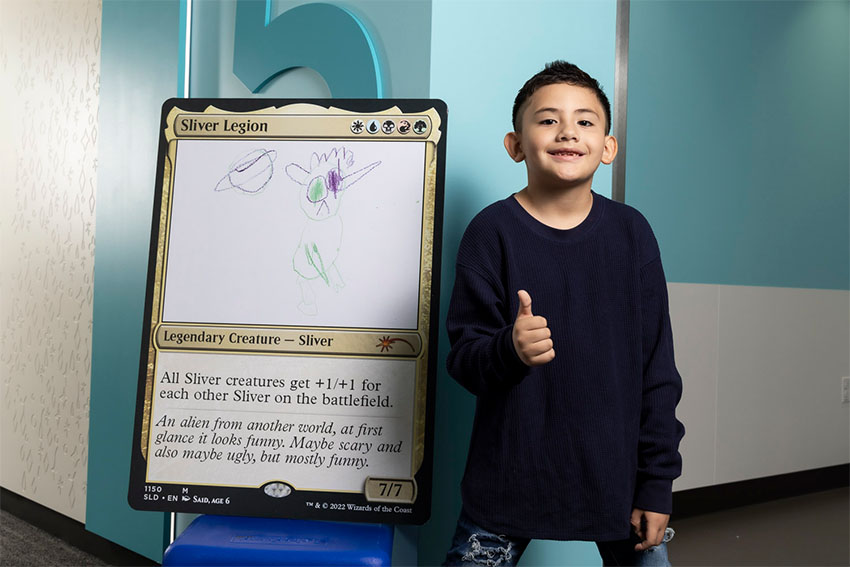 Fifty percent of each Extra Life 2022 purchase will go to Extra Life and the Seattle Children's Hospital Autism Center. Available to preorder at MagicSecretLair.com beginning at 9 a.m. PT November 4—and ending at 9 a.m. November 7—you'll want to act fast to grab some amazing cards for your deck or collection and support a charitable cause!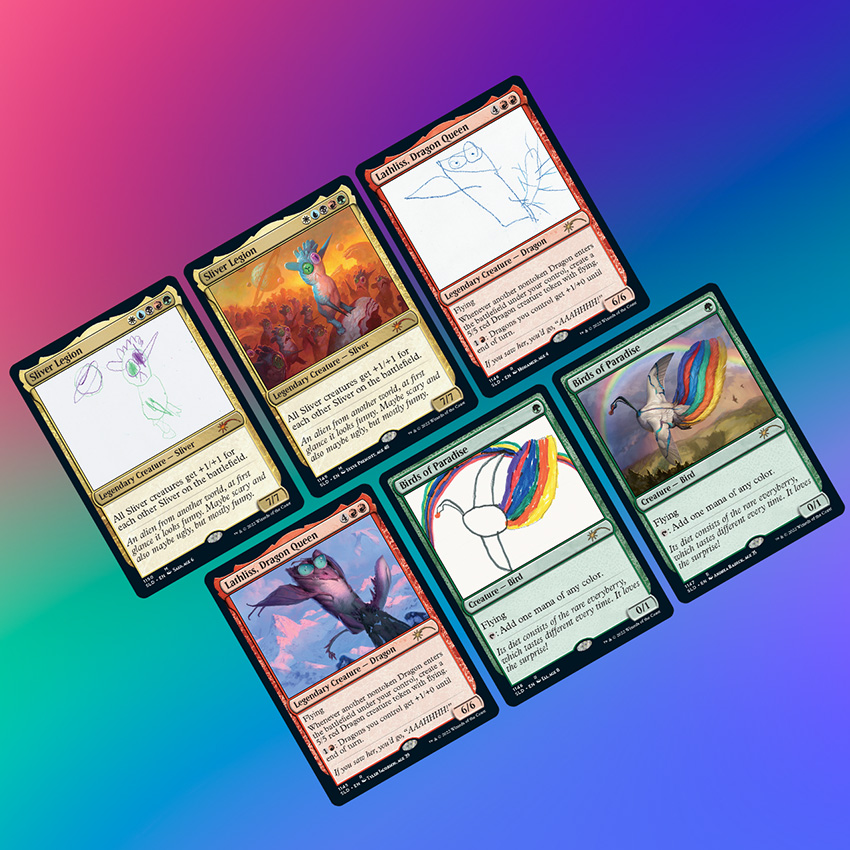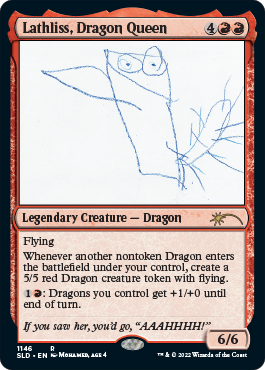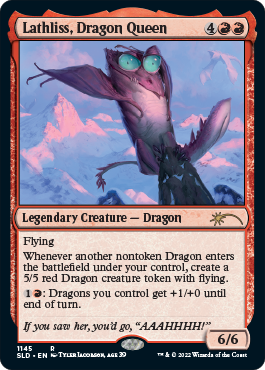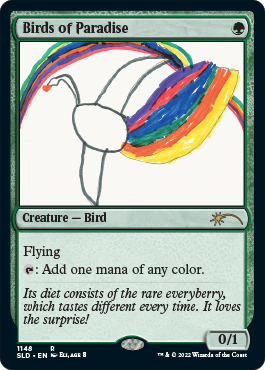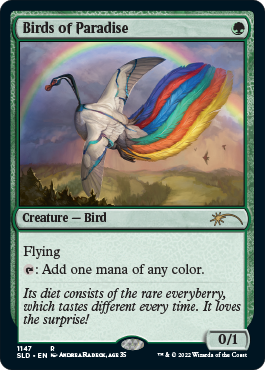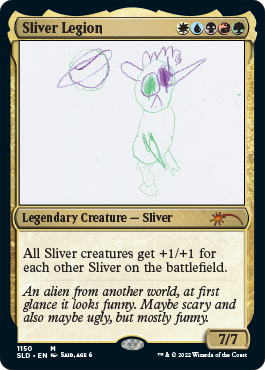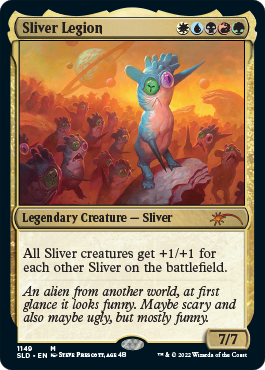 Contents:
1x Lathliss, Dragon Queen by Mohamed, age 4
1x Lathliss, Dragon Queen by Tyler Jacobson, age 39
1x Birds of Paradise by Eli, age 8
1x Birds of Paradise by Andrea Radeck, age 35
1x Sliver Legion by Steve Prescott, age 48
1x Sliver Legion by Said, age 6
Pricing:
Non-foil: $39.99/€44.99*/£39.99*
Traditional foil: $49.99/€54.99*/£49.99*
*Inclusive of local VAT
Secret Lair: Extra Life 2022 is available to preorder at MagicSecretLair.com beginning at 9 a.m. PT November 4, and preorders end at 9 a.m. PT November 7.
ExtraLifeShop.com
Available to preorder now at ExtraLifeShop.com are a variety of UltraPro playmats, pins, and tee shirts to support Magic Extra Life this year!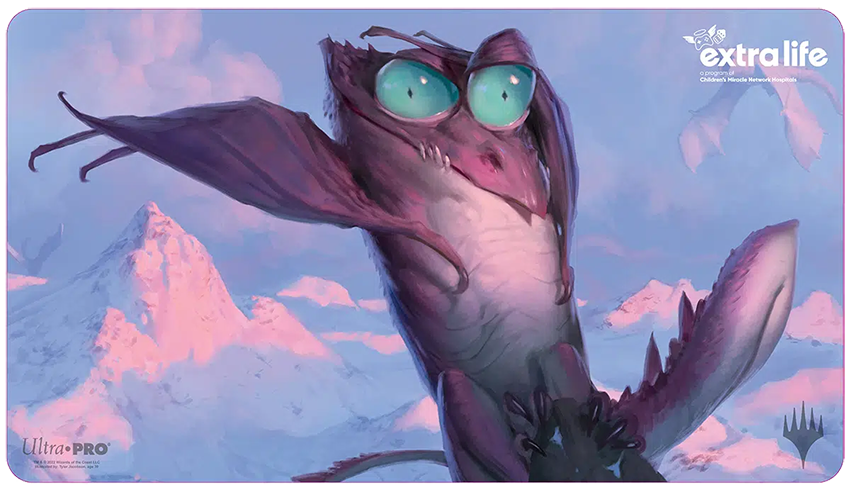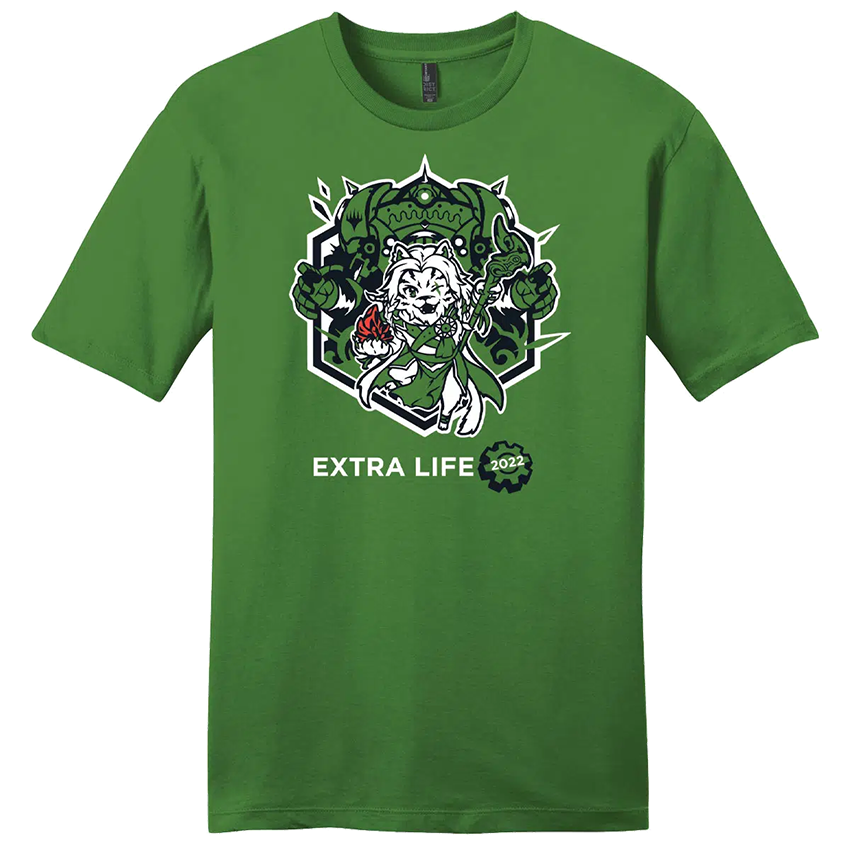 All profits for Extra Life 2022 items bought from ExtraLifeShop.com will be donated to the Extra Life campaign, benefiting Seattle Children's Hospital.
MTG Arena
During our Extra Life events, from November 4 to November 7, several Extra Life 2022 items will be available in the MTG Arena Store! Net proceeds are donated to Extra Life benefiting Seattle Children's Hospital (purchase price less transaction fees).
Extra Life 2022 Sleeve Bundle

Sleeves feature the Secret Lair artwork of Birds of Paradise; Lathliss, Dragon Queen; and Sliver Legion
Available for 1,200 gems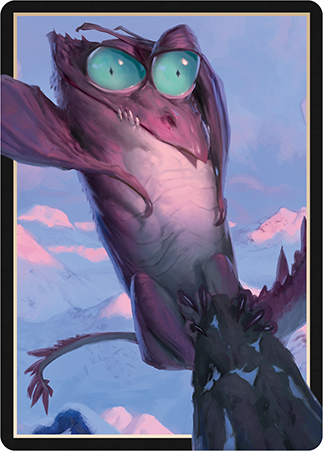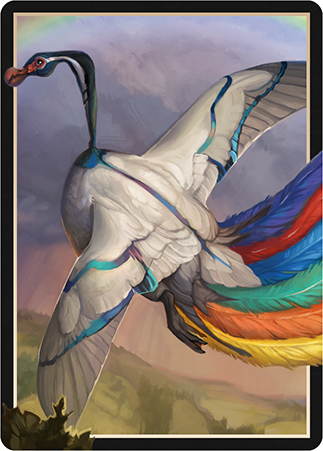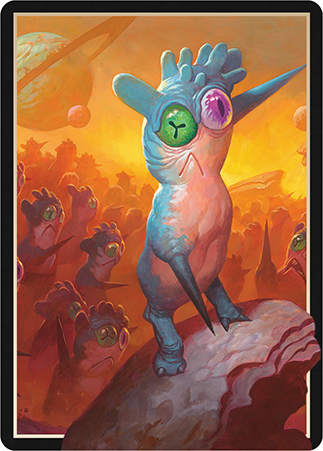 Extra Life 2022 Ajani Sleeve

Sleeve featuring the Extra Life 2022 logo
Available for 600 gems
Extra Life 2022 Game Day Stream
The Magic Extra Life Game Day live stream will take place on November 5 from 6 p.m. to 12 p.m. PT. Join us on twitch.tv/magic for a night filled with Magic (pun intended). Previous fan-favorite segments return, including a Q&A with Mark Rosewater and MTG Arena Ironroot Chef, joined by new gameplay twists like Planes Hopping, Phyrexian Artists, and more!
Follow all the fun beginning November 5 at 6 p.m. PT at twitch.tv/magic!
How Do I Join the Extra Life Fundraising Team?
Content creators and community members who would like to help fundraise for the Magic Extra Life 2022 campaign have two options to choose from when registering.
The first is to join the Magic: The Gathering Extra Life Team and help fundraise as part of team Wizards!
The second is to create your own Wizards of the Coast sub-team under the Wizards of the Coast Extra Life Super Team. All the funds you or your sub-team raise will count toward the Magic Extra Life 2022 goal no matter which team you're part of!
Everyone who raises at least $100 on their Extra Life page or team page who is part of the Wizards of the Coast Super Team now through November 15, 2022, will receive the following MTG Arena codes.
1 Exclusive MTG Arena premium card style code for Lathliss, Dragon Queen
50 Exclusive MTG Arena premium retro frame card style codes for Collected Company
Codes will be redeemable from November 15, 2022, through October 31, 2023.
Thank you for joining Wizards of the Coast to "Play Games, Heal Kids" together.
Frequently Asked Questions
How do I create a team page and join the Magic Extra Life Super Team?
Here are the steps you need to take to join our team!
Go to ExtraLife.Wizards.com
Select Create a Sub-Team or Join Team Wizards
If you have an Extra Life account already, select Login to your account; otherwise:
Enter your name and basic info and select Next.
Choose to sign up as a Classic participant.
Select Create a Team.
Keep your team type as "Extra Life Community Partner" and confirm at the bottom of the page that you are affiliated with the Magic
Set your team name and a fundraising goal. Select Next.
Set up your personal page and choose your personal fundraising goal.
You may make an initial donation.
Wizards of the Coast is supporting the Seattle Children's Hospital, but please pick the hospital of your choice.
Enter in the rest of your information and select I Agree to the Terms.
Click through and confirm your information on the last page and select Complete Registration.
What are we fundraising for?
Extra Life benefiting Children's Miracle Network Hospitals. These funds go to children and families in crisis, helping those who need it the most.
If I am a fundraiser, how will I receive the codes?
The Wizards Extra Life team will email you the codes after the creator campaign concludes at 11:59 p.m. PT on November 15, 2022.
Please keep in mind that you or your team must be a part of the Wizards of the Coast Super Team or the Magic: The Gathering Team in order to qualify. If you're not part of the Wizards of the Coast Super Team, we will be unable to verify your participation.
How should I promote my team?
Promote your team in your content! You can use these Extra Life graphics, overlay options, and other assets.
There are tons of fun ways to promote your team and your fundraising efforts! Make sure to bring it up consistently in your content and be sure to update your overlay. Post about your campaign on social media! You can run other giveaways alongside our fundraising or rewards for your community if you hit certain goals, like specialty streams.
The options for fundraising are limitless! We're eager to see what you do.
Is there an Extra Life plugin on Twitch?
There is! The Extra Life Twitch extension allows you to have a panel that your viewers click on to donate. Donations go directly to your fundraising total, and viewers never have to leave your stream. The extension can also track your progress toward your fundraising goal and call out top donors.
Once you have your Extra Life account, here are the steps to get the Twitch extension set up:
Log in to your Twitch account.
Go to your Creator Dashboard and go to the Extensions tab.
Search for Extra Life.
Select Install to add the Extra Life extension.
Once it has installed, select Configure.
Enter your Participant ID.
Find your ID at extralife.wizards.com (or select the "Find my ID" link).
Go to your profile. If you need to, use the search bar in the top right.
Your participant ID is at the end of the URL on your profile page.
Select Save.
Close out of the config box.
When you're ready to activate it, go back to your Creator Dashboard and select My Extensions. Select Activate on the Extra Life extension and choose which panel you want the extension activated in.