This Week in Midweek Magic
Midweek Magic is a weekly event taking place Tuesdays to Thursdays in MTG Arena where players can enjoy casual games of online Magic in a variety of formats with no entry cost. Players can earn individual card rewards (ICRs) and in-game cosmetics for wins.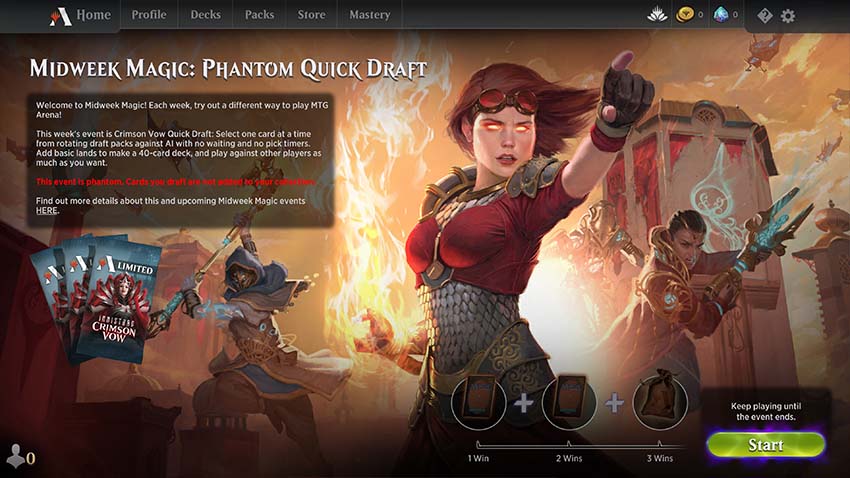 Midweek Magic began as FNM at Home in March of 2020, developed to keep the fun of Friday Night Magic events alive when players couldn't visit their local game stores. Thankfully, in-store play slowly resumed in many locations, and Friday Night Magic returned.
We didn't want to lose the fun and community around FNM at Home, so we updated our FNM at Home event to take place from Tuesdays to Thursdays and renamed it Midweek Magic. Now, you can enjoy Magic during the week on MTG Arena and then connect with your friends at your local game store for fun, in-person Friday Night Magic events, too!
Upcoming Midweek Magic Events
Updated November 21, 2022
Midweek Magic events begin on Tuesdays at 8 a.m. PT and end on Thursdays at 8 a.m. PT (UTC -08:00).
November 29–December 1: Phantom Jump In!
You'll get to select two different half-decks from a variety of themes in Alchemy. Combine them, and you'll have a deck that's ready to go. Unlike regular Jump In!, cards from this event will not be added to your collection.
December 6–8: Explorer All Access
While you'll still bring an Explorer deck, you won't need the cards! Try out that new deck you've had your eye on, or create something new!
December 13–15: Into the Future
It's time to hit the laboratory with the latest set of Alchemy cards! You'll find preconstructed decks to try that will get you off and running.
December 20–22: Explorer
Bring a 60-card Explorer deck and battle through Magic's history!