Magic: The Gathering® – Doctor Who™ Mechanics
For nearly 60 years, the BBC science fiction television series Doctor Who™ has delighted audiences on at least this planet, and quite likely others, with the time-travelling adventures of the Doctor, complete with various companions, diabolical foes, wondrous technologies, and occasionally, a most unusual frog.
And now it also features four ready-to-play Commander decks, each one celebrating a different era of the series. Beloved characters, episodes, locations, and moments delivered with Magic flair. Magic: The Gathering® – Doctor Who™ is our way of bringing the world of Time Lords and Daleks to Magic. The set launches October 13, 2023, and you can preorder these fantastic products now from your local game store, online retailers like Amazon, and elsewhere Magic is sold.
We even managed to sneak a few new mechanics into the lot, so why don't we take a moment to look at them and see how they work? Allons-y!
Preorder Now
Time Travel
Actually, why don't we do this one later?
Doctor's Companion
The Doctor hardly travels anywhere or anywhen without a companion. They are close friends, confidants, and in this case, second commanders. Doctor's companion is a riff on the partner ability.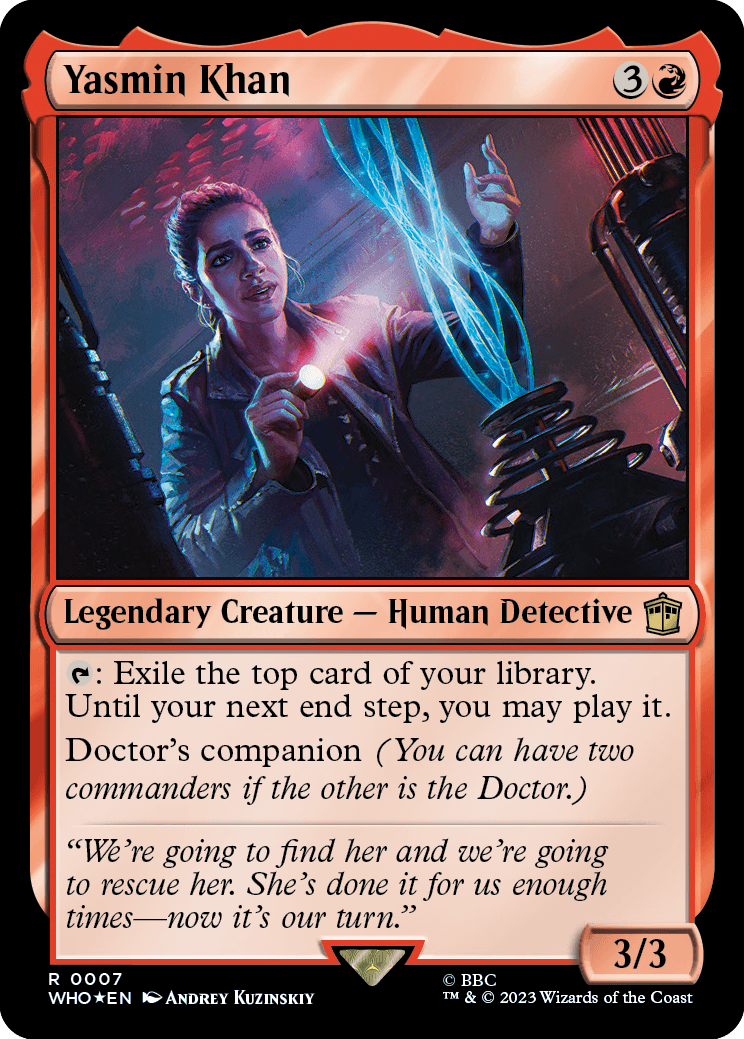 Each card with Doctor's companion is a legendary creature. In Commander games, you may have two commanders if one of them is a card with Doctor's companion and the other is "The Doctor." That means a legendary Time Lord Doctor creature with no other creature types. So, one of the incarnations of the Doctor from the Doctor Who™ decks and not a legendary creature with changeling. Sorry, Morophon. We see right through you.
If you choose to have two commanders, your deck must conform to their combined color identities. For example, if your commanders were Yasmin Khan and The Thirteenth Doctor (who's green and blue), your deck could include cards that were red, green, and/or blue.
During the game, the two commanders operate independently. For example, the "commander tax," the additional cost to cast a commander from the command zone, is tracked for each commander separately. Similarly, commander damage dealt to player by each commander is tracked separately. If a card refers to "your commander," it refers to both, although if it's trying to perform an action on your commander, like put it into your hand, you choose which one it's talking about.
Paradox
In Doctor Who™, paradoxes range from relatively harmless to universe ending. Fortunately, you don't need to understand the Laws of Time to understand paradox abilities, you just need to cast spells from unusual places.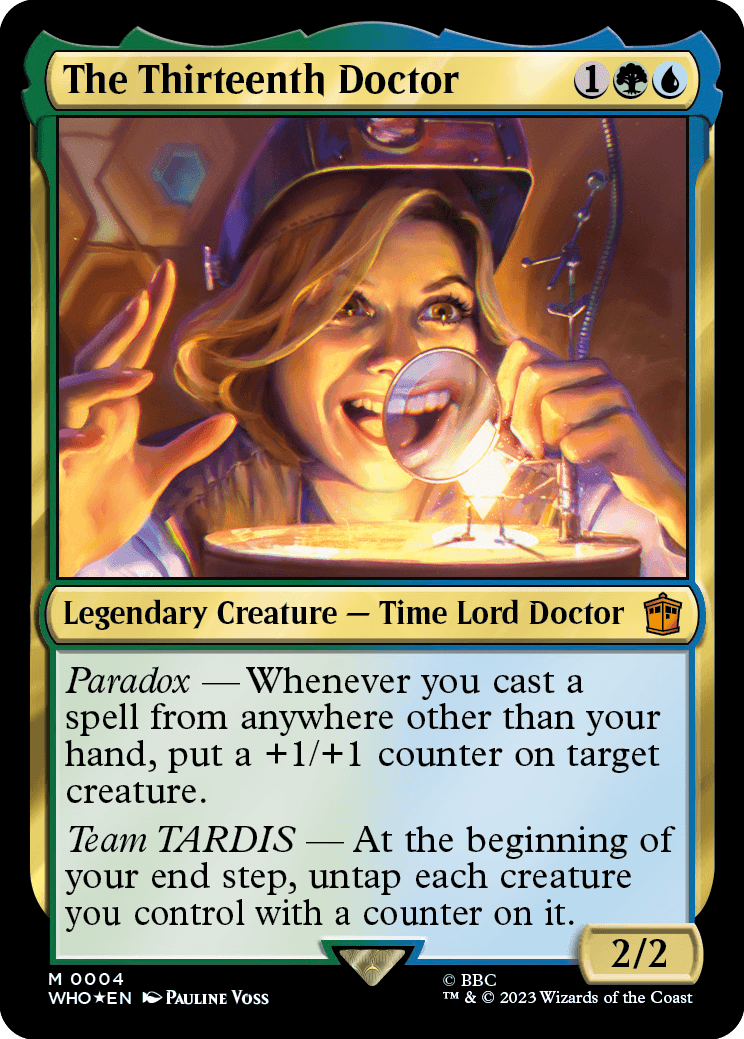 Paradox is an ability word that's used to highlight abilities that care about casting spells from anywhere other than your hand. Often these abilities are triggered abilities that trigger whenever you do so. Some paradox abilities count the number of spells you've cast from anywhere other than your hand that turn to determine the magnitude of their effects.
Time Travel
No. Not yet.
Villainous Choice
The Doctor this. The Doctor that. Don't forget there's an entire deck dedicated to the glorious villains of the show, and they'd love nothing more than to force your opponents to face villainous choices!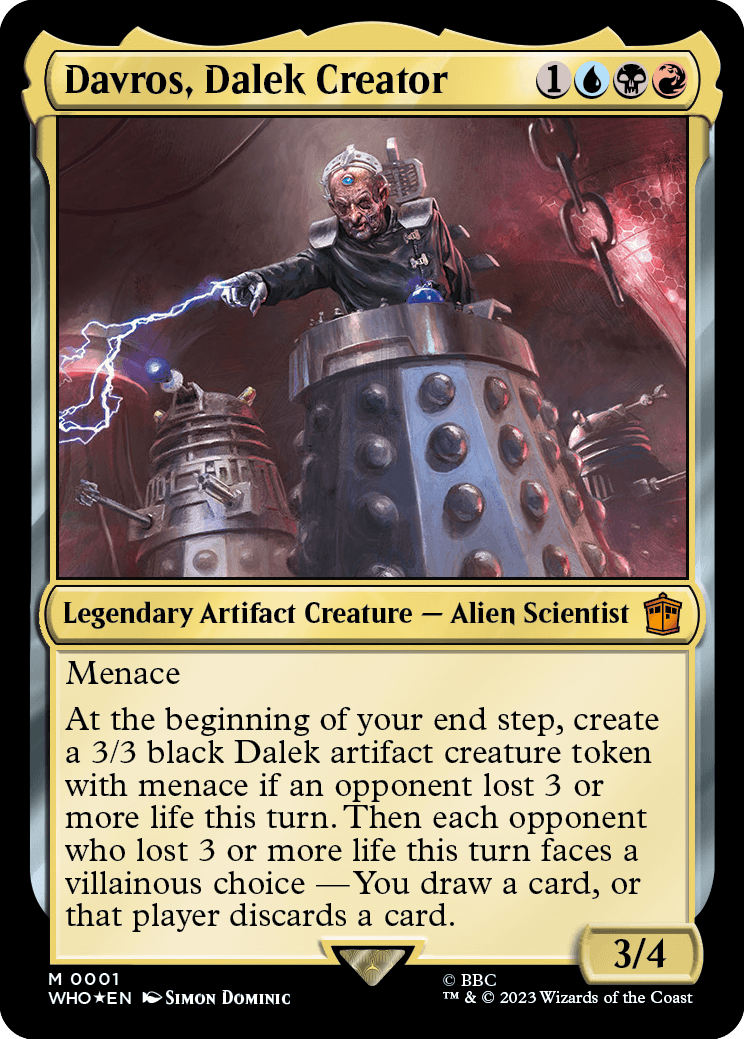 Villainous choices offer opponents two unfortunate outcomes, but they get to choose which one befalls them. A player offered a villainous choice can always choose either option, even if the effect of that option turns out to not do anything. For example, if Davros points menacingly at an opponent with an empty hand, they can choose the discarding option and do nothing.
If multiple players are offered a villainous choice, the first opponent in turn order makes their choice, then that effect happens. Then, the next player makes their choice, that effect happens, and so on for each player faced with a villainous choice.
Time Travel
It's about time. Time travel is, was, and always will be at the very heart of Doctor Who™. It's also a new keyword action that allows you to manipulate the flow of events.
If you're instructed to time travel, for each suspended card you own and each permanent you control with a time counter on it, you may add a time counter to it or remove a time counter from it. You make this choice for each one individually. For any of those cards or permanents, you may also choose to leave it be.
A suspended card is a card you've put into exile via the suspend ability, returning on cards such as Atraxi Warden.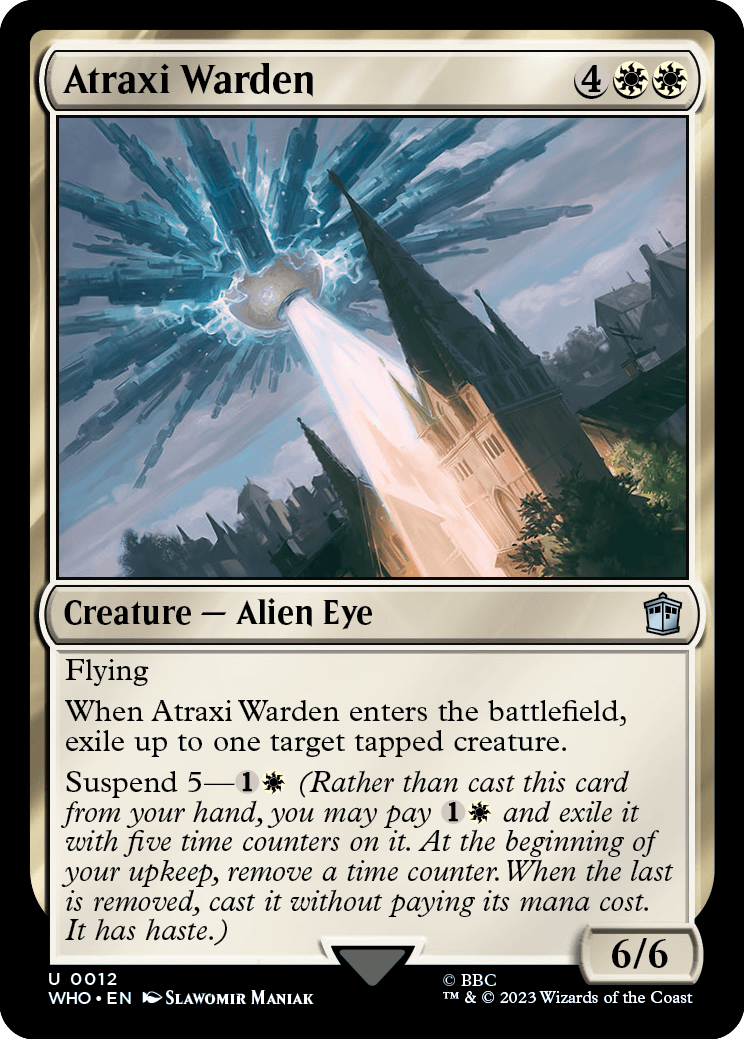 If a card with suspend is in your hand, any time you could cast it, you may pay its suspend cost and exile it with the specified number of time counters on it. At the beginning of your upkeep, remove a time counter from it, and when the last is removed, you may cast it from exile without paying its mana cost. If it becomes a creature, the creature has haste. Obviously, time travel allows you to speed up this process (or even slow it down, if that's your wish).
Planechase
There's no better way to celebrate a show like Doctor Who™ than packing your entire game into a TARDIS—don't worry, there's plenty of room—and sending it travelling to different locations in time and space. Each Doctor Who™ Commander Deck comes with ten oversized Planechase cards, including both plane and phenomenon cards.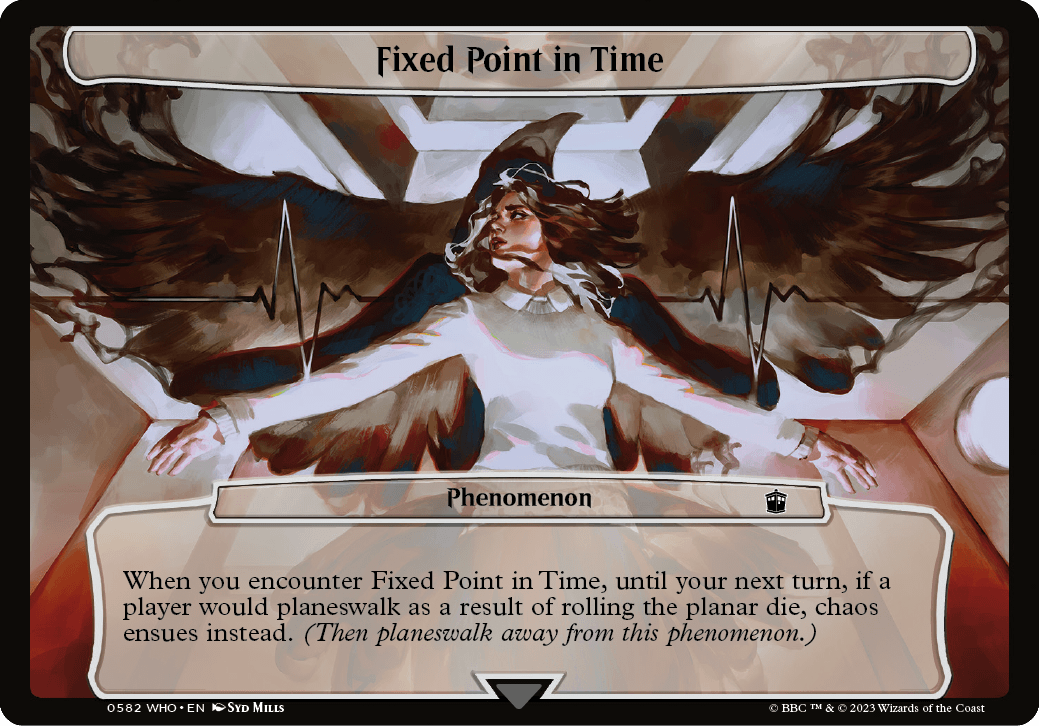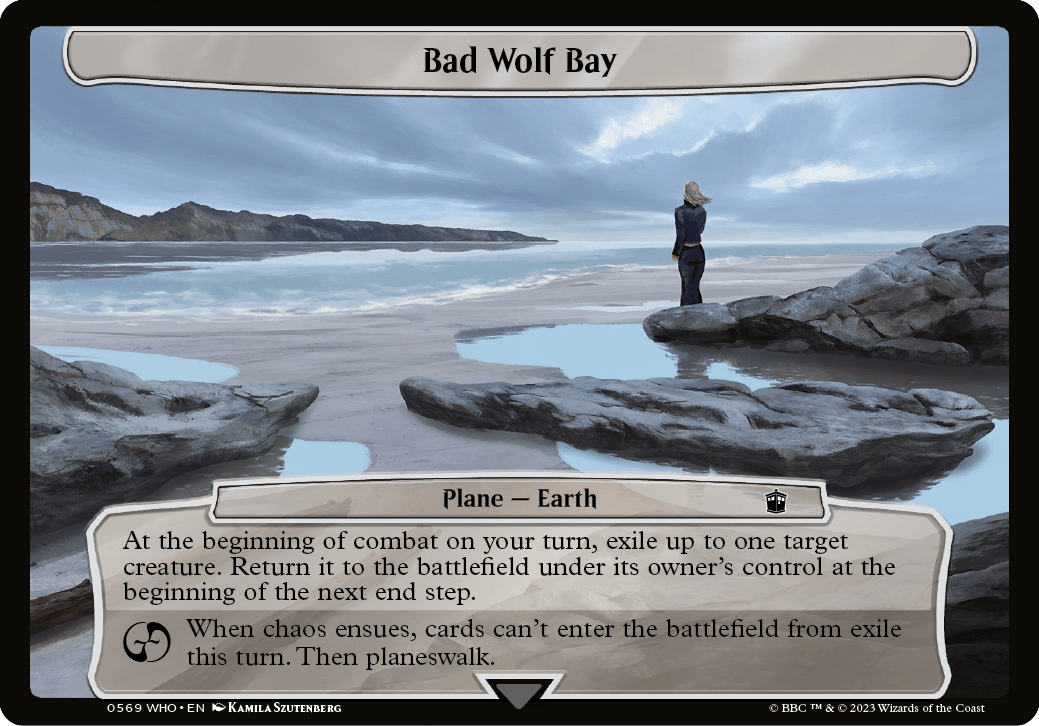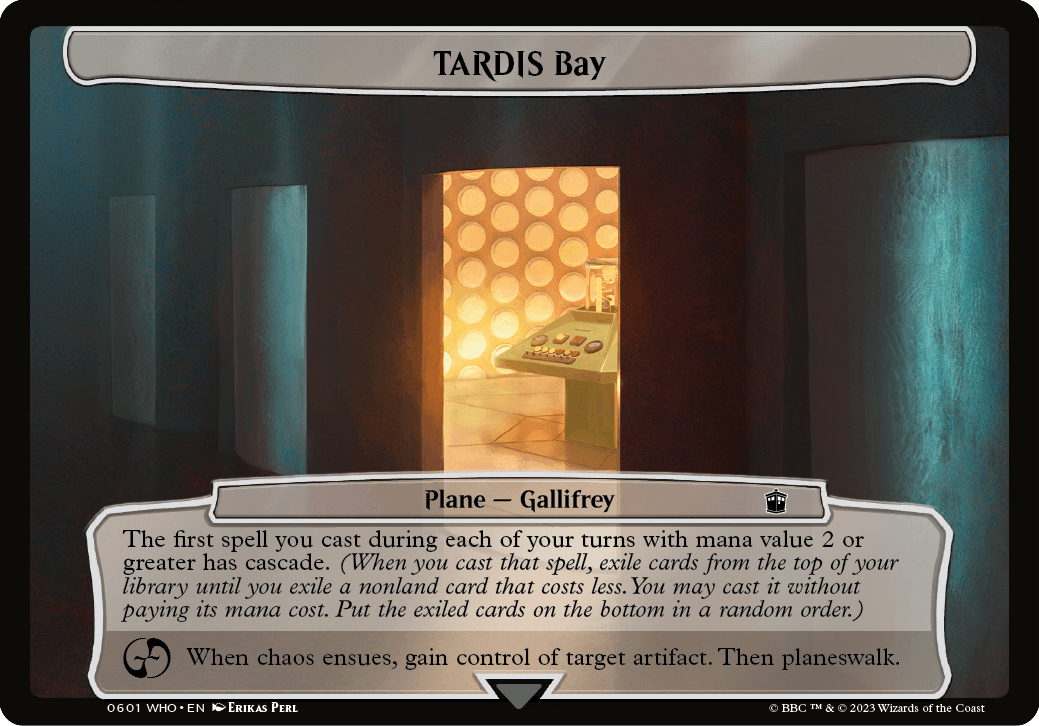 If you've never experienced the pure entertainment that is the Planechase variant, our primer by Gavin Verhey can get you started.
The Universe Is Calling!
Each Commander deck includes a plethora of previous Magic mechanics as well, sometimes remixed in new combinations. And all these cards—except the oversized Planechase cards—can be found inside Collector Boosters, not to mention cards with the TARDIS showcase treatment and a bunch of shiny foils! You can read all about it in Collecting Magic: The Gathering® – Doctor Who™! Whether you're new to the franchise and feeling a little wibbly-wobbly about things or are a dedicated Whovian, there's plenty to be excited about.