Earn MTG Arena XP When You Play WPN In-Store Events in September!
In September, your MTG Arena Set Mastery and Mastery Pass progress expands beyond digital play and into local game stores.

During the month of September, players who participate in an event with their Wizards account at a Wizards Play Network (WPN) game store will receive 1,000 XP in MTG Arena through their in-game inboxes. This includes Wilds of Eldraine Prerelease, Open House, Friday Night Magic, and more! Players are eligible for 1,000 XP per event up to four times during the month of September for a total of 4,000 XP.
To be eligible, players need to participate in a September Magic event at a Wizards Play Network game store. Players must use their Wizards account that is connected with their MTG Arena account.
XP will be delivered to eligible players' MTG Arena inboxes later in the month. So, be sure to visit your local WPN store, play in events, and gain some levels in your Mastery Pass all at the same time!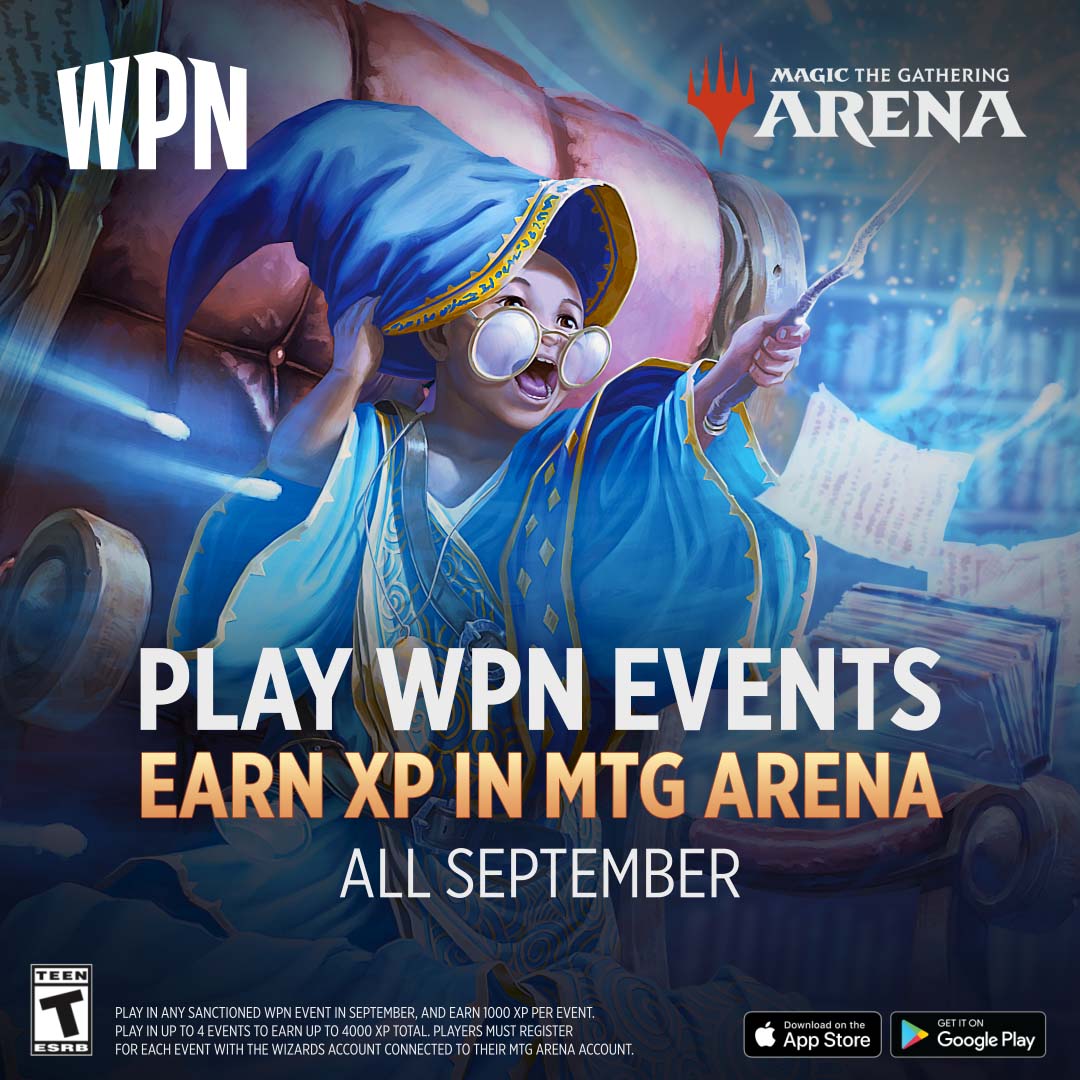 Your MTG Arena Account and Where to Play
Need an MTG Arena account? Sign up and play free on PC, iOS, or Android!
Not sure where to play Magic: The Gathering in a WPN store? Head on over to Locator.Wizards.com to find your nearest friendly local game store.
Important details:
Players are eligible to receive 1,000 XP each time they play in a sanctioned WPN event from September 1–30. Players can receive the 1,000 XP reward up to four times for up to 4,000 XP total during the month of September.
To receive XP, players must have an active MTG Arena account that uses the same email address as the Wizards account they use to register in the sanctioned WPN event. The account you play with in store is the same account that will receive MTG Arena
Your MTG Arena account must be created before you play in the sanctioned WPN event.
XP will be granted through the MTG Arena in-game inbox periodically throughout the month of September and the first week of October.