MTG Arena Announcements, August 3, 2022
MTG Arena Summer Sale!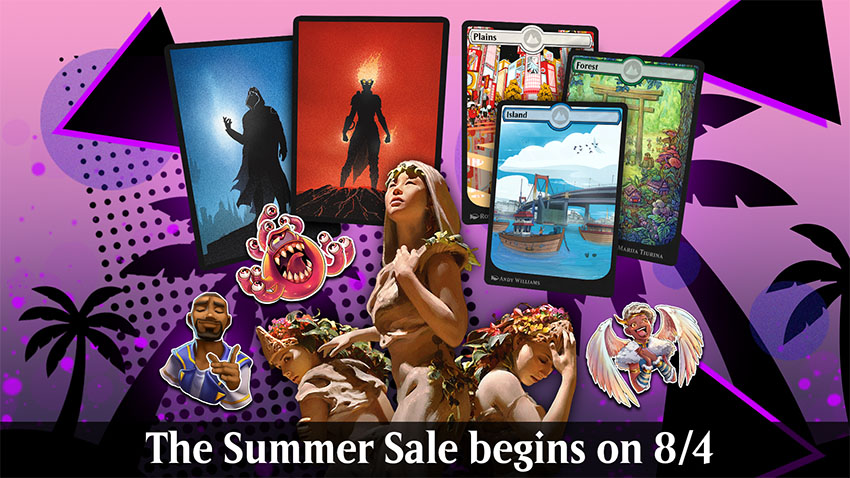 The MTG Arena Summer Sale begins tomorrow and continues through Wednesday, August 17! Personalize your decks, avatars, and stickers with cool new and returning cosmetics with bundles like these:
Tokyo Lands Bundle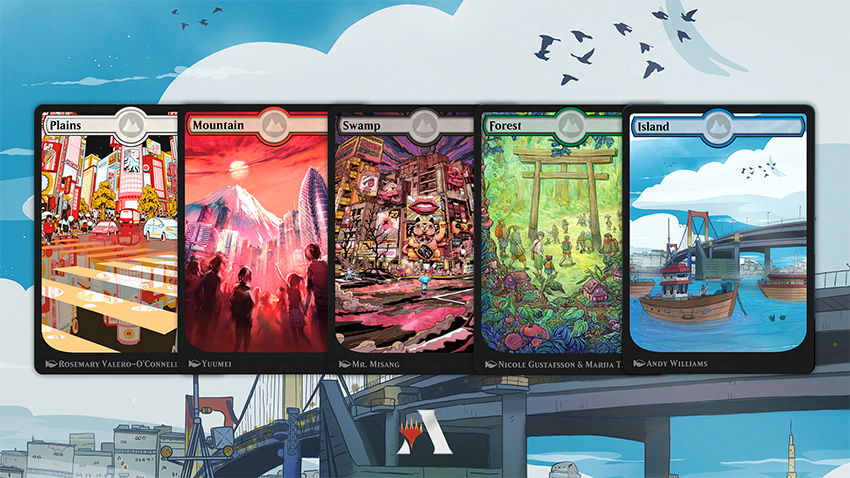 Five Tokyo full-art basic lands
Rule the Room Bundle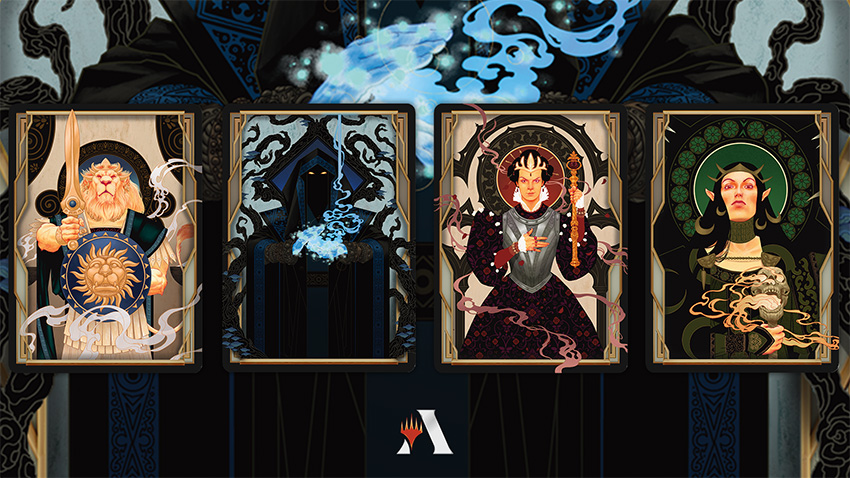 Arcanis, the Omnipotent sleeve
Queen Marchesa sleeve
Brimaz, King of Oreskos sleeve
Savra, Queen of the Golgari sleeve
Special Guest: Matt Jukes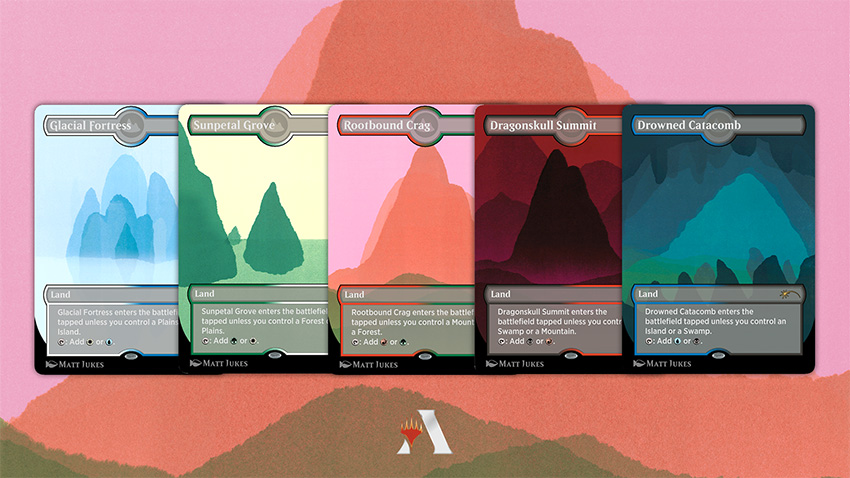 Glacial Fortress card style
Drowned Catacomb card style
Dragonskull Summit card style
Rootbound Crag card style
Sunpetal Grove card style
Stop by the MTG Arena Store from August 4–17 for these and other amazing bundles!
Community Spotlight: Gladiator, August 11–14
Try out the fan-made format known as Gladiator in MTG Arena and score some individual card rewards! From August 11 through August 14, Gladiator will be available to play—with no entry cost!—so you can see why it's such a popular way to play Magic.
Learn more about the Community Spotlight: Gladiator event, and then drop in on the Weekly MTG Twitch stream on Thursday, August 11, at 2:30 p.m. PT for a discussion of the format between host Blake Rasmussen and one of the major contributors to the Gladiator format, Ben Wheeler.
Mythic Constructed and Limited Leaderboard Issue
Last week, we encountered an issue that caused the Mythic Constructed leaderboard to work off incorrect player standings. After further investigation, we have found a similar issue that also impacted the Mythic leaderboard for ranked Limited play shortly after the release. You can read more on this and the adjustments we'll be making in the update to the July 2022 MTG Arena Ranked Season article.
Multiple Bug Fixes
Several updates and bug fixes were implemented with the 18.0 release—check out the patch notes for those if you haven't yet!
Arena Championship 1 Leaderboard Is Live
You can now view the leaderboard of players qualified for the 2022 Arena Championship. You can find this leaderboard from standings pages by selecting the season dropdown and choosing "Arena Championship 1."
Event Schedule
Events open at 8 a.m. PT (UTC 15:00) and close to new entries at 8 a.m. PT (UTC 15:00) on the dates shown unless otherwise noted.
August 5–8: Historic Metagame Challenge
August 11–15: Community Spotlight: Gladiator
August 12–September 1: Arena Cube (Best-of-One and Best-of-Three)
Quick Draft
August 5–19: Kamigawa: Neon Dynasty
August 19–September 2: Alchemy Horizons: Baldur's Gate
September 2–15: Streets of New Capenna
Additional Premier Drafts
August 2–7: Kamigawa: Neon Dynasty
August 7–12: Streets of New Capenna
August 22–27: Kaladesh Remastered Premier Draft
August 27–September 1: Amonkhet Remastered Premier Draft
Midweek Magic
Midweek Magic events open on Tuesdays at 8 a.m. PT and close to new entries on Thursdays at 8 a.m. PT.
August 9–11: Historic Artisan
August 16–18: Omniscience
August 23–25: Future Alchemy (All Access)
August 30–September 1: Last Call (All Access)
Premier Play Schedule
All times listed are Pacific time (UTC -7).
Note: The format for the August Qualifier Play-In and Qualifier Weekend events has been updated to Alchemy. For full details, see the event pages linked below.
Qualifier Play-In Events
Qualifier Play-In events are single-day tournaments in which players compete to earn invitations to Qualifier Weekend events.
August
Best-of-One Qualifier Play-In
August 13, 6 a.m.–August 14, 6 a.m.
Best-of-Three Qualifier Play-In
August 19, 6 a.m.–August 20, 3 a.m.
Qualifier Weekend Events
Day One and Day Two events close to new entries at 8 a.m. PT (UTC 15:00) each day.
Qualifier Weekend events are two-day events in which eligible players compete for invitations to the Arena Championship held in the fourth quarter of 2022.
August
Qualifier Weekend
August 20, 6 a.m.–August 21, 4 p.m.

Format for both days: Alchemy
August 2022 Ranked Season
The August 2022 Ranked Season begins July 31 at 12:05 p.m. PT (19:05 UTC) and ends on August 31 at 12 p.m. PT (19:00 UTC).
Bronze Reward: 1 Alchemy Horizons: Baldur's Gate pack
Silver Reward: 1 Alchemy Horizons: Baldur's Gate pack + 500 gold
Gold Reward: 2 Alchemy Horizons: Baldur's Gate packs + 1,000 gold + Ambition's Cost card style
Platinum Reward: 3 Alchemy Horizons: Baldur's Gate packs + 1,000 gold + Ambition's Cost card style + Thayan Evokers card style
Diamond Reward: 4 Alchemy Horizons: Baldur's Gate packs + 1,000 gold + Ambition's Cost card style + Thayan Evokers card style
Mythic Reward: 5 Alchemy Horizons: Baldur's Gate packs + 1,000 gold + Ambition's Cost card style + Thayan Evokers card style
---
Follow MTG Arena Social
Keep up with the latest MTG Arena news and announcements on: