MTG Arena Announcements, September 21, 2022
This Weekend:
The Arena Championship 1!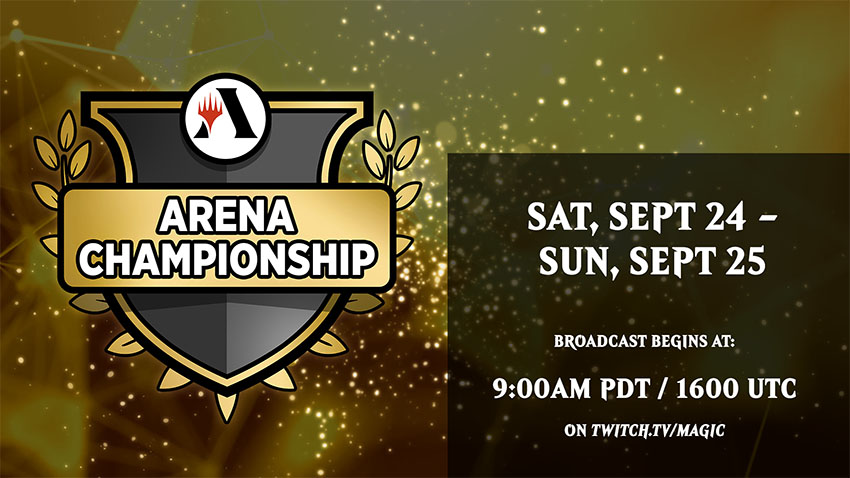 The biggest MTG Arena Premier Play event is finally here! Arena Championship 1 will host top MTG Arena players September 24–25 for an epic competition with a $200,000 total prize pool and that will determine who goes on to the Magic World Championship.
This is an event you don't want to miss—and you won't, because you can watch it live at twitch.tv/magic! Check out the Arena Championship 1 Viewers Guide for all the event details and get ready to tune in starting Saturday, September 24, at 9 a.m. PT!
Bonus Play-In with Arena Championship 1 Decks!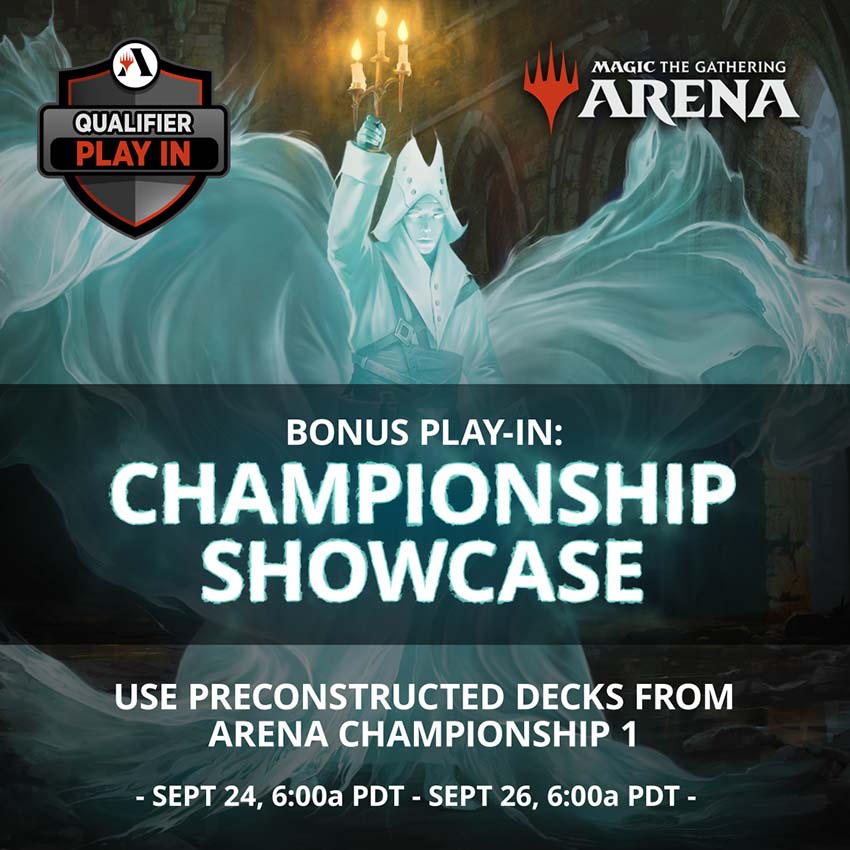 We've got a special bonus event happening alongside the Arena Championship 1—and it can even get you into next month's Qualifier Weekend. The Bonus Play-In: Arena Championship Showcase event features Best-of-One matches with the same decks used by the competitors in Arena Championship 1!
Get all the details on the Bonus Play-In: Championship Showcase event page, and get ready to play alongside the best from September 24 at 6 a.m. PT until September 26 at 6 a.m. PT!
Arena Open Next Weekend!
October starts off big with the Arena Open! Next weekend, October 1–2, compete in Best-of-One and Best-of-Three Dominaria United Limited matches for prizes up to $2,500! Plus, everyone who enters receives the Sheoldred, the Apocalypse Phyrexian card style:
Check out the Arena Open: Dominaria United Limited page for complete details.
Event Schedule
Events open at 8 a.m. PT (UTC 15:00) and close to new entries at 8 a.m. PT (UTC 15:00) on the dates shown unless otherwise noted.
Midweek Magic
Midweek Magic events open on Tuesdays at 8 a.m. PT (UTC 15:00) and close to new entries on Thursdays at 8 a.m. PT (UTC 15:00).
September 27–29: Historic
October 4–6: On the Edge
October 11–13: Alchemy
October 18–20: Explorer
Quick Draft
September 16–30: Dominaria United
September 30–October 14: Innistrad: Midnight Hunt
October 14–28: Dominaria United
Other Events
September 15–24: Sleeper Agents
October 6–8: Into the Future
October 6–16: Premier Draft Alchemy Dominaria United
October 8–10: The Ultimate Showdown
October 14–17: Alchemy Metagame Challenge
Premier Play Schedule
All times listed are Pacific time (UTC -7).
Qualifier Play-In Events
Qualifier Play-In events are single-day tournaments in which players compete to earn invitations to that month's Qualifier Weekend events.
September
Bonus Play-In
September 24, 6 a.m. PT–September 26, 6 a.m. PT
Best-of-One Qualifier Play-In
October 7, 6 a.m. PT–October 8, 3 a.m. PT
Best-of-Three Qualifier Play-In
October 14, 6 a.m. PT–October 15, 3 a.m. PT
Qualifier Weekend Events
Qualifier Weekend events are two-day events in which eligible players compete for invitations to the Arena Championship 1 held in the fourth quarter of 2022.
Qualifier Weekend Day One and Day Two events open to entries at 6 a.m. PT (13:00 UTC) and close to new entries at 8 a.m. PT (UTC 15:00) each day. You must enter within this two-hour window —late entries cannot be accommodated.
October
Qualifier Weekend
October 15, 6 a.m. PT–October 17, 4 p.m. PT

Format: Standard (Best-of-Three)
Arena Championship Event
The Arena Championships is an invitation-only, virtual two-day event for players who qualify during one of the four Qualifier Weekend events.
Arena Open
Arena Open Day 1 entry window begins at 6 a.m. PT (13:00 UTC) and closes to new entries the following day at 3 a.m. PT (10:00 UTC).
Day 2 entry window is two hours only, from 6 a.m. PT (13:00 UTC) until 8 a.m. PT (15:00 UTC).
Arena Open October 1–2

Day 1, October 1: Dominaria United Sealed
Best-of-One and Best-of-Three
All participants will receive the Phyrexian treatment Sheoldred, the Apocalypse card style.
Day 2, October 2, Draft One and Draft Two: Dominaria United Player Draft
Best-of-Three only
Note: There are two drafts for the Day 2 Arena Open, with three wins or one loss.
September 2022 Ranked Season
The September 2022 Ranked Season begins August 31 at 12:05 p.m. PT (19:05 UTC) and ends on September 30 at 12 p.m. PT (19:00 UTC).
Bronze Reward: 1 Dominaria United pack
Silver Reward: 1 Dominaria United pack + 500 gold
Gold Reward: 2 Dominaria United packs + 1,000 gold + Cut Down card style
Platinum Reward: 3 Dominaria United packs + 1,000 gold + Cut Down card style + Thran Portal card style
Diamond Reward: 4 Dominaria United packs + 1,000 gold + Cut Down card style + Thran Portal card style
Mythic Reward: 5 Dominaria United packs + 1,000 gold + Cut Down card style + Thran Portal card style
---
Follow MTG Arena Social
Keep up with the latest MTG Arena news and announcements on: