There are countless strategies in Magic. Some decks rely on big creatures to overpower blockers. Some decks swarm the battlefield to defeat opponents before they even get started. Some decks sit back and react to everything opponents try before taking over the game.
But there's one path to victory that doesn't look at racing ahead or overtop opponents and doesn't try to stymie what the opponent is doing and take over later. It asks you a straightforward question: what would you sacrifice to win?
Throw It All Away
"Sacrifice" decks have a unique strategy: convert, usually through some sacrifice effect on cards, one resource into another that leads you to victory. These decks have come and gone through the years in Magic events. One of the first competitive combo decks is among the most famous in its history: ProsBloom.
One of early Standard's breakout decks, it revolved around exiling cards in your hand to Cadaverous Bloom and sacrificing lands to Squandered Resources to build up either Prosperity (which gets you more lands to make more mana) or Drain Life (which actually wins the game). But exiling cards from your hand isn't the kind of sacrifice most of us think of today.
Magic Pro League player Javier Dominguez made a breakthrough at Worlds 2005 with a white-black-green deck called "The Rock" and is a forerunner of the modern sacrifice strategies. Unlike ProsBloom, this deck trades on-board resources for a variety of benefits:
The deck, like all Rock decks, builds incremental advantage and is willing to sacrifice resources to get a net incremental benefit. But it's still not quite a Sacrifice deck inasmuch as a grinding midrange deck.
Tom Martell won Pro Tour Gatecrash, defeating future Players Tour Brussels winner Joel Larsson with a deal that's all-in on sacrificing things.
Sacrificing things for consistent and incremental gain, using synergy between cards and effects, is the modern Sacrifice deck—and it became such a dominant force that it led a card to be banned in Modern.
Melira Pod was one of Modern's most dominant decks during its heyday leading up to the ban of Birthing Pod, and listing out all of the events that demonstrated its success would be an article unto itself.
But in terms of sacrificing things for net, incremental gain, there's no other deck in the history of Magic that did it better:
The legacy of Aristocrats and Birthing pod decks is carried by the Sacrifice decks of Standard today, beginning with Magic Pro League player Piotr Głogowski's Mythic Championship VII-winning deck.
If you've played Standard over the past few months since Throne of Eldraine joined the format, you've seen what Sacrifice decks can do:
Witch's Oven and Cauldron Familiar are a nice, but slow, loop of damage that ensures you almost always have something to do with your mana.
Mayhem Devil loved to see things be sacrificed, and Gilded Goose is an engine of things to sacrifice.
Korvold, Fae-Cursed King highlights a top end that wants you to sacrifice things while it fuels the fires of victory every time you toss something out.
At Players Tour Online 2, Rivals League member Eli Loveman made it to Top 8 with an updated take that added a distinctly Birthing Pod-like effect in Fiend Artisan.
Twice the Sacrifice
So, what does this mean for Double Masters?
Opening a pack with two foils and two rares, then getting to pick two "first picks" from each pack means drafting is going to be amazing—but there's more to the set than just the flashy and splashy. Draft and Sealed decks will be packed with powerful things to do, and one of the strategies you'll be able to play in Limited is Sacrifice.
Which is where these cards come in.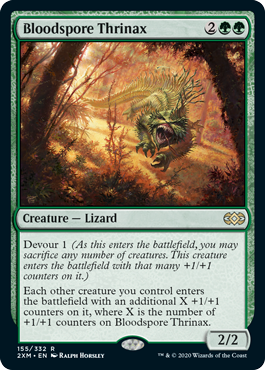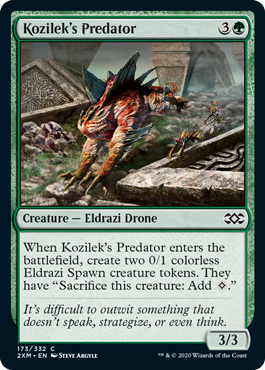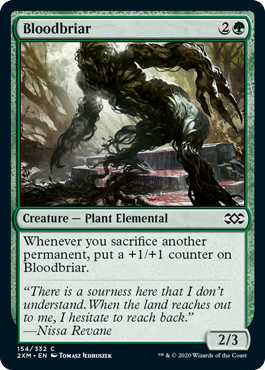 Playing a Sacrifice deck in Double Masters Limited is going to lean on using cards like those three returning to work. We already have the blueprint based on Magic's history:
Of course, you'll need more. A repeatable sacrifice outlet or two would go a long way toward tying it all together—but we're not going to reveal everything in Double Masters today. Keep your eyes open for more ways to make the most of every card you play and get ready to double down on it all when Double Masters is available in your local game store on August 7.