MTG Arena Announcements – May 22, 2023
In this edition:
---
Arena Championship 3 This Weekend!
The time has come! Top players from MTG Arena have qualified and are gearing up to face each other in the $200,000 Arena Championship 3 this weekend, May 27–28! We'll have coverage of the tournament, and you can tune in both days to watch a live stream of the event on twitch.tv/magic.
For all the details, including who's playing, how the tournament works, and even how to co-stream, visit the Arena Championship Viewers Guide.
MTG Arena Arrives on Steam Tomorrow!
Now you can play MTG Arena alongside all your games on Steam! Starting tomorrow, May 23, graduate your gaming from the mobile screen to the large screen using your MTG Arena account through Steam on your Windows PC. Go big to enjoy your favorite cards in all their artistic beauty and then decimate your opponents in big-screen battlefield beatdowns. Plus, logging in is easy using a QR code and the Steam mobile app.
EVENT SCHEDULE
Events open on the starting date at 8 a.m. PT (excluding Midweek Magic) and close to entries at 8 a.m. PT (UTC-07:00) on the ending date shown unless otherwise noted.
Midweek Magic
Midweek Magic events open on Tuesdays at 2 p.m. PT and close to new entries on Thursdays at 2 p.m. PT (UTC-07:00).
May 23–25: Singleton
May 30–June 1: Innistrad: Midnight Hunt Phantom Sealed
June 6–8: Historic Pauper
June 13–15: Momir
June 20–22: Starter Deck Test Drive
QUICK DRAFT
May 12–26: Dominaria United
May 26–June 6: March of the Machine
June 9–16: The Brothers' War
June 16–29: Phyrexia: All Will Be One
OTHER EVENTS
May 26–29: Historic Metagame Challenge
May 26–June 3: Innistrad: Midnight Hunt Premier Draft
June 2–5: Treasured Festival: Historic Singleton
June 3–11: Innistrad: Crimson Vow Premier Draft
June 12–20: Chromatic Cube
PREMIER PLAY SCHEDULE
All times listed are Pacific time (UTC-07:00).
QUALIFIER EVENTS
Qualifier Play-In events are single-day tournaments in which players compete to earn invitations to that month's Qualifier Weekend events.
Qualifier Weekend events are two-day events in which eligible players compete for invitations to upcoming Arena Championship events.
Qualifier tokens are delivered in your MTG Arena inbox. Remember to claim them before the event starts!
June
Qualifier Play-In (Best-of-One)
June 3, 6 a.m. PT
Qualifier Play-In (Best-of-Three)
June 9, 6 a.m. PT–June 10, 3 a.m. PT
Qualifier Weekend
June 10, 6 a.m. PT–June 11, 4 p.m. PT

Format: Historic (Best-of-Three)
Arena Open
The Arena Open Day One entry window begins at 6 a.m. PT and closes to new entries the following day at 3 a.m. PT (UTC-07:00). The Day Two entry window is 2 hours only, from 6 a.m. PT until 8 a.m. PT (UTC-07:00).
Arena Championship 3
The Arena Championship is an invitation-only, two-day virtual event for players who earn invitations through Qualifier Weekend events.
May 2023 Ranked Season
The May 2023 Ranked Season begins April 30 at 12:05 p.m. PT and ends on May 31 at 12 p.m. PT (UTC-07:00)
Bronze Reward: 1 March of the Machinepack
Silver Reward: 1 March of the Machinepack + 500 gold
Gold Reward: 2 March of the Machine packs + 1,000 gold + Change the Equation card style
Platinum Reward: 3 March of the Machine packs + 1,000 gold + Change the Equation card style + Nahiri's Warcrafting card style
Diamond Reward: 4 March of the Machine packs + 1,000 gold + Change the Equation card style card style + Nahiri's Warcrafting card style
Mythic Reward: 5 March of the Machine packs + 1,000 gold + Change the Equation card style + Nahiri's Warcrafting card style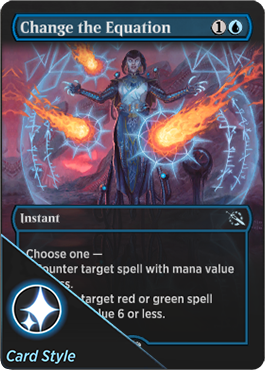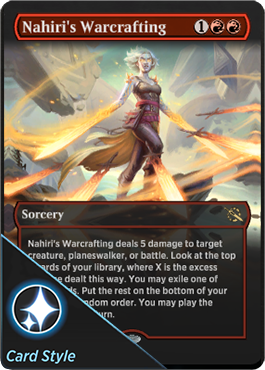 ---
Follow MTG Arena Social
Keep up with the latest MTG Arena news and announcements on: