MTG Arena Announcements – October 23, 2023
In this edition:
---
The countdown to the release of The Lost Caverns of Ixalan on MTG Arena has begun!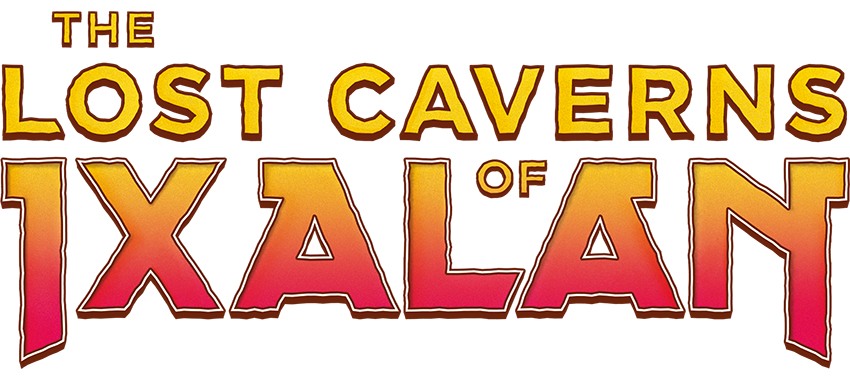 Join Us for The Lost Caverns of Ixalan Debut
The Lost Caverns of Ixalan launches on MTG Arena November 14, but previews kickoff tomorrow, October 24, with The Lost Caverns of Ixalan Debut. Watch it on our Twitch and YouTube channels beginning at 9 a.m. PT!
We'll be talking about the new set, showing a hoard of new cards, discussing mechanics, and more. Don't miss it!
---
The Lost Caverns of Ixalan Preorders Begin Tomorrow!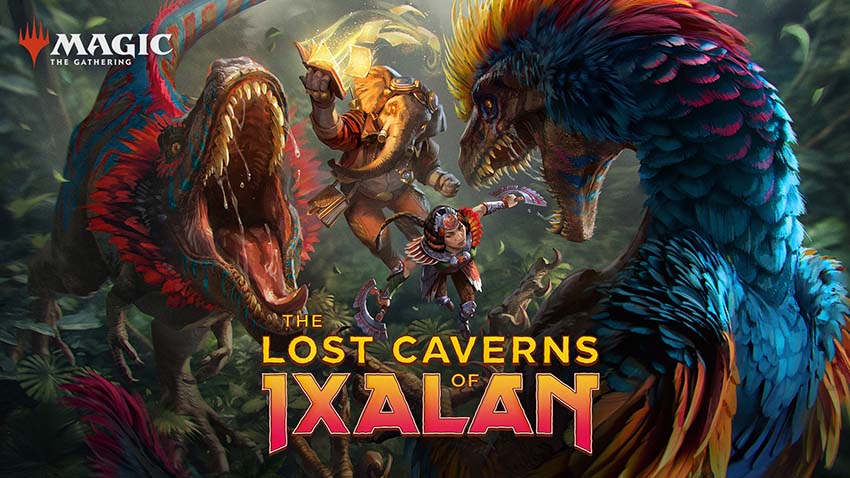 Preorders open tomorrow, October 23, following the update. Pick from three bundles that fit the way you play.
Saheeli Pack Bundle
$49.99/€53.99
Available at purchase:
The Sun's Brilliance sleeve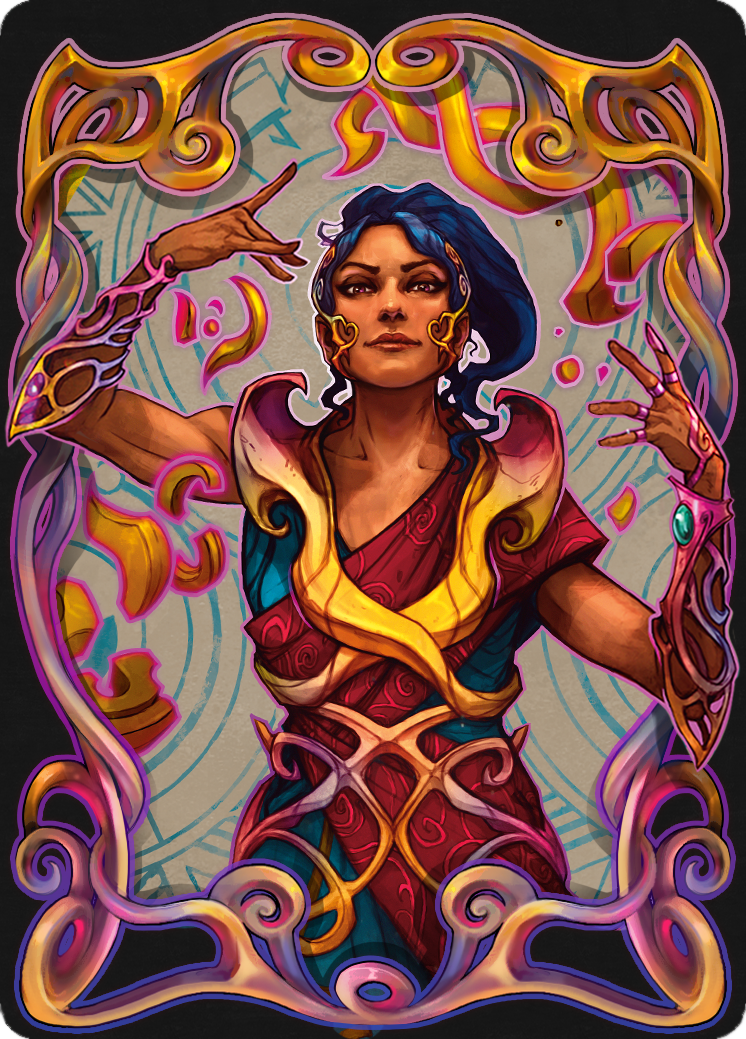 Available at release (November 14):
50 The Lost Caverns of Ixalan packs
5 Golden Packs
Saheeli, the Sun's Brilliance depth art card style
Saheeli, the Sun's Brilliance card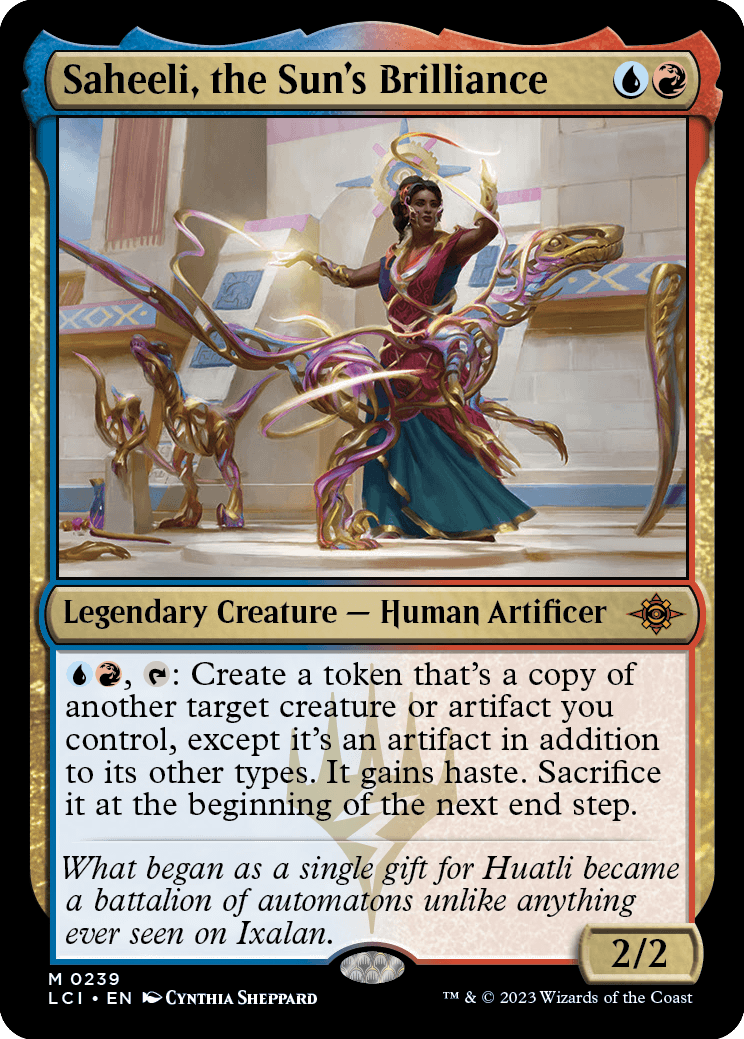 Vito Play Bundle
$24.99/€26.99
Available at purchase:
Fanatic of Aclazotz sleeve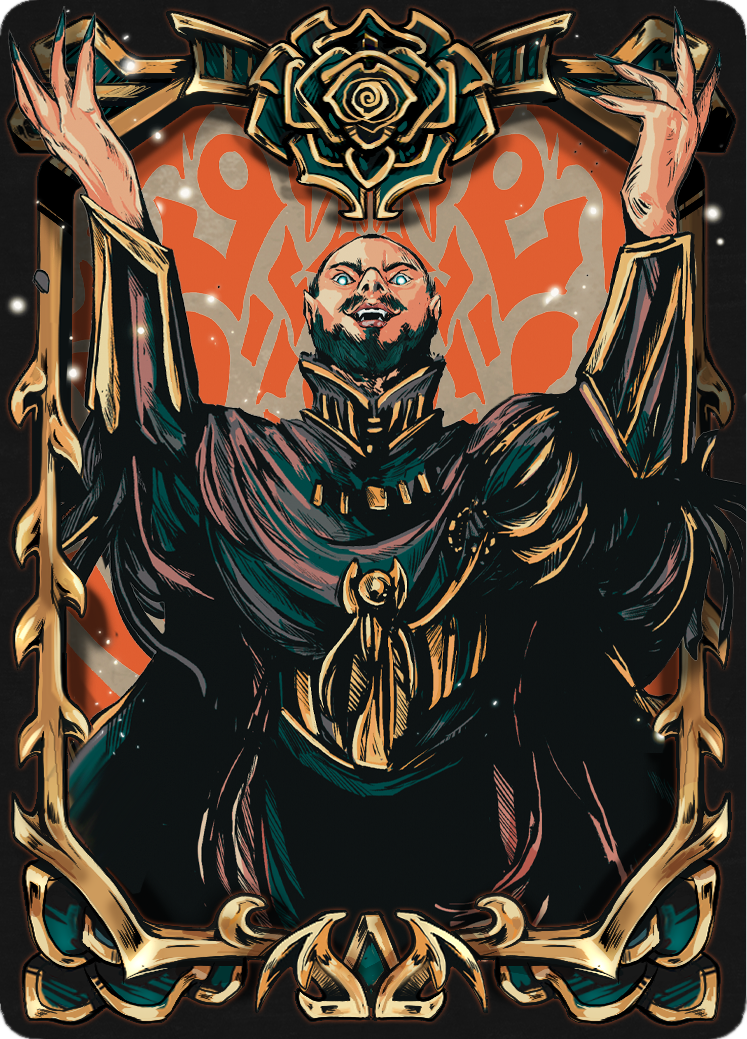 Available at release (November 14):
2 Player Draft tokens
1 Sealed token
5 Play-In Points
Vito, Fanatic of Alcazotz depth art card style
Vito, Fanatic of Alcazotz card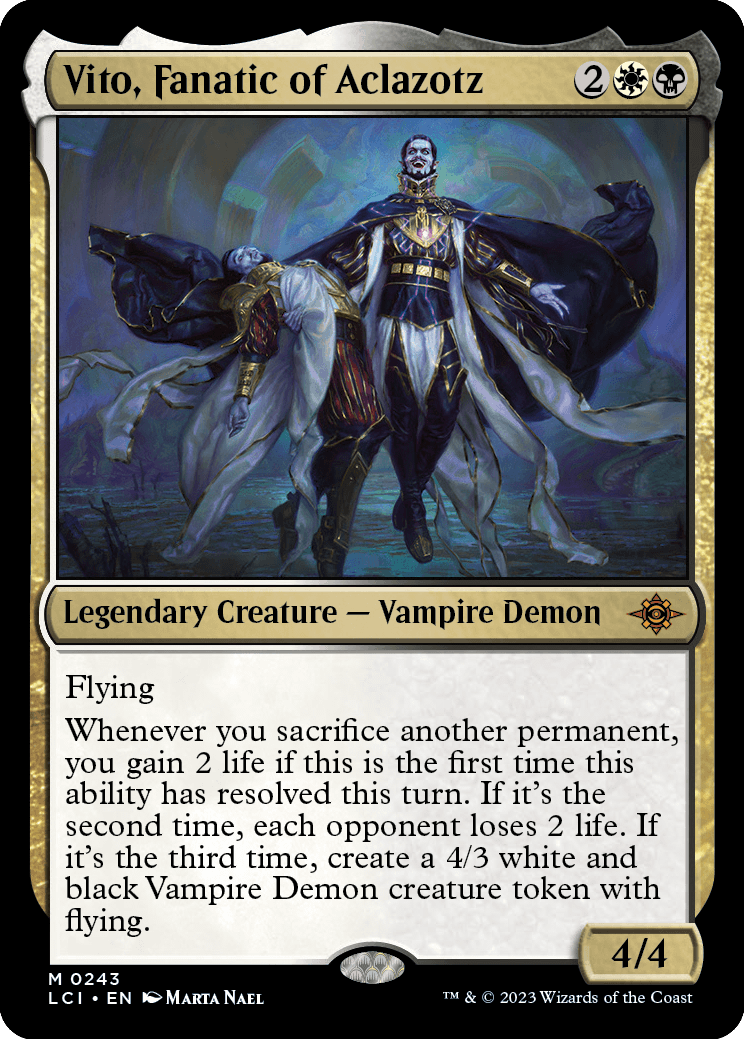 Quintorius Pass Bundle
$14.99/€16.49
Available at purchase: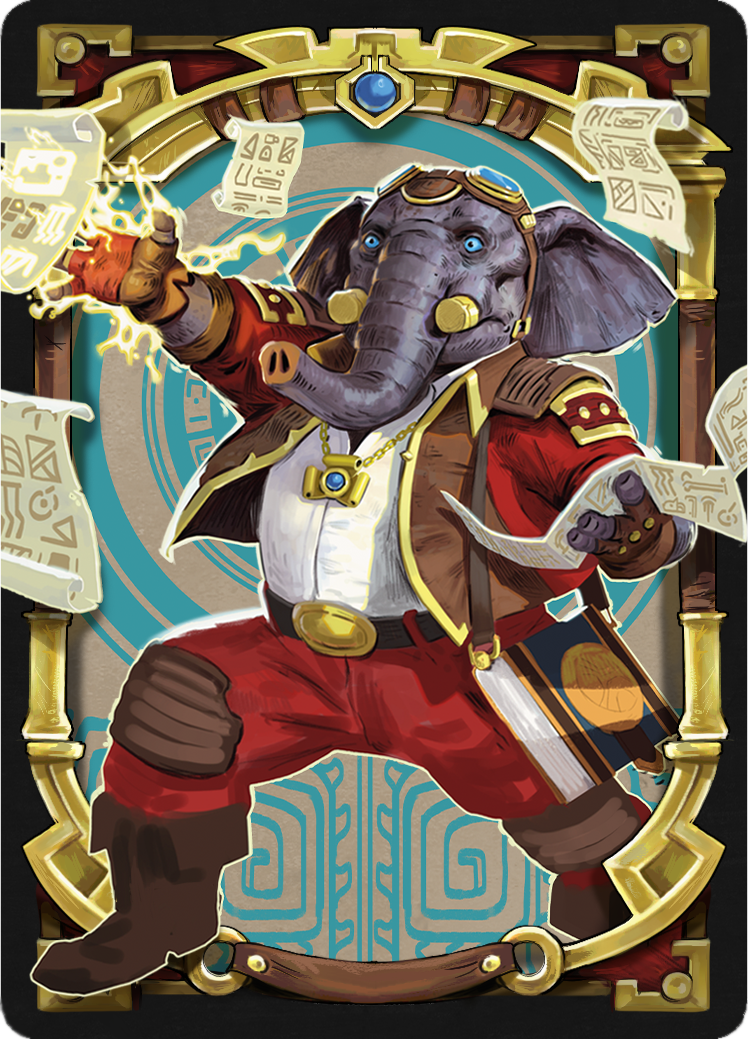 Available at release (November 14):
The Lost Caverns of Ixalan Mastery Pass
Quintorius Kand depth art card style
Quintorius Kand card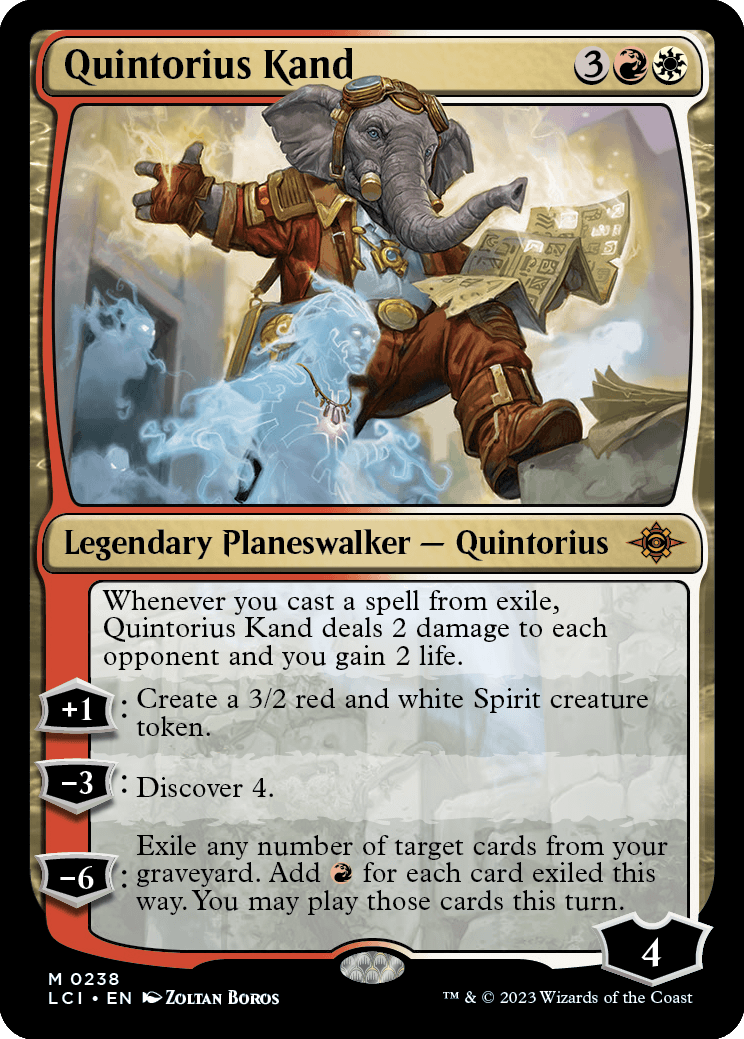 ---
The Lost Caverns of Ixalan Streamer Event, November 9–10
Tune in to watch your favorite Magic streamers on Twitch and YouTube as they dive into The Lost Caverns of Ixalan beginning at 10 a.m. PT on November 9. They'll be opening packs, discussing new cards, and playing matches with the new set.
Calling Magic Content Creators
If you're a Magic content creator interested in the Streamer Event, you may be able to join in the fun! If you're interested, reach out to us using the contact info for your location below to let them know.
(Please note, not all applicants will receive a response. Thank you for your patience and understanding.)
---
Feature Update: Favoriting Card Styles
As part of our ongoing efforts to unify card printings and card styles, we've made updates to our Preferred Printing feature as part of tomorrow's release. Card styles will appear alongside printings in the Preferred Printing menu, meaning all visualizations of a card are all found in the same place.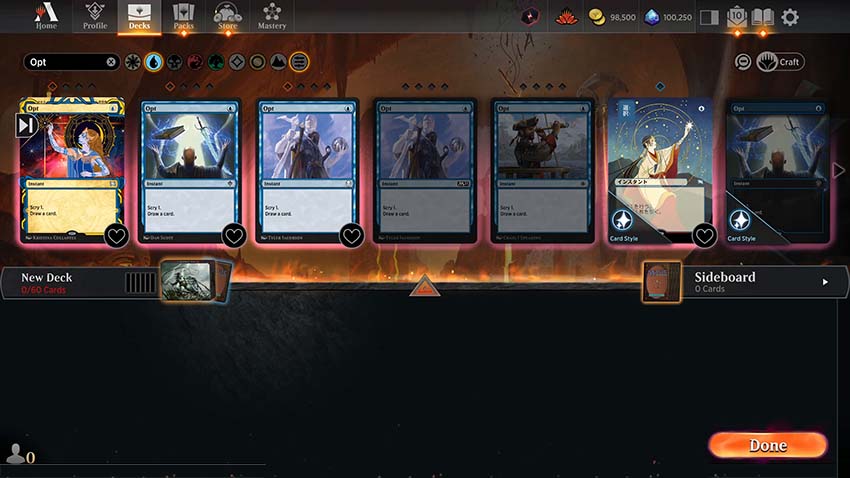 Not only does this make it easier to find the visualization you want, but it also means that you can finally favorite card styles themselves. Favoriting any visualization can be done the same way as before: by selecting the favorite heart icon on the printing or style you prefer.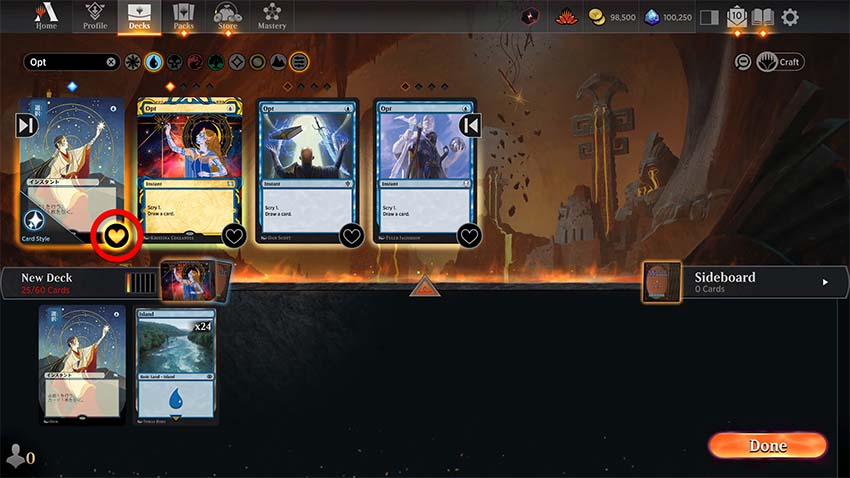 Your decks will now default to the printing or style you've chosen. You can do this for any style in your collection!
Here are some additional notes about this feature:
Just as with card printings, you'll need to have a style in your collection order to be able to favorite it.
Card styles abide by the "Collected" and "Not Collected" filters in the deck builder's Advanced Filters menu just like printings do. Switching to "Not Collected" will allow you to see styles for the card that are not in your collection.
As part of this change, the "Styles" button has been removed from the deck builder. To apply a style to the cards in your deck, either favorite it or add to your deck; that style will then be applied to all its base printings.
---
Arena Open Wilds of Eldraine Limited, October 28–29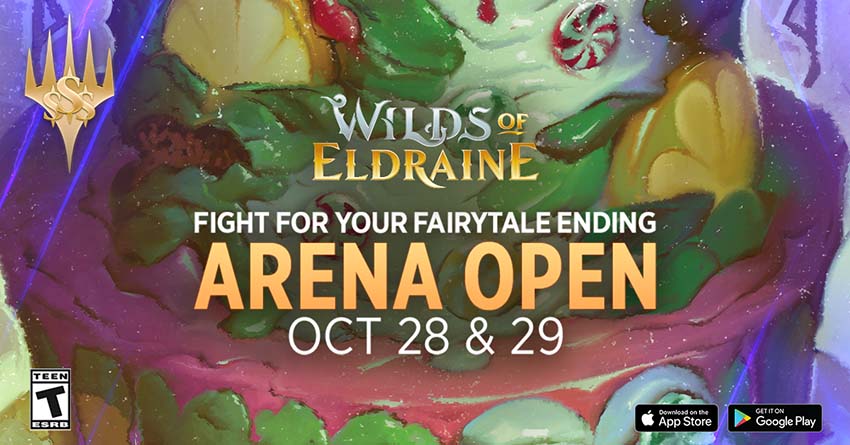 The Arena Open returns October 28–29! Compete on Day 1 in Wilds of Eldraine Sealed matches for your invitation to Day 2 events—and claim the Mak Fawa sleeve just for participating!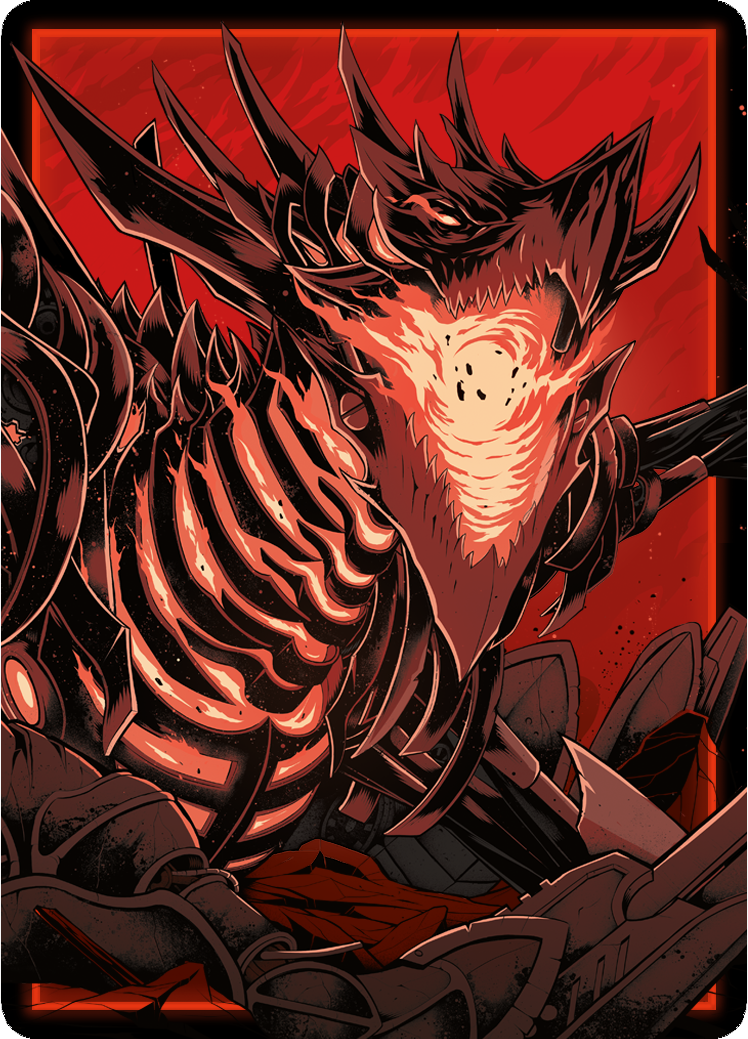 Entry Reward: Mak Fawa Sleeve
Perform well on Day 1, get your invitation, and return on Day 2 for the high-stakes showdown where you could win $2,000 and an invitation to the November Qualifier Weekend—if you can overcome your challengers!
---
Shadows over Innistrad Remastered Fatal Flashback Returns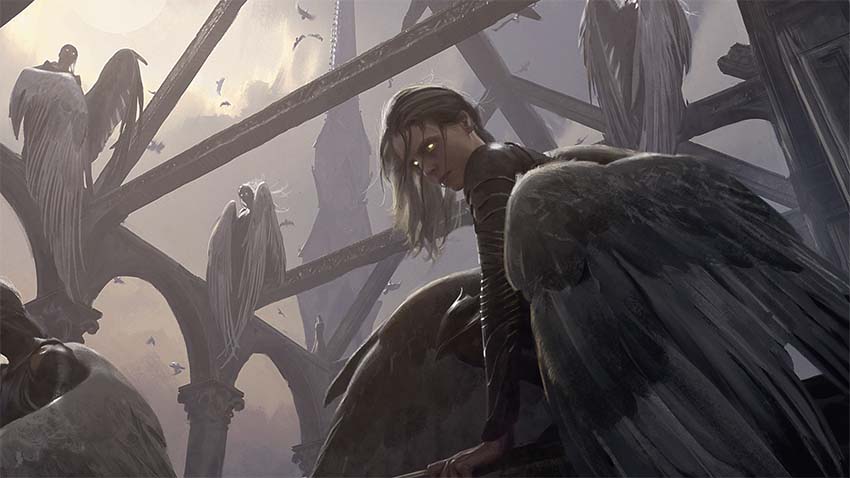 Shadows over Innistrad Remastered Limited events are open right now until November 1!
Earlier this year we had four different flavors of Shadows over Innistrad Remastered events that aimed to mix up the Limited formats, and with this return we're using the most popular of those Shadows of the Past themes, Fatal Flashback!
You'll find these Shadows over Innistrad Remastered events:
Best-of-One Sealed Deck
Premier Draft
Best-of-Three Draft
These events include a dash of sinister spice: Fatal Flashback! Shadows of the Past theme cards. Each Shadows over Innistrad Remastered pack will contain a card from the Fatal Flashback! Shadows of the Past card list.
Check out all the cards in the digital-only
Shadows over Innistrad Remastered set
, which brings together select cards from the original
Innistrad
block:
Innistrad
,
Dark Ascension
, and
Avacyn Restored
.
Shadows of the Past: Fatal Flashback!

October 17–November 1 (Select for card list)

Bump in the Night

Cackling Counterpart

Devil's Play

Divine Reckoning

Faithless Looting

Feeling of Dread

Forbidden Alchemy

Gnaw to the Bone

Increasing Ambition

Lingering Souls

Mystic Retrieval

Past in Flames

Rally the Peasants

Sever the Bloodline

Silent Departure

Spider Spawning

Travel Preparations

Unburial Rites
---
Alchemy Ladder Deck Showcase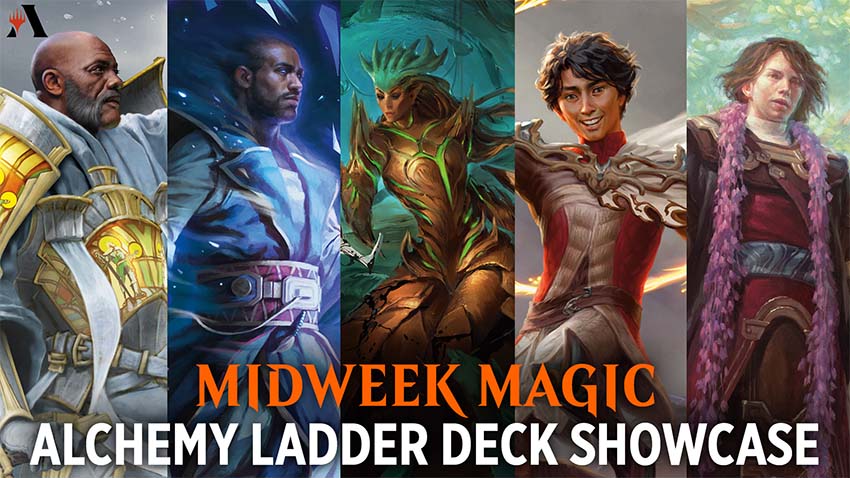 Take preconstructed Alchemy decks out for a spin in this week's Midweek Magic event! Running from Tuesday, October 24, at 2 p.m. PT, until Thursday, October 26, at 2 p.m. (UTC-7:00), select from five different competitive Alchemy decks and test them out on the Alchemy Ladder. Change decks as often as you want to find the one you like best!
Here are the five decks to try (select each to view):
Boros Equipment

2 Hexgold Sledge 7 Plains 2 Bladehold War-Whip 10 Mountain 2 Bladehold Cleaver 1 Hexgold Halberd 1 Dragonwing Glider 1 Protean War Engine 1 Andúril, Flame of the West 1 Hexgold Hoverwings 2 Skrelv, Defector Mite 2 Jor Kadeen, First Goldwarden 1 Astor, Bearer of Blades 1 Glóin, Dwarf Emissary 1 Kemba's Outfitter 1 Nahiri, Forged in Fury 1 Danitha, Benalia's Hope 1 Gandalf the White 1 Kemba, Kha Enduring 1 Kellan, the Fae-Blooded 3 Planar Disruption 2 Nahiri's Resolve 2 Rebel Salvo 1 Hurloon Battle Hymn 1 Forge Anew 4 Restless Bivouac 4 Wind-Scarred Crag 2 Merry, Esquire of Rohan 1 Bladegraft Aspirant
Azorius Control

2 Impulse 4 Reprieve 4 Scatter Ray 4 Soul Partition 4 Union of the Third Path 2 A-The One Ring 4 Sunfall 1 Teferi, Temporal Pilgrim 4 Horned Loch-Whale 9 Plains 6 Island 4 Adarkar Wastes 4 Seachrome Coast 2 Mirrex 2 Silver Scrutiny 2 Captivating Crossroads 2 The Conundrum of Bowls
Mono-White Soldiers

4 Hallowed Priest 24 Plains 4 Survivor of Korlis 4 Benalish Sleeper 1 Leonin Warleader 1 Siege Veteran 1 Rescue Retriever 1 Valiant Veteran 3 Recruitment Officer 2 Guardian of New Benalia 1 Myrel, Shield of Argive 2 Enduring Bondwarden 3 Impassioned Orator 3 Benalish Knight-Counselor 2 Ossification 2 Elspeth's Smite 2 By Elspeth's Command
Golgari Midrange

3 Glissa Sunslayer 3 Wary Thespian 2 Mosswood Dreadknight 2 Sheoldred, the Apocalypse 2 Skyfisher Spider 2 Murder 1 Terror of Towashi 4 Go for the Throat 1 Vraan, Executioner Thane 1 Old Man Willow 1 Lord Skitter, Sewer King 4 Haunted Mire 5 Forest 2 Urborg Repossession 2 Virtue of Persistence 1 Gix's Command 1 Invasion of Fiora 7 Swamp 4 Jungle Hollow 4 Captivating Crossroads 3 Ruins Recluse 1 Gix, Yawgmoth Praetor 1 Shelob, Child of Ungoliant 2 Misery's Shadow 1 Beseech the Mirror
Five-Color Legends

4 Copperline Gorge 4 Jodah, the Unifier 3 Elas il-Kor, Sadistic Pilgrim 4 Great Hall of the Citadel 4 Razorverge Thicket 2 Forest 1 Argoth, Sanctum of Nature 1 Thornwood Falls 4 Gwenna, Eyes of Gaea 2 Djeru and Hazoret 3 Aragorn, the Uniter 3 Boromir, Warden of the Tower 3 Crucias, Titan of the Waves 4 Plaza of Heroes 3 Ratadrabik of Urborg 4 Delighted Halfling 2 Hajar, Loyal Bodyguard 2 Ruby, Daring Tracker 2 Tear Asunder 4 Captivating Crossroads 1 Melira, the Living Cure
---
October Spooky Cosmetics
If you haven't visited the MTG Arena Store, be sure to stop by to see the new cosmetics from two of your favorite movies: The Evil Dead and The Princess Bride!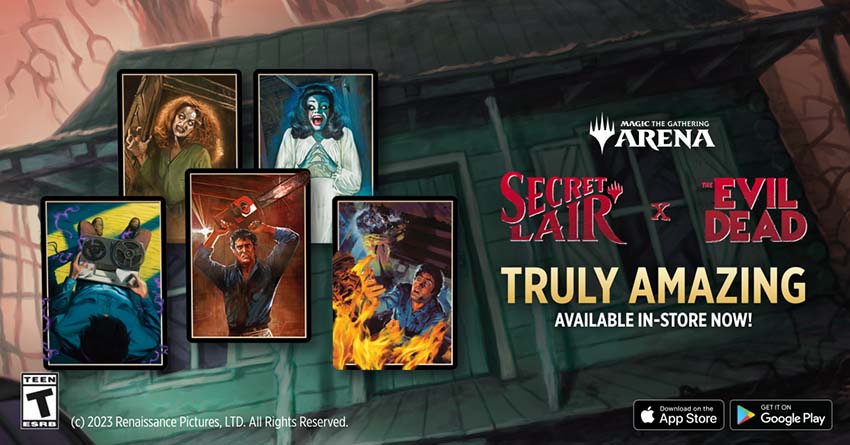 ---
EVENT SCHEDULE
Events open at 8 a.m. PT on their starting dates (excluding Midweek Magic) and close to entries at 8 a.m. PT (UTC-07:00) on the ending date shown unless otherwise noted.
MIDWEEK MAGIC
Midweek Magic events open on Tuesdays at 2 p.m. PT and close to new entries on Thursdays at 2 p.m. PT (UTC-07:00).
October 24–26: Alchemy Ladder Deck Showcase
October 31–November 2: Innistrad: Crimson Vow vs. Innistrad: Midnight Hunt Phantom Sealed
November 7–9: Brawl Showcase
November 14–16: Alchemy
QUICK DRAFT
October 24–November 7: Phyrexia: All Will Be One
November 7–23: Dominaria United
November 23–December 5: The Lost Caverns of Ixalan
December 5–22: Wilds of Eldraine
OTHER EVENTS
October 17–31: Shadows over Innistrad Remastered: Fatal Flashback
October 17–31: Shadows over Innistrad Remastered: Fatal Flashback Best-of-One Sealed
October 3-–November 5: Extra Life Historic Precon Brawl
November 2–14: Historic All Access, Basically No Bans!
November 7–14: Chromatic Cube
November 23–29: Festival (coming soon!)
November 29–December 5: Festival (coming soon!)
PREMIER PLAY SCHEDULE
All times listed are Pacific time (UTC-07:00).
QUALIFIER EVENTS
Qualifier Play-In events are single-day tournaments in which players compete to earn invitations to that month's Qualifier Weekend events.
Qualifier Weekend events are two-day events in which eligible players compete for invitations to upcoming Arena Championship events.
Qualifier tokens are delivered to your MTG Arena inbox. Remember to claim them before the event starts!
November
Qualifier Play-In (Best-of-One)
November 11, 6 a.m. PT
Qualifier Play-In (Best-of-Three)
November 17, 6 a.m. PT–November 18, 3 a.m. PT
Qualifier Weekend
November 18, 6 a.m. PT–November 19, 4 p.m. PT
ARENA OPEN
The Arena Open Day One entry window begins at 6 a.m. PT and closes to new entries the following day at 3 a.m. PT (UTC-07:00). The Day Two entry window is 2 hours only, from 6 a.m. PT until 8 a.m. PT (UTC-07:00).
Arena Open: Wilds of Eldraine Limited

October 28: Day One, Wilds of Eldraine Sealed (Best-of-One and Best-of-Three)
Day One entry reward: Mak Fawa sleeve
October 29: Day Two, Wilds of Eldraine Draft (Best-of-Three)
Arena Open: The Lost Caverns of Ixalan Limited

November 25: Day One, The Lost Caverns of Ixalan Sealed (Best-of-One and Best-of-Three)
November 26: Day Two, The Lost Caverns of Ixalan Draft (Best-of-Three)
October 2023 Ranked Season
The October 2023 Ranked Season begins September 30 at 12:05 p.m. PT and ends October 31 at 12 p.m. PT (UTC-07:00)
Bronze Reward: 1 Wilds of Eldraine pack
Silver Reward: 1 Wilds of Eldraine pack + 500 gold
Gold Reward: 2Wilds of Eldraine packs + 1,000 gold + Glass Casket card style
Platinum Reward: 3 Wilds of Eldraine packs + 1,000 gold + Glass Casket card style + Bramble Familiar card style
Diamond Reward: 4 Wilds of Eldraine packs + 1,000 gold + Glass Casket card style + Bramble Familiar card style
Mythic Reward: 5 Wilds of Eldraine packs + 1,000 gold + Glass Casket card style + Bramble Familiar card style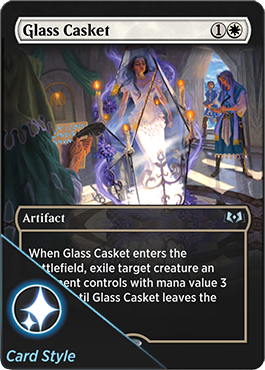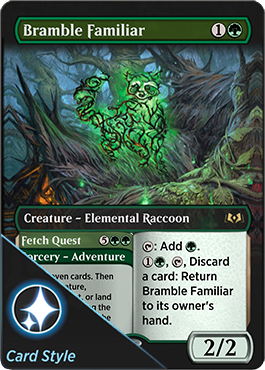 ---
Follow MTG Arena Social
Keep up with the latest MTG Arena news and announcements on: