MTG Arena Announcements, December 19, 2022
This is our last edition of Arena Announcements for 2022! We won't have announcements for December 26 or January 2 while our team is on holiday break, but we'll be returning on January 9!
Arena Decathlon Returns January 1–21!
The huge, multievent Arena Decathlon returns to usher in 2023 with play and prizes January 1–16, capped by a finals competition on January 21 in which you can win one of every card in the forthcoming Phyrexia: All Will Be One set!
Check out all the details on the Arena Decathlon page.
January 7, 2023: Best-of-One Qualifier Play-In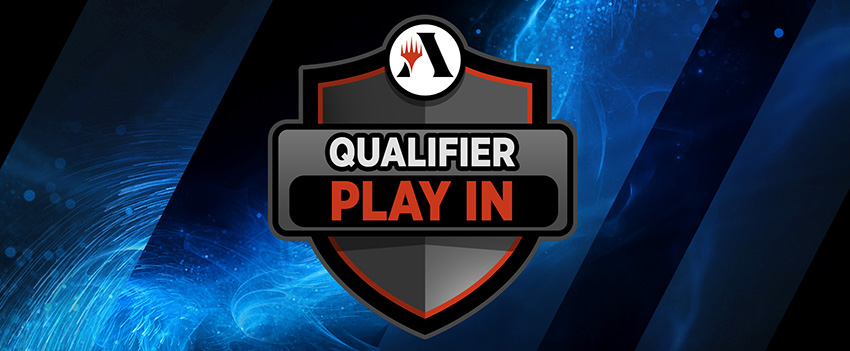 The first Best-of-One Qualifier Play-In of 2023 happens on January 7! Sharpen your Alchemy skills over the holiday break and start your Premier Play journey fresh in the new year!
Play Arena Cube until January 1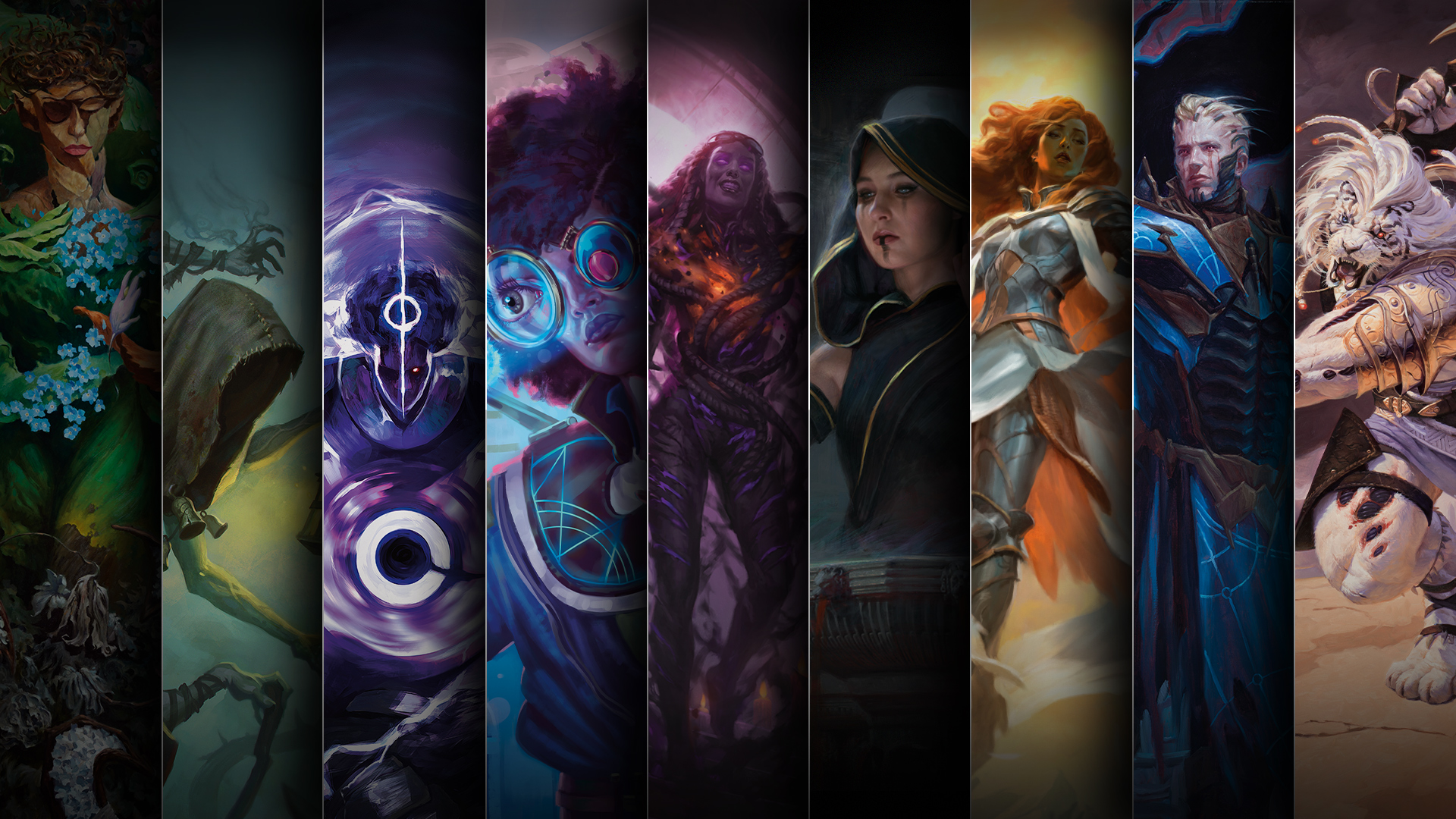 The latest Arena Cube is under way! In Arena Cube, you open and pass around packs just like a draft, except the card pool isn't from a single Magic set but rather a curated selection of some of the best cards available in MTG Arena. See the cards and play in Arena Cube before it's gone on January 1.
See Who's Qualified for Arena Championship 2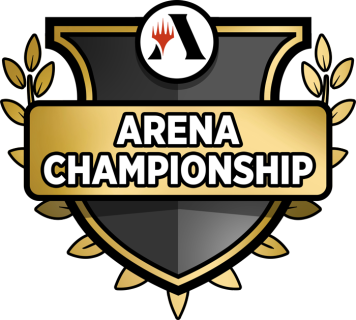 The December Qualifier Weekend has concluded, marking the end of qualifiers for the Arena Championship 2 that will be held this coming March. See who qualified in the latest standings!
Wastes Basic Land Fixed
The irregular behavior of Wastes in decks has been fixed.
Stay Connected over the Holidays
If you start missing us over the holidays, stop in and visit our socials! We'll have content to tide you over the break. On YouTube, we'll have draft walkthroughs and deck techs, and you'll find fun videos on our TikTok.
Plus, have you ever wondered what your Magic color really is? Check out MTG Arena's color quiz on you mobile device to find out the truth (and brag to your friends). Scan the QR code—or tap it if you're on your mobile device!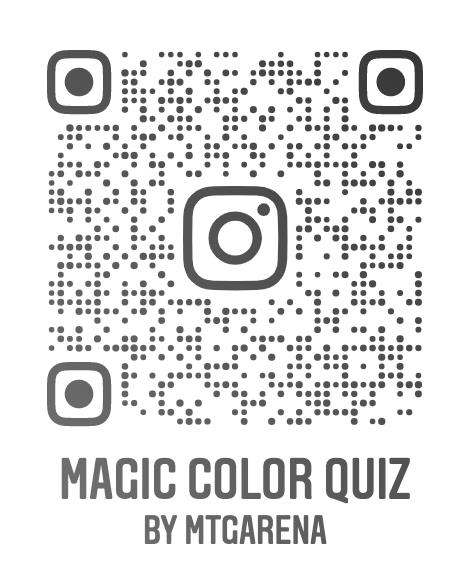 Event Schedule
Events open at 8 a.m. PT and close to new entries at 8 a.m. PT (UTC-08:00) on the dates shown unless otherwise noted.
Midweek Magic
Midweek Magic events open on Tuesdays at 8 a.m. PT and close to new entries on Thursdays at 8 a.m. PT (UTC-08:00).
December 20–22: Explorer
December 27–29: Happy Brawlidays All-Access Brawl
January 3–5: Historic Artisan
January 10–12: Alchemy All Access
Quick Draft
December 9–23: Streets of New Capenna
December 23–January 7: The Brothers' War
January 7–20: Dominaria United
Other Events
Premier Play Schedule
All times listed are Pacific time (UTC-08:00).
Qualifier Play-Ins
Qualifier Play-In events are single-day tournaments in which players compete to earn invitations to that month's Qualifier Weekend events.
January
Best-of-One Qualifier Play-In
January 7, 6 a.m. PT–January 8, 6 a.m. PT (UTC-08:00)
Best-of-Three Qualifier Play-In
January 13, 6 a.m. PT–January 14, 3 a.m. PT (UTC-08:00)
Qualifier Weekends
Qualifier Weekend events are two-day events in which eligible players compete for invitations to the Arena Championship 1 held in the fourth quarter of 2022.
Qualifier Weekend Day One and Day Two events open to entries at 6 a.m. PT and close to new entries at 8 a.m. PT (UTC-08:00) each day. You must enter within this 2-hour window—late entries cannot be accommodated.
January
Qualifier Weekend
January 14, 6 a.m. PT–January 16, 4 p.m. PT (UTC-08:00)

Format: Alchemy (Best-of-Three)
Arena Open
The Arena Open Day 1 entry window begins at 6 a.m. PT and closes to new entries the following day at 3 a.m. PT (UTC-08:00).  Day 2 entry window is 2 hours only, from 6 a.m. PT until 8 a.m. PT (UTC-08:00). 
Arena Open January 21–22 

Day 1, January 21: Kaldheim Sealed Best-of-One and Best-of-Three
All participants will receive the Memory Lapse sleeve:

Day 2, January 22: Kaldheim Player Draft 
There are two Player Draft events on Day 2.
Arena Championship 2
The Arena Championship is an invitation-only, two-day virtual event for players who earn invitations through Qualifier Weekend events.
December 2022 Ranked Season
The December 2022 Ranked Season begins November 30 at 12:05 p.m. PT and ends on December 31 at 12 p.m. PT (UTC-08:00).
Bronze Reward: 1 The Brothers' War pack
Silver Reward: 1 The Brothers' War pack + 500 gold
Gold Reward: 2 The Brothers' War packs + 1,000 gold + Monastery Swiftspear card style
Platinum Reward: 3 The Brothers' War packs + 1,000 gold Monastery Swiftspear card style + Simian Simulacrum card style
Diamond Reward: 4 The Brothers' War packs + 1,000 gold Monastery Swiftspear card style + Simian Simulacrum card style
Mythic Reward: 5 The Brothers' War packs + 1,000 gold Monastery Swiftspear card style + Simian Simulacrum card style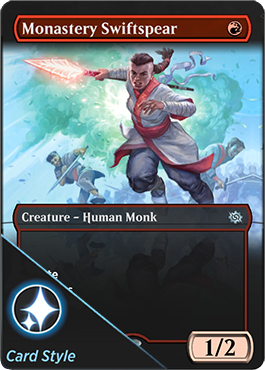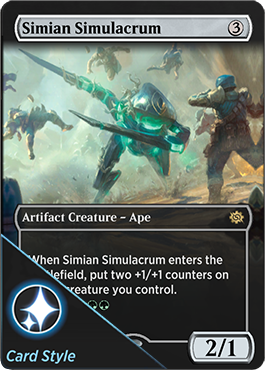 January 2023 Ranked Season
The January 2023 Ranked Season begins December 31 at 12:05 p.m. PT and ends on January 31 at 12 p.m. PT (UTC-08:00)
Bronze Reward: 1 The Brothers' War pack
Silver Reward: 1 The Brothers' War pack + 500 gold
Gold Reward: 2 The Brothers' War packs + 1,000 gold + Recruitment Officer card style
Platinum Reward: 3 The Brothers' War packs + 1,000 Gold + Recruitment Officer card style + Brotherhood's End card style
Diamond Reward: 4 The Brothers' War Packs + 1,000 Gold + Recruitment Officer card style + Brotherhood's End card style
Mythic Reward: 5 The Brothers' War Packs + 1,000 Gold + Recruitment Officer card style + Brotherhood's End card style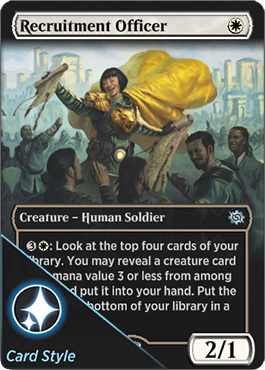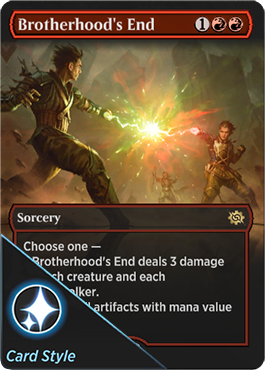 ---
Follow MTG Arena Social
Keep up with the latest MTG Arena news and announcements on: