MTG Arena Announcements – September 18, 2023
In this edition:
---
MTG Arena's Fifth Anniversary Celebration Continues!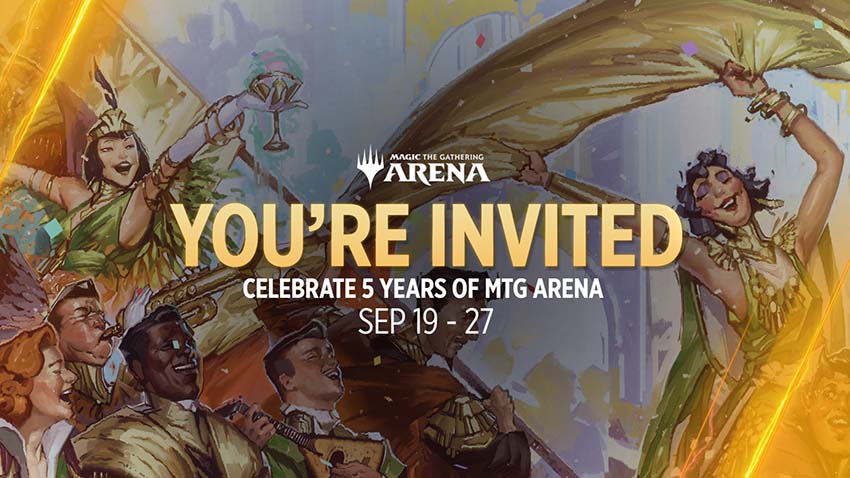 MTG Arena began open beta almost five years ago. Since then, Magic and MTG Arena have been through a lot of change and growth, and so have each one of us. Over the next week, we'll be sharing some of how MTG Arena has changed what we do and how we do it, but we would also love to hear from you, our community, on how MTG Arena might have affected your days, or maybe even a memorable story you have with us. Tag us on socials to tell us your story!
Chat with Jay Parker and Ian Adams Tomorrow
Stop by our Discord channel tomorrow, September 19, at 3:15 p.m. PT to chat with Director of Digital Game Design Jay Parker and Design Manager Ian Adams. Bring your burning questions about MTG Arena as we talk about what we are working on, what we are planning for the future, and what Jay and Ian's favorite colors are.
Get In-Game Rewards Starting Tomorrow
Beginning tomorrow, September 19, to help you get into the celebratory mood, look for goodies in your player inbox! Plus, on September 27 you'll find an extra special inbox message, do don't miss it!!
ICYMI: State of Formats and 2023 Rotation State of the Game

State of Formats

Jay Parker's State of Formats article offers a comprehensive look at formats in MTG Arena, including the Standard rotation change, a deep dive into specific formats, and what the future holds.

2023 Rotation State of the Game

We recap MTG Arena in 2023 in a new article, from in-game events and card set releases to outside-the-game articles and live events. We also examine how we did—from what worked to where we want to expand and improve. And finally, we'll look ahead to some of what's coming in the future.

MagicCon: Las Vegas Creator Arena Presented by IHOP
Are you attending MagicCon: Las Vegas this weekend? Make sure to stop by Creator Arena presented by IHOP! We will have many of your favorite Magic content creators, fully stocked MTG Arena accounts, and lots more casual Magic to play.
MagicCon: Las Vegas is also host to the Magic World Championship XXIX. More than 100 of the best players of Magic: The Gathering will contend for their piece of a $1 million prize pool and the opportunity to have their likeness featured on a future Magic! Use the Magic World Championship XXIX Viewer's Guide to keep up with the action!
Time Is Running Out to Claim Bonus XP During September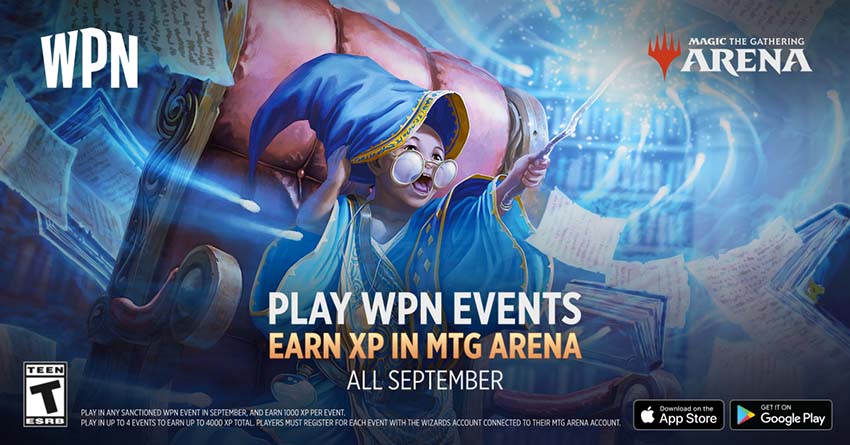 The end of September is in sight, but there's still time to claim 1,000 bonus XP for playing in Magic events at a local Wizards Play Network game stores! You can max out with 4,000 XP by playing in four events, too.
Just register and play in a Magic event at a WPN game store during September, and you'll score 1,000 XP. Play in more than one event, and you'll get an extra 1,000 XP, up to 4,000 total.
Get all the September bonus XP details!
EVENT SCHEDULE
Events open at 8 a.m. PT on their starting dates (excluding Midweek Magic) and close to entries at 8 a.m. PT (UTC-07:00) on the ending date shown unless otherwise noted.
MIDWEEK MAGIC
Midweek Magic events open on Tuesdays at 2 p.m. PT and close to new entries on Thursdays at 2 p.m. PT (UTC-07:00).
September 19–21: Explorer
September 26–28: The Brothers' War Bot Draft
October 4–6: On the Edge
October 10–12: Into the Future
October 17–19: Wilds of Eldraine Phantom Sealed
QUICK DRAFT
August 29–September 15: March of the Machine
September 15–26: Wilds of Eldraine
September 26–October 10: The Brothers' War
October 10–24: Wilds of Eldraine
OTHER EVENTS
September 5–29: Wilds of Eldraine Sealed
September 28–October 1: Dark Tutelage Alchemy
October 1–6: Season of Growth Standard
October 6–10: Gift Bag Historic
PREMIER PLAY SCHEDULE
All times listed are Pacific time (UTC-07:00).
QUALIFIER EVENTS
Qualifier Play-In events are single-day tournaments in which players compete to earn invitations to that month's Qualifier Weekend events.
Qualifier Weekend events are two-day events in which eligible players compete for invitations to upcoming Arena Championship events. Check out the standings to see who's qualified for Arena Championship 4.
Qualifier tokens are delivered to your MTG Arena inbox. Remember to claim them before the event starts!
SEPTEMBER
Qualifier Play-In (Best-of-One)
September 23, 6 a.m. PT–September 23, 6 a.m. PT

Format: Wilds of Eldraine Limited

Qualifier Play-In (Best-of-Three)
September 29, 6 a.m.–September 30, 3 a.m. PT

Format: Wilds of Eldraine Limited

Qualifier Weekend
September 30, 6 a.m. PT–October 1, 4 p.m. PT

Format: Wilds of Eldraine Limited
ARENA OPEN
The Arena Open Day One entry window begins at 6 a.m. PT and closes to new entries the following day at 3 a.m. PT (UTC-07:00). The Day Two entry window is 2 hours only, from 6 a.m. PT until 8 a.m. PT (UTC-07:00).
Arena Open: Wilds of Eldraine Limited

October 28: Day One, Wilds of Eldraine Sealed (Best-of-One and Best-of-Three)
October 29: Day Two, Wilds of Eldraine Draft (Best-of-Three)
ARENA CHAMPIONSHIP 4
The Arena Championship is an invitation-only, two-day virtual event for players who earn invitations through Qualifier Weekend events.
Arena Championship 4
October 7–8

Format: Historic and Wilds of Eldraine Draft (both Best-of-Three with sideboard)
September 2023 Ranked Season
The September 2023 Ranked Season begins August 31 at 12:05 p.m. PT and ends September 30 at 12 p.m. PT (UTC-07:00)
Bronze Reward: 1 Wilds of Eldraine pack
Silver Reward: 1 Wilds of Eldraine pack + 500 gold
Gold Reward: 2Wilds of Eldraine packs + 1,000 gold + Ego Drain card style
Platinum Reward: 3 Wilds of Eldraine packs + 1,000 gold + Ego Drain card style + Regal Bunnicorn card style
Diamond Reward: 4 Wilds of Eldraine packs + 1,000 gold + Ego Drain card style + Regal Bunnicorn card style
Mythic Reward: 5 Wilds of Eldraine packs + 1,000 gold + Ego Drain card style + Regal Bunnicorn card style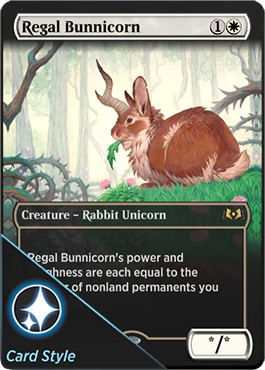 ---
Follow MTG Arena Social
Keep up with the latest MTG Arena news and announcements on: