What's New on The List for Commander Masters
With Commander Masters, we'll be bringing together some of Magic players' favorite legendary creatures, planeswalker cards, and more in one exciting product! To celebrate the love players have for Commander, we'll be updating The List to include even more cards to honor the wonderful history of Magic.
You can find cards from The List when opening Set Boosters. They appear about 25% of the time in the final card slot, and all rarities are represented, from common all the way up to mythic rare. You'll know these cards by the Planeswalker symbol located in the lower-left corner: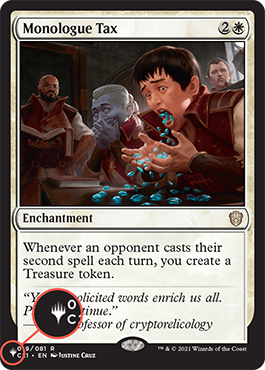 Cards on The List
Here are all the cards on The List, broken into groups: cards that have been added to The List, cards that have been removed since the previous set's release, and the complete list of all cards.
(Note: Card images may not match the version found in The List. See the set identifier in the right-hand column for the version included in The List.)
Cards added to The List

| Card Name | Set |
| --- | --- |
| Adeliz, the Cinder Wind | DOM |
| Alliance of Arms | CMD |
| Aminatou, the Fateshifter | 2X2 |
| Bladewing the Risen | IMA |
| Brain Weevil | DDJ |
| Bruenor Battlehammer | AFR |
| Burgeoning | STH |
| Chaos Warp | CMD |
| Cinder Elemental | M21 |
| Collective Voyage | CMD |
| Consume Spirit | DDC |
| Crystalline Crawler | C16 |
| Dina, Soul Steeper | STX |
| Dirtwater Wraith | MIR |
| Dreamborn Muse | LGN |
| Echo Mage | C13 |
| Elas il-Kor, Sadistic Pilgrim | DMU |
| Equilibrium | EXO |
| Eutropia the Twice-Favored | THB |
| Fallen Ideal | C15 |
| Flamekin Village | C14 |
| Flusterstorm | CMD |
| Forgotten Ancient | SCG |
| Furnace of Rath | TMP |
| Ghave, Guru of Spores | C16 |
| Giant Caterpillar | VIS |
| Gleeful Sabotage | SHM |
| Grumgully, the Generous | ELD |
| Hanna's Custody | TMP |
| Hidden Herd | USG |
| Hour of Reckoning | RAV |
| Initiate of Blood | CHK |
| Jace's Archivist | M12 |
| Kels, Fight Fixer | JMP |
| Knight Exemplar | DDG |
| Kor Spiritdancer | ROE |
| Leap | STH |
| Magmatic Force | CMD |
| Magus of the Vineyard | FUT |
| Maja, Bretagard Protector | KHM |
| Narfi, Betrayer King | KHM |
| Netherborn Altar | IKO |
| Nivix, Aerie of the Firemind | DDJ |
| Nomad Mythmaker | 10E |
| Oath of Lieges | EXO |
| Oppression | USG |
| Pariah | 10E |
| Prison Term | SHM |
| Rakdos Cackler | GK2 |
| Rift Bolt | TSP |
| Rix Maadi, Dungeon Palace | C19 |
| Rune of Protection: Lands | USG |
| Ryusei, the Falling Star | ARC |
| Sacred Mesa | MIR |
| Sadistic Augermage | DDM |
| Scalpelexis | 10E |
| Scavenging Ooze | CMD |
| Shocker | TMP |
| Spawnwrithe | CMD |
| Spined Fluke | USG |
| Storm Herd | GPT |
| Suntouched Myr | HOP |
| Taurean Mauler | MOR |
| Thespian's Stage | GTC |
| Thing from the Deep | POR |
| Throat Slitter | BOK |
| Tornado Elemental | 5DN |
| Tradewind Rider | TMP |
| Trench Gorger | CMD |
| Vega, the Watcher | KHM |
| Verdant Force | HOP |
| Vernal Bloom | USG |
| Warped Landscape | C18 |
| Whitemane Lion | C14 |
| Zombie Apocalypse | MID |
Cards removed from The List

| Card Name | Set |
| --- | --- |
| Ajani's Last Stand | M19 |
| Alpine Moon | M19 |
| Amber Prison | MIR |
| Argothian Elder | USG |
| Benalish Infantry | WTH |
| Blessed Reversal | ULG |
| Brightstone Ritual | ONS |
| Cast Down | DOM |
| Catastrophe | USG |
| Cavern Harpy | PLS |
| Chain of Smog | ONS |
| Citanul Hierophants | USG |
| Coalition Relic | FUT |
| Coalition Victory | TSB |
| Collective Restraint | INV |
| Colossus of Sardia | 10E |
| Contamination | USG |
| Crescendo of War | CMD |
| Crypt Rats | VIS |
| Dark Ritual | DDE |
| Dash Hopes | PLC |
| Death or Glory | INV |
| Desert | AFR |
| Dominaria's Judgment | PLS |
| Doomsday | WTH |
| Dromar's Cavern | PLS |
| Elephant Grass | VIS |
| Elvish Champion | INV |
| Ertai's Meddling | TMP |
| Eye of Yawgmoth | NEM |
| Gaea's Embrace | USG |
| Ghitu Fire | INV |
| Graceful Antelope | ODY |
| Helm of the Host | DOM |
| Hymn to Tourach | EMA |
| Imps' Taunt | TMP |
| Invasion Plans | STH |
| Jodah's Avenger | TSR |
| Legacy Weapon | APC |
| Magnigoth Treefolk | PLS |
| March of the Machines | MRD |
| Metathran Elite | UDS |
| Molder Slug | MRD |
| Obliterate | INV |
| Orim's Chant | PLS |
| Pandemonium | EXO |
| Phyrexian Colossus | USG |
| Planar Collapse | ULG |
| Powerstone Shard | DAR |
| Priest of Titania | C14 |
| Probe | INV |
| Prototype Portal | SOM |
| Retaliation | USG |
| Riftsweeper | MMA |
| Rout | INV |
| Scion of Draco | MH2 |
| Seahunter | NEM |
| Shifting Wall | STH |
| Skirk Fire Marshal | ONS |
| Sleeper Agent | 10E |
| Smokestack | USG |
| Stitch Together | JUD |
| Teferi's Veil | WTH |
| Tempting Wurm | ONS |
| Teremko Griffin | MIR |
| The Antiquities War | DOM |
| The Mending of Dominaria | DOM |
| Thopter Foundry | ARB |
| Thran Forge | WTH |
| Toymaker | MMQ |
| Viashino Heretic | ULG |
| Wall of Denial | ARB |
| Wall of Granite | POR |
| Whirlpool Warrior | APC |
All cards in The List

| Card Name | Set |
| --- | --- |
| Acidic Soil | USG |
| Anax and Cymede | THS |
| Archaeomancer's Map | STX |
| Archmage Emeritus | STX |
| Argentum Armor | AFR |
| Argivian Find | WTH |
| Argivian Restoration | DDF |
| Artillerize | NPH |
| Austere Command | LRW |
| Avenger of Zendikar | WWK |
| Balance of Power | POR |
| Bane of Progress | C15 |
| Beacon of Unrest | 2XM |
| Blightsteel Colossus | 2XM |
| Borborygmos Enraged | GTC |
| Brago's Representative | CNS |
| Brand | USG |
| Burning Inquiry | M10 |
| Capenna Express | SNC |
| Collector Ouphe | MH1 |
| Crumbling Colossus | M12 |
| Dark Suspicions | PLS |
| Detonate | MRD |
| Dig Up | VOW |
| Dragon Throne of Tarkir | KTK |
| Dragonlord Ojutai | DTK |
| Drinker of Sorrow | LGN |
| Eidolon of the Great Revel | JOU |
| Endless Obedience | M15 |
| Endoskeleton | USG |
| Energy Flux | MMQ |
| Etali, Primal Storm | RIX |
| Feldon of the Third Path | STX |
| Fist of Suns | C17 |
| Five-Alarm Fire | GTC |
| Gaea's Revenge | ORI |
| Game Plan | BBD |
| Geth's Grimoire | DST |
| Geth's Verdict | NPH |
| Ghalta, Primal Hunger | RIX |
| Gisa and Geralf | EMN |
| Glissa's Courier | MBS |
| Great Furnace | MRD |
| Grisly Transformation | BNG |
| Heliod, God of the Sun | THS |
| High Ground | 10E |
| High Market | MMQ |
| Hope of Ghirapur | AER |
| Hurkyl's Recall | MM2 |
| Ihsan's Shade | A25 |
| Implode | PLS |
| In the Web of War | BOK |
| Incubation // Incongruity | RNA |
| Interplanar Beacon | WAR |
| Invasive Surgery | SOI |
| Ixalan's Binding | XLN |
| Kalamax, the Stormsire | C20 |
| Kaldra Compleat | MH2 |
| Kemba's Legion | MBS |
| Ketria Triome | IKO |
| Laboratory Maniac | ISD |
| Lantern of Insight | 5DN |
| Leonin Arbiter | C17 |
| Linden, the Steadfast Queen | ELD |
| Lose Hope | 5DN |
| Mana Geyser | 5DN |
| Mass Polymorph | M11 |
| Mechanized Production | AER |
| Melira's Keepers | MBS |
| Memorial to Genius | DAR |
| Mercadia's Downfall | MMQ |
| Mina and Denn, Wildborn | OGW |
| Mirrodin Besieged | MH1 |
| Mishra's Factory | MH2 |
| Mishra's Helix | USG |
| Mishra's Self-Replicator | DOM |
| Muraganda Petroglyphs | FUT |
| Mycosynth Lattice | BBD |
| Nashi, Moon Sage's Scion | NEO |
| Needle Specter | EVE |
| Nihil Spellbomb | SOM |
| Okina, Temple to the Grandfathers | CHK |
| Opportunity | ULG |
| Order of Yawgmoth | DDE |
| Path to the World Tree | KHM |
| Pentavus | C14 |
| Phyrexian Crusader | MBS |
| Phyrexian Delver | C13 |
| Phyrexian Etchings | CSP |
| Phyrexian Infiltrator | INV |
| Phyrexian Vatmother | MBS |
| Pia and Kiran Nalaar | ORI |
| Planar Portal | INV |
| Planeswalker's Fury | PLS |
| Pledge of Loyalty | INV |
| Polukranos, World Eater | THS |
| Power Armor | INV |
| Powerstone Minefield | APC |
| Praetor's Counsel | C14 |
| Priest of Gix | DDE |
| Priests of Norn | MBS |
| Primal Cocoon | M11 |
| Pulse of the Grid | DST |
| Rain of Daggers | P02 |
| Ravnica at War | WAR |
| Reaper of Sheoldred | NPH |
| Reduce /// Rubble | AKH |
| Regathan Firecat | M14 |
| Reshape | DST |
| Rite of Replication | ZEN |
| Rooftop Storm | ISD |
| Rout | STX |
| Ruthless Invasion | NPH |
| Sabertooth Cobra | MIR |
| Sarulf, Realm Eater | KHM |
| Scorched Earth | TMP |
| Sea of Clouds | BBD |
| Segovian Angel | MH1 |
| Shared Fate | MRD |
| Shatterstorm | 10E |
| Siege of Towers | GPT |
| Siege Zombie | DBL |
| Slag Fiend | NPH |
| Soul of New Phyrexia | M15 |
| Soul of Shandalar | M15 |
| Sprout Swarm | FUT |
| Stormscape Battlemage | PLS |
| Survival Cache | IMA |
| Sword of Feast and Famine | 2XM |
| Sword of War and Peace | 2XM |
| The Great Aurora | ORI |
| The World Tree | KHM |
| Thran Quarry | USG |
| Thran War Machine | ULG |
| Time Stretch | ODY |
| Toxic Iguanar | CON |
| True-Name Nemesis | C13 |
| Unmask | MMQ |
| Verdurous Gearhulk | KLD |
| Vile Requiem | C13 |
| Virulent Sliver | FUT |
| Vryn Wingmare | M21 |
| Wake of Destruction | UDS |
| Witch Engine | USG |
| Words of War | ONS |
| World at War | ROE |
| Yawgmoth's Agenda | INV |
| Yotian Soldier | BBD |
| Zhalfirin Void | DAR |
| Æther Snap | DST |
| All That Glitters | ELD |
| Ancestral Memories | POR |
| Ancient Spider | PLS |
| Angelheart Vial | ROE |
| Arcane Melee | C13 |
| Baird, Steward of Argive | DAR |
| Barrow Ghoul | WTH |
| Barrow Witches | ELD |
| Battleflight Eagle | M13 |
| Battlewand Oak | LRW |
| Blossom Prancer | NEO |
| Bog Wraith | M10 |
| Budoka Gardener | CHK |
| Commandeer | CSP |
| Counterlash | DKA |
| Courage in Crisis | WAR |
| Court of Grace | CMR |
| Crush the Weak | KHM |
| Darien, King of Kjeldor | CSP |
| Dauntless Dourbark | LRW |
| Denying Wind | PCY |
| Dolmen Gate | LRW |
| Doom Cannon | ONS |
| Doomed Traveler | 2X2 |
| Doomsday Specter | PLS |
| Dwarven Bloodboiler | JUD |
| Dwarven Grunt | ODY |
| Dwarven Miner | MIR |
| Earnest Fellowship | ODY |
| Elven Palisade | EXO |
| Elven Warhounds | TMP |
| Empyrean Eagle | M20 |
| Evil Eye of Urborg | TSP |
| Exhaustion | POR |
| Eye of Doom | C13 |
| Far Traveler | CLB |
| Forbidding Watchtower | 10E |
| Forebear's Blade | DAR |
| Fortifying Provisions | ELD |
| Gather Courage | M15 |
| Generous Gift | MH1 |
| Ghastlord of Fugue | SHM |
| Glittering Stockpile | SNC |
| Gluttonous Troll | STX |
| Grim Strider | AKH |
| Hoarding Dragon | IMA |
| Jared Carthalion, True Heir | CMR |
| Jinxed Ring | STH |
| Kenrith, the Returned King | ELD |
| Knight Exemplar | M11 |
| Knight-Captain of Eos | ALA |
| Leaf-Crowned Elder | MOR |
| Mindlock Orb | ALA |
| Miner's Bane | M15 |
| Murasa Ranger | BFZ |
| Nemata, Grove Guardian | PLS |
| Oaken Brawler | LRW |
| Oath of Scholars | EXO |
| Old Ghastbark | SHM |
| Orc Sureshot | FRF |
| Orcish Artillery | 10E |
| Pitiless Horde | DTK |
| Rakdos Riteknife | DIS |
| Rayne, Academy Chancellor | UDS |
| Reforge the Soul | AVR |
| Ring of Three Wishes | M14 |
| Stormwatch Eagle | PCY |
| Stroke of Genius | USG |
| Sword of Vengeance | M11 |
| Tolsimir, Friend to Wolves | WAR |
| Tower of Calamities | SOM |
| Tower of Fortunes | MRD |
| Traveler's Cloak | CNS |
| Unstoppable Ash | MOR |
| Wheel of Torture | ULG |
| Adeliz, the Cinder Wind | DAR |
| Alliance of Arms | CMD |
| Aminatou, the Fateshifter | 2X2 |
| Bladewing the Risen | IMA |
| Brain Weevil | DDJ |
| Bruenor Battlehammer | AFR |
| Burgeoning | STH |
| Chaos Warp | CMD |
| Cinder Elemental | M21 |
| Collective Voyage | CMD |
| Consume Spirit | DDC |
| Crystalline Crawler | C16 |
| Dina, Soul Steeper | STX |
| Dirtwater Wraith | MIR |
| Dreamborn Muse | LGN |
| Echo Mage | C13 |
| Elas il-Kor, Sadistic Pilgrim | DMU |
| Equilibrium | EXO |
| Eutropia the Twice-Favored | THB |
| Fallen Ideal | C15 |
| Flamekin Village | C14 |
| Flusterstorm | CMD |
| Forgotten Ancient | SCG |
| Furnace of Rath | TMP |
| Ghave, Guru of Spores | C16 |
| Giant Caterpillar | VIS |
| Gleeful Sabotage | SHM |
| Grumgully, the Generous | ELD |
| Hanna's Custody | TMP |
| Hidden Herd | USG |
| Hour of Reckoning | RAV |
| Initiate of Blood | CHK |
| Jace's Archivist | M12 |
| Kels, Fight Fixer | M21 |
| Knight Exemplar | DDG |
| Kor Spiritdancer | ROE |
| Leap | STH |
| Magmatic Force | CMD |
| Magus of the Vineyard | FUT |
| Maja, Bretagard Protector | KHM |
| Narfi, Betrayer King | KHM |
| Netherborn Altar | IKO |
| Nivix, Aerie of the Firemind | DDJ |
| Nomad Mythmaker | 10E |
| Oath of Lieges | EXO |
| Oppression | USG |
| Pariah | 10E |
| Prison Term | SHM |
| Rakdos Cackler | GK2 |
| Rift Bolt | TSP |
| Rix Maadi, Dungeon Palace | C19 |
| Rune of Protection: Lands | USG |
| Ryusei, the Falling Star | ARC |
| Sacred Mesa | MIR |
| Sadistic Augermage | DDM |
| Scalpelexis | 10E |
| Scavenging Ooze | CMD |
| Shocker | TMP |
| Spawnwrithe | CMD |
| Spined Fluke | USG |
| Storm Herd | GPT |
| Suntouched Myr | HOP |
| Taurean Mauler | MOR |
| Thespian's Stage | GTC |
| Thing from the Deep | POR |
| Throat Slitter | BOK |
| Tornado Elemental | 5DN |
| Tradewind Rider | TMP |
| Trench Gorger | CMD |
| Vega, the Watcher | KHM |
| Verdant Force | HOP |
| Vernal Bloom | USG |
| Warped Landscape | C18 |
| Whitemane Lion | C14 |
| Zombie Apocalypse | MID |

Check out The List for past sets:
We use necessary cookies to allow our site to function correctly and collect anonymous session data. Necessary cookies can be opted out through your browser settings. We also use optional cookies to personalize content and ads, provide social media features and analyze web traffic. By clicking "OK, I agree," you consent to optional cookies. (
Learn more about cookies
)