What's New on The List for March of the Machine
The corrupting reach of the Phyrexians is now multiversal, penetrating planes both familiar and unknown. So, The List for March of the Machine likewise reaches across time and the Multiverse to collect 300 cards from Magic's history that fit with the set's mechanics, as well as its narrative, themes, and characters.
The List includes past printings of legendary creatures you'll find in March of the Machine, offering perspective on just how much the Phyrexians are changing all of Magic!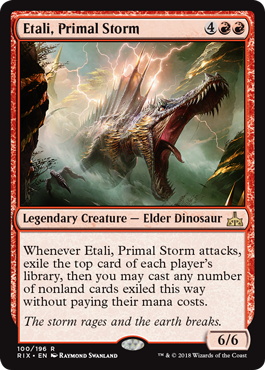 Etali, Primal Storm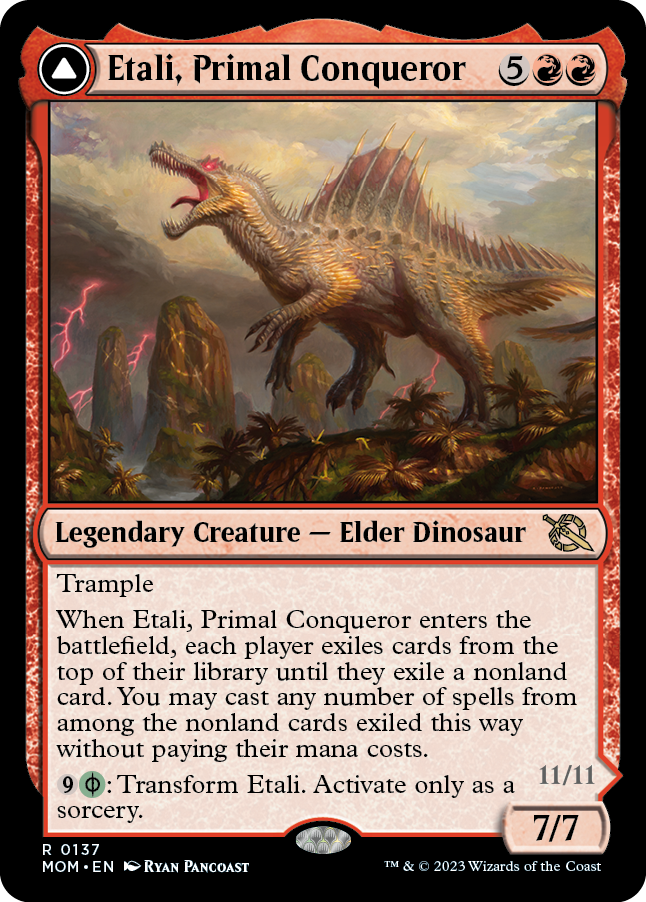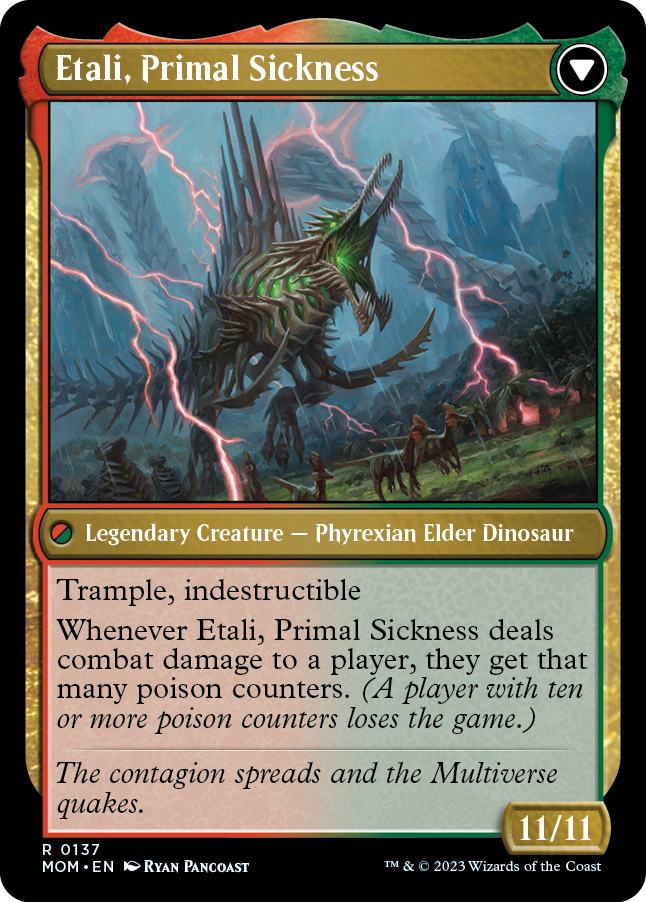 Etali, Primal Conqueror //
Etali, Primal Sickness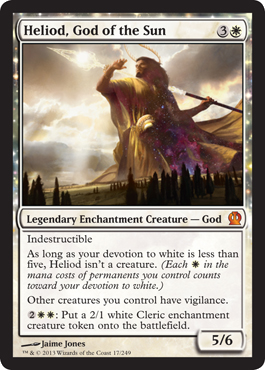 Heliod, God of the Sun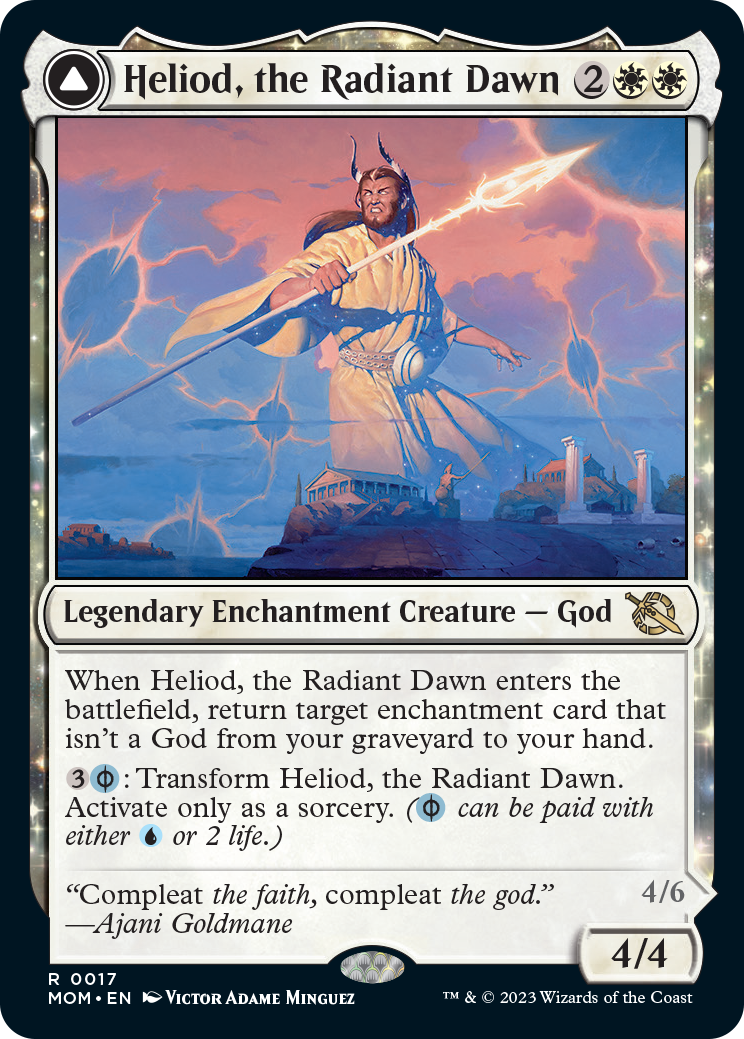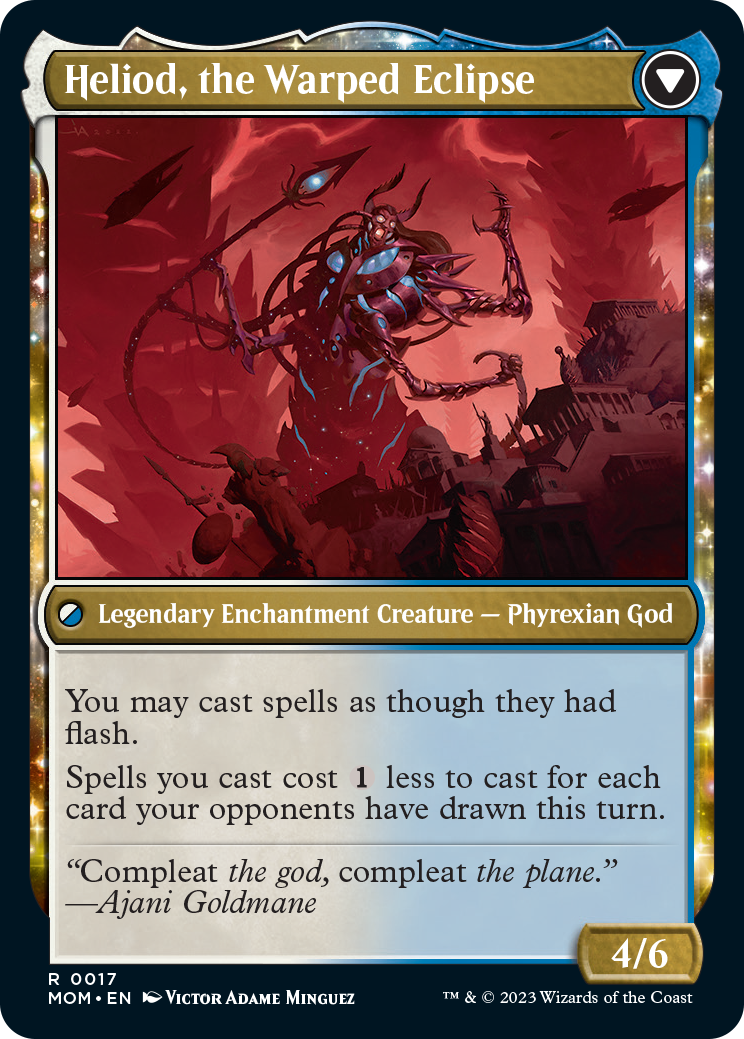 Heliod, the Radiant //
Heliod, the Warped Eclipse
Finding and Identifying Cards from The List
Cards from The List can be found in Set Boosters, appearing about 25% of the time in the final card slot. All rarities are represented, from common all the way up to mythic rare. A card's presence in The List does not make it legal in the Standard format, however; these cards are legal in whatever formats they are normally legal.
You can identify a card from The List by looking for the Planeswalker symbol in the lower left corner of the card, similar to Mystery Booster cards: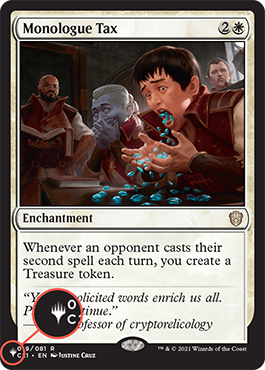 Below you'll find the cards that have been added to The List, and those that are dropping off to make room for the new additions. Finally, you'll also find a complete list of all the cards currently on The List.
(Note: Card images may not match the version found in The List. See the set identifier in the right-hand column for the version included in The List.)
Cards added to The List

| Card Name | Set |
| --- | --- |
| Aether Snap | DST |
| Anax and Cymede | THS |
| Archmage Emeritus | STX |
| Austere Command | LRW |
| Avenger of Zendikar | WWK |
| Balance of Power | POR |
| Borborygmos Enraged | GTC |
| Brago's Representative | CNS |
| Capenna Express | SNC |
| Dig Up | VOW |
| Dragon Throne of Tarkir | KTK |
| Dragonlord Ojutai | DTK |
| Drinker of Sorrow | LGN |
| Eidolon of the Great Revel | JOU |
| Endless Obedience | M15 |
| Etali, Primal Storm | RIX |
| Five-Alarm Fire | GTC |
| Ghalta, Primal Hunger | RIX |
| Gisa and Geralf | EMN |
| Heliod, God of the Sun | THS |
| High Market | MMQ |
| Hope of Ghirapur | AER |
| Ihsan's Shade | A25 |
| Incubation // Incongruity | RNA |
| Invasive Surgery | SOI |
| Ixalan's Binding | XLN |
| Kalamax, the Stormsire | IKO |
| Ketria Triome | IKO |
| Laboratory Maniac | ISD |
| Linden, the Steadfast Queen | ELD |
| Mass Polymorph | M11 |
| Mercadia's Downfall | MMQ |
| Mina and Denn, Wildborn | OGW |
| Muraganda Petroglyphs | FUT |
| Nashi, Moon Sage's Scion | NEO |
| Needle Specter | EVE |
| Okina, Temple to the Grandfathers | CHK |
| Path to the World Tree | KHM |
| Phyrexian Crusader | MBS |
| Phyrexian Delver | C13 |
| Phyrexian Etchings | CSP |
| Phyrexian Infiltrator | INV |
| Phyrexian Vatmother | MBS |
| Pia and Kiran Nalaar | ORI |
| Planar Portal | INV |
| Planeswalker's Fury | PLS |
| Polukranos, World Eater | THS |
| Primal Cocoon | M11 |
| Pulse of the Grid | DST |
| Rain of Daggers | P02 |
| Ravnica at War | WAR |
| Reduce // Rubble | AKH |
| Regathan Firecat | M14 |
| Reshape | DST |
| Rite of Replication | ZEN |
| Rooftop Storm | ISD |
| Ruthless Invasion | NPH |
| Sarulf, Realm Eater | KHM |
| Scorched Earth | TMP |
| Sea of Clouds | BBD |
| Segovian Angel | MH1 |
| Shared Fate | MRD |
| Siege of Towers | GPT |
| Siege Zombie | DBL |
| Slag Fiend | NPH |
| Soul of Shandalar | M15 |
| Sprout Swarm | FUT |
| Stormscape Battlemage | PLS |
| The Great Aurora | ORI |
| The World Tree | KHM |
| Time Stretch | ODY |
| True-Name Nemesis | C13 |
| Unmask | MMQ |
| Vryn Wingmare | M21 |
| Zhalfirin Void | DAR |
Cards removed from The List

| Card Name | Set |
| --- | --- |
| Aboshan, Cephalid Emperor | ODY |
| Aisha of Sparks and Smoke | SLX |
| Ajani, Strength of the Pride | M20 |
| Archway Angel | RNA |
| Baldin, Century Herdmaster | SLX |
| Braids, Conjurer Adept | PLC |
| Bucknard's Everfull Purse | AFR |
| Cloud Dragon | POR |
| Component Pouch | AFR |
| Dragon's Rage Channeler | MH2 |
| Edgewall Innkeeper | ELD |
| Empress Galina | INV |
| Endrek Sahr, Master Breeder | TSP |
| Ertai, the Corrupted | PLS |
| Ezuri, Renegade Leader | C14 |
| Fifty Feet of Rope | AFR |
| Forging the Tyrite Sword | KHM |
| Ghost of Ramirez DePietro | CMR |
| Gitaxian Probe | NPH |
| Heartless Hidetsugu | CNS |
| Immard, the Stormcleaver | SLX |
| Ink-Eyes, Servant of Oni | BOK |
| Invade the City | WAR |
| Jaya Ballard, Task Mage | TSP |
| Jedit Ojanen of Efrava | PLC |
| Jhoira of the Ghitu | FUT |
| Jin-Gitaxias, Core Augur | NPH |
| K'rrik, Son of Yawgmoth | C19 |
| Kaito Shizuki | NEO |
| Kangee, Aerie Keeper | INV |
| Karn Liberated | NPH |
| Kataki, War's Wage | SOK |
| Kaya, Orzhov Usurper | RNA |
| Kederekt Parasite | CON |
| Kiki-Jiki, Mirror Breaker | CHK |
| Krydle of Baldur's Gate | AFR |
| Lathliss, Dragon Queen | GN2 |
| Leather Armor | AFR |
| Linvala, Shield of Sea Gate | ZNR |
| Lolth, Spider Queen | AFR |
| Lovisa Coldeyes | CSP |
| Lucky Clover | ELD |
| Maarika, Brutal Gladiator | SLX |
| Magic Missile | AFR |
| Maze's End | DGM |
| Michiko Konda, Truth Seeker | SOK |
| Mimic | AFR |
| Minsc, Beloved Ranger | AFR |
| Mishra, Artificer Prodigy | TSP |
| Old Gnawbone | AFR |
| Pitiless Plunderer | RIX |
| Prossh, Skyraider of Kher | A25 |
| Quest for the Nihil Stone | WWK |
| Quicksilver Dragon | ONS |
| Repay in Kind | ROE |
| Rune-Tail, Kitsune Ascendant | SOK |
| Serendib Sorcerer | PLC |
| Seshiro the Anointed | CHK |
| Sheoldred, Whispering One | NPH |
| Silvos, Rogue Elemental | ONS |
| Slobad, Goblin Tinkerer | C16 |
| Spoils of Adventure | ZNR |
| Starke of Rath | TMP |
| Sword of the Chosen | STH |
| Tadeas, Juniper Ascendant | SLX |
| Tawnos, Urza's Apprentice | C18 |
| Tevesh Szat, Doom of Fools | CMR |
| The Howling Abomination | SLX |
| The Wanderer | WAR |
| Tiamat | AFR |
| Titania, Protector of Argoth | MH2 |
| Tourach, Dread Cantor | MH2 |
| Tsabo Tavoc | INV |
| Tyvar Kell | KHM |
| Underdark Rift | AFR |
| Vaevictis Asmadi, the Dire | M19 |
| Venser, Shaper Savant | TSR |
| Vikya, Scorching Stalwart | SLX |
| Volrath's Dungeon | EXO |
| Wizard Class | AFR |
| Worldgorger Dragon | JUD |
| Xantcha, Sleeper Agent | C18 |
| Zethi, Arcane Blademaster | SLX |
All cards in The List

| Card Name | Set |
| --- | --- |
| Acidic Soil | USG |
| Aether Snap | DST |
| Ajani's Last Stand | M19 |
| Alabaster Dragon | POR |
| Alpine Moon | M19 |
| Amber Prison | MIR |
| Anax and Cymede | THS |
| Archaeomancer's Map | STX |
| Archmage Emeritus | STX |
| Argentum Armor | AFR |
| Argivian Find | WTH |
| Argivian Restoration | DDF |
| Argothian Elder | USG |
| Artillerize | NPH |
| Aura Thief | UDS |
| Austere Command | LRW |
| Avenger of Zendikar | WWK |
| Balance of Power | POR |
| Bane of Progress | C15 |
| Barbarian Ring | ODY |
| Batterskull | NPH |
| Beacon of Unrest | 2XM |
| Bedlam | USG |
| Benalish Infantry | WTH |
| Blazing Shoal | BOK |
| Blessed Reversal | ULG |
| Blightsteel Colossus | 2XM |
| Borborygmos Enraged | GTC |
| Brago's Representative | CNS |
| Brand | USG |
| Brightstone Ritual | ONS |
| Broodbirth Viper | C15 |
| Burning Inquiry | M10 |
| Capenna Express | SNC |
| Cast Down | DAR |
| Catastrophe | USG |
| Cavern Harpy | PLS |
| Chain of Smog | ONS |
| Citanul Hierophants | USG |
| Clockwork Dragon | MRD |
| Clutch of the Undercity | RAV |
| Coalition Relic | FUT |
| Coalition Victory | TSB |
| Collective Restraint | INV |
| Collector Ouphe | MH1 |
| Colossus of Sardia | 10E |
| Contamination | USG |
| Crescendo of War | CMD |
| Crumbling Colossus | M12 |
| Crypt Rats | VIS |
| Curse of Echoes | DKA |
| Dark Ritual | DDE |
| Dark Suspicions | PLS |
| Dash Hopes | PLC |
| Death or Glory | INV |
| Demon of Death's Gate | M11 |
| Desert | AFR |
| Detonate | MRD |
| Devoted Druid | UMA |
| Dig Up | VOW |
| Dominaria's Judgment | PLS |
| Doomsday | WTH |
| Dragon Throne of Tarkir | KTK |
| Dragon's Approach | STX |
| Dragonlord Ojutai | DTK |
| Drinker of Sorrow | LGN |
| Dromar's Cavern | PLS |
| Druid's Call | ODY |
| Due Respect | NPH |
| Eidolon of Blossoms | JOU |
| Eidolon of the Great Revel | JOU |
| Elephant Grass | VIS |
| Elvish Champion | INV |
| Endless Obedience | M15 |
| Endless Wurm | USG |
| Endoskeleton | USG |
| Energy Flux | MMQ |
| Ertai's Meddling | TMP |
| Etali, Primal Storm | RIX |
| Eye of Yawgmoth | NEM |
| Fall of the Thran | DAR |
| Feldon of the Third Path | STX |
| Final Judgment | BOK |
| Fist of Suns | C17 |
| Five-Alarm Fire | GTC |
| Force of Savagery | FUT |
| Force of Vigor | MH1 |
| Forsaken City | PLS |
| Fountain Watch | MMQ |
| Gaea's Embrace | USG |
| Gaea's Revenge | ORI |
| Game Plan | BBD |
| Geth's Grimoire | DST |
| Geth's Verdict | NPH |
| Ghalta, Primal Hunger | RIX |
| Ghitu Fire | INV |
| Ghostway | GPT |
| Gilt-Leaf Archdruid | MOR |
| Gisa and Geralf | EMN |
| Glacian, Powerstone Engineer | CMR |
| Glissa's Courier | MBS |
| Goldspan Dragon | KHM |
| Graceful Antelope | ODY |
| Great Furnace | MRD |
| Grisly Transformation | BNG |
| Hall of the Bandit Lord | CHK |
| Heliod, God of the Sun | THS |
| Helm of the Host | DAR |
| High Ground | 10E |
| High Market | MMQ |
| Hope of Ghirapur | AER |
| Hurkyl's Recall | MM2 |
| Hymn to Tourach | EMA |
| Ihsan's Shade | A25 |
| Implode | PLS |
| Imps' Taunt | TMP |
| In the Web of War | BOK |
| Incubation // Incongruity | RNA |
| Interplanar Beacon | WAR |
| Invasion Plans | STH |
| Invasive Surgery | SOI |
| Ixalan's Binding | XLN |
| Jodah's Avenger | TSR |
| Kalamax, the Stormsire | IKO |
| Kaldra Compleat | MH2 |
| Kemba's Legion | MBS |
| Ketria Triome | IKO |
| Kite Shield | M12 |
| Laboratory Maniac | ISD |
| Lantern of Insight | 5DN |
| Lavaborn Muse | DDK |
| Legacy Weapon | APC |
| Leonin Arbiter | C17 |
| Linden, the Steadfast Queen | ELD |
| Lose Hope | 5DN |
| Loxodon Gatekeeper | RAV |
| Magnigoth Treefolk | PLS |
| Mana Geyser | 5DN |
| March of the Machines | MRD |
| Mass Polymorph | M11 |
| Mechanized Production | AER |
| Melira's Keepers | MBS |
| Memorial to Genius | DAR |
| Mercadia's Downfall | MMQ |
| Metathran Elite | UDS |
| Mina and Denn, Wildborn | OGW |
| Mirrodin Besieged | MH1 |
| Mirror Gallery | BOK |
| Mishra's Factory | MH2 |
| Mishra's Helix | USG |
| Mishra's Self-Replicator | DAR |
| Molder Slug | MRD |
| Mouth of Ronom | CSP |
| Muraganda Petroglyphs | FUT |
| Mycosynth Lattice | BBD |
| Nashi, Moon Sage's Scion | NEO |
| Needle Specter | EVE |
| Nihil Spellbomb | SOM |
| Nova Cleric | ONS |
| Obliterate | INV |
| Okina, Temple to the Grandfathers | CHK |
| Ominous Seas | IKO |
| Opal Lake Gatekeepers | DGM |
| Opportunity | ULG |
| Order of Yawgmoth | DDE |
| Orim's Chant | PLS |
| Paladin en-Vec | 10E |
| Pandemonium | EXO |
| Pariah's Shield | RAV |
| Path to the World Tree | KHM |
| Pentarch Paladin | TSP |
| Pentavus | C14 |
| Phyresis | MBS |
| Phyrexian Altar | UMA |
| Phyrexian Battleflies | INV |
| Phyrexian Colossus | USG |
| Phyrexian Crusader | MBS |
| Phyrexian Delver | C13 |
| Phyrexian Etchings | CSP |
| Phyrexian Furnace | WTH |
| Phyrexian Infiltrator | INV |
| Phyrexian Monitor | UDS |
| Phyrexian Prowler | NEM |
| Phyrexian Scriptures | DAR |
| Phyrexian Snowcrusher | CSP |
| Phyrexian Splicer | TMP |
| Phyrexian Triniform | CMR |
| Phyrexian Vatmother | MBS |
| Phyrexian Vault | MIR |
| Phyrexian Walker | VIS |
| Pia and Kiran Nalaar | ORI |
| Pillaging Horde | POR |
| Planar Collapse | ULG |
| Planar Portal | INV |
| Planeswalker's Fury | PLS |
| Plea for Power | CNS |
| Pledge of Loyalty | INV |
| Polukranos, World Eater | THS |
| Power Armor | INV |
| Powerstone Minefield | APC |
| Powerstone Shard | DAR |
| Praetor's Counsel | C14 |
| Priest of Gix | DDE |
| Priest of Titania | C14 |
| Priests of Norn | MBS |
| Primal Cocoon | M11 |
| Probe | INV |
| Prototype Portal | SOM |
| Pulse of the Grid | DST |
| Puresteel Paladin | NPH |
| Pyroclasm | POR |
| Rain of Daggers | P02 |
| Ranger of Eos | ALA |
| Ravnica at War | WAR |
| Reaper of Sheoldred | NPH |
| Reclamation Sage | TSR |
| Reduce /// Rubble | AKH |
| Regathan Firecat | M14 |
| Reshape | DST |
| Retaliation | USG |
| Riftsweeper | MMA |
| Risen Reef | M20 |
| Rite of Replication | ZEN |
| Rooftop Storm | ISD |
| Rout | STX |
| Rout | INV |
| Ruthless Invasion | NPH |
| Sabertooth Cobra | MIR |
| Saheeli Rai | KLD |
| Sarulf, Realm Eater | KHM |
| Scion of Draco | MH2 |
| Scorched Earth | TMP |
| Scryb Ranger | TSP |
| Sea Gate Oracle | KHM |
| Sea of Clouds | BBD |
| Seahunter | NEM |
| Search the City | RTR |
| Segovian Angel | MH1 |
| Shared Fate | MRD |
| Shatterstorm | 10E |
| Shield of the Oversoul | SHM |
| Shifting Wall | STH |
| Siege of Towers | GPT |
| Siege Zombie | DBL |
| Skirk Fire Marshal | ONS |
| Slag Fiend | NPH |
| Sleeper Agent | 10E |
| Smokestack | USG |
| Soul of New Phyrexia | M15 |
| Soul of Shandalar | M15 |
| Spectral Force | TSP |
| Spirit of the Labyrinth | BNG |
| Sprout Swarm | FUT |
| Stitch Together | JUD |
| Stormscape Battlemage | PLS |
| Sunder | USG |
| Survival Cache | IMA |
| Sword of Feast and Famine | 2XM |
| Sword of War and Peace | 2XM |
| Teferi's Veil | WTH |
| Tempting Wurm | ONS |
| Teremko Griffin | MIR |
| The Antiquities War | DAR |
| The Great Aurora | ORI |
| The Mending of Dominaria | DAR |
| The World Tree | KHM |
| Thopter Foundry | ARB |
| Thousand-Year Elixir | LRW |
| Thran Forge | WTH |
| Thran Quarry | USG |
| Thran War Machine | ULG |
| Thundering Sparkmage | ZNR |
| Time Stretch | ODY |
| Tireless Provisioner | MH2 |
| Toxic Iguanar | CON |
| Toymaker | MMQ |
| Treasure Hunter | 10E |
| True-Name Nemesis | C13 |
| Umezawa's Jitte | BOK |
| Unmask | MMQ |
| Urza's Armor | USG |
| Urza's Factory | TSR |
| Urza's Saga | MH2 |
| Verdurous Gearhulk | KLD |
| Viashino Heretic | ULG |
| Vile Requiem | C13 |
| Virulent Sliver | FUT |
| Vryn Wingmare | M21 |
| Wake of Destruction | UDS |
| Wall of Denial | ARB |
| Wall of Granite | POR |
| Whirlpool Warrior | APC |
| Witch Engine | USG |
| Wizard's Retort | DAR |
| Words of War | ONS |
| World at War | ROE |
| Yavimaya Barbarian | INV |
| Yawgmoth's Agenda | INV |
| Yotian Soldier | BBD |
| Zhalfirin Void | DAR |
---
Check out The List for past sets: