What's New on The List for Wilds of Eldraine
With the release of Wilds of Eldraine on the horizon, we're celebrating with an update to The List: a collection of some of the highlights from Magic's 30-year history that can be found in Set Boosters.
You can find cards from The List when opening Set Boosters. They appear about 25% of the time in the final card slot, and all rarities are represented, from common all the way up to mythic rare. You'll know these cards by the Planeswalker symbol located in the lower-left corner: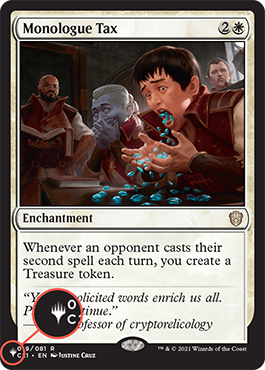 Cards from The List will be legal in any formats they were already legal in, same as the cards from Wilds of Eldraine's Enchanting Tales.
In addition, when a card from The List drops, slightly less than 5% of the time it will instead be a Universes Within version of a card from Secret Lair X The Walking Dead. These cards appear exclusively as part of The List and only appear in English. Check out this group of zombie hunters!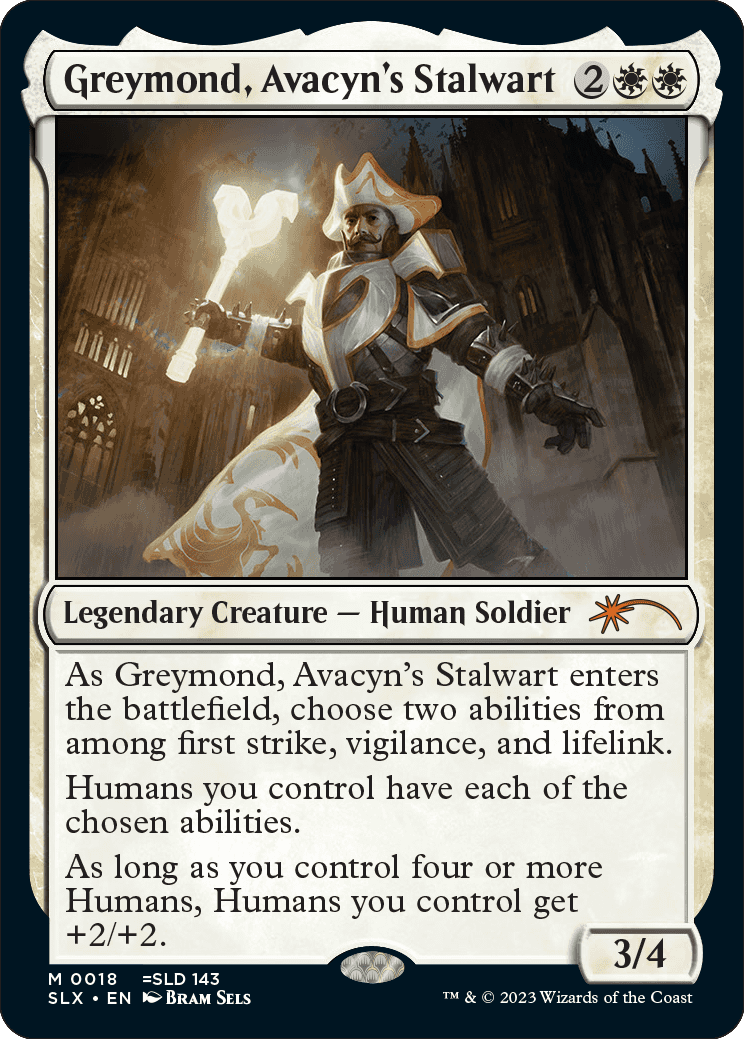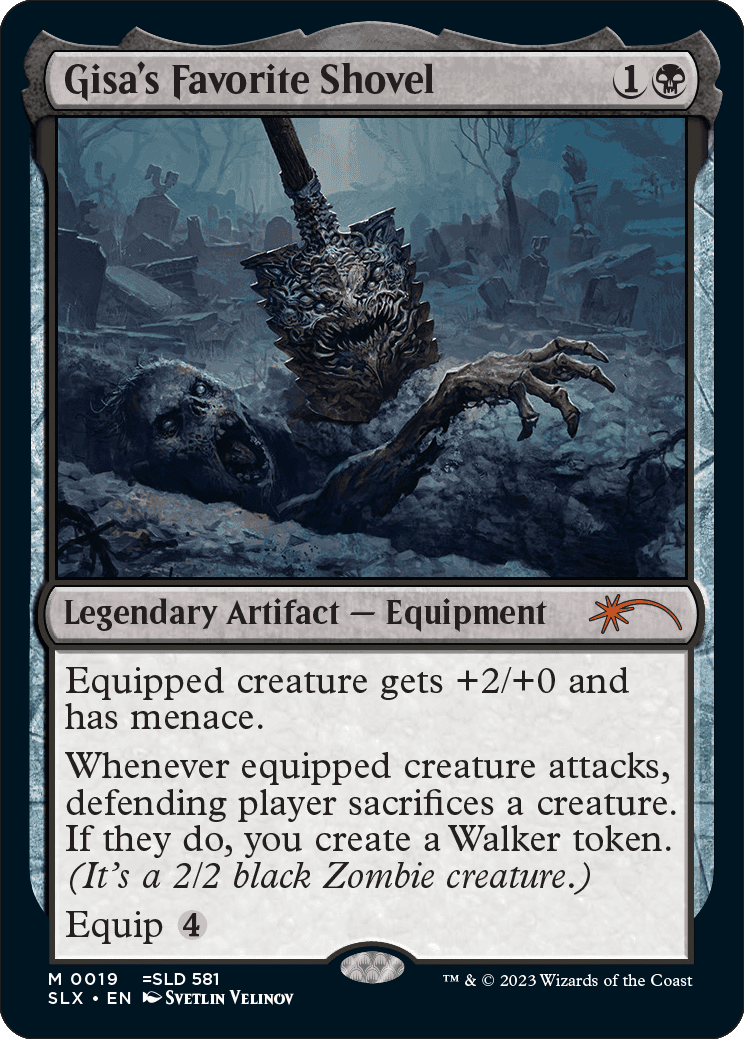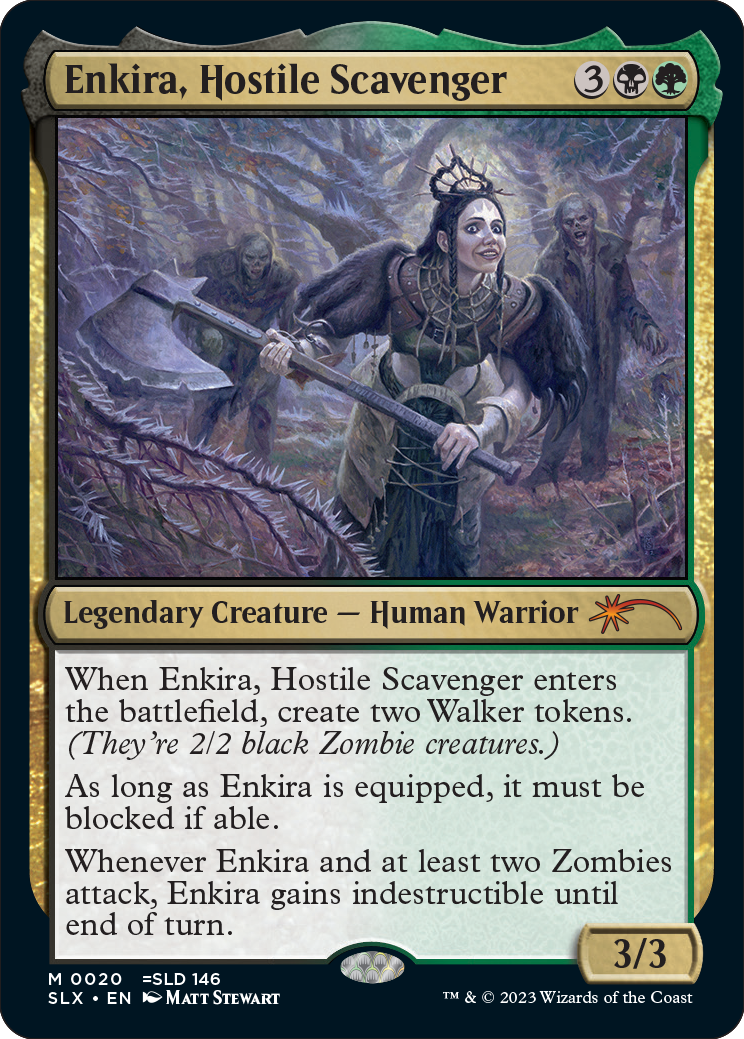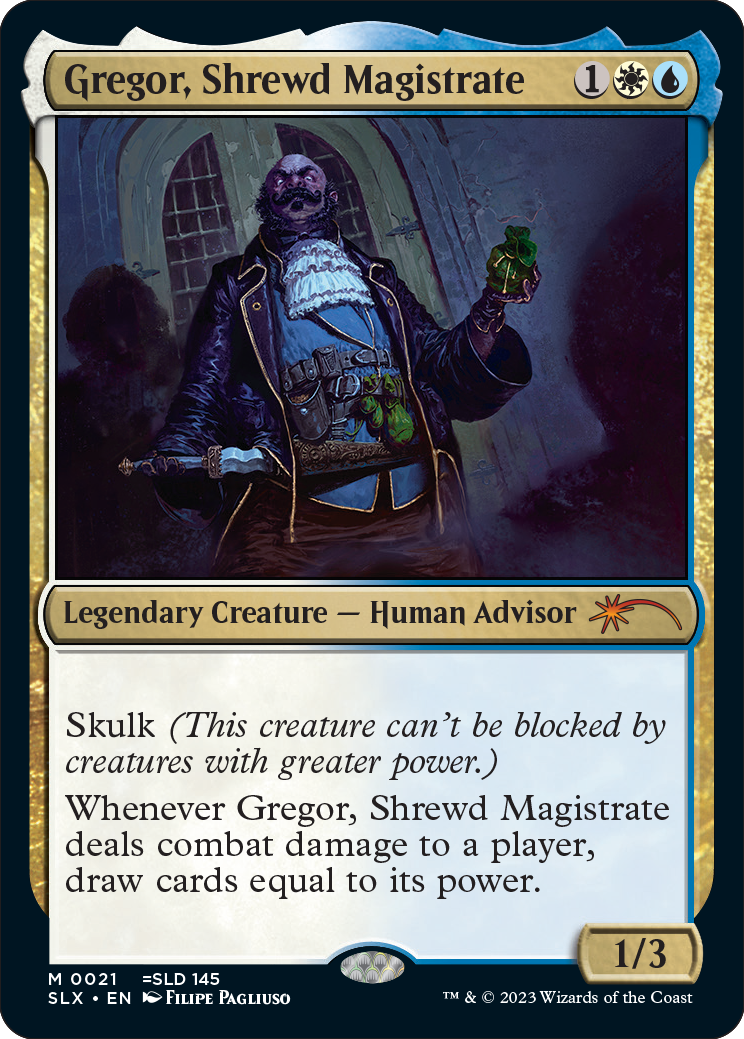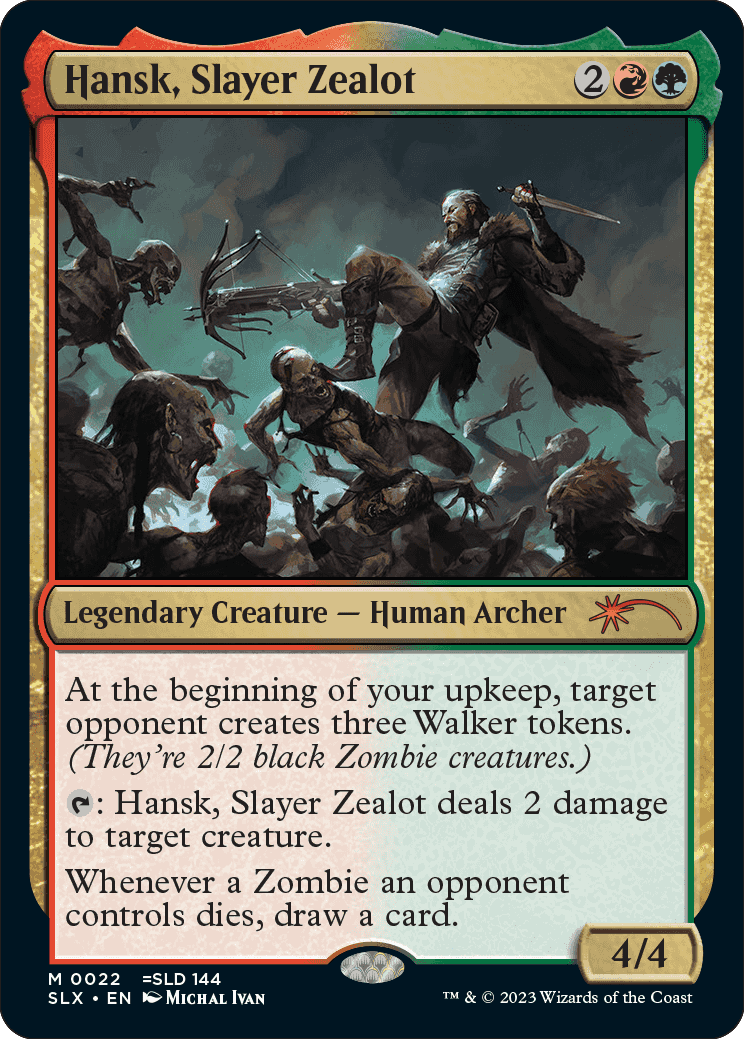 The List's in-Magic reprints for Universes Within cards use different names, and these have the interchangeable names indicator (the "=") you see in front of the set code and card number at the bottom of these cards. They're mechanically identical to the indicated card, meaning you can only play four of them (or one in Commander) in your deck.
Cards on The List
Here are all the cards on The List, broken into groups: cards that have been added to The List, cards that have been removed since the previous set's release, and the complete list of all cards.
(Note: Card images may not match the version found in The List. See the set identifier in the right-hand column for the version included in The List.)
Cards added to The List

| Card Name | Set |
| --- | --- |
| Academy Manufactor | MH2 |
| Arcbound Mouser | MH2 |
| Aura Barbs | BOK |
| Auramancer's Guise | PLC |
| Bake into a Pie | ELD |
| Castle Garenbrig | ELD |
| Cauldron Familiar | ELD |
| Cavalier of Thorns | M20 |
| Changeling Hero | LRW |
| Charming Prince | ELD |
| Clock of Omens | M13 |
| Counterbalance | CSP |
| Cunning Breezedancer | DTK |
| Cursed Flesh | EXO |
| Demonic Bargain | VOW |
| Dwarven Recruiter | ODY |
| Echoing Courage | CNS |
| Eldrazi Conscription | UMA |
| Embercleave | ELD |
| Enchanted Carriage | ELD |
| Enkira, Hostile Scavenger | SLX |
| Fae Offering | MH2 |
| Faerie Artisans | C16 |
| Faerie Harbinger | LRW |
| Foulmire Knight | ELD |
| Giant Killer | ELD |
| Giant's Ire | LRW |
| Gisa's Favorite Shovel | SLX |
| Greensleeves, Maro-Sorcerer | DMU |
| Gregor, Shrewd Magistrate | SLX |
| Greymond, Avacyn's Stalwart | SLX |
| Hansk, Slayer Zealot | SLX |
| Hungry Lynx | C17 |
| Mad Ratter | ELD |
| Malik, Grim Manipulator | SLX |
| Maraleaf Pixie | ELD |
| Minsc & Boo, Timeless Heroes | CLB |
| Mirri the Cursed | TSR |
| No Rest for the Wicked | 10E |
| Oko, the Trickster | ELD |
| Once Upon a Time | ELD |
| Pemmin's Aura | SCG |
| Questing Beast | ELD |
| Rebuff the Wicked | PLC |
| Return of the Wildspeaker | ELD |
| Royal Trooper | BBD |
| Rust Monster | AFR |
| Spellstutter Sprite | LRW |
| Stonecoil Serpent | ELD |
| Sythis, Harvest's Hand | MH2 |
| The Meathook Massacre | MID |
| The Royal Scions | ELD |
| Vulshok Sorcerer | 5DN |
| Warchief Giant | C15 |
| Wolfcaller's Howl | C14 |
| Yidaro, Wandering Monster | IKO |
Cards removed from The List

| Card Name | Set |
| --- | --- |
| Acidic Soil | USG |
| Archaeomancer's Map | STX |
| Argentum Armor | AFR |
| Argivian Find | WTH |
| Argivian Restoration | DDF |
| Artillerize | NPH |
| Bane of Progress | C15 |
| Beacon of Unrest | 2XM |
| Blightsteel Colossus | 2XM |
| Burning Inquiry | M10 |
| Collector Ouphe | MH1 |
| Detonate | MRD |
| Endoskeleton | USG |
| Energy Flux | MMQ |
| Feldon of the Third Path | STX |
| Fist of Suns | C17 |
| Gaea's Revenge | ORI |
| Game Plan | BBD |
| Geth's Verdict | NPH |
| Glissa's Courier | MBS |
| Great Furnace | MRD |
| Grisly Transformation | BNG |
| Hurkyl's Recall | MM2 |
| Implode | PLS |
| Kaldra Compleat | MH2 |
| Kemba's Legion | MBS |
| Leonin Arbiter | C17 |
| Lose Hope | 5DN |
| Mana Geyser | 5DN |
| Mechanized Production | AER |
| Melira's Keepers | MBS |
| Mirrodin Besieged | MH1 |
| Mishra's Factory | MH2 |
| Mycosynth Lattice | BBD |
| Opportunity | ULG |
| Order of Yawgmoth | DDE |
| Pentavus | C14 |
| Praetor's Counsel | C14 |
| Priest of Gix | DDE |
| Reaper of Sheoldred | NPH |
| Rout | STX |
| Sabertooth Cobra | MIR |
| Shatterstorm | 10E |
| Soul of New Phyrexia | M15 |
| Sword of Feast and Famine | 2XM |
| Sword of War and Peace | 2XM |
| Toxic Iguanar | CON |
| Verdurous Gearhulk | KLD |
| Vile Requiem | C13 |
| Virulent Sliver | FUT |
All cards in The List

| Card Name | Set |
| --- | --- |
| Academy Manufactor | MH2 |
| Adeliz, the Cinder Wind | DAR |
| All That Glitters | ELD |
| Aminatou, the Fateshifter | 2X2 |
| Arcbound Mouser | MH2 |
| Archmage Emeritus | STX |
| Aura Barbs | BOK |
| Auramancer's Guise | PLC |
| Baird, Steward of Argive | DAR |
| Bake into a Pie | ELD |
| Barrow Ghoul | WTH |
| Barrow Witches | ELD |
| Battleflight Eagle | M13 |
| Battlewand Oak | LRW |
| Bladewing the Risen | IMA |
| Blossom Prancer | NEO |
| Bog Wraith | M10 |
| Brago's Representative | CNS |
| Brain Weevil | DDJ |
| Bruenor Battlehammer | AFR |
| Capenna Express | SNC |
| Castle Garenbrig | ELD |
| Cauldron Familiar | ELD |
| Cavalier of Thorns | M20 |
| Changeling Hero | LRW |
| Charming Prince | ELD |
| Cinder Elemental | M21 |
| Clock of Omens | M13 |
| Consume Spirit | DDC |
| Counterbalance | CSP |
| Courage in Crisis | WAR |
| Court of Grace | CMR |
| Crumbling Colossus | M12 |
| Crush the Weak | KHM |
| Crystalline Crawler | C16 |
| Cunning Breezedancer | DTK |
| Cursed Flesh | EXO |
| Demonic Bargain | VOW |
| Dig Up | VOW |
| Dina, Soul Steeper | STX |
| Dirtwater Wraith | MIR |
| Doomed Traveler | 2X2 |
| Dragon Throne of Tarkir | KTK |
| Dragonlord Ojutai | DTK |
| Dwarven Grunt | ODY |
| Dwarven Miner | MIR |
| Dwarven Recruiter | ODY |
| Echoing Courage | CNS |
| Elas il-Kor, Sadistic Pilgrim | DMU |
| Eldrazi Conscription | UMA |
| Elven Palisade | EXO |
| Embercleave | ELD |
| Empyrean Eagle | M20 |
| Enchanted Carriage | ELD |
| Endless Obedience | M15 |
| Enkira, Hostile Scavenger | SLX |
| Etali, Primal Storm | RIX |
| Eutropia the Twice-Favored | THB |
| Evil Eye of Urborg | TSP |
| Fae Offering | MH2 |
| Faerie Artisans | C16 |
| Faerie Harbinger | LRW |
| Fallen Ideal | C15 |
| Far Traveler | CLB |
| Flamekin Village | C14 |
| Forbidding Watchtower | 10E |
| Forebear's Blade | DAR |
| Fortifying Provisions | ELD |
| Foulmire Knight | ELD |
| Gather Courage | M15 |
| Generous Gift | MH1 |
| Geth's Grimoire | DST |
| Ghalta, Primal Hunger | RIX |
| Ghave, Guru of Spores | C16 |
| Giant Caterpillar | VIS |
| Giant Killer | ELD |
| Giant's Ire | LRW |
| Gisa and Geralf | EMN |
| Gisa's Favorite Shovel | SLX |
| Gleeful Sabotage | SHM |
| Glittering Stockpile | SNC |
| Gluttonous Troll | STX |
| Greensleeves, Maro-Sorcerer | DMU |
| Gregor, Shrewd Magistrate | SLX |
| Greymond, Avacyn's Stalwart | SLX |
| Grim Strider | AKH |
| Grumgully, the Generous | ELD |
| Hansk, Slayer Zealot | SLX |
| High Ground | 10E |
| Hoarding Dragon | IMA |
| Hope of Ghirapur | AER |
| Hungry Lynx | C17 |
| Ihsan's Shade | A25 |
| Incubation // Incongruity | RNA |
| Initiate of Blood | CHK |
| Interplanar Beacon | WAR |
| Invasive Surgery | SOI |
| Ixalan's Binding | XLN |
| Jared Carthalion, True Heir | CMR |
| Kalamax, the Stormsire | IKO |
| Kels, Fight Fixer | M21 |
| Kenrith, the Returned King | ELD |
| Ketria Triome | IKO |
| Lantern of Insight | 5DN |
| Leap | STH |
| Linden, the Steadfast Queen | ELD |
| Mad Ratter | ELD |
| Maja, Bretagard Protector | KHM |
| Malik, Grim Manipulator | SLX |
| Maraleaf Pixie | ELD |
| Memorial to Genius | DAR |
| Mercadia's Downfall | MMQ |
| Mina and Denn, Wildborn | OGW |
| Miner's Bane | M15 |
| Minsc & Boo, Timeless Heroes | CLB |
| Mirri the Cursed | TSR |
| Mishra's Self-Replicator | DAR |
| Murasa Ranger | BFZ |
| Narfi, Betrayer King | KHM |
| Nashi, Moon Sage's Scion | NEO |
| Netherborn Altar | IKO |
| Nihil Spellbomb | SOM |
| Nivix, Aerie of the Firemind | DDJ |
| No Rest for the Wicked | 10E |
| Oaken Brawler | LRW |
| Oko, the Trickster | ELD |
| Old Ghastbark | SHM |
| Once Upon a Time | ELD |
| Orc Sureshot | FRF |
| Orcish Artillery | 10E |
| Path to the World Tree | KHM |
| Pemmin's Aura | SCG |
| Pia and Kiran Nalaar | ORI |
| Pitiless Horde | DTK |
| Pledge of Loyalty | INV |
| Power Armor | INV |
| Priests of Norn | MBS |
| Primal Cocoon | M11 |
| Prison Term | SHM |
| Questing Beast | ELD |
| Rakdos Cackler | GK2 |
| Ravnica at War | WAR |
| Rebuff the Wicked | PLC |
| Reduce // Rubble | AKH |
| Regathan Firecat | M14 |
| Return of the Wildspeaker | ELD |
| Rift Bolt | TSP |
| Rix Maadi, Dungeon Palace | C19 |
| Royal Trooper | BBD |
| Rust Monster | AFR |
| Ruthless Invasion | NPH |
| Sadistic Augermage | DDM |
| Sarulf, Realm Eater | KHM |
| Sea of Clouds | BBD |
| Segovian Angel | MH1 |
| Siege Zombie | DBL |
| Soul of Shandalar | M15 |
| Spellstutter Sprite | LRW |
| Spined Fluke | USG |
| Sprout Swarm | FUT |
| Stonecoil Serpent | ELD |
| Stormscape Battlemage | PLS |
| Stormwatch Eagle | PCY |
| Suntouched Myr | HOP |
| Survival Cache | IMA |
| Sythis, Harvest's Hand | MH2 |
| The Great Aurora | ORI |
| The Meathook Massacre | MID |
| The Royal Scions | ELD |
| The World Tree | KHM |
| Thran War Machine | ULG |
| Throat Slitter | BOK |
| Tolsimir, Friend to Wolves | WAR |
| Traveler's Cloak | CNS |
| Vega, the Watcher | KHM |
| Vryn Wingmare | M21 |
| Vulshok Sorcerer | 5DN |
| Warchief Giant | C15 |
| Warped Landscape | C18 |
| Whitemane Lion | C14 |
| Wolfcaller's Howl | C14 |
| Yidaro, Wandering Monster | IKO |
| Yotian Soldier | BBD |
| Zhalfirin Void | DAR |
| Zombie Apocalypse | MID |
---
Check out The List for past sets: